Getting online freelance writing jobs for beginners was never as easy as it is now.
There are many websites out there which offer paid writing jobs for beginners as well as PRO.
All you have to do is land on any of these sites bid on the writing projects and start writing.
You'll get paid as soon as you delivered the article to the clients.
That's it.
Simple, isn't it?
But wait, hold your horses!
I know, I just said you can find writing jobs easily.
But still, there are something you need to know.
We all know freelancing is easy it gives you freedom to do work from anywhere.
But there is one problem with freelance writing and that is there is no consistency in the job.
If you are lucky you might have dozens of articles to write in a month, or sometimes you may not get any single writing job.
As a wise saying "Don't put all your eggs in a one basket."
It is always better if you have multiple sources to get writing job online.
To make it easy for you, I am going to tell you about some best freelance writing sites where you can kick start your freelance writing career online.
Best Sites to Find Freelance Writing Jobs for Beginners
#1. Freelancer


Let's start with freelancing giant. It is a global crowd sourcing marketplace website, which allows anyone to post jobs that freelancers can and bid to complete.
It offers over 100+ different types of jobs for freelancers such as designing an app, creating a logo, writing, programming and much more.
You can bid on any project as per your skills.
It a great platform to get writing jobs from home without investment.
#2. Contentmart
It's India's first online content marketplace specially designed for writing jobs.
It is a great place for Indian writers who look online article writing jobs for beginners in India.
Moreover, it not only for the authors and copywriters but also for those who are looking for hire quality writers to write for their business.
You have to register on Contentmart to see more details about projects and bid on them.
Verified writers get more writing orders than non-verified writers.
To become a verified writer with Contentmart, you must have fulfilled these conditions:

#3. Constant-Content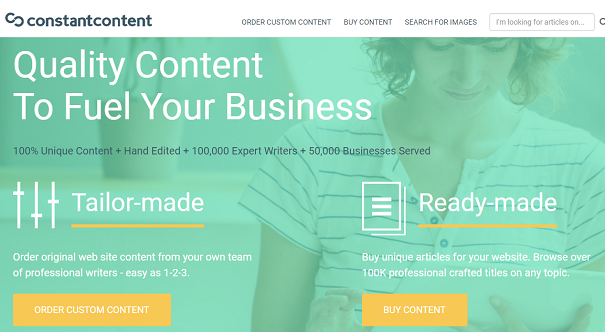 Constant-Content is considered one of the best paying freelance writing jobs providers.
Getting writing jobs on Constant-Content could be bit challenging for beginner freelance writers.
Because editing policy on it is the very strict comparison to other freelance writing websites.
It counts as one of the premiere article marketplaces for serious freelance writers to make money online.
Writers here charge up to $100 per article and some even more than that.
In short, it is a great website for getting high paying freelance writing jobs.
#4. Upwork
UPWork is another online marketplace and similar to Freelancer.
It offers variety for jobs including some easy freelance writing jobs that you can do from home.
Though, it doesn't pay like Constant-Content but never lets you run out of writing jobs.
For this reason, you should not ignore Upwork.
#5. Craigslist
Despite the ignorance of many people, Craigslist is still one of the best platforms to get some online writing jobs.
Basically, it's a classified ads website available for many countries across the world.
But also, it has job category where people who need editing or writing jobs post their requirement.
People often overlooked this website, therefore it's a great opportunity for beginners to grab some best paying freelance writing jobs.
The good thing is mostly project's details and contact email address is given on the craigslist writing threads.
So, if you are interested in the projects you can contact them directly.
#6. BloggingPro Jobs
The BloggingPro is a Job Board where people post their, editing, copywriting, and article writing requirements.
The things that I like most about it, it updates daily with fresh freelance writing jobs, paid blogging jobs, copywriting jobs, and more.
It has some great blogging jobs for beginners as well as professionals who interested in paid writing jobs.
#7. Guru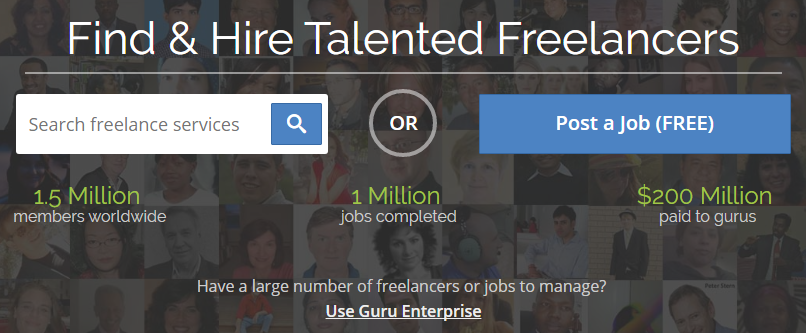 Guru is one of the top freelancing websites similar to Freelancer and Upwork where people look to hire a freelance writer for online writing jobs.
They claim they have over 1.5 million users worldwide that figure is a good sign for those who are looking for work from home writing jobs for a beginner.
You might get reputed clients who give you lots of articles to write.
#8. Project4Hire
Project4Hire might be new for some of you but trust me the freelance jobs website isn't a new player in the industry.
In fact, it has secured its place among major freelance job websites.
It not only help people's hire freelance writers, programmers, web designers, graphic artists, IT specialists, and translators, but also gives your opportunity to make money online through its affiliate program.
As the name suggest this website is specially designed for the freelance writer who looks freelance writing jobs online.
It is a famous freelancing guide blog where it publishes useful content and resources about freelance writing gigs.
As a matter of fact, it's a must check jobs board for every freelance writer who wants to make a big impact in freelancing.
It has an email alert option that notifies you whenever a new freelance writing gigs posted on this job board.
#10. Problogger Jobs
I guess you might already have heard about Problogger Jobs.
But if not, let me tell you then.
It's a job board of Problogger.
Problogger is a reputed name in the blogging industry and known for its ultimate blogging tips and tricks.
Problogger Job Board is one of the hottest places for freelance writers and bloggers who look for getting freelance writing clients or full-time writing jobs.
#11. MediaBistro Jobs
MediaBistro isn't solely devoted to writing jobs. Originally it is a jobs site for online community and digital media professionals.
Where it provides job opportunities to various type of professionals.
Freelance writers can check this job site to find writing gigs in specific sections.
#Bouns Site – Listller Remote Writing Jobs
Here is the bonus site that kinda new but amazing. They update they data-base at regular basis with new writing gigs.
If you don't find your desired writing jobs then you can try this one, I am sure your search would end up here.
You can also get the job alert by mail whenever a new job posted on this site.
They collect job gig from various freelance sources, therefore, you don't need to visit all sites separately, Listller do that job for you.
Conclusion!
Now we have come to the end and I showed you eleven best websites to find freelance writing jobs for beginners.
It's great you register yourself some of these freelance writing sites and try to find some writing gigs and see how things work here.
First understand procedure of few sites then expand your reach on other online writing jobs providing sites to make money online.
Before you start with applying for online writing gigs make sure your profile is complete with necessary information.
Your profile must have your image and correct details of past work, which will make you look like a professional and an expert.
Do you know some best freelance writing sites which offer freelance writing jobs for beginners?
Please share how did you get your first freelance writing jobs online?