In today's post, I am going to provide you my honest Grammarly review.
Not just incomplete information. Not only half-truths.
But…everything you need to know about Grammarly app.
It will help you decide whether Grammarly plagiarism checker worth it or not.
Let's get started:
What does Grammarly do?
Grammarly is a grammar checker tool that helps you create error-free content by checking the following errors:
Grammar and punctuation – Grammarly is one of the best grammar and punctuation checker tools that checks every single grammar and punctuation mistakes that you make while writing. Additionally, it explains and suggests how to correct those mistakes.
Spell Check – Grammarly spell check is incredible that helps you write error-free quality content.\
Plagiarism – Grammarly plagiarism checker helps you create original content and scans billions of pages online to see if your content is copied.
Writing Style – Don't know how to write compelling copy? No problem, Grammarly has got your back. It helps you improve your writing style by providing valuable insights such as readability score, sentence length, etc.
Who should use Grammarly?
Grammarly is a must have editing tool for both native speakers as well as for people whose first language is not English. These people should use Grammarly:
Bloggers
Content creators and copywriters
Business professional who wants to create an error-free presentation, send emails and publish social media post
Students
Authors
Digital marketing company who wants to check content for plagiarism
Even if you are a native speaker, I'd recommend using this grammar checker to create accurate and easy to read content.
However, most of the advanced features of Grammarly are part of Grammarly premium account.
Grammarly is also useful for students who want to check their assignments before submitting it in college. The best part you can cancel your Grammarly premium account anytime you want.
How Grammarly works?
To use this grammar checker you need to create a free Grammarly account and take a tour of Grammarly editor, where you need to do essential settings.
Grammarly is an awesome proofreading app that provides you suggestions to make your writing clear and accurate. Here is how Grammarly Dashboard looks like:


Open a new document and set the goals. Grammarly will provide you writing suggestions based on your goal settings.
You can set writing goals based on your: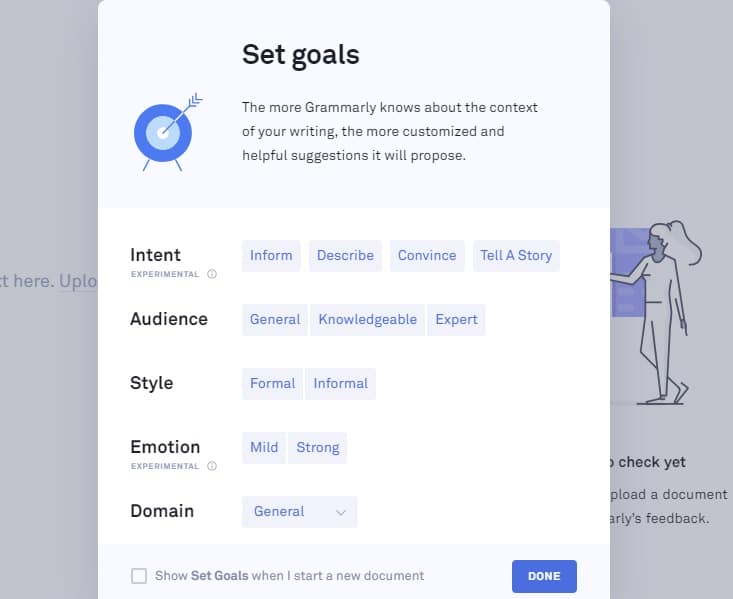 Intent – Inform, Describe, Convince, or want to Tell a Story
Audience – General, Knowledgeable, or Expert
Style – Formal or Informal
Emotion – Mild or Strong
Domain – General, Business, or Technical
The more Grammarly know about your writing intent the best possible suggestions it provides to you.
How easy to use Grammarly?
Using this grammar checker is easy. There are many ways you can use to check your article through Grammarly software.
Option #1 – Copy your complete article, assignments, book copy and paste it to on Grammarly editor for proofreading and it will check grammatical errors, punctuation mistakes, and spell check.


Option #2 – You can upload your already written article into Grammarly editor by clicking Import.


Option #3 – You can directly use Grammarly editor for writing your content. As you will start writing it will automatically begin to point out errors. When you click on the Start Assistant button, it will show you the grade with performance and types of errors you have in your article.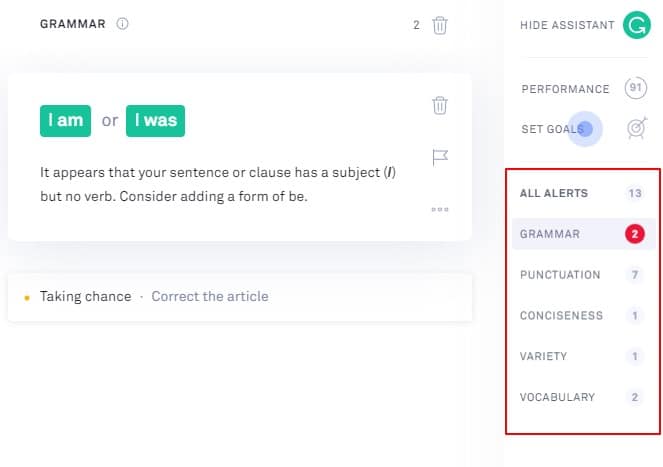 Option #4 – You can install Grammarly plugin for MS Word, it will help you find errors when you write on the MS Word. However, Grammarly plugin for Macbooks isn't available yet.
Where can you use Grammarly?
Grammarly is a flexible proofreading application that doesn't limit it you to only its editor, but you can use it wherever you want. You can even use it in mobile devices.
You can use many different Grammarly proofreading app including:
Grammarly desktop for Windows
Grammarly for iOS
Grammarly for Android
Grammarly desktop app for Mac
Grammarly Chrome extension will help you write error-free Gmail, Facebook, WordPress, Linkedin, etc.
Grammarly chrome plugin also works in Google Docs
Grammarly is consistently adding new features and improving its user experience with additional features such as writing insights and setting writing goals.
My personal favorite is Grammarly for Chrome web app and Grammarly for Mac desktop app.
Additionally, I use Grammarly Chrome extension for email writing and social media posts.
Apart from that, Grammarly offers a specialized keyboard for mobile devices. It will help you write mistake-free text and documents in your mobile device.
How much does Grammarly cost?
Grammarly is entirely free to use with limited features. Grammarly premium will unlock its full features that you can access with the following pricing plans:
Grammarly Premium monthly subscription costs $29.95 per month.
Grammarly Premium quarterly subscription costs $19.98 per month, billed as one payment of $59.95.
Grammarly Premium annual subscription costs $11.66 per month, billed as one payment of $139.95.
The Benefits of Grammarly Premium
A free version of Grammarly is sufficient and almost fulfills your writing and editing need. But still, many advanced features will take your copy to the next level.
Here is the list of benefits that you'd get when you upgrade to Grammarly Premium:
Advanced checks for punctuation, grammar, context, and sentence structure
Vocabulary improvement suggestions
Genre-specific writing style checks
Plagiarism detector that checks more than 16 billion web pages for copied content
Grammarly Free vs. Premium vs. Business
The free version of Grammarly has almost all features of Grammarly premium except advance grammar checker, plagiarism checker, and vocabulary improvement suggestions.
In general, the free version of Grammarly is best when you have a limited budget for writing tools.
Now you are thinking…
What comes with Grammarly Premium?
Grammarly Premium detects advanced grammar and punctuation mistakes that free version of Grammarly couldn't catch.
Additionally, Grammarly offers writing insights and allows you to set writing goals.
The best part using Grammarly Premium is it has flexible pricing plans that you can choose as per you need.
Currently, premium subscription of Grammarly comes with monthly, quarterly, and annual plan where you can use Grammarly coupon for a discount for each type of subscription.
If you are a student who wants to use Grammarly for a month, then you can go with a monthly plan. On the other hand, if you are bloggers or a business owner who create lots of content then quarterly or annual subscription will be the best.
In the end, it's your choice how you are going to use Grammarly Premium.
Grammarly also offers a business plan for enterprises where each person of the team will get access to this premium grammar checker.
Grammarly business plan comes with these features:
Admin and user management controls for privacy and security of your team's data
24X7 customer support
Fast email support
Centralized billing
Effective communication for your team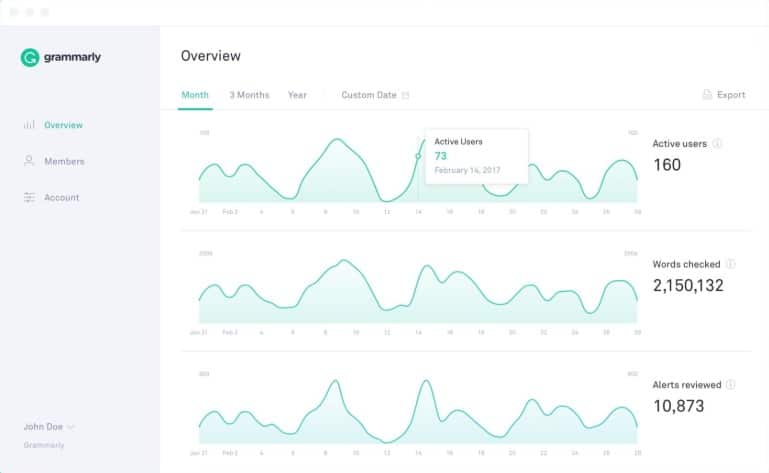 Grammarly business version isn't limited to a single platform. Your team can use it anywhere whether they are writing emails, preparing documents, or even doing causal discussion online.
Grammarly business plan costs $15/ per member/month, and it is good when you have a team who wants to create error-free report and emails.
Is Grammarly safe to use?
One of the common concern people have about Grammarly:
Is Grammarly safe to use?
The answer is YES.
Grammarly plagiarism and grammar checker software saves your data in its servers to learn about your writing style and improve its performance. But they don't sell your data to any third party.
Though it's believed entirely safe to use still, I would recommend not using Grammarly when typing sensitive data like your password or credit card details.
Grammarly vs. Human Proofreader
You might have a question in your mind.
Can Grammarly replace a human proofreader?
My answer is No.
I agree Grammarly can detect some advanced grammar mistakes but still it is a software that isn't ready yet to understand human emotions.
Grammarly often suggests making changes to the sentences which I wrote for a purpose to keep in mind my audiences' feelings.
In short, it doesn't understand human psychology and the goal to write those sentences.
That's why I'd suggest re-reading your edited copy again after proofreading it with Grammarly. However, there is no need to proofread for short copies; Grammarly can take care of that.
How effective is Grammarly for proofreading?
I see this question always pop up in my inbox, especially from people whose first language is not English.
The reason for getting this question is American English and British English.
There is a precise difference between American and British English. For example – "favourite" and "favorite" or "colour" and "color," etc.
Grammarly is pretty good to proofread and spell checks a document for both types of English (American and British).
Nevertheless, if you still want to know about both English types, there is an excellent simple guide to learn English grammar rules.
The bottom line is:
If you are a native speaker, Grammarly can teach you some advanced grammar rules to sharpen your writing.
Grammarly is a fantastic proofreading app for native and non-native speakers.
It can teach you some advanced grammar and punctuations usage that your English teacher has never shared with you.
Is Grammarly premium Worth It?
You have come this far, and now you want to know…
Should you buy a Grammarly premium or not?
Yes, my friend, you should.
Grammarly Premium can be helpful if you want to write an error-free article and take your writing to the next level.
But, if you are a blogger or a writer with a tight budget, then go with free Grammarly Chrome extension.
Grammar browser extensions are available for other platforms also.
I used free Grammarly editor online for months before I paid for Grammarly Premium. When I started blogging, I had a limited budget to buy writing tools, and Grammarly free version was lifesaver then.
After starting my freelance writing career, I bought a quarterly Grammarly Premium plan to find grammar and punctuation mistakes.
I use free Grammarly browser extension like Grammarly chrome plugin for small copies like writing emails, social media posts, etc.
The Grammarly online editor can speed up your proofreading by checking grammar and punctuation mistakes faster. The best part it explains everything with an example why should you use the suggested words or punctuation.
Grammarly is good.
But still, nothing can beat human proofread as they know the context behind your writing.
What is better than Grammarly?
I got several messages after publishing this Grammarly review, and most of the questions were like:
How about Grammarly vs. Whitesmoke?
…and Prowritingaid vs. Grammarly.
My answer to all those people is Grammarly has its unique features while other proofreading tools have their own.
Grammarly is a worldwide popular grammar checker plugin that offers several Grammarly browser extensions for people to make their writing better.
I have used both Whitesmoke and Prowritingaid but honestly saying I wasn't impressed with them as much as I am with Grammarly.
It is my personal opinion you might have your own taste. I'd suggest you try a free version of Grammarly first and decide yourself which proofreading and grammar checker tool is better for you.
Grammarly FAQs
Here are some frequently asked questions about Grammarly.
Grammarly Review 2019 Conclusion
Grammarly is a fantastic grammar checker and proofreading software that can enhance your writing quality by fixing advanced grammar and punctuation mistakes.
However, there are other online proofreading tools available, but none of them is close to Grammarly.
I'm using it for years and strongly recommend anyone who wants to write an error-free article.
Which features you like most of Grammarly spell checker?
Let me know your thoughts about my Grammarly review.
Get 25% Discount on Grammarly Premium