This is a SUPER in-depth Circleboom App review.
In this review, I'll break down every aspect, including:
Circleboom features
Plan and pricing
What the tool does
Whether I recommend it or not
This Circleboom review will help you make the right decision if you are considering signing up.
Let's start right away.
Circleboom Review 2023: What is Circleboom?
Circleboom is the best Twitter management app that offers set of tools including delete old tweets, unfollow non-followers, delete retweets and likes, and social media scheduler, etc.
Circleboom is a tool for both business and personal use. It will help you boost your Twitter marketing efforts like none other.  
Top Benefits of Using Circleboom
Circleboom is a complete Twitter management tool that tracks and analyzes your Twitter profile. It comes with lots of amazing features that make it one of the best Twitter monitoring tools.
Circleboom dashboard shows you important data that help you build right marketing strategy.
Let's check out the top features of Circleboom in details.
Discover and Publish Tool
Circleboom's publishing tool is one of the best content discovery tools that you can use to find new content and publish them on your Twitter profile.
Here is how it works.
Login into Circleboom with your Twitter accounts and hop over to the Publish when you click on the "Articles."
When you click on that a new dashboard will open where you will see a button "Select Your Interests Now".
When you click on that button, a new page will open with two tabs: one is interests, and another one is queue settings.
In interests setting, you will have to select more than five interests that you want to publish on your profile.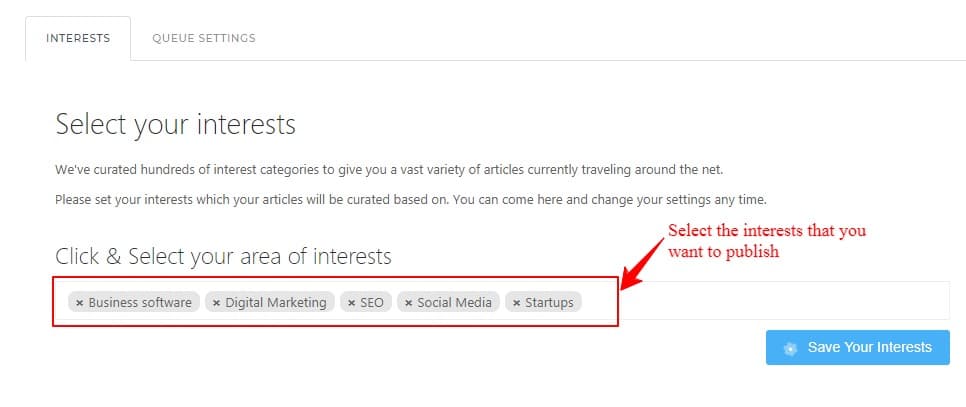 And, in queue settings, you can set up your post publishing interval and timings.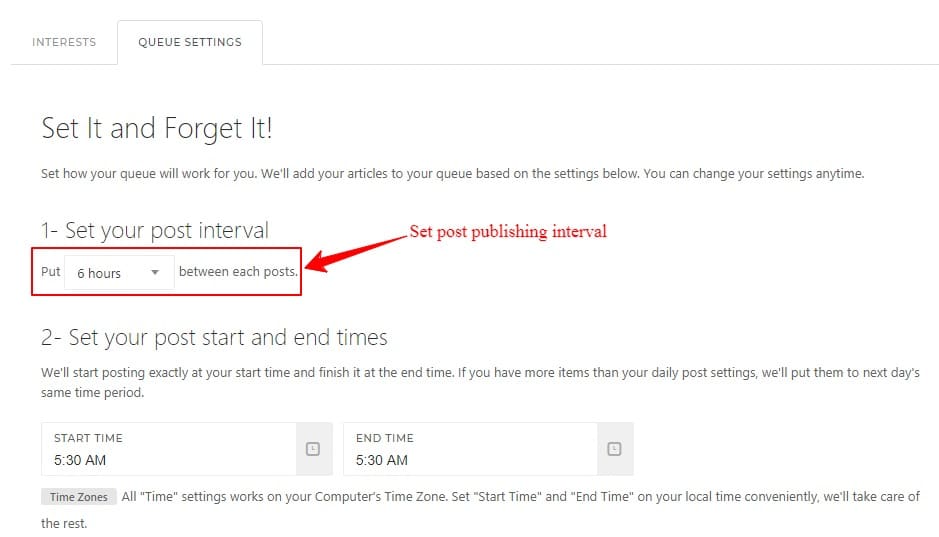 With Free Circleboom account you can send 3 articles to your queue, to add more you'll have to upgrade your free Circleboom account.
Schedule Tweets – Circleboom allows you to schedule your tweets that you can send out to your followers at the time you want. You can also add media and GIFs into your tweet.
Circleboom keeps your scheduled tweets safe that you can delete or edit when you want.
Circleboom empowers to control your tweet, retweet, and likes on Twitter.
Following are the actions you are perform with Circleboom:
Unlike – Sometimes it happens you like a tweet that you shouldn't. Later, when you realize your mistake, you don't find that tweet.
Circleboom's unlike feature, helps you find those tweets for you that you can unlike individually or in bulk.

Delete RTs – You can delete all your retweets if you want using Circleboom unfollow tool. You can delete most recent 3200 retweets in bulk.
Delete Tweets – You can remove all your tweets with the help of Circleboom. Remember you can't retrieve your deleted tweet. List your tweets and replies; delete them individually or in bulk. 
Delete Twitter Archive – You can delete your Twitter archive. All you have to upload your Twitter archive, filter your tweets and delete them. You can delete your previous tweets, replies and likes.
Under Circleboom search tool section, you will find features like Smart Search, Live Keyword & Hashtag Search and Find Friends Search.
Smart Search – Using this feature, you can narrow down your target audiences through millions of public profile. For example, you want to find profiles interested in SEO, you can simply search for that keyword, and it will show you only profiles who have mentioned SEO in their profile.
Live Keyword & Hashtag Search – You can find trending hashtag and keywords for a specific topic to add in your tweet. 

Find Friend Search – You can use the Find Friend Search feature to find the influencers' account who have the same interest as you. For example – I want to see influencers whom Brain Dean is following: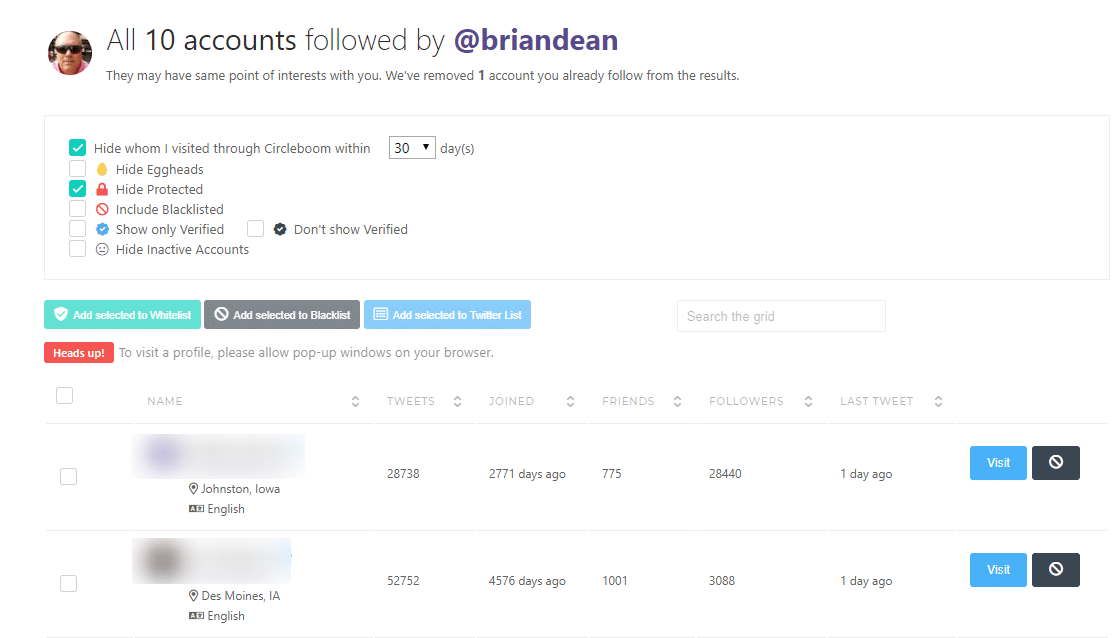 I'm not following back – You can also view accounts who are following you, but you are not following back. Search and filter Twitter accounts that you should and shouldn't follow.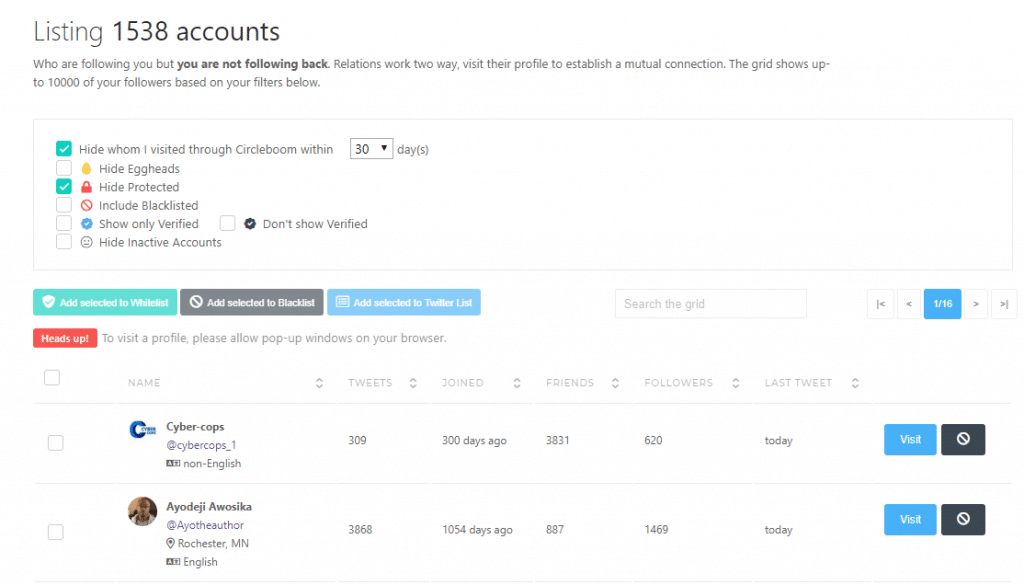 Yes, of course! As a developer partner, Circleboom works closely with Twitter.
Social media management tools from Circleboom align with the rules of specific social media platforms. Circleboom adapts its features regardless of whether the rules of each platform change.
Strengthen your Twitter profile by unfollowing non-followers, inactive users, fake accounts, and spam accounts. 
Who to unfollow on Twitter?
Get Your Follower Insights – Enhance your profile with Twitter follower insights. Using it, you can analyze your account and gather useful information about your profile.
Who are not following you back – Finding users who are not following you on Twitter is not easy and time-consuming. Thanks to Circleboom, you can find those profiles in seconds which are not following you back. 


Non-English Accounts – There is no point to following accounts who don't tweet in English unless you understand their language. You can unfollow them using Circleboom app.


Fake/Spam Accounts – Filter and unfollow spam/fake accounts. It will clean your feed and increase your profile authority. 
Twitter has been slashing spam accounts and cleaning up Twitter for real and active followers. Twitter wants to curb inflation of fake follower counts, and they blocked tens of millions of fake accounts.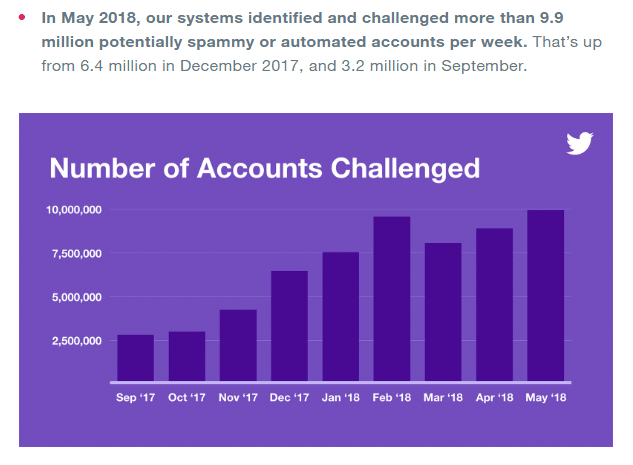 Inactive Twitter Accounts – There is no harm to unfollow Twitter accounts who are not adding value to your profile. Circleboom identifies accounts who are not active for 30 days so that you can unfollow them. 

Overactives – If you don't like accounts who tweets too much, you can unfollow them.
Circleboom app identifies accounts who send more than 20 tweets per day and consider them as overactives.

Eggheads – Profile without profile pictures are more likely spam or fake accounts. You should unfollow egghead profile accounts to protect your Twitter profile.
Powerful User Analytics Dashboard
Circleboom provides you with detailed data about your followers and their activity behaviors. It helps you understand your audiences and what happening in your feed.
Following are the data you can view in dashboard:
Growth Graphs – Circleboom keeps record of your Twitter followers and shows you data of Twitter unfollowers, followers and inactive accounts. 
You can view daily/weekly/monthly/yearly follower stats in Circleboom's follower stat analytics.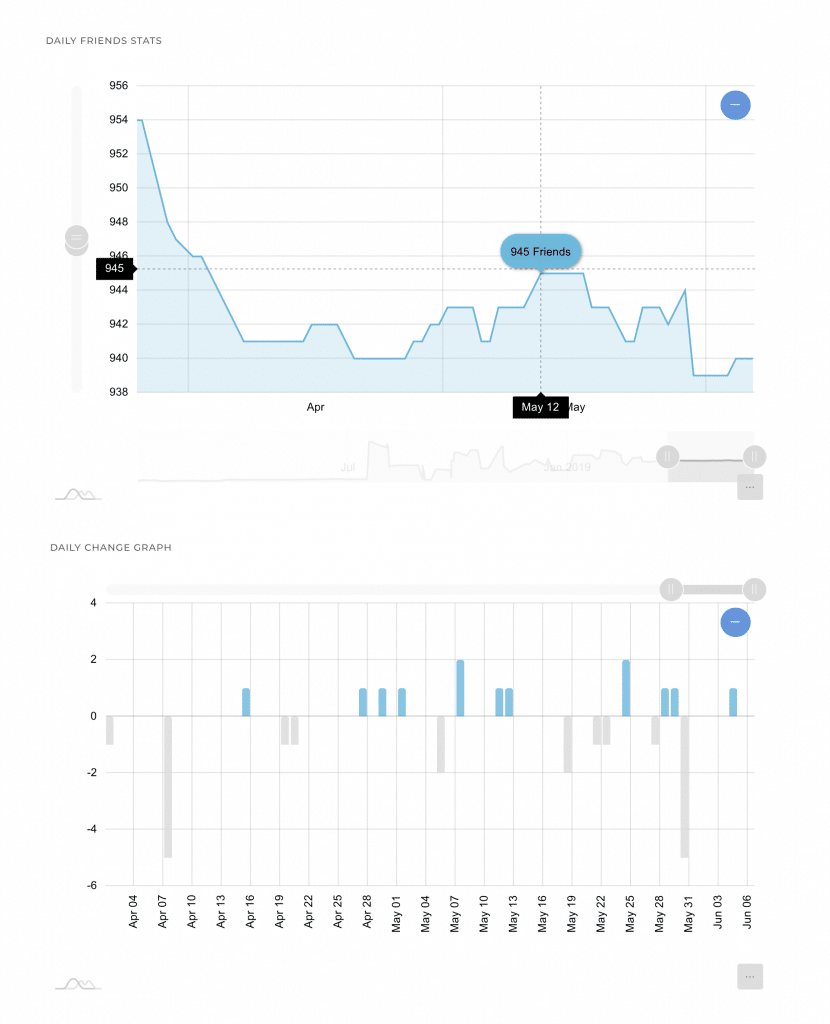 Friends & Followers Characteristics – To make your Twitter profile influential, you should know how many of your followers are fake, inactive, verified, and spams. The chart will show you whom you should focus on.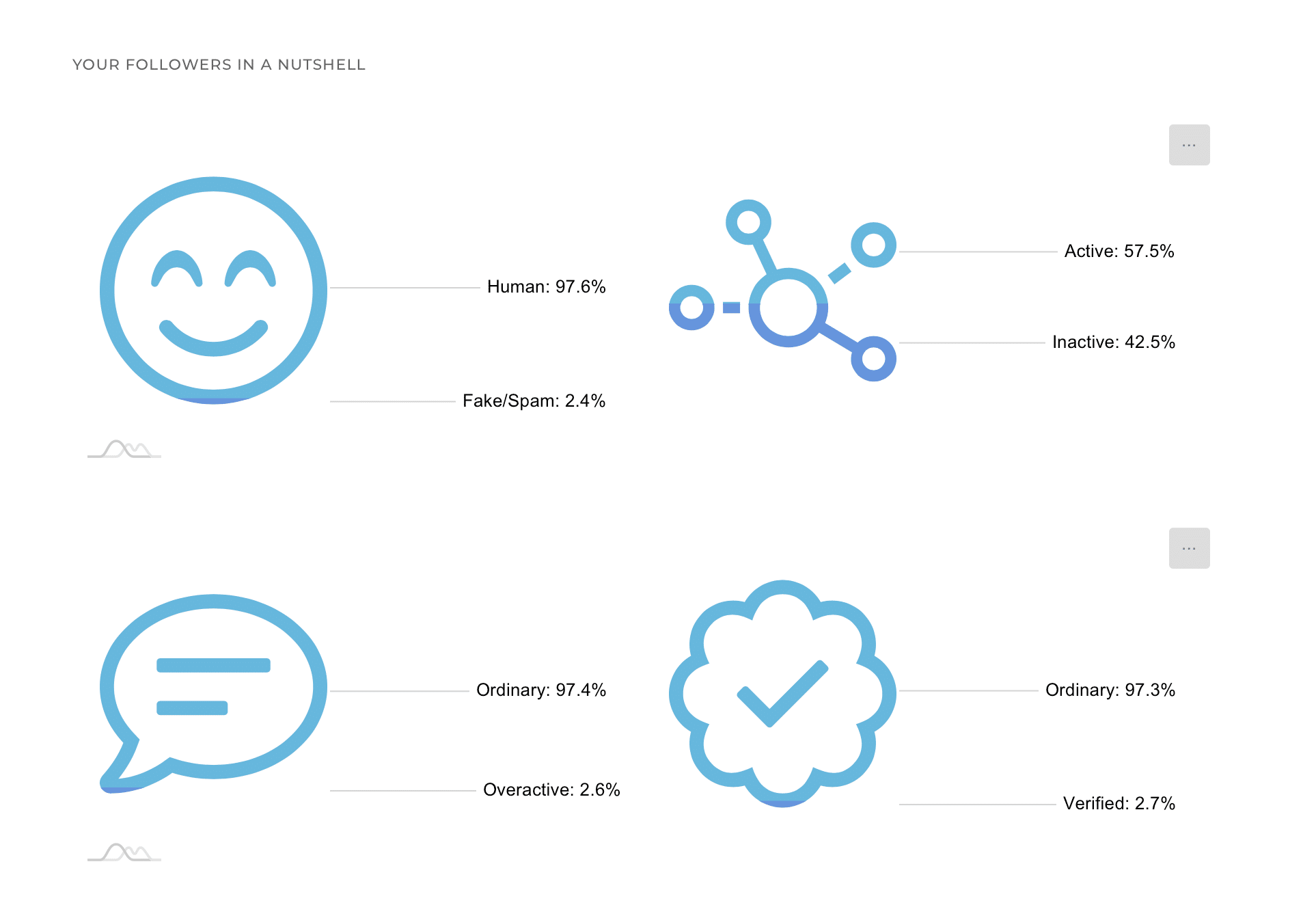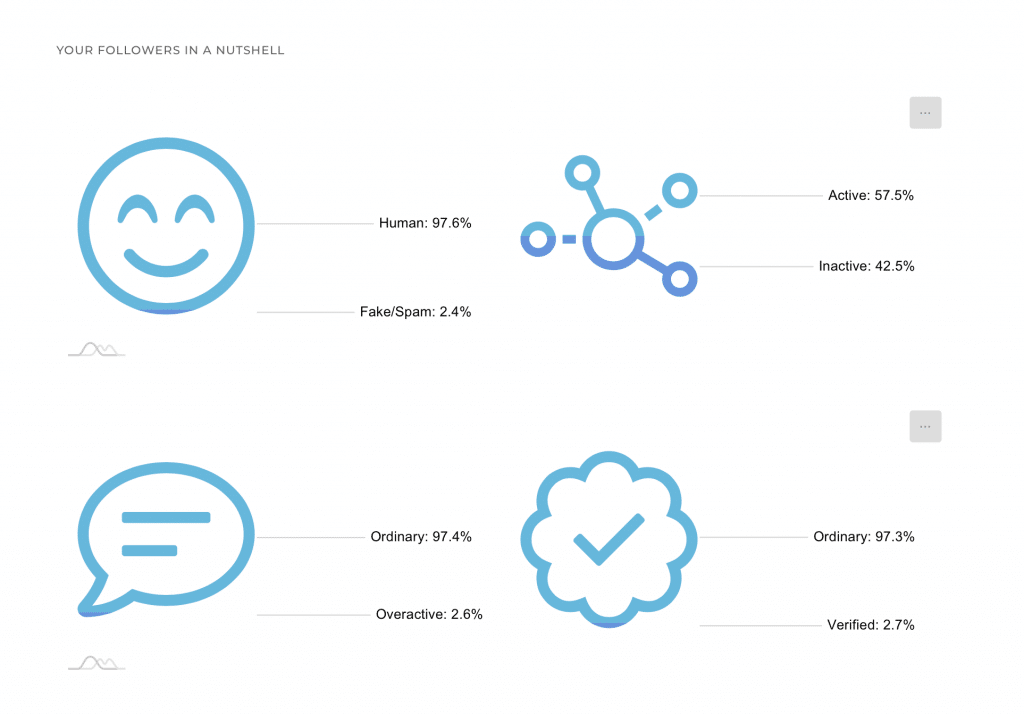 Language Stats – Understanding audiences' language is vital for companies who are operating in overseas. It helps them to plan their tweet in their audiences' language.
Best Time to Tweet – If you are serious about Twitter marketing, you must have engagement on your tweet. Circleboom shows you the right time to send out a tweet to increase audience engagement.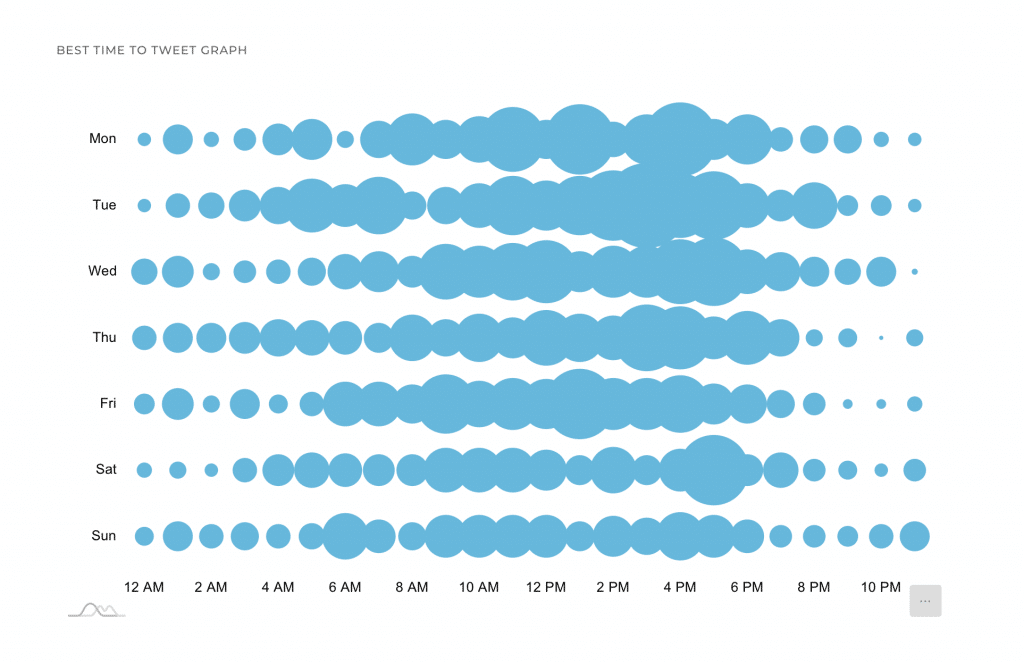 Gender Stats – Curate your content based on your audiences' gender to increase engagement of your tweet.


Friends & Followers Interests – Circleboom Interest Cloud shows the interest of your friends and followers and what interests them.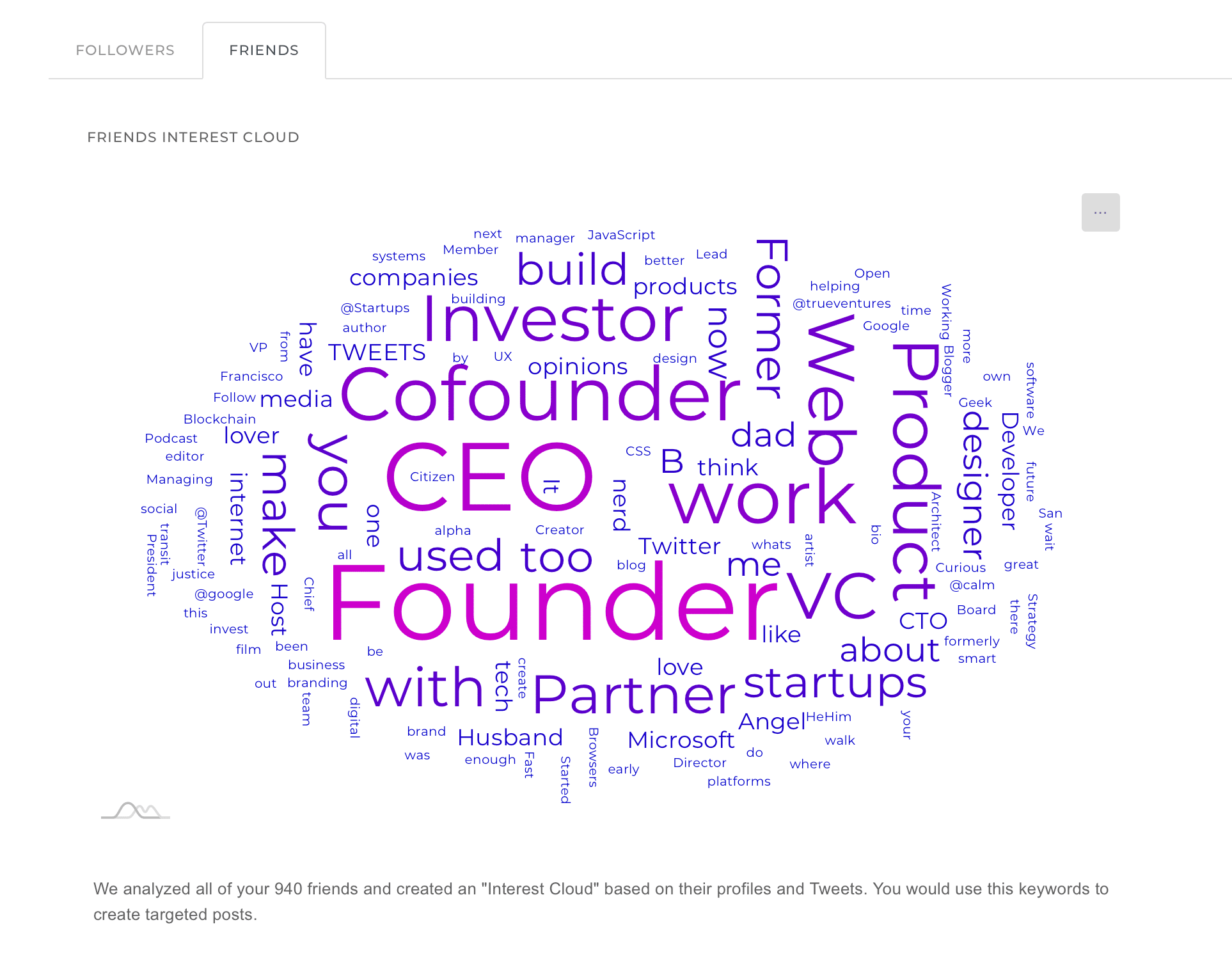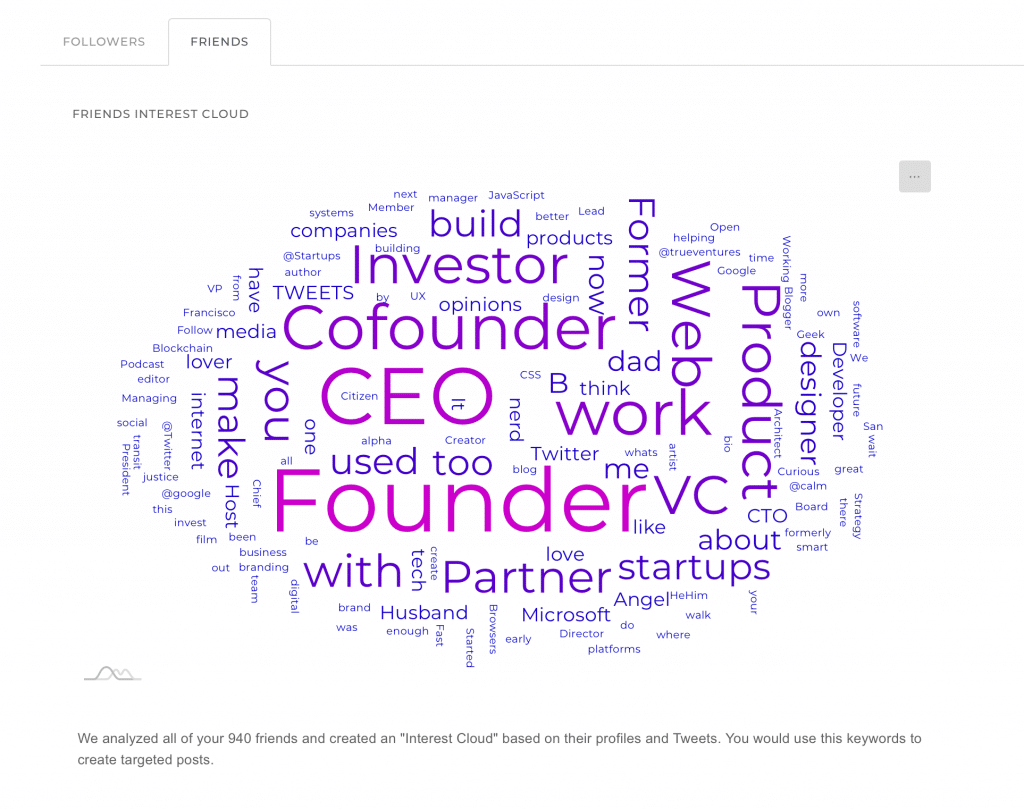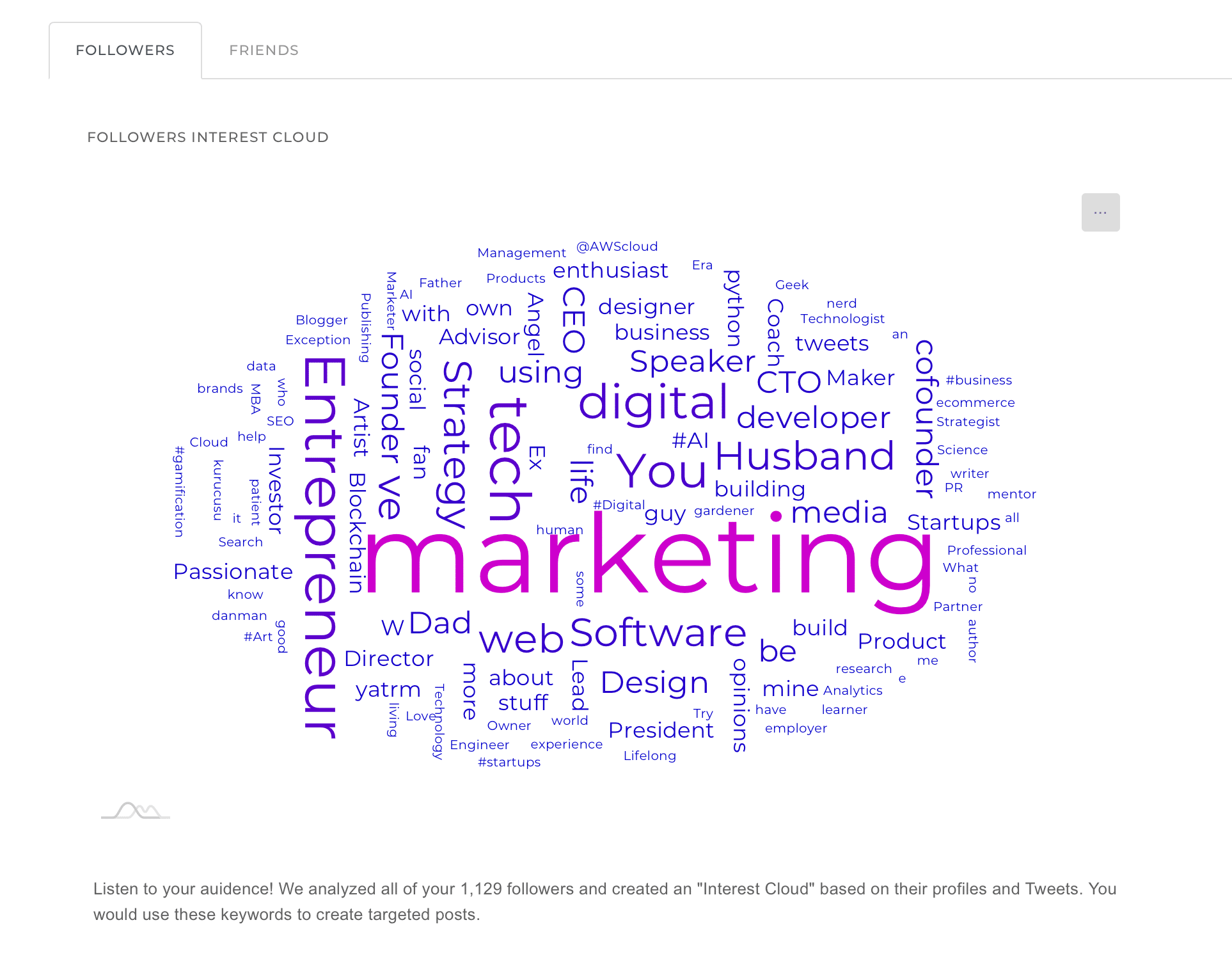 Circleboom pricing plans come with four options:
Free – $0 forever
1 Profile with limitations
10 Scheduled/Queued Posts per Account
1 RSS Feed Connect
50 Delete tweets, retweets, and unlikes
20 Profile searches
Pro – $27.99/month
1 Profile without limitations
Unlimited retweets, delete tweets, & unlikes*
Unlimited profile searches
Followers info unlimited
Design Tool
Up to 50 RSS Feed Connect
Article Curation
Image, GIF Curation
Multi – $109.99/mo
5 Profile without limitations
Unlimited delete tweets, retweets & unlikes*
Unlimited profile searches
Followers info unlimited results
Enterprise – (You'll need to contact for pricing)
50+ profiles without limitations
Unlimited delete tweets, retweets & unlikes*
Unlimited Profile Searches
Followers info unlimited results
Best part?
You get 4 months FREE on all plans when you pay annually. Additionally, Circleboom isn't ask for credit card information for FREE TRIAL.
Why should you use Circleboom?
Following are some logical reasons you should use Circleboom Twitter unfollow tool.
To unfollow non-followers on Twitter, who is not following you back.
To unfollow fake twitter users who blast spam tweets.
To unfollow accounts who don't tweet in English.
To unfollow non-active twitter who provide zero value.
To discover the right time to schedule tweets.
To do live keyword and trending hashtag search
Similar to other Twitter unfollow tools Circleboom PRO also allows you to unfollow unfollowers on Twitter.
You can unfollow more than 100 non-followers using this mass unfollow tool while other similar twitter unfollow apps have a limitation of 20 unfollow for free.
You can even unfollow more spam accounts by upgrading in  Circleboom PRO account.
Circleboom Reviews & Rating
Now let's see how people are rating Circleboom:
On G2. it has got 5 star rating: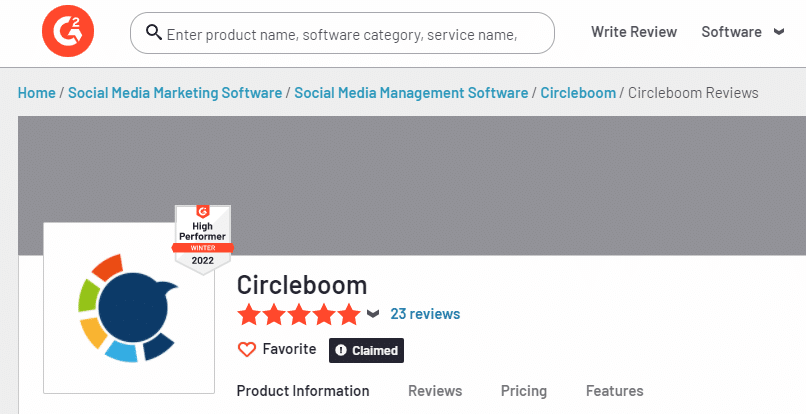 On Turstpilot, it has got 4.1 ratings.

Similarly, Capterra gave it a 4.1 star rating.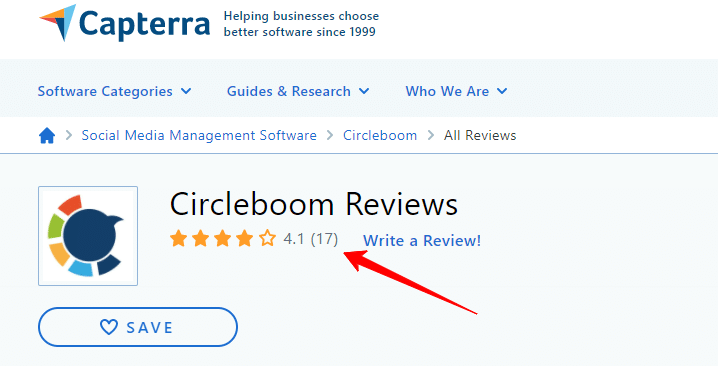 Publish and Schedule Tool
Circleboom goes beyond Twitter management. It has everything you need to expand your social network.
Circleboom now supports all major social networks, including Twitter, Instagram, LinkedIn, Facebook, Google My Business (and Pinterest soon).
In fact, you can now design, plan, automate or schedule your social media posts in one place.
Check out these other Circleboom social media tools:
Facebook Scheduler – Schedule Facebook posts with Circleboom's Facebook post scheduler to save time. 
LinkedIn Scheduler – Cirlceboom's LinkedIn post scheduling tool allows you to automate your LinkedIn company page posts in advance to save your time. 
Instagram Scheduler – Schedule Instagram posts using Circleboom's Instagram post scheduler to save time. Using it you can post on Instagram at the best time.
Google My Business Scheduler – Schedule your GMB posts with Circleboom Google My Business scheduler. 
Post RSS Feeds to Social Media – Feed your social media channels with handpicked articles, photos, and videos from your RSS feeds. Post RSS feeds to all your social media channels to boost your traffic!
Twitter Video Downloader – Save publicly available video and gif files directly from Twitter using Twitter video downloader. 
Facebook Video Downloader – Download any Facebook video files from publicly available on Facebook posts with Circleboom's FB video downloader. 
Instagram Video & GIF Downloader – Download public Instagram videos, IGTV videos, and reels with Instagram video downloader.
TikTok Video Downloader – Download TikTok videos from publicly available posts on TikTok with the help of TikTok video downloader.
Using Circleboom multi social media management tool will save you the time and trouble of managing multiple social media accounts separately.
It simplifies content plan development by allowing you to schedule posts across Instagram, Facebook, Twitter, Linkedin, Google My Business, and much more from one place.
Circleboom Publish can help you execute your next social media campaign in minutes, instead of taking up your precious time planning it in advance.
FAQs - Circleboom Reviews 2023
Circleboom is a social media account management app focuses on Twitter account management. 
Yes, it is. Circleboom doesn't share your contact information with third party or use it to promote any content without your approval.
How do you use Circleboom?
Simply login to Circleboom using your Twitter account and do whatever you want like unfollow non-followers, delete old tweets, retweets, etc.
How do I unsubscribe from Circleboom?
You can cancel your subscription at any time by using your account page. All you need to do is to click on the "Manage subscription" button on the account page and cancel your subscription on the opening page. Your subscription will be scheduled to cancel on.
How do you unfollow someone on Circleboom?
Login to the Circleboom app by authenticating your Twitter account and go to "The Circle" from the menu on the left. Then, select "Not following Back" to unfollow accounts that do not follow back. You can select fake/spam, inactive, overactive, eggheads, from the sub-menu depending on the accounts you want to unfollow.
Circleboom has a four-tier pricing plan including a free one that will be FREE forever with limited features. With a free account, you can manage one profile with limited features.
Is there any Cicleboom alternatives?
Yes, there are plenty of Twitter management tools are available in the market like ManageFliter, Tweepi, etc. but by far I've found Circleboom is pretty satisfying.
How to know who doesn't follow you back on Twitter?
Just click on the "Circle" and you will see a sub-menu with the option, "Not following back." Once you click on "Not following back," Circleboom will list all those Twitter accounts for you who you follow but they do not follow back. You can click on "Visit Button" for all the accounts that you want to unfollow.
How do I cancel Circleboom?
Account cancellation is possible at any time by visiting the Circleboom Account dashboard at https://account.circleboom.com. From the Accounts page, you can cancel your service.
Circleboom helps you track and analyze your Twitter profile. You can schedule your posts using the application, but it does not tweet itself.
What is the best Twitter management tool?
There are plenty but I found Circelboom is best in terms of features and pricing.
So that's it for my Circleboom review.
Given Circleboom's features and pricing, it is undoubtedly the best in the industry.
Before you buy their paid plan, you can even try Circleboom FREE trial first.
Short summary: Circleboom is by far one of the best Twitter marketing tools available and is a solid choice if you're serious about Twitter marketing.
I'd love to hear what you think about it in the comment section.