Twitter is one of the most powerful social media platforms for blog promotion and marketing, only if you know how to use it right.
In my early days on Twitter, I didn't know how to use Twitter effectively.
I didn't even know that I can promote my blog posts on Twitter and get massive traffic on them.
How dumb was I that time? *facepalm*
I used to tweet lots of useless tweets as well as blindly follow people on Twitter without even knowing if they were following me back or not.
Most of the people I was following were not adding any value to me but bombing spammy tweets.
Therefore, finally I had to take a hard decision to unfollow people who were not following me back using Twitter unfollow tools.
Why should you unfollow on Twitter?
It becomes necessary unfollowing people when you have a long-term goal with Twitter.
Following are some valid reasons why you should unfollow people on Twitter:
Unfollow people on Twitter who not following back. It allows you to connect more active Twitter followers.
Don't wait for a sec to take a decision to unfollow people who blast spam tweets that have nothing to do with your niche.
Unfollowing people from different niches will give you a chance to build the relationship with the people who has the same interest as you.
Don't hesitate to unfollow people who hardly tweets. Doing so, you can add more active Twitter follower in your Twitter timeline.
I guess by now you have been understood the importance of unfollowing people on Twitter.
Now here is a question you may ask:
How to identify non-followers or the people who have fake Twitter accounts.
Manually checking, right?
Of course, it is a way to check non-followers but also a time-consuming process checking everyone's Twitter profile one-by-one.
How about if you could unfollow everyone on twitter with one click to save time?
Sounds cool?
Well, there are some mass unfollow tools available online that you can use to automatically unfollow non followers?
…and in today's post, I going to share some of the best FREE Twitter unfollow tools that you can use to unfollow people who are not following you back.
Free Twitter unfollow tools for unfollowing non-followers
#1. ManageFlitter
ManageFlitter is an all in one Twitter management tool that helps you manage your Twitter profile effectively.
It is my favorite mass unfollow tool that I use to unfollow inactive users and fake(spam) accounts.
Here how to unfollow everyone on Twitter at once using ManageFlitter:
First, Go to the home of ManageFlitter and login with your Twitter account.
It fetches all data from your Twitter profile and shows the profiles of those who are not following your back.
Next step is to turn on Batch Select beta from the right side.
As you turn on Batch Select beta, it will show you the option to select all the Twitter profile at once for unfollowing them.
However, you can unchecked the profile you don't want to unfollow.
With your free ManageFlitter account, you can unfollow 100 users every day.
One of the coolest features of ManageFlitter is you can see your Twitter follower's Bio, his location, language, his followers, following and even see if he is following you back or not without visiting his profile.
Move your cursor to the profile of the users you want to see the details, and a pop up like this will appear to see you all details about that users.
iUnfollow is another awesome Twitter unfollow tool that you can use to automatically unfollow non followers.
Using iUnfollow is pretty simple all you need is a Twitter account to login it.
It will show you the profile of your followers automatically, click on the "Show Non-Follow Back" so that you can unfollow non-followers.
With a free iUnfollow account, you can unfollow 50 users daily.
However, it has a premium plan also for more advanced features, but as far as unfollow tools are considered the free plan is quite enough.
CrowdFire, formerly known as "JustUnfollow," is a popular Twitter unfollow tool for Twitter to unfollow non-followers.
You can see who are following you back and who aren't from just a single CrowdFire dashboard.
It makes you easy to manage your Twitter profile and let you unfollow unfollowers on Twitter free.
CrowdFire provides you a daily limit of unfollowing 50 followers with a free account.
However, you are free to upgrade your account to premium any time to avail its other amazing features.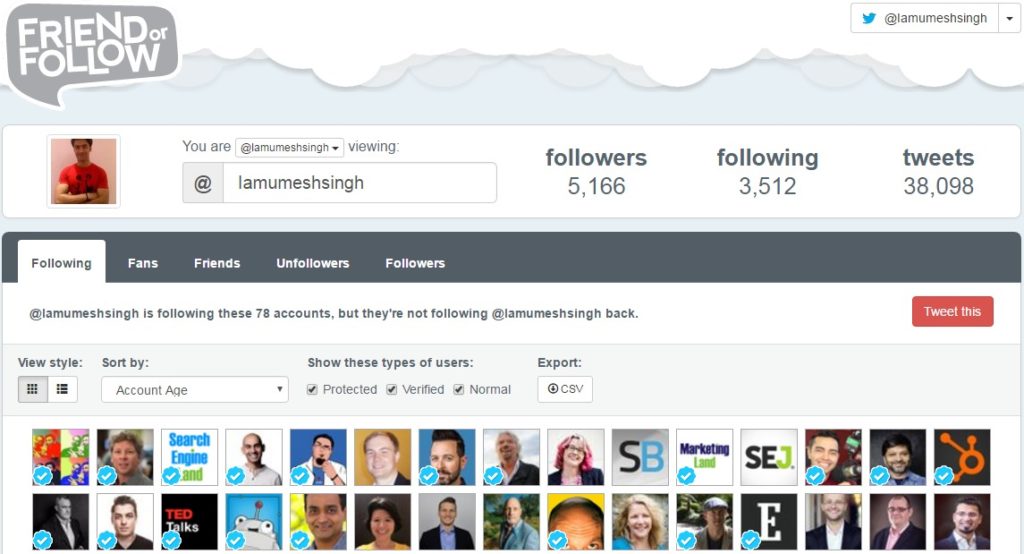 The Friend or Follow is simple yet best unfollow Twitter tool that helps you analyze your Twitter profile to know the non-followers.
Using this unfollow twitter tool, you can easily find the people who don't follow you back and unfollow them.
You don't need to create an account on Friend or Follow, simply login with your Twitter account and start using it.
The simple dashboard of Friend or Follow shows you all your followers and non-followers at a single place.
Therefore, you can easily follow and unfollow them.
Unfollower Stats is one of the best free Twitter unfollower tools that you can use to clean up your non-active followers.
Using this tool you can find your Twitter unfollowers and see your follow/unfollow stats.
Moreover, you can unfollow all non-followers with a single click.
FerraUnfollow is similar to iUnfollow and easy to use. It helps you automatically unfollow non followers.
Furthermore, you can also check FolowBackRate of your followers to grow your Twitter account.
See the people who don't follow you back and unfollow people with low #FollowBackRate. Because most likely these people will never follow you back.
Over to you!
Following or unfollowing people on Twitter is your choice.
But, if you ask for my advice I would say you should frequently clean up your Twitter profile by unfollowing people who don't follow you back.
It does not only help you grow your Twitter profile but also prevents your Twitter ID not appear spammy.
Using the above mentioned free Twitter unfollow tools you can save your lots of time and grow your Twitter profile fast.
I have personally tested these Twitter mass unfollow tools and found it useful.
If you found this post useful please share with your friends who are on Twitter and want to unfollow people who are not following them back.