Looking for a SEMrush FREE Trial?
Well, you got it.
Here is your FREE SEMrush trial for 7 days (No Credit Card Required)
The best part?
You'll get complete access to SEMrush's important tools like keyword research tool, site audit, position ranking, SEO content template, and more.
Let's get started.
Why Should You Use SEMrush?
SEMrush provides all-important digital marketing tools in a single place that includes keyword research, backlink audit tool, position tracking tool, on-page SEO checker tool, social media tool, and more.
It gives you insights into competitors' backlink data, traffic, and their best keywords that bring organic traffic to them.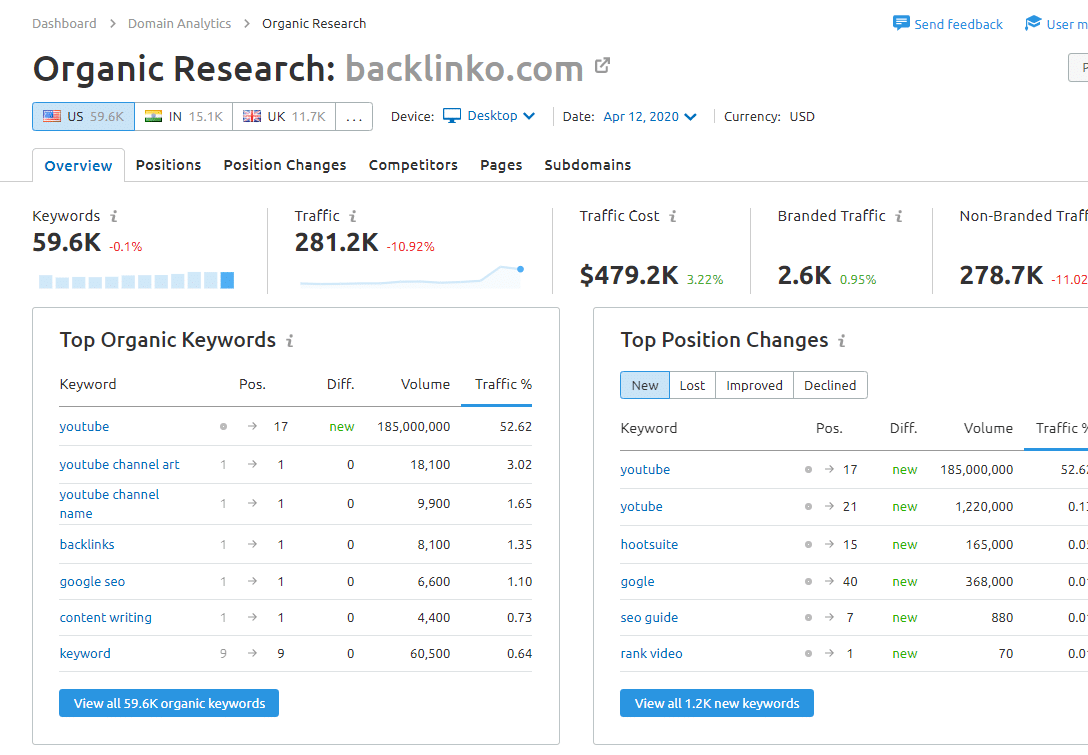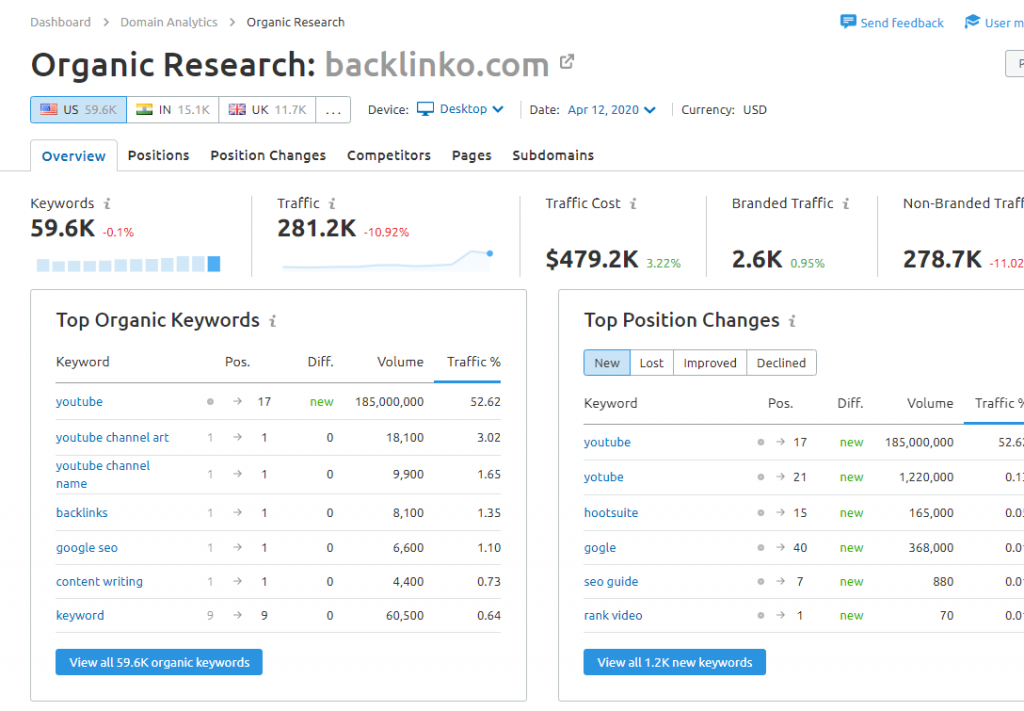 Additionally, it runs a full analysis of your keyword and helps you to decide whether you should enter into competition for it.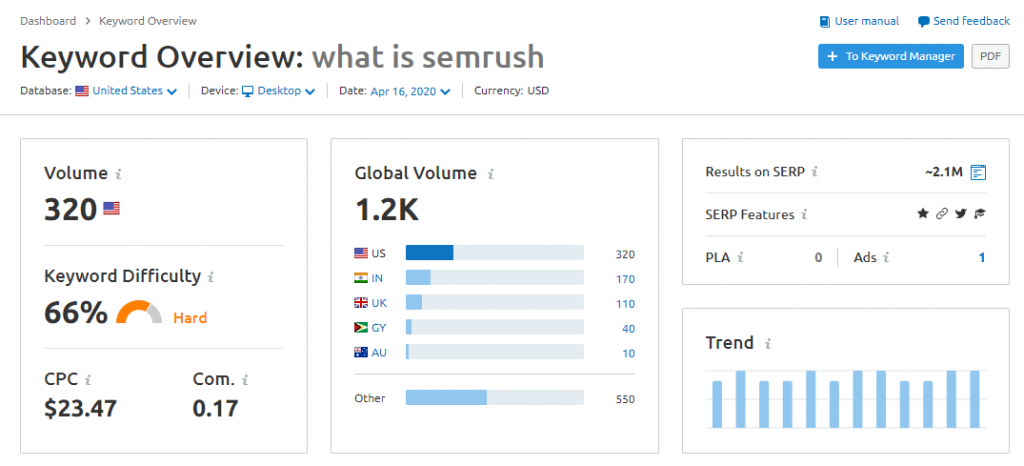 You can clearly see the metrics like search volume, keyword difficulty, trend, and CPC. These metrics are essential when you do keyword research to find the best keywords for your content.
Check out this SEMrush review and tutorial to learn how to use SEMrush effectively.
But first…
… get your SEMrush PRO account promo code to activate your 7 days FREE SEMrush trial.
How to Activate The SEMrush FREE Trial?
Here is the step-by-step process on how to get 7 days free SEMrush trial.
Step 1. Click on this unique discount link, and you will redirect to Curious Blogger partner page.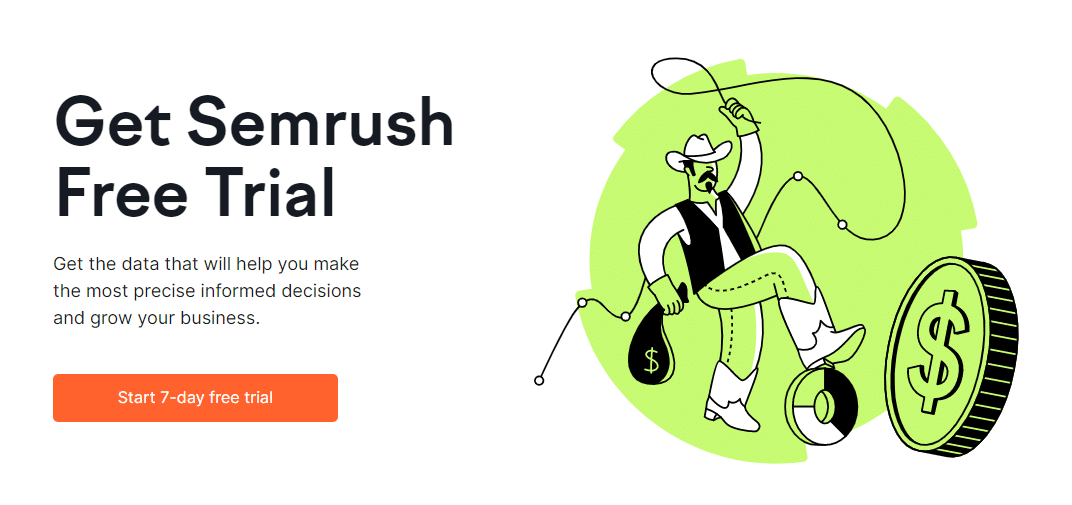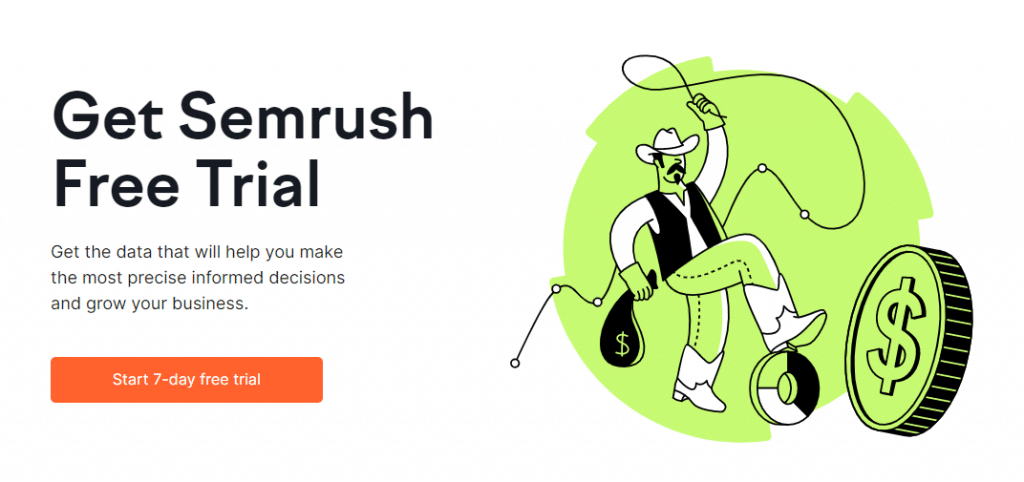 Step 2 – Create an account here using your Gmail ID. You can create an account with your email and password also.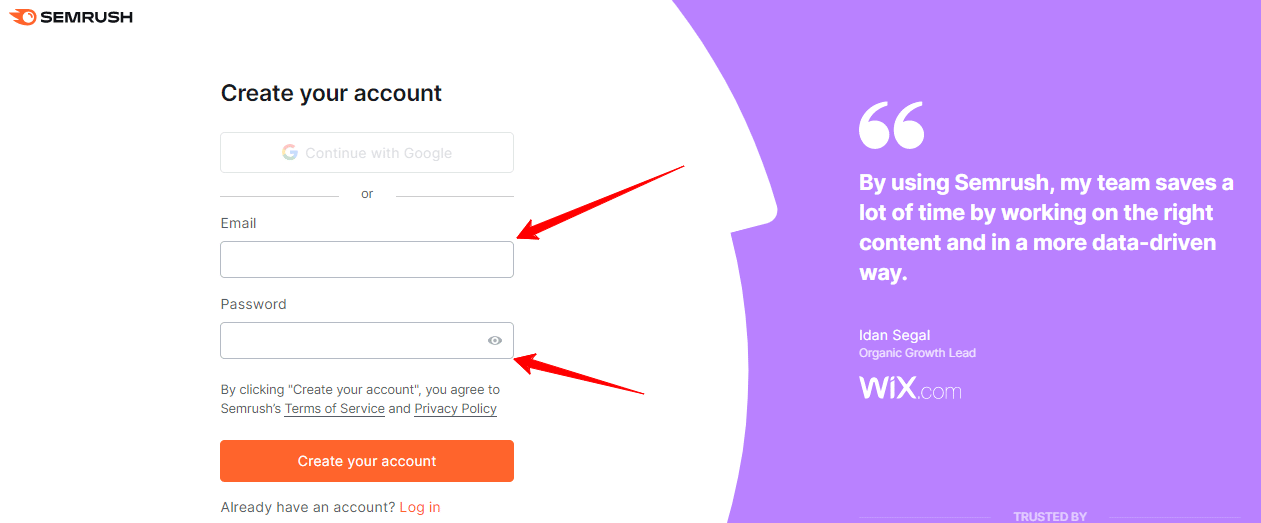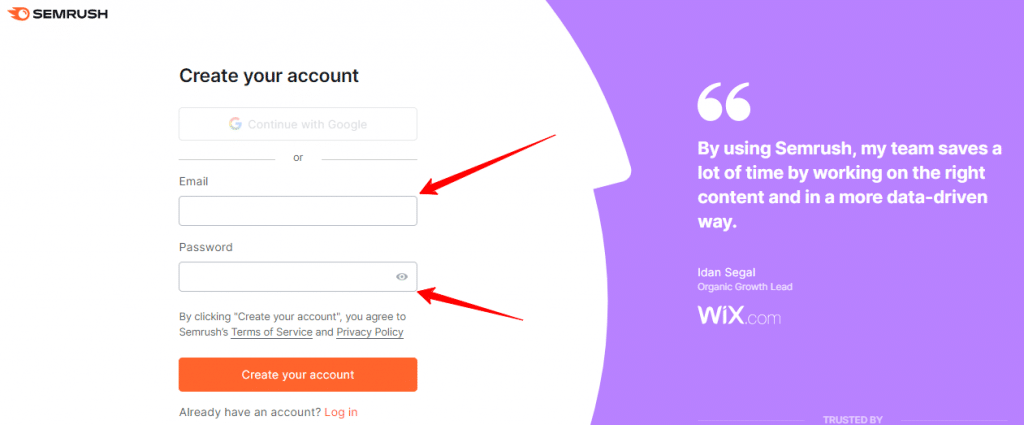 Step 3 – On the next page, you will be asked to enter the code to verify your mail. Enter the code and you're good to go.
Congratulations! Enjoy the SEMrush PRO account for 7 days and do whatever you want to do. Maybe you want to do keyword research, keyword position tracking, or website audit.
What are The Benefits of Using SEMrush?
SEMrush is a popular SEO software that provides multiple toolsets for bloggers, marketers, and agencies to run their digital marketing campaigns smoothly.
Over 4 million users worldwide trust on SEMrush. It has a massive database of 18 billion keywords.
Here are some areas where you can use SEMrush:
SEO – SEMrush is, by far the best SEO software I have ever used. It has everything you need to run your SEO campaign. From research to reporting, you can take your SEO to the next level with SEMrush tools by doing keyword research, backlink audit, rank tracking, competitor analysis & more.
Paid Traffic – SEMrush doesn't only provide seo tools but also a tool for paid advertisers. Using SEMrush, you can monitor competitors' paid keywords, ads, and their cost at the local level. You can also do Google shopping campaign analysis.
Social Media – SEMrush also offers social media tools that let you set a benchmark for your social performance as well as uncover the competitors' social media strategies.
Additionally, you can find their best performing content and schedule your post on five social channels.
Content Marketing – SEMrush content marketing tool let you find the loophole in your content and provides suggestions to improve. It also helps you find the trending topics and ideas by analyzing the Google top 10 pages in SERP.
Market Research – Want to ahead of your rivals? Then use SEMrush to uncover market trends and find new growth and effective digital marketing strategies.
Which SEMrush Pricing Plan is Right for You?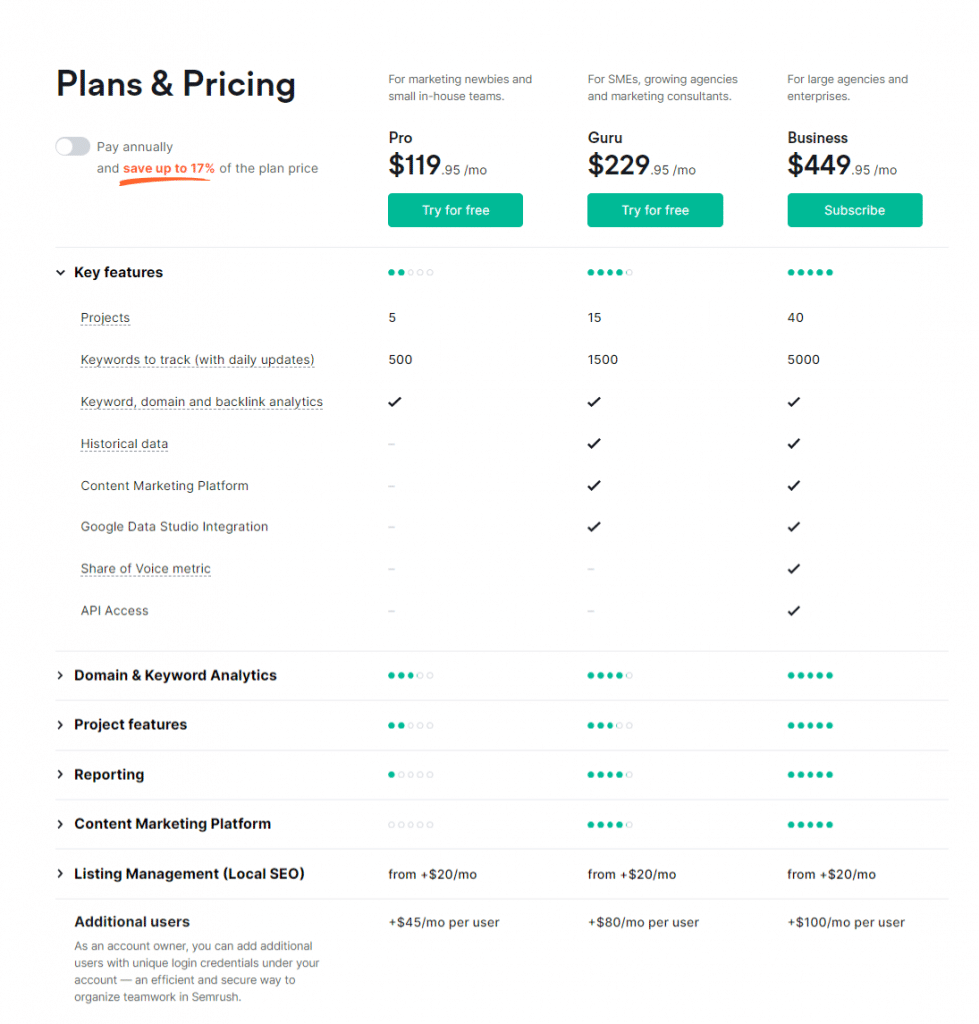 SEMrush provides three pricing plans (PRO, Guru, and Business).
Apart from these three plans, it also offers an Enterprise Plan that is customized.
Here are the more details on SEMrush payment options:
SEMrush Pro Plan – This is the lowest plan that starts with $119.95/mo and is best for someone who manages a single and very simple personal website.
With this plan, you get all important SEMrush tools like keyword research, backlink audit, site audit, content template, and more.
If you are a blogger who wants to start a blog or do some SEO research for an SEO campaign, then this is the best plan for you.
SEMrush Guru Plan – This is the most popular plan that gives you all Pro features along with content marketing platforms, branded reports, historical data, and extended limits.
This is the best plan for marketers, startups, and small agencies who have less than 15 projects.
With this plan, you can track 1500 keyword ranking positions. Additionally, you can do unlimited topic research for your website.
SEMrush Business Plan – This plan is best for businesses or agencies that are handling more than 20 projects and have lots of keywords to track. You can track up to 5000 keywords with this plan.
Moreover, you get API access and Google Data Studio integration.
SEMrush PRO vs SEMRush GURU? Which one should you choose?
And now, you're thinking…
SEMrush PRO vs SEMrush Guru.
Which one should I choose?
Let me help you.
Both are the great plan of SEMrush and have their advantages.
If you are a blogger or a freelancer who doesn't have many websites, then the PRO plan is best to start with.
On the other hand, if you are a startup or an agency owner, then the Guru plan would be right. You will get more keywords to track as well as some additional features.
SEMrush FREE Trial – Frequently Asked Questions
Can I cancel my SEMrush free trial?
There is no charge to cancel your subscription or downgrade or upgrade your plan. You will receive a full refund if you cancel or downgrade your subscription within the first 7 days. No questions asked.
Can I sign up for both offers SEMrush Pro and SEMrush Guru?
Sorry, but you can't opt both PRO and Guru plans simultaneously. SEMrush offer only one free trial per user. Make sure you choose the right plan when selecting between PRO and Guru.
Which is the best SEMrush Plan for bloggers?
If you are a single website owner and don't want to track more than 500 keywords, then the SEMrush PRO plan is the best for you. You get all important SEMrush tool with this plan.
What features I will get with SEMrush Pro FREE trial?
You will get all SEMrush premium features like site audit, content template, backlink audit, keyword research tool, keyword position tracking, and 40+ other tools.
How can I get SEMrush free trial?
You can use this special link to get FREE SEMrush PRO trial for 7 days. All you have to fill in the required information like name, address, email, etc.
Yes, it is. SEMrush will help you do competitor research, backlink checker as well as run a full analysis of your website and help you to decide how well your site is optimized for both search engines.
Which one is good Ahrefs vs SEMrush?
Both tools Ahrefs and SEMrush are a great SEO tool and have their unique features. Ahrefs has a friendly UI/UX compare to SEMrush. But SEMrush has got more advanced features and good value for money.
SEMrush Free trial is an excellent opportunity to explore this tool and do some competitive research. Whether you want to start a blog or already have one use SEMrush to increase its visibility of it.
Use this SEMrush free trial offers to collect backlink opportunities for link building, easy to rank keywords, competitor research, and more.
Let me know if you have any questions or comments about this promo code or SEMrush, just let me know in the comments.
Click Below to Get Started