Want to jump straight to the answer? For most people, Circleboom and Audiense are the best Twitter follower tracking apps.
When you are just starting out as a brand or influencer, the growth of your Twitter followers is easy to track. As your followers grow, you will face a challenge.
Manually, Twitter follower tracking is time-consuming and you may not get the actual number of followers.
Automated Twitter followers tracker tool can help you track the number of followers on Twitter over time and provide you with useful insights.
You need a Twitter follower tracker app to keep track of the people who follow you on Twitter, and I've already conducted the research to help you find it.
Let's dive into my list of the best Twitter follower tracker tools.Twi
What is the Best Twitter Follower Tracker Tool?
Here are my top picks for the best twitter follower tracker tools on the market.
After testing different follower tracker apps for Twitter. I can recommend these five as the best. Check out each tool's in-depth review for more details on its features, benefits, pricing, and use cases.
Circleboom is our top choice to track Twitter follower growth live.
This is because they track more than Twitter followers count. Furthermore, they offer a Twitter management tool that enables you to delete old tweets, unfollow non-followers, and more.
Additionally, you can discover trending hashtags to optimize your tweets.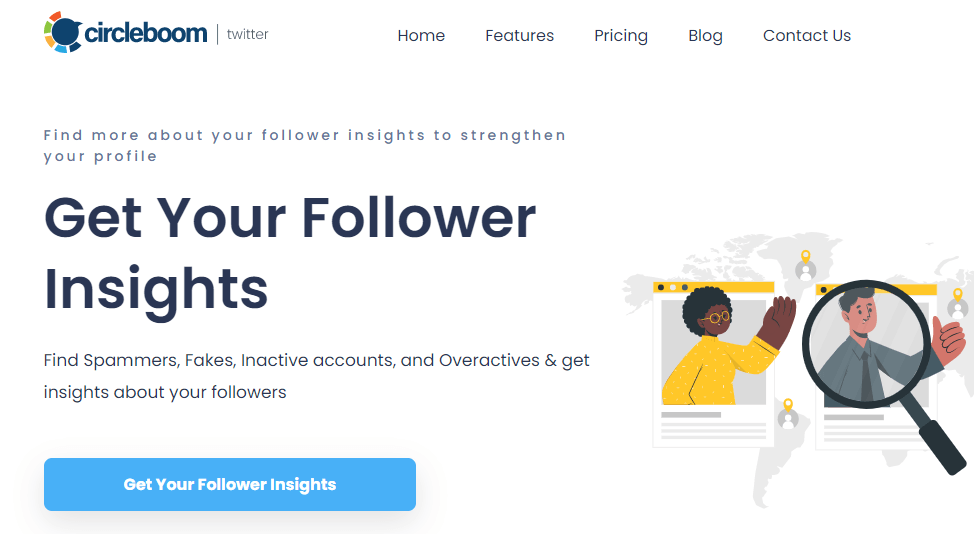 If you're interested in knowing your audiences' geolocation, age group, and what type of content you're publishing, this is the best tool for you.
Furthermore, Circleboom allows you to remove spam, fake and inactive followers from your profile that doesn't add any value.
As well as deleting your old likes, retweets, and entire Twitter archive. In other words, it is one of the best tweet delete tools.
It also has a smart search tool that will help you find people you should follow based on their interests. 
Key features
Get your followers insights – Get an in-depth analysis of your twitter profile (including fake, spam, and non-active accounts)
Twitter search tool – Use search tool to find the relevant keywords to find the right person to follow
Twitter user analytics – Get reports about daily followers' changes, tweeting performance, gender stats, and more
Unlike my likes – Sort your all Twitter likes and unlike one-by-one or all at once
Delete my retweets – Filter your tweets by keywords and delete any or multiple at once
Delete twitter archives – Upload your tweet archive and delete your Twitter history by time.
Pricing Plans
Start using Circleboom for free and upgrade for more advanced features.
Here is a closer look at the plans and pricing of Circleboom.
Free – $0 forever
1 Profile with limitations
10 Scheduled/Queued Posts per Account
1 RSS Feed Connect
Pro – $11.99/month
1 Profile without limitations
120 Scheduled/Queued Posts per Account
Design Tool
Up to 50 RSS Feed Connect
Article Curation
Image, GIF Curation
Enterprise – (You'll need to contact for pricing)
50+ profiles without limitations
Unlimited delete tweets, retweets & unlikes*
Unlimited Profile Searches
Followers info unlimited results
I consider Circleboom one of the best tools for tweet follower tracking based on its features, ease of use, and overall functionality.
If you want to learn more about Circleboom consider checking this Circleboom review.
Audiense Connect is a Twitter management tool that can help Twitter users manage their social networks.
Audiense allows you to gain an understanding of your following growth as well as the number of retweets, mentions, and likes.
Also, you can see the accounts that do not follow you back, so you can unfollow them. The same applies to accounts that have been inactive for a long time.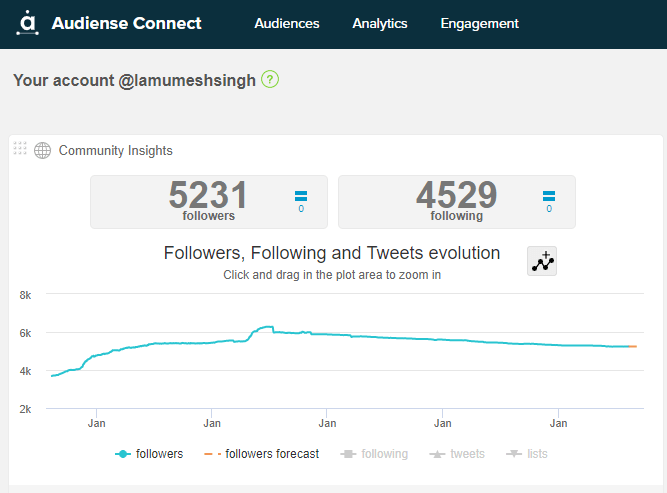 Audiense allows you to create your own tailored chatbot to automatically engage your subscribers and audiences.
Key Features
Community Management and Analysis – Engage with your Twitter audience based on accurate data.
Chatbots and Broadcasts – In a few minutes, you can create a custom chatbot to interact directly with your audience using the custom chatbot builder.
Advanced Monitoring & Listening – Learn about Twitter trends worldwide to plan your campaign effectively.
Tailored Audience for Advertising – Create Twitter ads with the Twitter targeted audience that perform the best.
Best Time to Tweet – Send your tweets when your audience is online.
Filter, Follow & Unfollow – Make it easy to follow your new followers using a smart filter. Furthermore, you can unfollow spammers and inactive accounts.
Competitor Analysis – Identify your competitors' followers and what they tweet, to replicate them.
Twitter Community Insights – Get informative data about the Twitter community including time zone charts, language charts, users' recent activity, and more.
Advanced Audience Manage – Use advanced audience manager to create personalised audiences to improve the performance of your Twitter Ads and organic campaigns.
Plans and Pricing
Audiense offers three pricing plans tailored to the size of the organization. Choose yearly plans, and you will save 20% on the fee. You may choose monthly or yearly plans.
Here is the breakdown of each plan and pricing of Audiense Connect:
Free – $0/month (Limited version of Twitter Marketing and Audience Insights)
Basic community analytics
Basic audience manager
Community search
Up to 3 insights reports
Up to 20 influencer identification
Twitter marketing (formerly Socialbro) – $49/month
All features of Free plan along with
Advanced community analytics
Up to 1 twitter chatbot
Tweet analytics
Data exports
Advanced audience manager
Broadcasting DM campaigns
Twitter Ads
Audience Insights – $1499/month
All features of Twitter Marketing plan along with
100000 monitoring and listening credits
Up to 5 insights reports per month
Personality Insights
Media Affinity
Multichannel Ads Activation
Overall, based on features and ease of use, Audiense Connect is a great Twitter marketing platform to track Twitter follower growth count.
SocialBee is an all-in-one social media management tool that lets you share content from your dashboard to all major social media platforms.
Also, you can keep track of how your Twitter followers grow over time.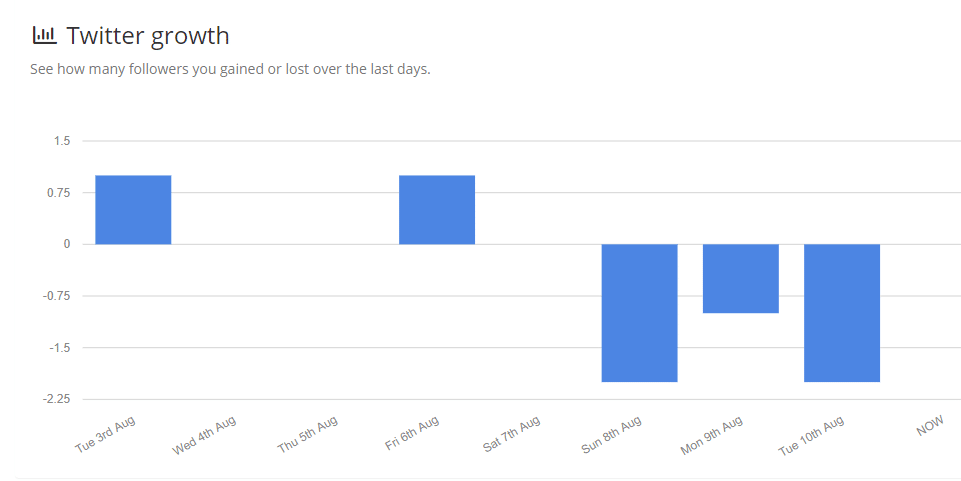 Find out who is not following you back on Twitter easily with SocialBee.
Additionally, you can automate your social media posting to save your precious time.
Consider scheduling your content with relevant categories to reach the right audience.
Key features
Category Based Scheduling – To reach the right audience, assign each post to a specific category.
Bulk Editor – You can change several posts in one category at the same time.
Share Your Content – Publish your content to the top social media platforms at once.
Hashtag Collections – Organize all popular hashtags in one place, either by category, by social profile, or by social platform.
Email Notifications – Receive emails when categories become empty, imports happen, etc.
Custom URLs and Tracking – Set up a custom UTM link to track the performance of links you share on your social media profiles.
Analytics & Performance Reports – Analyze your social media profiles in-depth and make wise decisions.
Plan and Pricing
Here is a closer look at the SocialBee plans, pricing, and features:
Bootstrap – $19/month
Up to 1 workspace
Up to 1 user per workspace
Support 5 social profiles
Post recycling
Up to 1000 posts per category
Up to 10 content categories
Twitter Audience tools (including follower count)
Accelerate – $39/month
Up to 10 social profiles
Up to 50 content categories
5000 posts per category
Post recycling
Twitter Audience tools (including follower count)
Pro – $79/ month
Up to 5 workspaces
Up to 3 users per workspace
Up to 25 social profiles
Unlimited content categories
5000 posts per category
Post recycling
All Audience tools (including follower count)
For more social profiles, check out their agency plans.
Try SocialBee's 14-day free trial and explore its features. There's no risk involved. Additionally, they offer a 30-day money-back guarantee.
#4. FollowerAudit – Easy to use Twitter management tool
Struggling to find time to track Twitter follower growth all yourself? You'll need FollowerAudit to find out who's following you on Twitter and who's not.
FollowerAudit will let you find out how many Twitter followers you have. It is easy to manage multiple Twitter accounts.


With a powerful analytics feature, you can analyze your Twitter audience, so that you can adjust your campaign based on that information.
To save time and gain maximum engagement, you can schedule tweets.
Key Features
Manage multiple accounts
View and track analytics
Get Fake & Inactive Twitter Followers List
Analyze Twitter followers
Track twitter follower growth
Compare fake followers audit report of multiple Twitter accounts
Get Twitter audit and identify bot and fake followers
Pricing
FollowerAudit is available for free, with basic features. In order to get the most out of Twitter, I recommend you opt for its premium plan.
Here's a simple and easy breakup of the FollowerAudit pricing plans:
Free plan (with no commitment)
Basic plan start at $29.99/mo where you can audit 20,000 followers
Professional plan start at $49.99/mo where you can audit 100,000 followers
Corporate plan start at $29.99/mo where you can audit 1000,000 followers
Twitter follower tracker CrowdFire is another useful app to track your Twitter followers.
CrowFire isn't only about tracking Twitter followers, but also allowing you to discover and schedule content, and manage everything from one place.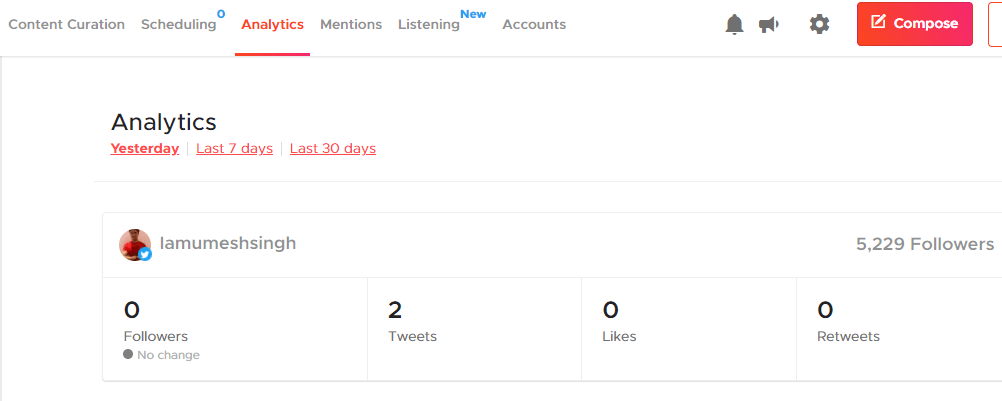 Twitter also lets you see who mentions you, allowing you to respond. Over 19 million people use CrowdFire globally.
By curating content from other useful resources and automatically publishing it on your profile, you can increase engagement of your posts.
Key Features
You need CrowdFire when you need more than counting the growth of your Twitter follower count. Here are some cool features of CrowdFire you should know about:
Content curation
Content scheduling
Powerful in-depth analytics
Twitter mentions
Add RSS feed to share content from other sources
Discover relevant content based on topics and interest
Pricing Plans
From individuals to businesses, CrowdFire has something for everyone.
Here's a look at the plans and pricking for CrowdFire:
Plus – $9.99/month (Connect up to 5 social accounts)
Premium – $49.99/month (Connect up to 10 social accounts)
VIP – $99.99/month (Connect up to 25 social accounts)
Business – $399/month (Connect up to 50 social accounts)
You can ask for a custom plan that fits your requirements if you weren't able to find the right plans.
All plans include a 14-day free trial and require no credit card. 
How do I track my Twitter followers?
You can track your twitter followers count history either manually or using a twitter follower tracker app.
Here is how to track twitter follower growth manually:
Go to your Twitter profile.
Click on more tab below Profile and then click 'Analytics'.
You will get directed to Twitter Analytics.
Now, you can see the growth rate of followers.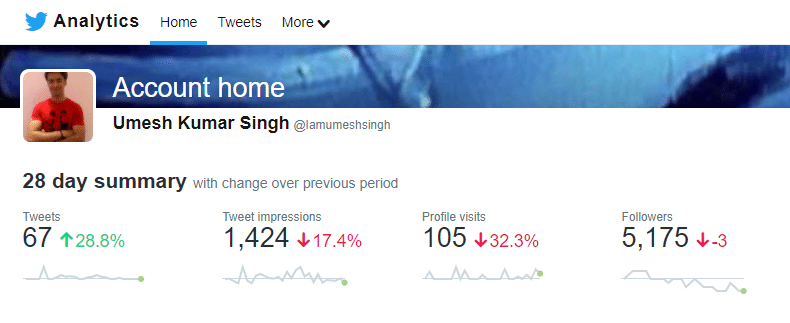 On the other hand, if you use a Twitter follower app, then simply login and its dashboard will show all important data including Twitter followers stats.
How do you track Unfollowers on Twitter?
Similar to tracking your followers growth you should always look for the accounts who are not following you back on Twitter. There are plenty of Twitter unfollow tools online that you can use to track non-followers on Twitter.
Why Should You Use A Twitter Follower Tracker App?
Here are a few reasons you should be tracking your Twitter followers:
You want to know who follows you on Twitter
To see how popular your account is among others
To find out what accounts follow you back
Identify influential people within your niche
Knowing the type of content that works best for your audience
To measure engagement rates
To see how many people have seen your tweets
Things to Remember When Following on Twitter
Today, Twitter has become much smarter than it has ever been, because they can smell follow or unfollow games quite easily. Your account might be suspended if you are caught.
This was a strategy used earlier, but now brands and people must understand Twitter's technical following limit.
Twitter has updated their technical follow and unfollow limits:
The maximum number of accounts you can follow per day is 400
A verified account can follow up to 1000 accounts per day
You can follow up to 5,000 accounts. You will need to wait for some time to follow more
Using your unique ratio of followers to following, Twitter calculates your follow ratio automatically.
There is no Twitter unfollow limit yet, but aggressive unfollowing might result in a ban.
Note: You shouldn't buy or use twitter followers generator to increase your followers count. It might lead your account suspension.
There you have it, my favorite Twitter FOLLOWER tracking tools for free.
Circleboom – The best Twitter follower tracking software for small and medium businesses
Audiense Connect – Best Tool to Track Twitter Follower Growth
SocialBee – Best affordable Twitter follower growth tracker
FollowerAudit – Easy to use Twitter management tool
CrowdFire – Best Twitter Follower and Unfollowers Tracker
I'd also love to hear from you:
Did I miss any of your favorite Twitter follower tracker application?
You might have a question.
I'd love to hear from you. Leave a comment below.
FAQs - Twitter Follower Tracker
Do inactive Twitter followers count?
If they follow back, yes they do. Check their profile, since people with active profiles can still look inactive if their design isn't appropriate.
How can we track Twitter followers?
To track Twitter accounts, you have several options. Circleboom and Audiense Connect are tools that can help you find the number of Twitter followers.
Of course, you can purchase those too; however, they won't work. You might even make things worse if they spam other users. Therefore, avoid doing that.
How to track someone's Twitter followers?
A few advanced Twitter tools will help you determine how much influence someone else's account has over yours. You can use third-party tools like Circleboom or Audiense to that.
What is Twitter follower growth history?
From your Twitter dashboard, you can access this information. All your Twitter growth data is displayed here.
Which followers should I track?
When using follower trackers, you must determine whether you want to track only followers who really follow you, or whether you want to track both real and fake accounts.
Can I track followers on Twitter?
Yes, you can track your follower count using twitter follower tools.