Let's face it – even the PRO bloggers struggle sometimes — when coming up with a blog name.
Most of all, it's your online brand identity.
…and you wouldn't dare to mess it with some crazy and generic names.
Now…
You probably have TWO questions:
1. What makes a blog name unique?
2. How to come up with a blog name that stand you out from the crowd
And I'll answer both questions.
First, I am going to show what makes a blog name unique?
And why you need to take time when naming a blog before starting a blog?
Second, I'll show you some easy ways to come up with a best blog name that doesn't suck and attract more audiences.
What makes a blog name unique?
A unique name is nothing but a credible name that attracts visitors, catchy, easy to remember, spell, and obviously relate to you somehow.
I've seen the blog which is hard to guess, what the blog about is unless you visit that blog.
Choosing a memorable blog name is challenging when don't know how to find name for your new blog.
Well, today your this problem is going to end.
Before I share you tips to find attractive blog name, I would like you know the blog name categories.
Here these are…
#1. Generic Blog Names – These are the names that focus on search engine traffic and mostly related to your blog topic or niche.
For example – Curious Blogger, as you see it focuses on bloggers. OR, a blogger who want to learn new blogging tips and tricks.
#2. Branded Blog Names – These are the names that come up with one motive BRAND something, whether it's a person or a company.
Most branded blog belongs to personal names such as neilpatel.com or matthewwoodward.co.uk.
But also some names can be branded once they established themselves contentmarketinginstitute.com and baclinko.com are the real examples of branded blog names.
How to come up with a blog name that doesn't suck
Naming a blog is not a task that you would do every day, therefore, when doing it, make sure you brainstorm and consider all possible aspects.
Let me help you how?
#1. Consider your niche or blog topic
This is the first step to choose a blog name.
You must be clear in your mind what your blogging GOAL is.
Your niche matters when you want to drive targeted audiences to your blog.
For example:
If you are running a fitness blog then coming up with TECH related name isn't making any sense. Is it?
Instead, coming up with a name like fitnessalien.com is great.
In the first place, it sends a clear message to visitors that the blog is about fitness without confusing with a funky name.
#2. Focus on brand
While choosing an awesome name for your new blog make sure it is easy to remember as well as have the possibility to be a brand in the future.
#3. Focus on search engine while naming a blog
Though it isn't necessary to use your main keyword in the blog if you have it, it would help you in search engine ranking.
How?
As time passes, your blog name turns itself as a keyword and whenever anyone searches for that name it appears first.
That is why having a keyword in your blog name is good.
#4. Avoid using hyphen and numbers
When you making a blog you should consider the SEO.
And an SEO point of view, numbers, and the hyphen are not recommended.
It makes difficult to spell, also people don't easily remember your blog name which has numbers or hyphen.
As a result, they get confused and never return to your blog.
#5. Prefer .COM domain name
A .COM is a widely known domain extension.
When choosing a domain, make sure you go with .COM, unless you are building a specific website such as education, technology, or an NGO site.
To know more about choosing a domain name read this article:
Ultimate Guide to Buy A Perfect Domain Name in Five Minutes
Smart ways to come up with a blog name without wasting too much time
I guess now you might have cleared in your mind how to choose a blog name.
In case, if you still find yourself struggling while choosing a blog name
Take the help of domain name generators to find the perfect blog name for you
When your mind is blank with blog names ideas then it's time to give it a rest and put blog name creators in charge.
Here are some best blog name checkers:
Thesaurus will suggest you synonyms or alternate keywords for your blog name.
It works best when your desired blog name is already taken.

If you don't want to waste your time in blog name search then Panabee is the tool you should use.
It is a simple tool to search for domain names, app names, and company names.
Moreover, it shows if the name is available on social media or not.
If you have a bigger blogging goal for the future, you might want to take over on social media.
If that's the case, you'll need Namechk. It checks almost 102 social media platforms and forums to see if your desired username is available or not.
In case, if you see the desired name is not available on the social networking sites and forums consider changing your blog name.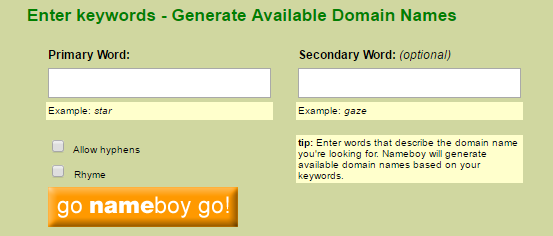 Nameboy is easy to use and a time-saving blog name generator tool.
All you have to do is put your primary and secondary keyword in the box and click the button "go nameboy go."
…and it will provide you all the possible domain names related to your keywords.
So, it was about finding names using blog name generators.
Now see some other alternative ways to find clever blog names.
1. Competitors' Blog Names could show the path
The competitor is your biggest friend who helps you in many ways unintentionally.
By looking at their site you will get the ideas about what trend works in your industry and how they have chosen their blog names.
Of course, you don't need to copy them but take the ideas.
2. Books can be handy
When nothing is working for you, hire the worlds' greatest author's brain to find a perfect blog name for you.
Books contain lots of inspiring and wonderful words that you can find within a few minutes.
Therefore, it makes sense to use books to find some out of the box blog names.
3. Juggle the words
There comes a situation when you wish a name but someone has already picked that.
What would you do, leave the core idea behind?
No.
Juggle the words, keep the original idea alive using some additional words.
Panabee can come handy in this situation.
4. Turn on your humor mode
When we are in a fun mood our mind gets creative and starts thinking out of the box ideas.
For Example – Crazyegg.com what would have come in their mind they chose this name.
To be honest, when I first saw the URL, I thought it would be a humorous site.
But when I clicked and saw there was nothing related to humor but the name.
Wrapping Up!
Your blog name is important and it's your duty to make it unique, catchy and memorable.
Don't do hurry while coming up with a blog name take some time and get the best blog names ever.
Remember, the name you take should be sweet and short.
What are your experiences in coming up with a unique blog name?