You crafted each word like an artist. You expected the post you are going to publish will double your audience engagement.
You invested a good amount of time to check if everything is right? And finally hit "publish," and what happens?
Nobody reads them. No comments, no tweets, no likes, no sharing on Facebook.
This is enough to break your heart. You might be thinking blogging isn't for you.
Actually, you're wrong. Because the solution of this problem is a lot easier than you think.
Writing point-to-point and styling is all you need to increase your audience engagement.
Searchers are more impatience
A study of Neilsen, they found 70% percent of readers scan on the web and only 16% users read the web page word-by-word.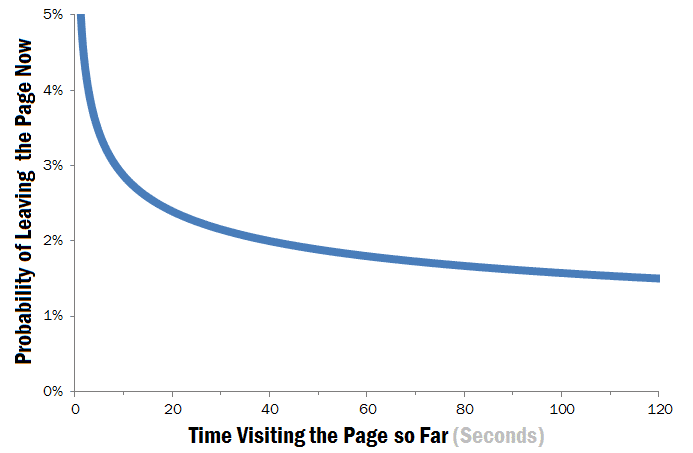 How about you? What do you do? When you look for an information on the web, do you read every page that you visit?
I bet, you don't. You probably move to another page if you don't find the answer.
We are living in a digital age, where to survive you need to be active and fast. Moreover, using gadgets have made people impatience.
So, what audience strategy can you use to attract more audience to read your blog post?
Make it short and sweet
To attract more audience to your blog you have to give up your boring writing style that you were using before.
Admit the truth, people scan web copy than reading.
Thus, instead writing a complex article, write short and factful content.
If you are covering a wide topic, produce it in smaller posts, than writing a jumbo post.
A smaller post will make it easy for your readers to understand the topic that you want they know. It will make them back for more.
Write a post that conveys your ideas in the flow so readers understand what is the post about.
If you are talking about fruit talk about fruit, not the cricket or politics.
Once you're done with writing now it's time to make it beautiful and improve its readability by using these 7 simple tactics:
Don't get afraid to use white spaces
You have been heard that white spaces are bad for blogging. It isn't true.
In fact, white spaces are the best friend of bloggers. Using white spaces between paragraphs and margins increased readability by 20%.
That's why the brand like Apple doesn't hesitate to use white spaces in its Ads.
Here are two ads one is from the late 70s that look a lot like an article.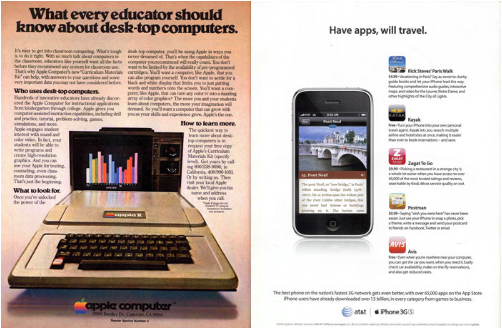 On the other hand, fresher ad has a cleaner design sensibility and more visual room to read and understand.
Here are why you should use white spaces in your writing?
White spaces increase readability
White spaces offer better user experience
White spaces give a chance to readers eyes to rest
White spaces make users pay attention to the important content
White spaces aren't always dangerous. Don't get scared to use it.
Break up your content with compelling subheads
The internet has provided us speed. You can get any information with just one click, right?
But, do you know that speed has also increased impatience in online readers?
According to The Nielsen Norman Group, online readers will decide within 10-20 seconds. After opening your post whether they should stick – or whether they should return back.
The best weapon you can use to deal with it is subheading.
Subheadings make your content much EASIER to read.
Indeed, adding subheads to online articles increases comprehension by 12%.
Many writers are aware of it but they just throw away their subheads. And that turns out less effective.
On the other hand, descriptive subheading that shows benefit increase readership up to 25%.
For instance, your subhead is 'Audience Engagement'. Now, you can change it like 'Using this crazy tips will increase your audience engagement by 27%'
Go ahead and try this.
Use a lot of bulleted lists
You know your audience are busy people. They don't have time to read your long post word-by-word.
However, they want to improve their skills, they want to learn fast but they don't want to give the enough time.
You can't blame them. Because 79% of online readers skim the page instead of reading every word.
Not only it's your duty to help them, but also give the required information in a short period.
Here come bullet lists to help you.
Bullet lists make it easy to process important information
Bullet lists help users to scan important points
It provides a visual break for your reader
It grabs attention to your readers
Add relevant and helpful resources
When you create content you want to keep people on your web page as long as you can.
No matter how great your content is, still you need some other resources to put more weight on it to please your readers.
Adding relevant and helpful resources in your article can help you to deal with it.
Adding internal links back to your own topic related blog post will keep people on your site, and cut bounce rate.
Whereas, external links show that you have researched the topic and you want to mention other experts.
It doesn't only entertain your readers but also add more value to your article.
Another great advantage of internal linking is if someone tries to copy-paste your content he will unknowingly offer backlinks to your blog.
Highlight important concepts strategically
Add more weight to your article by highlighting important concepts.
It will help your readers to scan your post and pick out the most important information at a glance.
Moreover, it helps them to prioritize content and increase visual consistency. It clearly defines where users can find what they are looking for.
Remember, don't highlight everything, it will make you look like a dumb blogger. Only highlight the important facts and links.
Use the power of numbers
If you think that list posts aren't useful anymore you are wrong.
As a matter of fact, list posts get more shares than any other types of post.
Numbers are the best way to grab attention and keep the reader oriented.
Take a look below I searched the keyword 'six pack abs' in the Buzzsumo.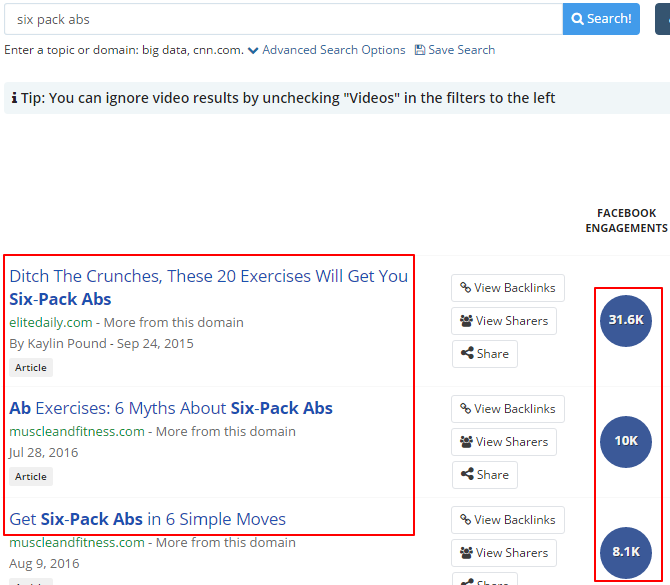 Top three performing posts are list posts.
Any article that lists a number of reasons, secrets, methods, or ways will work because it makes a specific promise and readers get curious to know that. It works like a magnet.
You can make a post more engaging just by numbering your main points. Give it a try.
Read your content as readers
Once you have done with white spaces, numbers, subheads, highlighting, all necessary formatting re-read it again – see if anything left to include.
Will the reader get benefit with this post without losing his interest?
Have you brought the best information out of the web and formatted them into the words, the words that will bring your skimmers in and convert them into readers?
Final Thoughts!
To be a successful blogger, it is critical that your audiences engage with your content and convert.
It will only take 10 minutes to apply the above-mentioned audience engagement strategies. And if successfully apply these tactics your readership will be double.
How about you? What technique do you use to attract an audience to your blog and increase readership? Please share your thoughts and suggestions in the comment sections.