I guess you might have already read thousands of Bluehost reviews online before. And you don't need another Bluehost review, right?
But still, I am writing this review about Bluehost.
Why?
Because this review is based on actual statistics and data.
Moreover, I am going to share everything about Bluehost hosting that you deserve to know.
Before we dive into the detail. Let's see a quick history of Bluehost.
Born in 1996, hosting over 2 million websites all over the world, BlueHost is one of the largest business hosting providers.
The company offers various types of hosting packages: shared hosting, virtual servers, dedicated servers, reseller hosting, but well-known for hosting for a WordPress blog.
If you want to start new WordPress blog shared hosting would be the best choice for you, but if you have an existing WordPress blog with good traffic, opt their managed WordPress hosting.
Like other hosting companies Bluehost hosting has also some pros and cons. First, take a look:
Pros of Bluehost hosting
Low price shared hosting
Bluehost shared hosting comes in three different packages, and you are to free to use the one that fulfills your hosting demand.
If you have only one website, you should start with basic plan
If you have multiple websites, plus plan would be the best for you
If your need includes using HTTPS, the business prime will be the right package which comes with one SiteBackup PRO and Domain privacy.
I would recommend you to choose 'Plus Plan'. It has almost everything that you will need unless you are using it for business purpose.
You can get Bluehost for $3.45/month including one free domain. You won't only get hosting, but other free gifts like AdWords credits, that will help you to promote your website. You can pay for it either PayPal or credit card.
Most secured web hosting
No matter what hosting company you choose to invest, they don't take guarantee of 100% server "up" time and security measures. If they guarantee you should try other hosting company.
However, BlueHost can guarantee for higher server "up" time and best security.
When it comes to security feature Bluehost hosting has earned it and known most reliable web hosting company worldwide.
'Official' WordPress.org Recommended Host
Bluehost has been an official hosting partner with WordPress since 2005.
Recently WordPress has created a hosting page on their official website WordPress.org where they have listed only four hosting companies and Bluehost made it place on the top.
There are countless hosting companies out there but WordPress has shown its trust on Bluehost, it means it has something unique.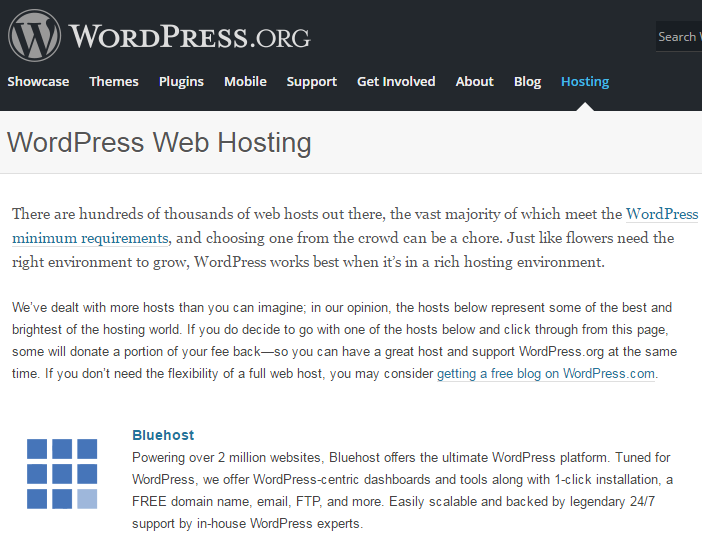 Knowledgeable Customer Support
A company can grow faster if they have a knowledgeable support team that provides an instant solution to the users' specific problem.
Luckily, Bluehost got it.
Bluehost helps its users with their regularly updated informative (containing 721 articles), a Getting Started guide, video tutorials and user forums, as well as 24/7 email, phone and live chat support.
Handling over 2 million sites isn't an easy task. Sometimes customer support takes 30-40 minutes to respond. If you're not in the mood of waiting you can check out their YouTube Channel.
7 out of 10 times users find the answer to their problems on Bluehost YouTube channel.
Flexible Hosting Plans
Bluehost offers flexible hosting plans for its users. Whatever your needs are Bluehost has a hosting plan for you whether you want to run, e-commerce, business website, multiple websites, or personal blog, you will get that.
You are free to choose any of that plan according to your need and can easily switch later for other hosting plans.
Bluehost provides 30 days money back guarantee. If you aren't satisfied with Bluehost hosting you can drop out yourself anytime within 30 days and will get a full refund.
Remember, 30 days money back is only offered for the hosting service.
Solid Server Performance
Bluehost has earned it itself with outstanding server performance.
BlueHost servers are one of the finest webmaster tools in the world of web hosting.
The server Bluehost use is outstanding when it comes to performance and reliability. The CEO of the Bluehost is a computer geek and he uses his knowledge and his years of experience when he builds each server.
BlueHost builds their servers in their own Data Center in Utah. All Bluehost servers are custom-built.
Many shared hosting who claims to offer you affordable hosting solutions, don't build their own servers.
Enhanced User Control Panel
Bluehost provides you cPanel, so you can easily manage your hosting account. The cPanel is one of the best hosting control panels available.
Their cPanel is free to use and they don't charge a dime for it.
When you login to your Bluehost account for the first time, you will see the options to set up email, migration, and website design.
Installing WordPress by cPanel a lot easier even a non-tech person can do that within just a few clicks.
You can easily manage and watch your website's performance and statistics through cPanel.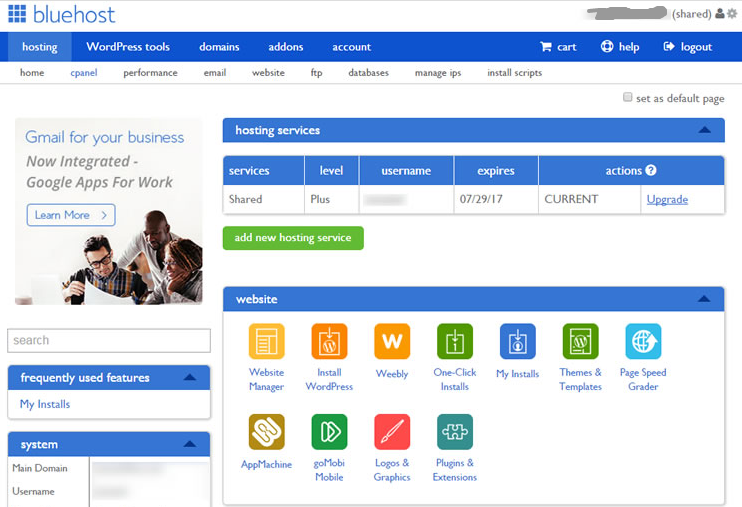 Cons of using Bluehost
You will see thousands of Bluehost review that will show the advantages of using Bluehost. As you and me, we both know everything has pros and cons.
And, I said to you in the begging; you deserve to know the everything about Bluehost, now times to know the cons of using Bluehost.
Customer Support isn't very…. fast
I have already told you that handling 2 million websites isn't an easy task. So, it could take sometimes to respond.
But, still waiting for 40 minutes to get help from their support team isn't good. I guess they are aware of this issue and most probably they will figure out a solution to solve it.
Since then they have uploaded most frequently asked questions videos on their YouTube channel. Most of the time users queries get solved through watching step-by-step videos available on their channel.
Renewal isn't cheap
Unfortunately, renewal of hosting isn't cheap but still it is a lot cheaper than other hosting providers.
The reason it isn't cheap because there aren't any discount code available yet.
So, if you are still want to get best deals on Bluehost hosting. I would recommend you to choose its three years (36 months) plan that is the only way to get lowest possible renewal discount.
Not Truly Unlimited
Most hosting providers claim that they provide unlimited hosting plans that aren't true. And, Bluehost isn't different from them.
If you are interested to know about it, you can visit their Terms of Service where you will see the details about their data policy.
What Experts Says About Bluehost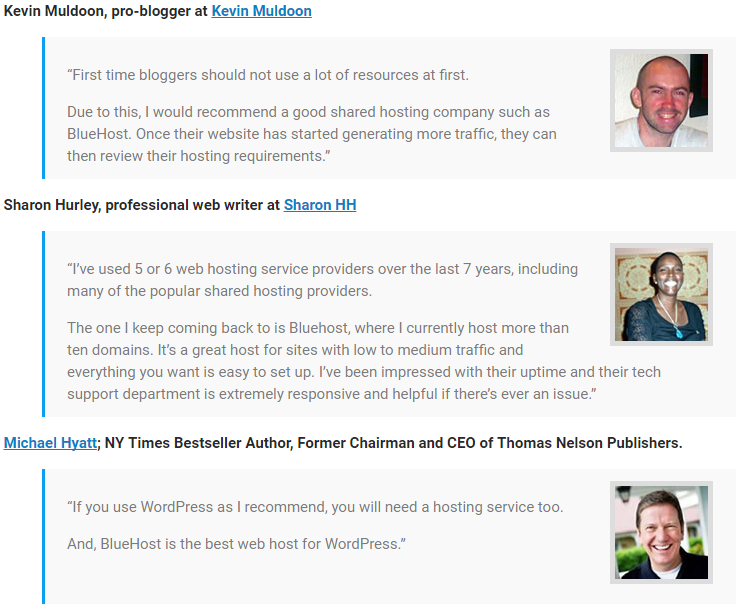 Should You Use Bluehost Hosting?
Of course, if you are interested in starting a WordPress blog and looking for a budget hosting. Nothing could be a better choice than Bluehost.
That's why WordPress recommend it. I would recommend you to choose their 'Plus Plan' that would be the best standard shared hosting plan with all the usual features.
For more information about Bluehost visit their official website.