I'm sorry to say, but nobody cares about your blog not even the search engine.
I don't mean to discourage you, and hurt your feelings.
But it's true.
I understand, you spend your lots of time and effort to write a blog post. Then how can I say that no one takes seriously to your blog?
The reason is…
Around 2 million blog posts published every day, and most of them never get a single comment or shares, less than 5% of bloggers earn more than $10,000 per month.
It is because a majority of bloggers failed to create engaging and compelling content.
In this post, you will know the reasons why your targeted audiences don't take your blog seriously? And how can you fix it?
#1. You are not focusing on one goal
You think that you can write about any topics on your blog.
Right?
Okay.
Let me ask you a question.
How would you feel when you visit a digital marketing blog to learn marketing tips, and when get there, you don't find a digital marketing tips article.
Instead, there are pet care tips, real estate investment blog posts, how to start a blog, etc.
What would you do then? I bet your will never visit that website again. Won't you?
Same thing happens with your audiences too. When posting articles about multiple niches on your blog, besides your niche.
That's why your audiences don't take you seriously.
Many newbie bloggers make this silly mistake. They start blogging without having a clear goal.
A goal that describes your website's nature like what topics will be covered on your blog?
It is evident to make this mistake when you don't have a clear vision about your blog.
Here is how to fix this issue:
Set a goal before your start blogging
Only post article about your niche related topics
Don't post about another niche on your blog until it is relevant to your topic
Before publishing a post ask yourself, does it has anything to do with my audience?
Having a goal is important for the blogging success. Once you know what is the main motto of your website, then you can easily create content that meets to your targeted audience's need.
#2. You content is not providing any value to your audience
Let's face another bitter truth; your audience doesn't care about you, or even about your blog unless, you have something valuable to them whether it is a blogging tip, E-book or marketing tools.
They only care about themselves and their benefit, and how you treat them.
If your blog post is too general and it has nothing relevant to your audience they will never read it and share.
Do you know why Brian Dean, Neil Patel, and Sue Ann's blog post gets hundreds of comments and shares?
Because they don't write a blog post until they have something that matters to their readers. They care about their audiences, and their fans do the same.
[Tweet "Poor quality blog posts can turn readers away – so give your audience something worth reading!"]
Here is how to fix this problem:
Don't publish a blog post that simply isn't good enough and can be easily found on the web
Make sure add some extra information to your blog post
Try to teach something new to your audience
Ask your audience what they want to read by emailing them
#3. Your audience thinks, you don't know about your niche
One of the biggest challenges you have to beat as a blogger is, to prove to your readers that you are an expert in your niche.
It is important to gain trust and loyalty of your audiences, to show them that you understand, what you are talking about in your blog.
Trust is what will convert visitors to loyal readers, followers or clients.
Find your passion and write about it and you will be successful.
Here are some more tips which you should consider:
If you are a technical guy you can start a blog providing tech tips
If you are a nutritionist, you can start a blog about nutrition and dieting
If you are crazy about fitness, you can write about fitness
If you like music, you can write about music and lyrics
Be an expert
Being an expert takes a lot of research and time. It takes years of experience.
Following are some useful advises to become expert in your niche:
Follow experts in your niche on social media and learn from them
Learn how to do keyword research and select the blog topics
Learn about the basic SEO and improve your SEO skills
Learn smart blogging hacks to improve your blogging skills
You might already know; practice makes a man perfect
If you have expertise in a niche, you need to show it by providing quality and relevant content to your audience.
#4. Your content is too self-promotional
Suppose, you went on a date with a girl and all the way she only talks about her accomplishments and never ask or try to know about you?
Would to go on a second date with her? I bet you wouldn't until she is a an attractive girl.
Then why do you think only talking about your company and product will engage your visitors?
As a blogger, I would suggest you create content that provides value and engage the readers.
Once you improve your audience engagement, it would be easy for you to convert them into customers.
Using promotional content alone won't fuel up your blog until your readers read it. And they will read only when you write about them.
In today's business world clients is the judge and if you fail to deliver them the information that they are seeking, they will find that somewhere else.

Here what can you do to avoid this mistakes:
Don't get content marketing confused with traditional call-to-action advertising
Find out what your clients are sharing and talking about
If your content is about brand, then make it innovative
Make sure your brand content doesn't force to the customers
#5. You don't have a proper editorial calendar
Consistency is critical to the success of your blog. And to deal with this consistency problem, an editorial calendar is the perfect solution.
If you don't have an editorial calendar, you probably wouldn't know which type of post should you publish for your audience.
An editorial calendar helps you to organised your blog posting and promotion.
However, a lot of bloggers and digital marketers still struggle with knowing exactly how to set up and use a calendar to achieve their goals.
Before you start creating an editorial calendar ask the following questions to yourself:
Who are you writing blog posts for?
Why are you do blogging?
What skills and resources do you have?
How can you stand out from other bloggers?
Once you know the answer to all the above questions, you will be able to build a solid editorial calendar.
How to setup your calendar?
There are several tools available that can help you to create a calendar. For example, Trello is most liked calendar tool by marketers.
However, if you are not blogging for a company, that's pretty good you can start out with a simple Excel spreadsheet or a shareable Google Sheet to track your blogging's progress through your editorial process.
Make sure your editorial calendar have the following fields when you are creating that:
 The date the blog post will be published
The topic or headline of the blog post
The author of the blog
The owner of the content – who will be responsible for publishing to promotion
The current status of the blog posts
The platforms where your blog post will be published
Creating and managing an editorial calendar will boost up your blogging productivity and accuracy. You'll be able to write quality blog posts effectively.
#6. Your content is boring, and It has no taste
You spend a lot of time to writing a blog post and finally that went live.
You shared it on social media and other blog sharing networks.
After some hours when you checked to see that how your blog post is working? You see, it hardly got a like, share or comment.
Sounds familiar to you?
You must be wondering why people aren't sharing your blog post? Or why they don't like it?
The main reason people don't like your blog post is, it is boring and not entertaining enough to share.
Boring content is not good for you, it turns off your readers, and you might lose them for forever.
Here is the thing. How can you create content that people share, like and read?
Make your content relevant – You are good in writing. But, the blog post you write is not relevant or entertaining to your audiences, they will not share it.
Gather information about your readers. So, you can write a better content that resonates them.
Avoid long and winding sentences – Sentences should be no longer than two lines. Preferably, much shorter. Make sure it finish within 8-10 sentences.
Explain the motive of your blog – What your audience is going to learn? That is the thing that readers care about.
Make sure that you describe the goal of your blog post clearly, so readers get a clear idea, what he will get after reading your blog?
Write Eye-catching Title – Title is important for your blog post. 8 out 10 will click on the title, but only 2 will read the whole content.
Make sure your title is eye grabbing that people can't stop themselves but click.
You can take help of online title generators if you don't know how to write an eye-catching title.
Make it step-by-step – this kind of posts make it easy for the audience to follow the process and complete the goal.
Use visuals in your blog – Content with relevant images gets 94% more views than content without relevant images.
Use best images that encourages readers to take next action.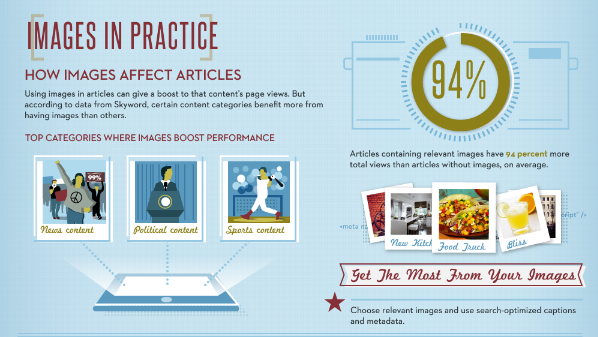 Final Thoughts!
There could be more reasons that people don't take an interest in your blog. But if you follow the blogging tips mentioned above, you can create more appealing content.
To be a successful blogger, it is critical that readers read your blog post. Now, it up to you, how you are going to make your blog more engaging that get thousands of share, like and comments.
What suggestion do you have for creating a blog that people read and share? Leave your comment in the comment section.
Additional Read on the Topic:
9 Reasons no one reading your blog