If you are not on Google, you can never be found elsewhere. Today, to bring back the bacon while being in the competitive world of digital marketing, you need to understand the broad significance of Google and the role it plays in generating revenues for all brands and businesses.
Every second company is in a fierce competition to get on the top of the ladder. Surpassing others and gaining more traffic is the goal of today's marketer.
Where keywords and SEO optimization techniques have played a major role in bringing many organizations to the surface, social media marketing (SMM) has also demonstrated significant involvement as a potentially strong marketing asset.
The better you learn and focus on its prominent tactics the more authoritatively you will prosper, and within no time you can see yourself gleaming with all the glitz on the high ranked pages.
The below-mentioned guidelines indicate how to make progress and get on the first page of Google by utilizing social media platforms.
Link To Websites and Enjoy Greater Traffic
Social media platforms engage and entertain around billions of active users per month.
A huge fan base makes the platforms rich for promoting a brand and helping them prosper. By simply linking your site on your social profiles, you can drive traffic to your website, which will lead to a greater click-through rate; eventually making you rank higher in SERPs.
Another way of achieving the similar goal is by creating a link to all the blog post on your profile. Create engaging and compelling content and experience the wonder. The more captivating your headers will be the greater will be your reader-base.
More Followers, More Credibility
By an effective and efficient implementation of social media strategies, you can increase your rankings. The social network grows exponentially when you offer people something valuable or interesting.
It ultimately increases the social circle with more people joining your network.Getting more clicks will make you look more credible and eventually increase your ranking.
It is the productive manner of stabilizing your progress. Moreover, it is in human nature that perfectly developed website or a social media profile with followers in thousands or millions can only generate trust of people.
This trust and credibility building is not limited to the human but also the Google's crawler also finds such websites credible which has a substantial fan base.
More Share, More Engagements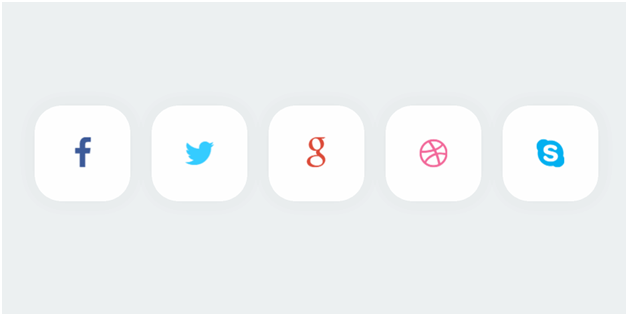 Although all the links you create on social media websites are no-follow and Google's crawler doesn't read them but by ignoring social sharing you could lose a golden opportunity to spread words about you.
You need to offer your followers a valuable piece of content. It could be interactive infographics, compelling video, captivating and enticing guidelines or tips.
Provide your readers with something they would share or talk about. Trigger their consciousness, capture their attention and ignite emotional flare, you can even make them laugh— humor is the best way to win heart— all such tactics will increase shares and likes on your post and uploads.
The Greater number of shares will increase the number of avenues your brand can discover, which ultimately leaves a positive impact on its rankings.
More Brand Awareness, Greater Branded Searches
Social media platforms provide an easy and most productive way of spreading your brand awareness.
When people begin to talk about you, engage with the organization, prefer to share and like its content, they get to know your excellence and learn about your uniqueness.
It increases the rate of branded searches and entices more people to search for your brand. Trust me Google loves such brands.
However, you need to focus on the quality of not only the content but also the products and services you offer. On social media, you could be the king by offering captivating products.
Just be professional, deliver best-in-class services, and see how your online visibility grows.
More Optimization, Better Chance to Hit the Mark
When working on social media platforms, never miss to index keywords and never ignore SEO optimization.
Nobody knows the right algorithm of the Google Bot; however, one is a thing is certain that is ease and accessibility for the users.
Google's main motto is to make the plethora of information accessible to its searchers and to provide them with an easy and most efficient solution to their every problem.
If you want to be the apple of Google's eye, you need to focus on implementing such strategies that fulfill Google's goals.
Make your content scannable, readable, easy-to-comprehend and easy-to-access. Implement search engine optimization tactics like catchy headers, error-free content, valuable information and most relevant references, for gaining better visibility.
Conclusion
Social media platform is where mostly the youth interact. Youth is the one community of world's population which is more active in the digital medium.
At present, the youngsters are ruling the world. By promoting yourself on every modern platform like Facebook, Twitter and incorporating interesting features like hashtags and memes, you can acquire more credibility and will be able to enhance the level of your productivity.
Which can directly affect your ranking on the SERP? After all, Google crawler want to show ideal searches to the searcher.
Google does not refer social sites as the solution for search queries. It mostly prefers links to the website.
Nevertheless, the social media help to strengthen your brand's base and increase its visibility. The more your customer engage in your professionally written post the better opportunity you will receive.
You just need to be a little wise and creative when working on these platforms. Introduce some fun-filled games, content or upload highly interactive and immerse content to boost engagements. You will succeed in a blink!
Author Bio:

Julia Morison is a head hunter and a research specialist at US-Based Digital Agency. She loves to help people and is the mastermind behind
ama citation generator
. She is a traveler, a blogger, a techie and a social activist. When she not in her office, she spends her time writing and educating the masses. Follow her on
Twitter
and
LinkedIn