SEO has been evolving ever since Internet and social media is being used for advertising and it is also going to change in the future dramatically.
It has been a bit easier in the past years to dominate the website ranking through applying SEO techniques; all one had to do is to build the anchor text links.
SEO is not going to be that easy anymore, but there is still a way to dominate the search engines like Google and Yahoo by following our step by step guide to starting an SEO campaign.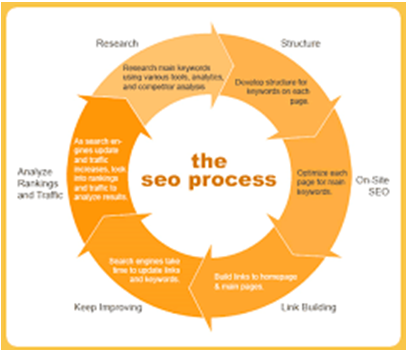 What is Search Engine Optimization Campaign?
A good search engine optimization campaign can help the website owners to solve many problems like better website ranking, better conversion rate and more visitors to the site.
These goals are not easy for most people to achieve unfortunately, due to strict rules of a search engine. Another major reason for failure is not planning an effective strategy to carry on your SEO campaign.
A new business idea is a great thing and getting a new domain name to start the website building process is the practical step towards the achievements of your goals.
But how can it be easy for the search engines like Google to rank and discover that website?
The results of SEO are rarely quick, and it is a long term process which takes months or sometimes a year to obtain results.
The website's potential to be ranked higher can be increased by making the wise first few steps after its launch.
The ultimate goal of the business is to bring the sales through a website by increasing traffic.
From an SEO perspective, getting things right at the beginning is essential, if the website is not built with SEO in mind, then you will have to spend hours on it to work effectively for your business.
We are listing below the essential steps a website owner can take after launching their new business website that ensure that it is designed for SEO and will attract as much traffic as possible from organic search.
#1- Structuring Website for Target Keywords
The ability of a website to rank higher on search engine depends on its structure; to rank effectively for your target keywords, you need to structure your website so that each page targets its own set of closely related, highly relevant keywords.
For example, if you are starting a website regarding women's shoes, then it will sell a variety of women's shoes from various brands. You would like each category to rank for its target keywords and attract the visiting searching for a specific brand of shoe.
This means it is effective to break down the website into specific categories; each category will have a different keyword.
Structuring the website according to keywords will provide many advantages. It will allow you to target each keyword on each page of the website.
You can also break down the categories into sub categories. This type of structure is helpful to let every page target its keyword.
#2- Analyze Your Website
The analysis of a current situation is crucial before you take practical steps to improve your website for SEO. This will help you to identify the potential opportunities and weaknesses of your business.
Using the Optimizer tools will help to analyze the website visitors. Web analytic tools help you to analyze the visitors of your website.
Helpful Reading: SEO Website Audit: Step by Step Guide to Site Analysis
#3- Do Proper Planning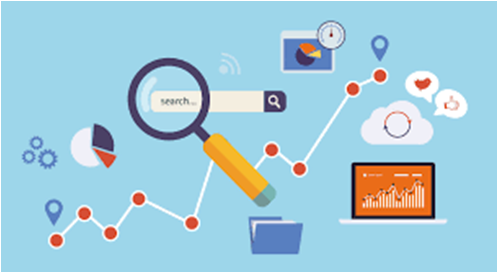 If you want to obtain results, then do not approach things without a blank head. You need to make a plan that will work. Set a concrete goal like you want to get 50000 visitors for your website in each month.
A goal can also be like 10% of visitors should not return without buying something from your website.
You need to decide quickly the specific pages which should be found on the search engine. These pages must have a good conversion rate, and they should be convincing.
Deciding which actions can help the visitors to buy from your pages would also help. Each specific page should have a specific goal on the website.
#4- Action
Planning without action is useless; for finding the best keywords for the campaign, use the keyword tools. To optimize the pages for these keywords, use the optimizer tools and to get better backlinks for your website, use the link building tools.
#5- Start a PPC Campaign
A PPC or Pay Per Click Campaign is not a bad idea to optimize a newly launched site for the search engines, start a pay per click PPC campaign using specific keywords and phrases.
The word choice is very important to convert visitors into customers. If does not matter if you generate a lot of traffic to your website and no money is made regarding a sale.
The goal is to convert the website traffic into customers and making SEO work for you.
#6- Build Useful Links
The next step is to start building the links as soon as you know how to use the best keywords. You need these links to be highly relevant, send an email manually to top 100 and 1000 websites that are ranking a specific term you are trying to rank for.
If you point those links to internal pages while building them; your organic traffic will naturally boost over time by following this step.
#7- Build a Facebook Page
Social media is the most popular source for generating traffic and Facebook is also the top ten social media source for popular traffic sources.
You are missing out on many customers if you are not on the Facebook. Every industry is having a Facebook page now that depends on the size of their Facebook audience.
By spending a few thousand dollars, it is possible to get a huge Facebook audience which will help you to drive traffic back to your website. Facebook pages provide likes that boost the ranking of your website.
#8- Build a Twitter Profile
To boost your social signals, building a Twitter profile will certainly help. Through Twitter ad network, there is no other simple way to get more followers.
Make sure you get the highest number of Tweets.
#9- Hiring a PR professional
Hiring a PR professional or agency will help you boost your SEO campaign. Your PR agency will help you get the coverage once a new feature or service is launched.
If you have big events coming up, it is easy to get news coverage. There are quite a few authority sites like Techcrunch to cover newsworthy events.
It will be easy to get you interviews if you are a singer or actor, journalists will be willing to interview you on your stellar data or resume.
#10- Write an Awesome Blog
Starting a blog and adding awesome content can bring amazing results for your business. Miracles will not happen in a short time, but the great content of your blog should be able to boost your SEO campaign within one year.
Getting a blog started is the easiest thing on the planet these days with WordPress or BlogSpot free platforms available. But it is recommended to dedicate a separate page on your website for blog posts.
#11- Focus on Conversion Optimization
In the last few years, conversion optimization has become more popular. No one cared about it a decade ago, but almost every successful company is doing it.
The price to get visitors to your website is increasing day by day and future will be more expensive.
Always survey your visitors before you start your conversion activities. Qualaroo is a great resource to come up with the survey questions with tailored templates for conversion optimization.
Using that data will help you to make changes to your website.
#12- Use Sitemaps
Still, a few elements of SEO are useful as they used to be a few years ago, one of them is building high-quality Sitemaps which represent your website comprehensively and accurately.
The webmasters can easily generate the XML sitemaps as they are extremely important for your website for the use of all search engines.
Bing sitemap plugin is a server side technology that helps to create XML sitemaps for websites running on Microsoft Internet Information Services IIS as well as Apache Server.
XML sitemap tool is an excellent tool, and there is no need to, install any complex sitemap tools on your server.
#13- Five Websites take all of Your Clicks
YouTube, Facebook, Amazon, Wikipedia, and Amazon are those, five websites which capture 20% of all search engine activity while the others capture nearly fifty percent.
Be aware that Google takes action on violations like selling links that pass the page rank. Google will lose trust in your site if you violate the quality standards of Google this way and the page rank of; the site will visibly reduce in the Google Toolbar.
#14- Focus on Google Friendly Content
The most important on page factors for boosting the website rank is the quality content. It is always important to make sure that your website or blog has content that helps its users and they feel engaged in it, it is an essential step before starting an SEO campaign.
Since 2016 new guidelines, the 2000 plus words is a good word count for a contact to rank higher on Google, pages exist with short and light content which have a lower chance of getting high rank.
It puts a positive effect on your website ability to rank in the organic search; long pages containing details always get more links than the short pages according to the latest research.
It might be time consuming and lot of effort to produce a long detailed content for your website, but doing so has long term consequences as it pays for itself with number of links to each page.
If your content has the solution that someone needs, you can become a source of inspiration for them. If you can solve some critical problems through your website for a wider audience, you page content will attract valuable links.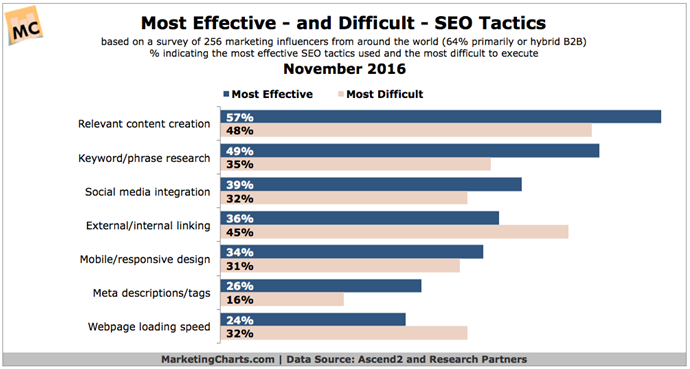 Relevant Content Considered Most Effective SEO Tactic
#15- Avoid Keyword Stuffing
Including the target keywords in the content for optimal SEO is a good choice. But overdoing it is another mistake many people make because keyword stuffing is easy to detect by the Google algorithm now.
Google will easily penalize the websites for keywords stuffing. Adding H1 and H2 tags with keywords can save you from keyword stuffing; long term keywords should be added to H3 and H4 subheadings.
Double check after writing each page that the keywords are fitting naturally into the content.
Using the keywords strategically in the content is a good way to save it from keyword stuffing.
#16- Key Content Considerations
For each page, trying to write at least 2000 words content with relevant keywords is a good practice to boost the SEO campaign.
Trying to answer the questions of users is a smart writing than just write for the writing sake. Your page content must provide them solution that other websites are not providing.
Optimize your title tags as well for each primary keyword.
#17. Using Title Tags Correctly
On every search result, Google will display your title tag as your page title as well as the text that will display in the user's browser. It is important for each page on the website to have title tags that are optimized for their target SEO keywords.
A good title tag accurately describes your page content and also successfully describes the main keyword you are targeting. For example "Women's leather shoes" page on our shoe website above would benefit from a title tag like this:
Women's Leather Shoes: Browse Women's Shoes and Buy Online
The content of the page is accurately described in this title, it lists the women's leather shoes and tells the visitors what to expect after they find your website from the Google search.
The target keyword "women's leather shoes" is included in it already at the start of the title. The keyword right at the beginning of the title helps to attract the attention of users and showing that your page is relevant.
Since our site is structured with each webpages targeting the specific keyword "women's leather shoes", it is also highlighted in the URL of the page.
If the title tag is longer than 60 characters, Google will crop the title tag and it will serve as a reminder that you should keep your title tags relevant and brief. Therefore using the title tag at the beginning of the tag is good for optimal SEO.
#18- Adding Meta Descriptions
Engaging and action focused Meta descriptions are useful for boosting the SEO campaign. Meta description is short information that shows below your website URL and title in the Google search engine results.
Although Meta descriptions are no longer the higher ranking factors, it is still important to provide a Meta description for each page focusing on a relevant keyword.
Meta description can help to boost the page's CTR click through rate.
Users will be able to click on your results through a detailed Meta description and will increase the search impression of your website.
It will provide them a compelling reason to shop through your site. Meta description will explain the page in more detail and each page must have its own Meta description.
It provides users a solid reason to click on that page and you can easily add unique Meta descriptions on your blog if you are using WordPress by using YoastSEO plugin.
Just scroll down below to the content box in the SEO settings area on the WordPress to enter your Meta and title tag descriptions.
#19- Set up Google Analytics
One the website is ready to be launched and the content is ready to be published, now is the time to install the Google Analytics.
It is free tracking software from none other than Google which helps you to monitor how people are using your website. It helps to determine how people find your website online which becomes very handy for the webmasters.
Google Analytics is an excellent tool from SEO perspective for spotting opportunities to further optimize your page.
If you install Google Analytics soon after the launch of the website, it will provide you useful data right from the beginning to help you optimize your SEO campaign later.
Installing Google Analytics is just as simple as signing into your Google Account and configures your website with the great tool. Google Analytics Yoast is available for the WordPress users.
For the static HTML sites, analytics tracking code is available for each page by following Google's instructions.
Finally, building a long term SEO strategy to produce more healthy results is the ultimate goal of a webmaster. These are some tips and tricks that can guide you to achieve more following and get to more leads.
It will help you boost your business and increase your exposure to more clients. All you need is to follow these steps and stay focused on your target.