WordPress is the most popular and widely used Content Management System. Because of its open source system along with a multi-user approach, easy to implement interface and easy accessibility, more and more users are drawn into it.
Not just that, due to its open source system, developers and users frequently experiment and perform custom tweaks as they see fit.Those experiments give positive results to some but for many, that's not the case. You might come to a stage where you need to rollback what you did due to your failed attempts.
If it's the case of your smartphone, its simple. You just hard reset it back to normal but for a complex system like WordPress, it is a hectic task to perform. Though its hectic, it is very much possible. We can reset WordPress and bring it down to how it was at first.
You may be curious what WordPress Reset means. Don't worry. It's simple.It's nothing more than just deleting the present database and making a new clean database, which is like a fresh new default installation provided by WordPress itself.
Everything that happens to your site is recorded into its database. So, resetting your website means cleaning out all the records in that database
It's not always, but sometimes the smart decision and the perfect move is to start from zero again. So, resetting your WordPress site is the ultimate way to return your site to its default installation state. There are a couple of ways to reset WordPress sites; either reset manually or reset by the use of plugins.
Resetting WP manually is both time-consuming and difficult. So, who wants to reset the WordPress sites manually? Definitely no one. If yes, a very few people will do. Luckily, we have another way which is easier and quicker i.e. using an amazing plugin called WP Reset.
This plugin wipes out the entire website data instantly and brings it to default. If you want to rebuild, change its purpose, and create an entirely new website under the same domain name and hosting service, WP Reset is there for you.
All About WP Reset – Fastest WordPress Reset Plugin
With 40,000+ active installations, star-rating of 4.6, and excellent reviews, WP Reset is one of the most popular plugin for resetting WordPress sites back to original states.
WP Reset allows you to reset your website's database or information including any customization you have made and content you have created. Everything will be erased i.e. gone forever. It is equipped with multiple fail-safe mechanisms to prevent accidental loss of data. You have to ensure the reset action in many ways. These features make WP Reset fast and safe to use.
Use of WP Reset Plugin is not confined only for WordPress Users. Also, Plugin and theme developers, find it a beneficial tool. Providing a quicker path to reset settings and re-test code, it helps in development, testing, and debugging of WordPress themes and Plugins. It was developed by developers for developers – giving back to the WordPress Community.
What makes this plugin so popular is its salient features. Its features include One-Click Site Reset, Post-Reset Setup, and support from the developers who built it. It is also a WordPress Command Line Interface compatible (WP-CLI Compatible), which can be handy for geeky developers. While Upcoming features Database Snapshots and Database Diff Viewer are under development.
Resetting will delete all posts, pages, comments, media entries, users, also all default WP database tables. Likewise, it deletes all custom database tables that have the same prefix table prefix as one the one defined in wp-config.phpand used by default tables.
WP Reset will not delete or modify media files if they are in the wp-uploads folder untouched but will no longer be listed under media in admin. Current username and password remain the same. Similarly, site title, WordPress address, site address, site language and search engine visibility settings don't get reset.
What happens when I click the Reset button?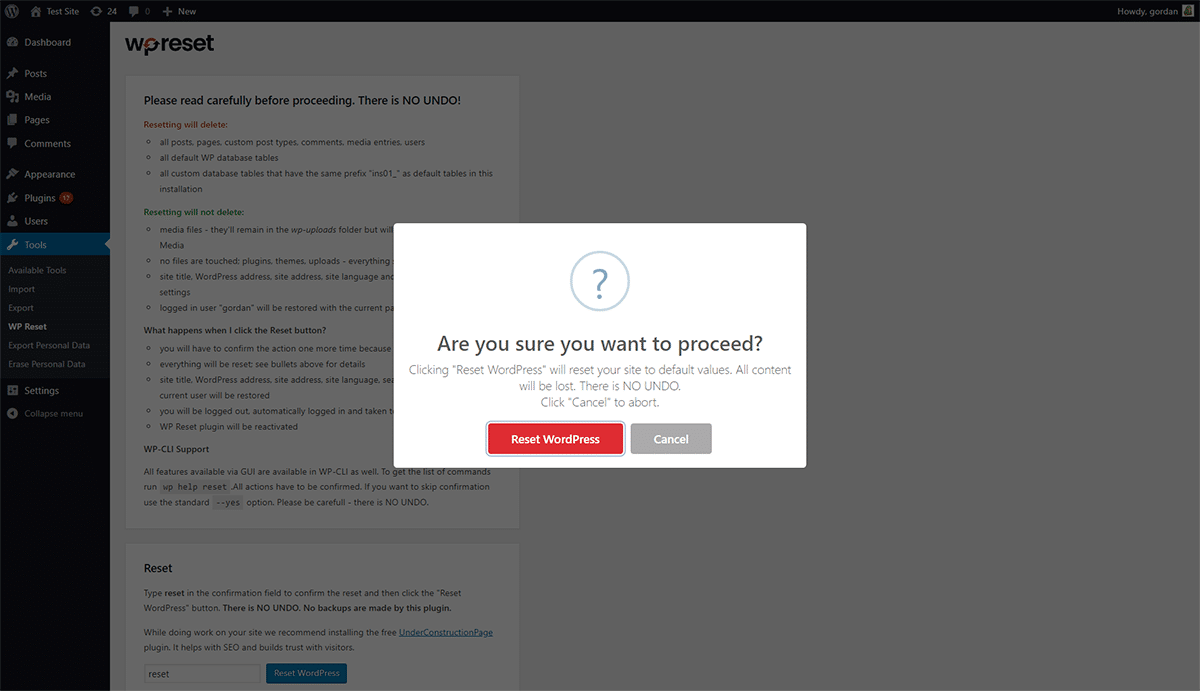 Confirmation is needed one more time because there is NO UNDO, otherwise, all the things listed above will go forever until and unless you have a backup of your website. But site title, WordPress address, site address, site language, search engine visibility settings as well as the current user will be restored. You will be logged out, logged in automatically and redirected to the admin dashboard. 
Step By Step Guide To Reset Using plugin-WP Reset
First, open the backend of your site i.e. WordPress admin, then;
Go to Plugins and click Add New.
After that, Search for ''WP Reset' in the search bar and hit Enter.
The plugin will show up as the first one on the list. Then, click "Install Now".
After installing, activate it and Select WP Reset under the Tools menu.
OR
You can download the latest version from downloads.wordpress.org/plugin/wp-reset.latest-stable.zip. And then, unzip that zip file and upload to /wp-content/plugins in your website hosting. Now, get back to the backend of your website and open Plugins and Click "Activate" right next to"WP Reset".
There you find info regarding plugins functions. Tick the check-boxes as per your requirement in Post-reset actions. And you need to type "reset" in the confirmation box and click on Reset WordPress button. Note that, Reset cannot be undone. Also, this plugin does not provide you a backup of your website. After that, another layer of confirmation is there to reduce the accidental loss of data.
If you click Reset WordPress button, resetting process will occur resulting your website back to a fresh installation with Twenty Seventeen WordPress theme. It gets your job done in minimum 1 second to maximum 10 seconds. Don't you believe? If No, Check once! But make sure you have a backup first. 
Wrapping up
Finally, it is always important that you frequently have a backup of your website (for many reasons!) so that if you decide to restore your website at any time, you can.
If you are eager to reset your WordPress website and want to get rid of doing so manually, please consider using WP Reset – Fastest WordPress Reset Plugin offered in the WordPress Repository. Trust me, it does the job within a blink of an eye.
And if you are a WordPress Theme and plugin developer, we recommend using this plugin and do consider to add it as your development tool.