Don't you wish every piece of content you publish attracts attention of visitors at very first place, get thousands of likes, shares, and go viral?
You are not alone if you think so. Many people think the same.
Here is the truth, not every content go viral. Even some well-written posts get the only a couple of shares and likes.
You're probably thinking:
Then, what are the secret ingredients of the perfect viral content?
Create great content, you have heard it thousands of times, don't you?
Yes, it's true, but still, there are a lot more than that. Some of them, I am sure you never thought about to use, while creating content.
In this post, I will share all of them that are essential to make your content viral.
Let's get started.
Use positive emotion to fuel user engagement
An underestimated but powerful ingredient of creating brilliant web content is the smart use of positive emotion.
I guess, you may have been already using negative and positive emotions in your content.
Do you know successful marketers like to use positive emotions in their content instead of using negative emotions?
First, let's understand the science behind of positive emotions, and where it came from?
How positive emotions affect content sharing and how can you use successfully use it in your content?
Abraham Maslow first introduced the phrase positive psychology in his book Motivation and Psychology (1954).
However, it was a debate topic for years until Martin Seligman put forward his research.
Here are some popular negative and positive emotions that are remained unchanged during the passing time.
Now the question is, which emotion should you use to get the more page views and shares.
Positive or Negative?
Negative content, encourage people to take action but the action produces a psychological fight or flight response.
It restricts users' action to only 'work for it and gets it or don't do it and regret' by discouraging them.
It is the only reason viral campaigns use negative emotions to get more views and shares, but finally left the users distracted.
Positive emotion, however, motivates people to take part and spread happiness.
Kelsey Libert and Kristin Tynski of Frac.tl explained it on their post on the Harvard Business Review blog
"Certain specific emotions were extremely common in highly viral content, while others were extremely uncommon. Emotions that fit into the surprise and anticipation segments of Plutchik's wheel were overwhelmingly represented. Specifically:
Curiosity
Amazement
Interest
Astonishment
Uncertainty
All the highly shared content had an emotion of admiration, an unexpected result."
Below is the heatmap of their research that describes what are most common feelings generated by viral content.
Cracked.com knows very well the concept of positive emotions and use it in their articles to get more views and shares.
Here is an example of their well researched and high-informative article.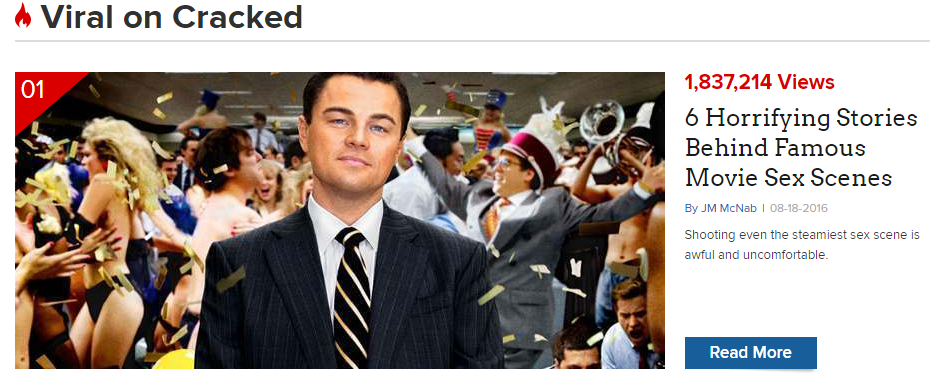 Although this may be true, the content having negative or positive emotions get more shares and views than those who does not evoke emotion.
But still, positive content is more viral than negative content.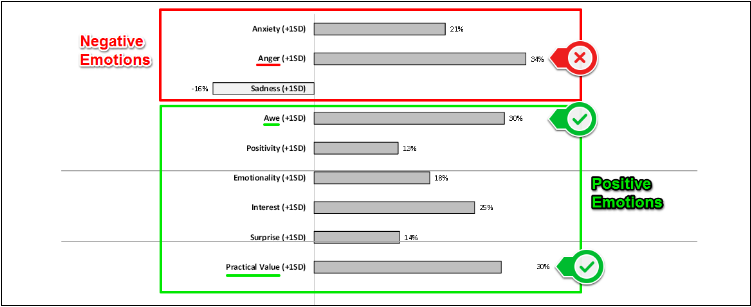 As you can see the above table indicates that negative emotions have an impact ("Anger" – 34%).
Whereas, positive emotions have the right impact ("Awe" – 30%).
Here are 4 proved techniques to deal with it –
Use of context – Do you remember the proverb that a glass is half full and not half empty?
That is the same way people see the things using their own vision, it is also known as a framing effect.
Take a look: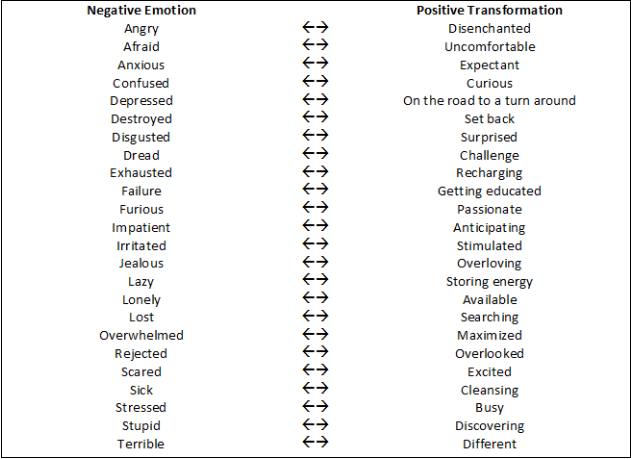 Use of a positive tone – Show your audiences the possibilities and opportunities instead of threatening and showing difficulties not to overcome.
Your tone should be encouraging, exciting, non-threatening, friendly, etc.
Create a theory of positive emotions – It simply means over time, consistently encouragement of positive emotions makes easier for a user to take positive action.
Sharing positive content – It is the best way to build your fan base and to give them a reason to share your content.
The contents you can share with your audience could be success stories, inspirational stories, humor, how-to type list based content, and humor, etc.
Proper Research about the Content
[Tweet "A well-researched content gets more shares and comments than general content. #contnetmarketing"]
Conducting research is a crucial part of creating quality blog content.
To show your credibility, you need facts, stats, figures, and examples at your bucket — all external resources indicates that you know your topic.
Although doing research is a time-consuming process, but it requires to create an in-depth and long-form content.
Users are becoming smarter day-by-day. They want a specific answer to their specific questions.
Significantly, that is not possible in 500 words content.
It means you have to create long-form of content that has 2000+ words, and to create such kind of content you need to do research a lot about your topic.
Here how to do research for each blog post within 60 mins:
Get the right tool to capture your data
When you are doing research, you may want to add several items in your content such as links, images, quotes, etc.
You must need a place where you can keep all those data safe. Excel Spreadsheet or Evernote would be a good tool to use.
Choose right keywords
Using right keywords in the content is essential to get high rank in the search results.
And to find those right keywords you will need a keyword tool.
Google Adwords keyword tool and Soovle are good free keyword tools to do keyword research.
Know if people care about blog topic
You must validate your idea before creating content. So you can be sure that people actually care about what you are saying.
Ask yourself this question: Is your blog idea interesting to your readers?
Here is how you can find the answer to this questions:
Check out if competitors already have written blogs on the same topic?
What sort of content has been published on this topic before?
Are your readers or customers talking about this topic?
Bonus Tips – Don't miss out to jot down all the details which you have collected during your topic research? Maximize readability of the long form content by using short sentences and visuals.
Add visuals for social sharing
A picture is worth a thousand words. When it comes to the websites, a meaningful picture is an incredibly efficient tool to grow your business and your audience.
According to a research, a human brain process visuals 60,000x faster than text.
Moreover, having one image in your text post leads more shares than plain text.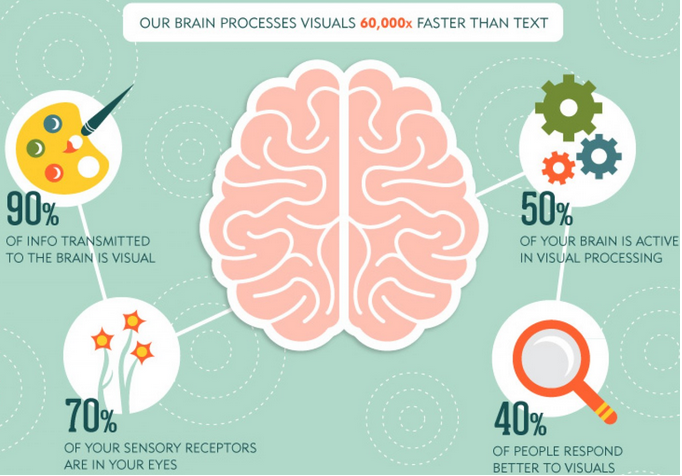 Why do visuals matter so much?
According to psychologist Albert Mehrabian, 93% of all communication is nonverbal.
Even the picture below shows that people have always communicated visually since their early days through painting on the cave.
Visual content is more than 40X more likely to get shared on social media than other types of content.
Following stats show why using visuals in content are important:
1. Facebook posts with images see 2.3X more engagement than those without images. (Buzzsumo)
2. Tweets with images got up to 18% more clicks, 89% more favorites, and 150% more retweets. (Buffer)
3. Brands who include images in their Facebook posts see up to 87 % audience engagements. (eMarketer)
Bonus Tips: Visuals are an effective tool because they help people process, understand, and retain more information more quickly.
Write A Magnetic Headline
A title is the first tool you can use to impress your prospective readers. Without a clear message and promising title that turns a browser into a reader rest of your words are worthless.
With this intention, writing great headlines is a critical skill that you need to know.
Here are best practices you need to follow to create catchy titles that make people click.
1. Always mention what key benefits or unique value proposition your website is offering. For instance, BlueHost Summer Sale 2016: 63% Off Shared Hosting + Free Domain
2. Ask questions in your title that relates to common visitors pain points. For example. Why Nobody Cares About your Blog?(How You Can Fix It)
3. Use numbers and adjectives in your title. Like this one – 7 Incredibly Simple Ways to Double Your Audience Engagement in 10 Minutes
4. Don't be afraid to use negative titles, negative titles get more clicks than positive.
5. Steal ideas from popular websites like cracked.com, bodybuilding.com, etc.
Remember, better your headline, the better your chances to get high CTR on your blog post.
Show Authority In Your Content
[Tweet "People do like share content if they think it is from a trustworthy source. #contentmarketing"]
Have you ever imagined why successful bloggers such as Sue Ann, Neil Patel, Jon Morrow, Brain Dean, and Darren Rowse gets hundreds of likes and shares on their articles?
No idea?
Let me tell you, they are authority blogging figures.
The first thing to remember, they didn't become an authority figure in one day or in a month. It took them years to reach at this position.
Even though, not everyone can be like them but still there are some tips you can use to build your fan base.
Don't just tell them what to do? Instead tell them how to do.
Make them belive you feel their pain
Offer them more than they expect from you
Increase reach of your content through social media, email marketing and other content promotion techniques
Respond to every single comment, whether it is positive or negative
Add byline at a top of your content and author bio at the bottom.
Authority content gets attention. But, it gets in a meaningful way and translates words into an action.
Make the experts share Your Content
Buzzsumo found in its study, having just one influencers share your content will bring 31.8% more social shares, and it becomes double if three influencers share.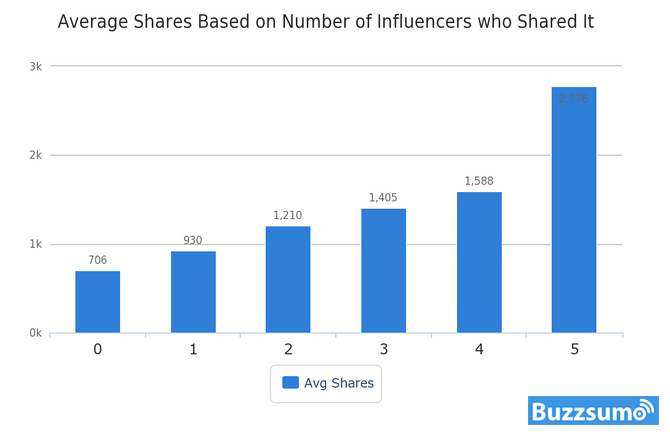 You're probably wondering how can I make experts share my content?
Following are tactics to encourage influencers to share your content.
Offer influencers free publicity – People like to share posts that say good things about them or highlight a positive image.
For a celebrity, that post could be showing him/her doing a noble cause.
Research which sites they hanging out often – It is another way to get shared by influencers in your niche. Write a guest post for the topic they shows interest and mention them in your content.
Ask them for shares – You're probably thinking why they would share your content?
They are busy and highly successful people, they don't need my content, right?
You're wrong.
You must be remembered they are a human being and they have a heart too, they have walked on the path, you are walking.
Asking them to share your content can be surprisingly amazing. You just need to give them quality content that's relevant to their audience.
Create roundup post and invite them – Roundup post is one of the best ways to get influencers to share your content.
You can read step-by-step guide how to create a successful roundup post without being noisy, here.
My friend Hussain Omar got 970 shares, 72 comments, and 15 links with his first roundup post.
He emailed around 70 influencers to share their favorite SEO quotes and 55 of them said yes to him.
You see, it was pretty good email response rate almost 85%. He wisely chose his roundup post topic.
Roundup is an evergreen technique to get your content extra exposure as well as build relationship with experts.
Go and try this!
Share your content at the right time
It is essential to share your content on social media at the right time to make it successful and viral.
With this in mind, you need to know when is the right time to share your content on social media?
However, there is not a perfect answer, when to post?
In fact, the best timing for social posts depends on the following factors:
The social media platform
The region you are targeting
Your goals (e.g clicks or shares)
How your targeted audience use the social media
Here's the best times to post on five social media platforms:
1. Facebook – People often use Facebook at work and home through their mobile and desktop.
Right time to post on Facebook is:
12.00 – 1.00 p.m. on Saturdays and Sunday
3.00 – 4.00 p.m. on Wednesdays
12.00 – 1.00 p.m. on Thursdays and Fridays
2. Twitter – People like to use Twitter at home during the free times and breaks
Right time to post on Twitter is:
12.00 – 3.00 p.m. on Mondays to Fridays
5.00 – 6.00 p.m. on Wednesdays
3. Linkedin – It is developed for professionals and they like to use it during working hours.
Right time to post on Linkedin is:
7.30 – 8.30 a.m., 12.00 p.m. & 5.00 – 6.00 p.m. on Tuesdays, Wednesdays & Thursdays
10.00 – 11.00 a.m. on Tuesdays
4. Pinterest – Females are more active on Pinterest than Males. Their activity increases in the evening.
Right time to post on Pinterest is:
2.00 – 4.00 a.m. & evening hours every day
5.00 p.m. on Fridays
8.00 – 11.00 a.m. on Saturdays
5. Instagram – Instagram users get this site through mobile devices all the time and anytime they want.
Right time to post on Instagram is:
Anytime Monday to Thursday except between 3.00 – 4.00 p.m.
Finally, you got the right timings to post on social media.
Now, what are you waiting? Go and enjoy posting, tweeting, and pinning!
Revisit Old Content and Empower them with fresh information
Just because your content didn't do well at first time it doesn't mean it is a bad content.
Many bloggers simply create content but then never goes back to update that with the latest information.
If you are one of them who do so, you are missing a big opportunity and allowing your potential readers to go away.
Not only does updating content make sure that you are an active blogger, but also shows that you concern about your readers by offering them fresh content.
Brain Dean barely post a new article on his blog. He has only 32 blog posts since 2013, but still he manages to attract 80K monthly visitors on his blog by updating his old content with fresh information.
Whenever he updates any of his posts, he let his readers know about that. They happily share it that brings him more new audience to his blog.
Let's see another example, Copyblogger's team updated its an old blog post that was originally posted in 2010. They updated it again, and see the stats of social shares they have now.

By revisiting your old content, you can be sure that any reader who comes to your website gets the information he was searching.
Final Thought!
Increasing your viral share is an art and a science, you can be a master in it by practicing the above-mentioned rules.
A good mix up of content marketing and social media marketing is essential to make it happen.
All the formulas shared on this post can increase any content's share.
Let's take a quick review of the post:
Use positive emotion to fuel user engagement
Do proper research about your content topic
Add visuals in your content for increasing social shares
Create a magnetic headline
Show authority in your content
Get the influencers share your content
Share your content on social media at right times
Frequently update your old content with fresh information
Which tips are you going to use to make your post viral? What secret sauce do you use to increase a content viral share? Please share with us in the comment.