In today's post, I'm going to review Kinsta WordPress Hosting and will tell you how Kinsta is different than other hosting platforms that you have experienced before?
Choosing WordPress hosting is challenging and time-consuming. People get confused with lots of hosting options and reviews. Because, the internet has lots of fake hosting reviews. 
Hosting companies are paying lots of money to write good about them, even if their hosting sucks. It makes hard for users to choose a hosting company that they can trust.
Let's face it – a hosting can make or break your website. Saving a few bucks on cheap hosting with lousy service and support can cost you lots of money and clients.
The question is…
How to find such a hosting company that provides outstanding service and support without compromising the quality?
That's where hosting company like Kinsta comes to play.
Kinsta is a WordPress hosting platform. It was founded by WordPress enthusiasts in 2013, with a dream in mind to be the best WordPress hosting company around the globe. It is built with cutting-edge technology focusing the speed, security, and stability.
Kinsta is not like other traditional hosting platforms which offer shared, VPS, or dedicated hosting. The entire infrastructure of Kinsta is built on Google Could platform that provides ultimate speed and security.
Kinsta Managed WordPress Hosting Features:
Before we get into the details, let me make it clear to you. Kinsta is not for you if you are looking for a cheap WordPress hosting over quality.
Kinsta pricing plan starts at $30/month, which is not cheap. If you are just starting a blog with a limited budget, a shared hosting plan would be the right option for you.
However, for a website which is getting thousands of visitors per month and need 100% uptime, this pricing shouldn't be an issue.
Let's check out the specifications and features of Kinsta managed WordPress hosting in detail.
Hosting on Google Cloud Platform
Kinsta uses Google Cloud Platform, which is one of the notably robust infrastructures in the world. It gives you the freedom to choose your data centre for a specific website.
Google Cloud Platform currently offers 20 data centres around the globe; you can pick any of one of them:
Council Bluffs, Iowa, USA (us-central1)
St. Ghislain, Belgium (Europe-west1)
Changhua County, Taiwan (Asia-east1)
Sydney, Australia (Australia-southeast1)
The Dalles, Oregon, USA (us-west1)
Osaka, Japan (asia-northeast2)
Ashburn, Virginia, USA (us-east4)
Moncks Corner, South Carolina, USA (us-east1)
São Paulo, Brazil (South America-east1)
London, UK (Europe-west2)
Frankfurt, Germany (Europe-west3)
Jurong West, Singapore (Asia-southeast1)
Tokyo, Japan (Asia-northeast1)
Mumbai, India (Asia-south1)
Montréal, Canada (northamerica-northeast1)
Netherlands (Europe-west4)
Hamina, Finland (Europe-north1)
Los Angeles, California (us-west2)
Hong Kong (Asia-east2)
Zürich, Switzerland (Europe-west6)
Google Cloud Platform is strategically designed to keep the distance minimum to provide agile and secure transferring of the data.
Kinsta is the first managed WordPress hosting provider that is backed by Google Cloud platform and LXD container technology both. LXD offers a separate container for each site with 100% privacy and security.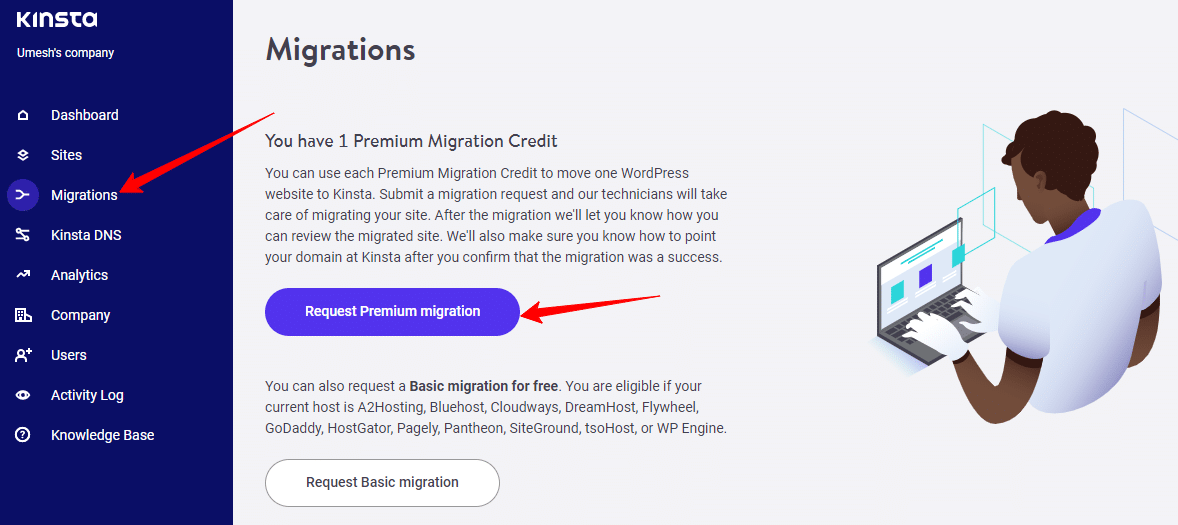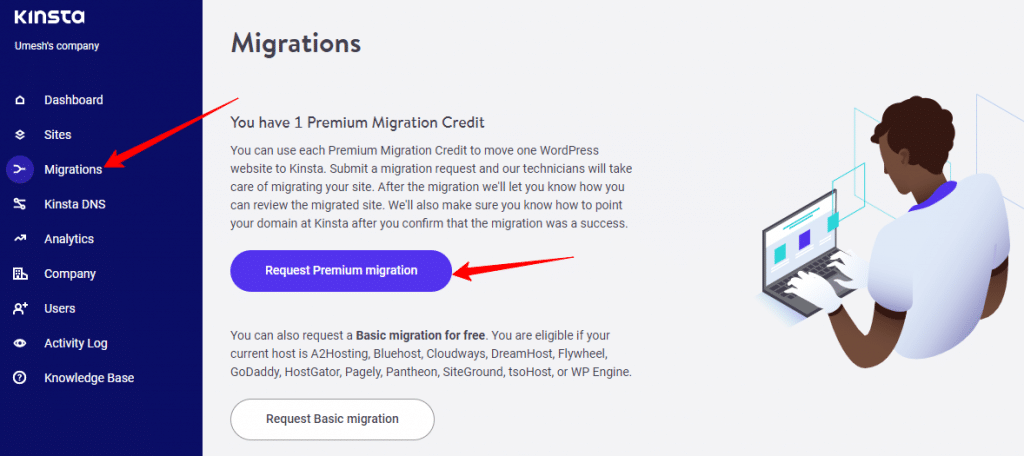 Migrating a website to a new host is not easy if you are a non-technical person, but when you are migrating your website to the Kinsta managed hosting, you don't need to worry.
Kinsta offers free migrations to its users whether you have a Starter plan or Enterprise plan.
Just sign up for an account, and fill out the migration request form and Kinsta team will schedule a time and migrate the site for you.
The best part of the migration is you won't face any downtime during the migration process. Before making it live they would test your site to check if everything is okay as planned.
Secure WordPress Security
Kinsta WordPress hosting is integrated with high-tech software that detects any vulnerable attacks and stops them at first place.
Kinsta team take data security seriously and always ready to protect your website's valuable data. They monitor your sites every two minutes for uptime.
Two-factor authentication and GeoIP blocking harden security level. Additionally, more than 6 failed login attempts will automatically ban the IPs.
Kinsta offers automatic backups for your website that means if anything wrong happens, your site can instantly be back. Kinsta servers and CDN supports TLS 1.3 that is faster and more secure than TLS 1.2.
24X7 Expert Customer Support
To do a successful business, one must have an excellent customer support along with a fantastic product and Kinsta have both.
They have a world-class technical support team who breathe WordPress and love to help you at any stage you need them. Just like other supports you won't get scripted replies but a real help from the real person.
The support team at Kinsta are experts and they will be with you until your query is resolved.
The team has a vast knowledge of WordPress troubleshooting, server maintenance, theme and plugins. Therefore, you won't have to worry about anything; you will get the help you want.
Whenever you face any issue in Kinsta hosting, simply raise a ticket and someone from the support team will get back to you in minutes and will help you resolve your issue.
Also Read: SiteGround Review
Powerful Custom Dashboard
Kinsta offers a powerful custom dashboard where you can view detailed statistics, manage DNS settings, billings and more.
Kinsta takes daily automatic backups of your site that means, therefore if you are using any third-party backup tools or plugins, you can save your money. If you need, you can demand your backups anytime.
You can get two weeks latest backup copies whenever you need. Just one click and your backup will upload on your site.
Additionally, you can provide specific access to your colleagues and other team members to fasten your work. 
If you need any guidance, you can do a live chat with the support team from your dashboard directly. Kinsta dashboard has more features than cPanel and Plesk.
Kinsta offers a beautiful feature staging environment that allows you to create a test site where you can make all the required changes.
A staging environment is an excellent feature for testing new plugins, code, and other development work. You can create a test site in minutes and share it with your team to check. Once you see everything is right at its place, make it live.
If you don't want to make the staging site live, you can simply delete it by clicking "Delete Staging Environment" from the dashboard.
Free SSL and Advanced Tools at a Single Place
Kinsta provides easy to setup free SSL using LetsEncrypt. You can enable free SSL for your site within minutes.
They have a page name Tools where you can find various advanced tools like Clear Site Cache, Force HTTPs, PHP Engine, and more.
Additionally, they have a custom WordPress plugin that clears the cache when you publish a new post. In other words, it has everything that you need to run a WordPress website smoothly.
Kinsta offers various pricing plans that come with free SSL and CDN. Starter plans of Kinsta start with $30/mo, which allows 20,000 views in a month.
Kinsta pricing plans are designed according to:
How many WordPress sites you want to host…
How many views your website is getting every month…
How many PHP workers you need…
How much SSD storage you need…
How much CDN space you need…
They offer Starter, PRO, Business, Enterprises, and custom plans according to users' need.
Also Read: A2 Hosting Review
Should You Buy Kinsta WordPress Hosting?
When you value quality WordPress hosting over pricing, Kinsta is worth the money.
One of the best things you would find when using Kinsta hosting is – you'll never face any downtime, even if your website gets flooded with massive traffic.
Stagging Environment is another cool feature of Kinsta that saves you from messing the live website. You can test new plugins, code, and other development tasks on the test site.
Don't trust me – instead, try Kinsta hosting yourself and you would be amazed to see the difference between your current hosting and Kinsta.
Worlds' top websites like Buffer, Tripadvisor, Intuit and more rely on Kinsta. If you are not happy with Kinsta WordPress managed hosting, you can ask them for a return within 30 days after purchase hosting.
Let me know your thoughts about this Kinsta Review also share your experience with Kinsta if you are using it.
Click here for Cloudways Promo Code
Kinsta is a premium WordPress hosting company which offers cloud-based hosting. They use Google Apps servers to provide you with a high performing hosting.
Is Kinsta provide a shared hosting?
Sorry, they don't offer shared hosting.
They have 20 data centres around the globe; you can pick any of one of them that suits you.
Can I use any cache plugin with Kinsta?
You don't need a caching plugin when you are using Kinsta, as they provide an in-house caching option. WP-Rocket is the only caching plugin that is compatible with Kinsta.
Should I use Kinsta CDN or Cloudflare CDN?
Cloudflare CDN is recommended over Kinsta CDN.