Tired of cluttered Instagram highlights? You're not alone!
However, you want to delete them but somewhere inside feeling guilty.
The solution is:
Hide those highlights without goodbyes.
In this guide, we'll show you how to hide highlights on Instagram without deleting them safe and easy!
How to Hide Highlights on Instagram
Want to hide your Instagram highlights and share your content with selected people? You've got two cool options:
Method #1: Head to Instagram's Settings > Privacy > Story. Add the folks you want to hide from to the "Hide Story From" list. They can still follow you, but they won't see your Stories or Highlights. Pretty neat, right?
Method #2: This one's for your "Close Friends" only. When you share a Story or add it to Highlights, only those on your Close Friends list get a peek. Perfect for sharing the good stuff with your inner circle.
Ready to keep things low-key or share the highlights with your VIPs?
2) Choose "Settings" from the menu.
3) Now, click on "Privacy."
4) You'll see a list of Privacy settings categories. Select "Story."
5) Here, you can adjust privacy settings for your stories, highlights, and live videos.
This method works like a blacklist. It's Instagram's way of keeping your stories, highlights, and live videos hidden from specific users. Tap the text that says "N individuals" to edit the "hide story from" list.
You'll see a list of accounts, and you can use the search bar to find usernames. Pick the accounts you want to include in the "Hide story from" list. Accounts added to this list will have blue checkmarks. None of your highlights, stories, or live videos will be visible to these users.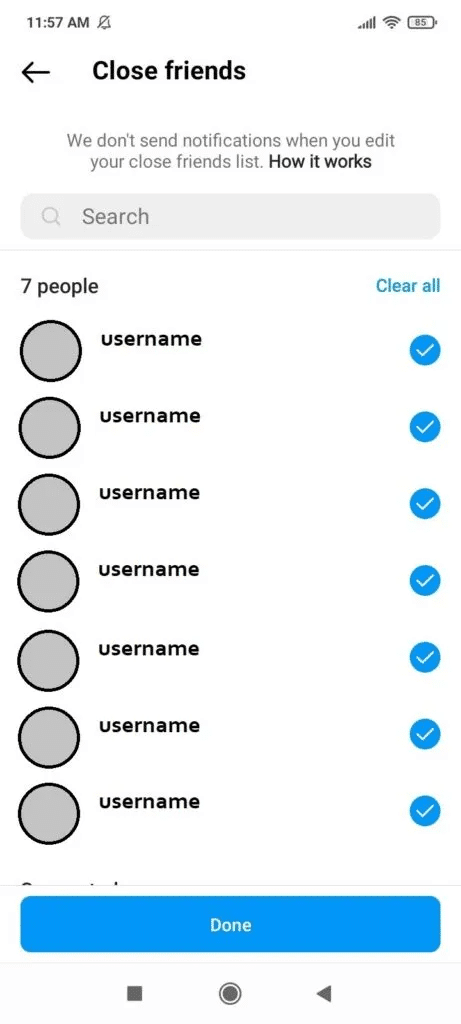 Instagram offers a cool feature where you can create your squad of "Close Friends." Think of it as your exclusive guest list. You get to decide who gets to see your stuff.
Here's how it works: Whenever you're posting a new story, reel, photo, or video, just select "Close Friends." This ensures that only those on your Close Friends list get to enjoy your content.
It's like an invisibility cloak for your Instagram highlights, keeping them hidden from everyone else. If you want to share with the masses, you'll have to repost it separately.
Editing your Close Friends list is a breeze. Go to the Story Privacy settings, just above the "Hide story from" option we talked about earlier. Click on "N persons" under the "Close Friends" section.
You can add friends and family by searching for their usernames.
The cool part?
They won't get a notification when they make it onto your Close Friends list.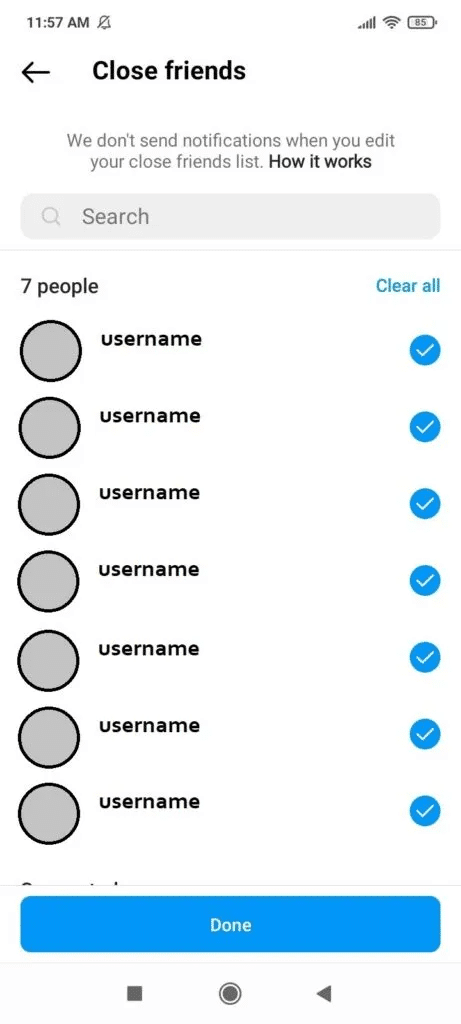 However, there's a little "Close Friends" label that appears next to every story, highlight, reel, or post you share with them. It's got a green background with a star icon, making it super easy for your chosen few to know they're in the inner circle.
So, when you see stories with a green ring, you know it's a Close Friends exclusive. It's like a VIP section in your Instagram world.
How to Archive Your Highlights on Instagram
Archiving your Instagram highlights and stories is easy with these simple steps:
Step #1: Open your Instagram app and head to your profile. Click on the three lines in the top right corner.
Step #2: In the list, click on "Archive."
Step #3: You'll be directed to a new page. Look for the arrow at the top and click it. A menu will pop up, and you should select "Stories archive."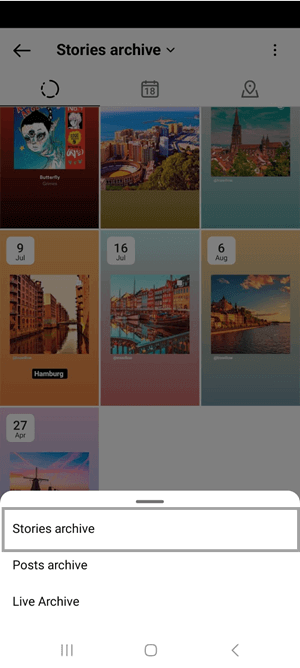 Next, click on the three dots in the top right corner.
Step #4: Another menu will pop up. Now click on "Settings."
On the new page, toggle the button "Save story to archive" to the right to activate archiving for stories and highlights.
Now you know how to archives your Instagram stories without deleting it.
But what if you want to boost your Instagram reach and engagement?
You've got to know when to post, and Circleboom Publish can help. We offer a social media scheduling platform for Instagram, Twitter, Pinterest, Facebook, LinkedIn, and Google My Business. Craft your post, set the time, and schedule your Instagram content for the perfect moments!
Managing multiple Instagram accounts? No problem! Circleboom makes it a breeze.
Additionally, we've got a variety of Instagram posts you can create and schedule, including carousel posts, grid posts, panoramic posts, and even Reels!
Don't forget the power of hashtags. Use our Instagram hashtag generator to discover trending and relevant hashtags for your posts, boosting your impressions and likes.
If you're looking to control who sees your Instagram highlights and stories, Instagram has you covered with two handy options.
First, the "Hide story from" feature acts like a blacklist, preventing specific people from viewing your highlights and stories. This way, you can maintain your privacy while still letting them follow your regular posts.
On the other hand, the "Close friends" feature creates a whitelist, ensuring that only those closest to you see your personal updates. This leaves your regular updates visible to everyone else.
So, whether you're sharing selectively or publicly, Instagram provides the tools.
But if you're aiming to expand your Instagram reach and maximize your content's exposure, Circleboom Publish is your answer.
With a range of powerful features at budget-friendly prices, Circleboom helps you manage and schedule your content effectively.
Now, you know how to hide your Instagram highlights or make them visible – the choice is yours!
Ready to supercharge your Instagram game? Try Circleboom Publish today!