Instagram, a social media giant and a favorite online platform for many. But did you know? You can manage multiple Instagram accounts simultaneously.
The question is:
Because handling just one Instagram account isn't easy – managing multiple accounts would be even more challenging.
Enter Circleboom Publish, the ultimate social media tool for Instagram users.
Many people spend most of time on Instagram, some even making a living as influencers, often have several accounts.
But can you see if someone has multiple Instagram accounts? Stay tuned, we'll reveal the secret shortly.
Instagram allows you to link up to five different profiles to a single email address. It's like a smooth ride, letting you switch between these profiles without the hassle of logging in and out constantly.
Why Do People Have Multiple Instagram Accounts?
So, you've probably noticed that some folks on Instagram aren't just content with one account. They're managing second Instagram accounts, and you might wonder why?
Well, there are multiple reasons people make multiple IG accounts, some of them are:
Personal vs. Professional: Some users want to keep their personal and professional lives separate. So, they maintain one Instagram account for sharing personal moments with friends and family, and another for projecting a more polished, niche-specific image.
Diverse Interests: People are a mixed bag of interests, right? Multiple IG accounts allow them to explore a variety of passions without mixing everything up on one profile. It's like having different showcases for different hobbies.
Branding and Business: Businesses and budding entrepreneurs often create separate Instagram accounts to showcase their products or services. This helps them build a focused audience and keeps their brand image consistent.
Privacy and Anonymity: Some people value their online privacy or want to shield their personal info. Multiple accounts act as a protective shield, letting them share specific content with trusted individuals.
Geographical Variation: Those with international connections or diverse interests may have separate accounts to cater to specific regions or languages. This way, they can engage with different communities more effectively.
Follower Segmentation: Influencers and content creators often have different types of followers. Multiple accounts allow them to tailor content to specific segments, making their engagement more meaningful.
Experimentation: Instagram is always changing, and some users love to experiment. They create multiple accounts to test new content, strategies, or styles without risking their main brand.
Content Curation: Some people meticulously curate their content to appeal to specific tastes. Separate accounts help them maintain a consistent theme or look, attracting followers with similar preferences.
In the dynamic world of social media, having multiple Instagram accounts isn't just about complexity; it's a strategic choice.
It gives people and businesses the flexibility to navigate the platform's intricacies while expressing their diverse identities and pursuing various goals.
Whether it's about personal expression, professional growth, or smart branding, these accounts reflect the ever-changing landscape of the digital world.
How to Manage Multiple Instagram Accounts Easily
Here is our user-friendly guide on using Circleboom to effortlessly manage all your Instagram accounts.
Step #1: Head over to Circleboom Publish and click on "Get Started" to log in.
If you haven't already, you can set up your Circleboom account in just seconds.
Step #2: Explore the Dashboard
On the dashboard, you'll find options for Twitter, Facebook Pages, Facebook Groups, LinkedIn Profiles, LinkedIn Pages, Pinterest, Google My Business, and Instagram.
Here, you can easily add multiple Instagram profiles.
Step #3: Authorize Your Instagram Account
Your Instagram account will appear on the dashboard once you complete the authorization process. To manage multiple Instagram accounts, simply navigate to "Add New Account" and include them.
Step #4: Create and Schedule Posts
Select "Create New Post" from the left-hand menu. With all your Instagram profiles linked to Circleboom Publish, you can seamlessly post, schedule, or set up post queues for multiple accounts right from this dashboard. Enjoy the convenience!
Step #5: Choose Your Instagram Accounts
To kick off, head over to the "Select Account" box and pick the Instagram accounts you wish to post on. Clicking the box will open a new page with a range of options to explore.
You have two options here:
If you want to post to all your Instagram accounts linked to Circleboom Publish, simply click on the Instagram symbol in the "choose by social media platform" section.
Alternatively, you can opt for "Select by Group" to create a new group containing all the accounts you intend to post to.
Step #6: Craft Your Masterpiece
Now comes the fun part! After selecting your multiple Instagram accounts, let your creativity flow as you create your post and preview it on the right-hand side.
Here's where the magic happens:
Use Circleboom Publish's powerful tools, including Unsplash and Giphy modules, to craft engaging content in seconds. Got your own material ready to go? Upload it effortlessly.
But wait, there's more! If you're a fan of eye-catching visuals, Circleboom Publish offers a handy Instagram post template with the perfect dimensions, allowing you to create stunning content that grabs attention.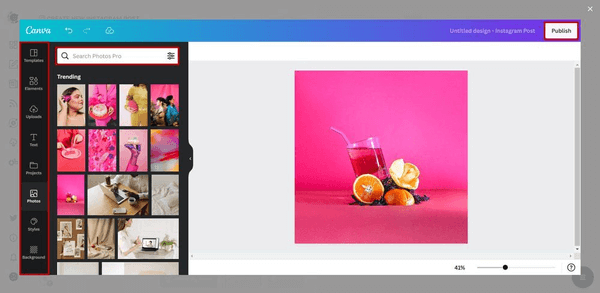 Simply click "Publish," and done! The Canva design tool gives life to your design, a artistic touch. Get creative and watch your Instagram profile grow!
Step #7: Time to Share Your Masterpiece
When your post is polished and ready to shine, look below the post preview, and you'll find three options: "Add to my Queue," "Schedule it," or "Post."
With Circleboom Publish, scheduling posts for multiple Instagram profiles is a breeze. You can even supercharge your Instagram posts with relevant hashtags using Circleboom Instagram hashtag generator.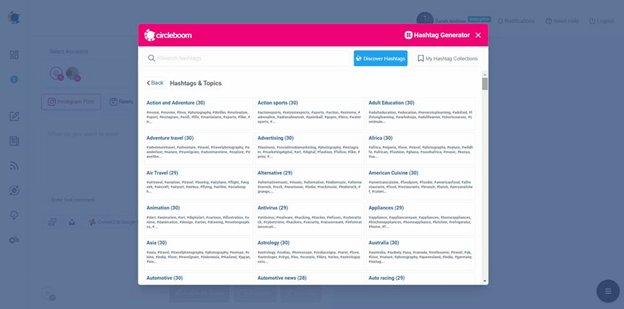 Let's say you're sharing a stunning travel photo – enhance its reach with popular travel hashtags.
Simply click the appropriate button to schedule your post, and a new box will pop up. Here, choose the date and time for your post to go live. You can even schedule the first comments to accompany your post.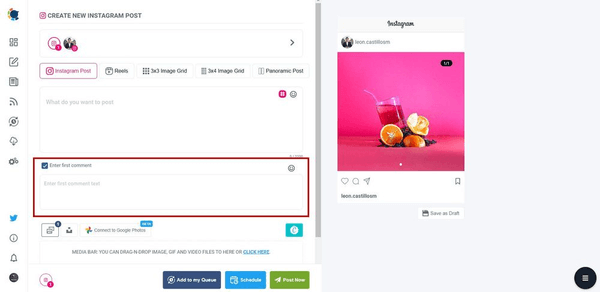 But that's not all. You can create a post queue for your Instagram profiles, and Circleboom Publish will take care of the rest. Just head to the menu and choose "Add to my queue" and "Go to my queue settings."
This will lead you to a page where you can fine-tune your queue settings, specifying your time zone and intervals between posts. For a more detailed plan, click "Create Advanced Plan" on the right.
Now, you're all set to share your content on Instagram like a pro!
Unlock More with Circleboom Publish
The possibilities with Circleboom Publish are endless. Here's what you can do:
Instagram Reels Scheduler: Craft and schedule captivating Reels on Instagram effortlessly.
Grid Magic: Create stunning 3×3 and 3×4 Instagram grids with our built-in grid maker tool.
Panorama Posts: Dazzle your audience with wide panorama posts, all easily scheduled.
Hashtag Power: Boost your Instagram posts with our hashtag generator. Find the right hashtags to expand your reach.
AI-Driven Captions: Let our AI Caption Generator do the heavy lifting. It auto-generates captions, suggests emojis, hashtags, and even offers extras like paraphrasing, translations, and grammar checks.
Circleboom Publish opens up a world of possibilities for your Instagram content – all at your fingertips!
How to See if Someone Has Multiple Instagram Accounts
Curiosity often leads us to wonder whether someone we follow on Instagram has more than one account hiding in the shadows. While the Instagram doesn't offer a direct "multiple account detector," there are several methods to find out if someone has multiple Instagram accounts:
Method #1: Instagram Inquiry – Unveiling Multiple Instagram Accounts
Since we're already on Instagram, it provides a convenient platform to investigate whether your target individual maintains additional Instagram accounts.
However, it's essential to understand that uncovering multiple Instagram accounts isn't as simple as a single click.
Step #1: After logging into your account, enter the username of the person you're searching for into the search bar.
If you're using Instagram on a computer, you'll find the search bar positioned above the Stories section.
If you're using a mobile device, simply tap on the Search icon located in the lower-left corner of your screen. If you haven't already installed the Instagram app, you can easily do so for both iOS and Android platforms by following this link.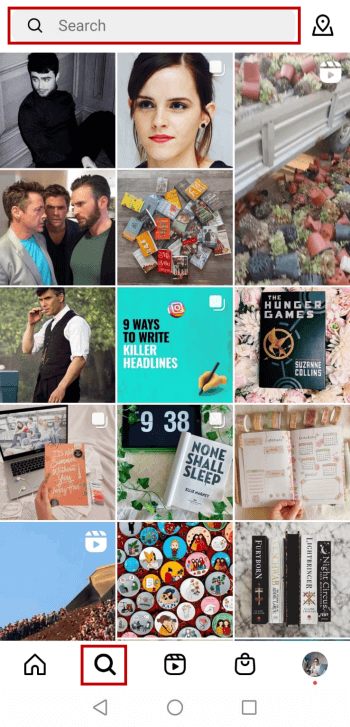 Step #2: After selecting the Search option, a dropdown menu will emerge, listing all accounts that match the specified username.
Step #3: Now, see the Instagram accounts to identify if they match with "main" account.
Step #4: To verify that the account indeed belongs to the same user as the "base" account, click or tap on it to navigate to the target's profile page.
Step #5: Within this profile, carefully examine the details to find its connection to the account you are seeking. If it aligns with your expectations, you may choose to follow them.
In case, if the second Instagram account is private, you can send a friend request or a Direct Message (DM) to them.
Remember the user name, if you still want to satlk them and see their activities.
Did you know you can anonymously identify your Instagram profile viewers?
Method #2: Using Google to Detect Multiple Instagram Accounts
Searching for multiple Instagram accounts via Google offers an efficient alternative to manually combing through the platform. Here's a step-by-step guide on how to wield the power of Google for your investigation
Step 1: Search Right Query
Begin with a well-crafted search query that includes unique identifiers like middle names or locations to narrow down results.
Step 2: Add Distinctive Details
Include middle names or any distinctive information related to the person you're searching for to refine your search further, reducing irrelevant results.
Step 3: Explore Various Names
Consider the various names or aliases the person might use on Instagram. People often employ pseudonyms, nicknames, or variations of their real names.
Step 4: Use Advanced Search Techniques
Use Google's advanced search operators, such as enclosing phrases in quotation marks, using the minus sign (-) to exclude terms, or the "site:" operator followed by "instagram.com" to focus on Instagram profiles.
Step 5: Review Results
Review search results closely, paying attention to profile pictures and usernames for potential matches.
Step 6: Record and Monitor
Note relevant details of potential Instagram accounts for future reference and monitor discreetly.
Step 7: Respect Privacy
Throughout your investigation, maintain respect for privacy and adhere to ethical guidelines, avoiding invasive actions.
By following these steps systematically, you can effectively utilize Google to uncover multiple Instagram accounts while upholding ethical conduct and respecting privacy.
Method #3: Use Other Social Media Platforms to Uncover Multiple Instagram Accounts
You know Meta own both Facebook and Instagram, and also allows to link them.
This incarease chacnes that you can find Instagram users on Facebook or vice-versa using their user name.
When searching for a person's secondary Instagram account on Facebook and vice versa. You'll have to enter any of the following user details in the social media platform's search bar:
Phone number
Full name
Home address (if specified in the profile or bio)
VIN (Visual Identification Number) or license plate details if available
Ensure that the information you input is accurate to avoid fruitless efforts
The details should be correct otherwise, your efforts will be wasted and will get nothing.
This approach isn't limited to just Facebook. You can apply a similar tactic on other social media platforms like Twitter or LinkedIn.
Juggling multiple Instagram accounts? We've got your back!
Meet Circleboom Publish – your all-in-one, budget-friendly social media management buddy.
With its user-friendly dashboard, you can effortlessly connect and manage all your Instagram accounts. Create, design, share, and schedule posts hassle-free. Your one-stop solution for smooth Instagram account management.
Frequently Asked Questions
You know, we've all been a bit curious about it at some point, right? Wondering if someone's got more than one Instagram account up their sleeve.
Well, the good news is, there are ways to find out, even if they've tried to be sneaky about it. We've got a whole bunch of methods listed in this article that'll help you uncover those hidden Instagram accounts.
But here's the twist – if you're the one managing multiple Instagram accounts and thinking, "How can I do this more efficiently?"
Look no further than Circleboom Publish. It's your affordable, user-friendly solution to handle all your Instagram profiles like a pro.
Why not give it a try and upgrade your Instagram campaign?