If you have a website, you must have SSL certificate enable on it.
Why?
Two reasons:
First: It protects your website data from HACKING and improves customer trust.
Second: Google gives slightly boost in ranking to the website which has SSL enabled.
Additional Read: Best Keyword Ranking Tools
I know what you are thinking…
How to find the best SSL for a website?
Yeah, I understand your concern. Choosing the best SSL provider for the website is not an easy task – while the internet is filled with thousands of SSL providers.
There are some SSL vendors who provide FREE SSL certificates…but I'd not recommend that.
Why?
Because I don't want you to take the risk of data theft. The FREE SSL certificate isn't always good – especially when you have tons of valuable data on your website.
Buying a cheap SSL certificate from verified websites is way better than using free SSL.
GoGetSSL is one of that website where you can find reliable and secure SSL certificate at a competitive price.
Before I tell you more about GoGetSSL, first…
Also read: SkySilk Review 2019: Is It The Best VPS Provider?? READ Before Buy
What is SSL and why should you use it?
The SSL stands for Secure Sockets Layer – it is basically building a secure connection between two points such as computer and web server.
The number of users who submit their personal information on websites for online transaction always concern about their online data security and protection of private information. An SSL certificate protects users' sensitive information like credit card numbers from hackers.
This one is the strong reason people are now using SSL for websites more than ever.
Now let's get back to the GoGetSSL.
What is GoGetSSL?
GoGetSSL is a leading provider of SSL certificates and serving to its clients since 2009. The company offers multiple types of Cheap SSL certificates to its consumers.

Whether you need Domain Validation SSL, Multi-Domain SSL (SAN), or Business Validation SSL, GoGetSSL has it all at an affordable price. However, GoGetSSL has its own SSL certificates for different categories but… along with that it also provides SSL certificates from some reputed name such as GeoTrust, RapidSSL, Thawte, Comodo DV, and Symantec.
Additionally, it offers cheap seals and scanners from Comodo DV and GeoTrust.
Features of GoGetSSL:
Cheap SSL Certificates
Utmost product satisfaction
99.9% browser and mobile support
Fast issuance
90-days free trial
30-days money back guarantee if not satisfied with GoGetSSL
Let's see more features of GoGetSSL in detail:
GoGetSSL provides tons of useful SSL certificates in one umbrella. Let's check them out:
SSL Issued in minutes
The thing that set it apart from other rivals is its fast service. Whereas most SSL providers take 1 – 7 days to issue SSL certificates, GoGetSSL does that in few minutes.
Most GoGetSSL users get their domain validation SSL certificates within 5 minutes after purchase. Its all because of their user-friendly and automated system that eliminate the paperwork and other formalities.
No problem if you are not a tech geek, the GoGetSSL team will do all the leg work for you.
Compare SSL Certificates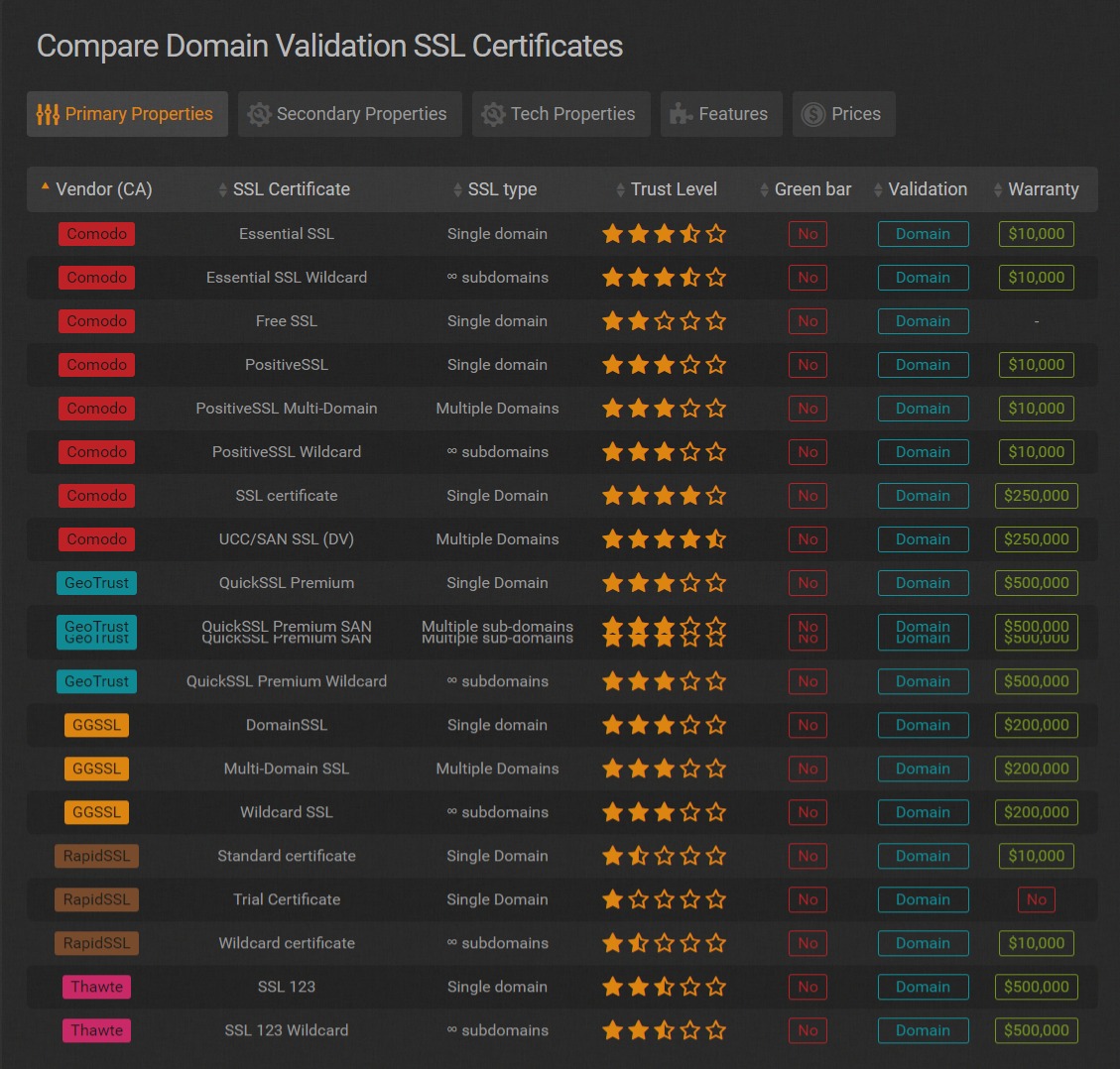 GoGetSSL provides a detailed SSL comparison that helps users to choose the best SSL certificate that fit their need.
The goal of this SSL comparison table is to help users who have little or no experience with SSL certificates. In other words, it will save your valuable time so you can pick the right SSL certificate for you.
However, you are still confused then you can ask for help from their sales manages and they will be happy to help you with your SSL queries.
FREE SSL certificate for 90 days
GoGetSSL is the best SSL provider in the market – don't take my word try it yourself.
In fact, GoGetSSL wants itself that's why it offers 90-days trial.
It means you can use their SSL certificate service for whole three months for free without making an actual purchase. They have a solid trust in their SSL services and they want you to have the same.
If we talk about its rivals then no one in the market is offering a FREE trial of SSL certificate for three months.
To put it another way, three month is enough to take a decision about whether you should use the GoGetSSL certificates or not.
30 Days money back guarantee
GoGetSSL wants you to have complete peace of mind when purchasing their SSL certificates. To make it possible they offer 30 days money back guarantee to its consumers.
In case, if you aren't satisfied even after trying their 90 days free trial, you can ask for a refund within 30 days after making the purchase. You won't be asked any questions while requesting for a refund.
Fast and reliable
We have talked enough about the other useful features but one that makes it a leading SSL provider in the market is reliability and performance.
GoGetSSL provides a fast and secure 256-bit encryption SSL certificates that protect your sensitive information from wrong hands. Apart from that, they have a powerful server that ensure your website has steady speed and performance.
Additionally, they have built their user interface in a way that provides maximum user-experience without confusing consumers.
Pricing of GoGetSSL
If we compare GoGetSSL pricing to its rivals then it is way cheaper than them. In fact, you can get a whole year SSL certificate as low as $4.
Let's take a closer look of pricing of other SSL certificates that GoGetSSL provides: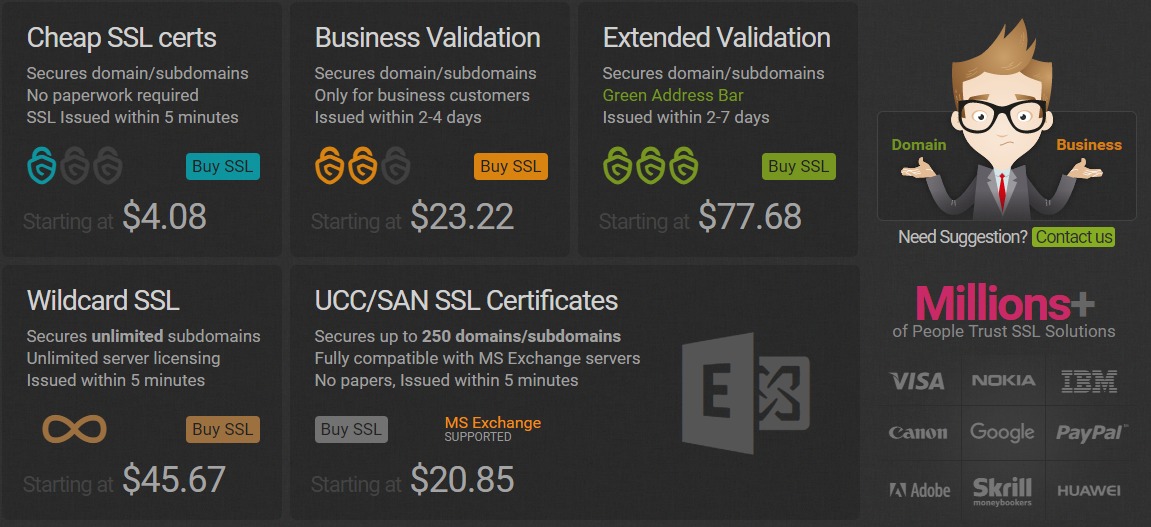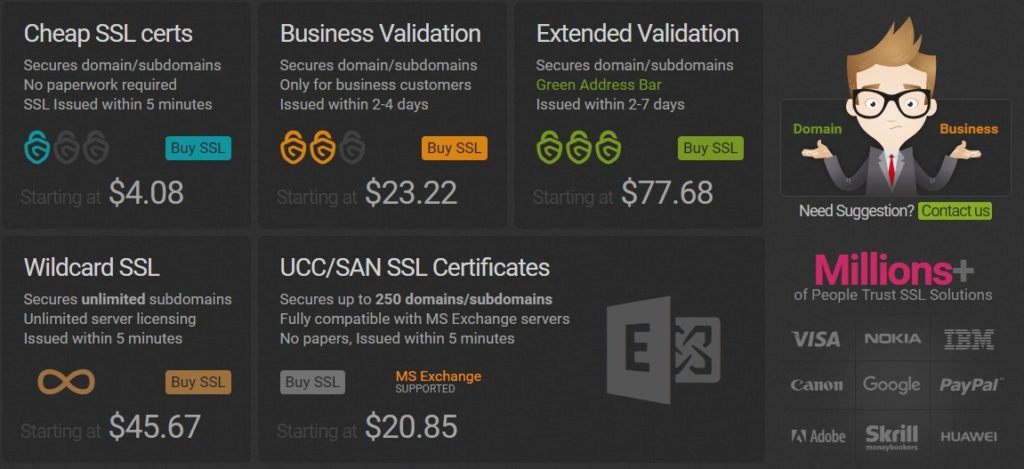 Also read: TradingFXVPS Review: Best VPS Hosting for Forex Traders
SSL certificates provided by GoGetSSL
GoGetSSL provides 8 types of SSL certificates to its users. Here they are:
Domain validation SSL certificates – A domain validation SSL certificate is best fit for businesses, sole traders, private clients as well as individuals OR you can say where user's trust is not a high priority. You can get an SSL certificate within 3-8 minutes after you pass the verification process.
Don't worry, the verification process is easy and fast as it only requires your email. There are other verification processes also available that don't take much time.
They offer around 20 different domain validation SSL certificates from globally recognized SSL vendors. To make it easy for users to take the right decision they have to build a comparison tool.
Business validation SSL – As the name suggests it is for businesses where user's trust is important.  Domain validation SSL certificates GoGetSSL offers come from trusted names like Comodo, Thawte, GeoTrust, and Symantec.
Extended validation SSL certificates – Loves to see the green address bar with your company name? Extended validation SSL certificates all you need for that.
However, verification process of this SSL certificate is longer (2 – 7 days) as compared to the domain and business validation certificates but at the end, it is worth it. Users show more trust on extended validation SSL certs.
GoGetSSL offers EV SSL for a single domain, SGC EV SSL, and multi-domain EV certificates.
Wildcard SSL certificates – Perfect for those who want SSL certificates for multiple sub-domains under a single domain certificate. In other words, when you buy Wildcard SSL certificates you don't to buy SSL certs for all sub-domains.
Additionally, Wildcard SSL supports unlimited server licensing and allow installation to as many servers you want.
Multi-domain SSL certificates – It is designed to protect your all domain and sub-domains by using just one SSL certificates. Managing this type of SSL certificates is easy and fast since you have one CSR/Key to install.
SGC SSL certificates – It provides the highest level of security and encryption and mostly used by banks, companies, government and e-commerce websites.
Code singing SSL certificates – GoGetSSL offers cheap code singing SSL certificates from top reputed companies like Comodo, Symantec, and Thawte. Code singing SSL would be issued with 1-3 days.
Code singing SSL could be issued to individual or businesses.
Email and Document singing – It is perfect for those who like to share private data on the internet through emails but don't want anyone to intercept that in the middle.
In other words, personal authentification SSL certificates are important while data on email is sensitive. Currently, GoGetSSL is offering email and document singing from Comodo that would cost $9.98.
Final Words!
I guess by now you have understood the importance of having SSL certificates and why it is important not use FREE SSL certificates.
GoGetSSL is probably the best SSL provider in the market that offers various useful cheap SSL certificates in one umbrella. Moreover, it gives you enough time (90-days FREE trial) to test its SSL before you make the actual purchase.
If you would take my words, I would strongly suggest enabling SSL certificates on your website not only it will help you in ranking but also build up trust among users.
You'd never find trusted and reliable SSL certificates such a cheap price. Don't think too much and buy your SSL certificates today to secure your website data.