Running an online business with customizable tools and complex functionalities is expensive – especially when you are handling lots of valuable data.
You'll need something that can store your all data and make it available faster when you need that.
The solution is simple…
Host your data on Virtual Private Server (VPS.)
And now, you're thinking…
What is Virtual Private Server?
A virtual private server (VPS) is a virtual personal server that allows storing your data on the cloud. A dedicated VPS contains its own operating system, bandwidth, and disc space.
There are several VPS service providers who are offering premium VPS services. However, you can find some FREE VPS services also but I wouldn't recommend them.
Why?
Because… I don't want your risk of losing your important files and data.
Luckily, SkySilk has got your back.
What is SkySilk?
SkySilk is an online platform that offers reliable and scalable cloud services for business owners who run an online business or a website. Their cloud services include high-quality hosting and cloud storage for website owners.
Moreover, they offer the best in class tools that a developer, business, or an individual need to use cloud computing services.
Why should you use SkySilk?
I know what you're thinking…
Why SkySilk?
SkySilk provides over 40 resources plans so you can choose the best cloud VPS that fit your need – which you'll never find in other cloud hosting providers.
Furthermore, if we talk about the other features it is way cheaper than its rivals.
To put it another way, you will get all the cloud hosting solutions at one place without burning hole in your pocket.
Features of SkySilk Cloud Services:
40+Linux OS distros and one click open source apps
Automatic secured backups and snapshots
Fast and secure cloud hosting
Triple replicated SSD cloud servers
Earn SkySilk rewards points on every transaction
Plans starting with as low as $2/Month
Deploy what you need in seconds
Compatible with almost all Linux based open source software solutions
Let's check out some more features of SkySilk cloud hosting solutions:
SSD cloud storage for every plan
I've never seen before that any cloud hosting providers offer SSD cloud storage for its all plan. Even if they offer they charge you hefty money for such services – but that's not the case with SkySilk cloud hosting.
You can avail high-speed SSD could servers in only $1 that is hard to believe, isn't it?
Yes. But that's true.
The SSD cloud servers SkySilk provides are fast and reliable that help you stay ahead of your competitions.
SkySilk offers three Linux VPS plan name Basic, Standard, and Premium Tier that are perfect for small projects as well as global scale applications.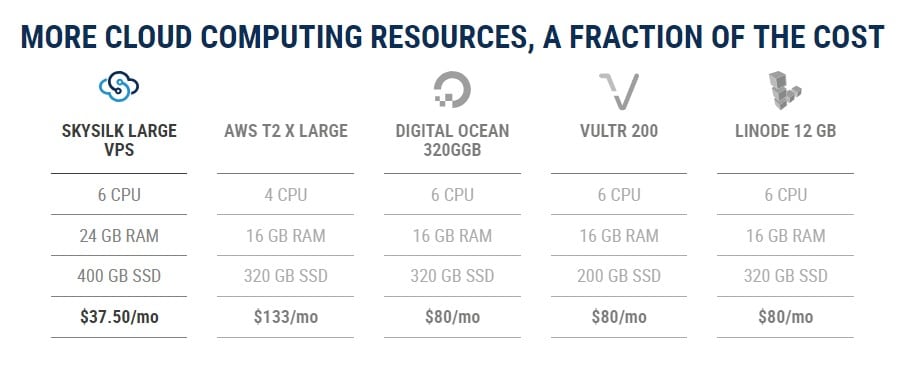 Fast and flexible deployment process
Cloud hosting solutions shouldn't be complex and no one can understand it better than SkySilk.
SkySilk Linux apps, tools, and operating systems can be deployed and set up in seconds with just one click EVEN a non-technical person can easily setup SkySilk cloud hosting.
Their cloud resources have the perfect combination of high-tech hardware and open-source software that fit at any layer of IaaS, PasS, and SaaS models.
Flexible, scalable and open source technologies
The SkySilk cloud hosting offers flexible scalability, automation, VPS deployment that means you can scalable servers at the point.
Moreover, when needed you can temporarily boost your servers' speed and storage that is hard to find in other cloud hosting solutions.
Additionally, SkySilk is enabled with open source software like Proxmox VE, Ceph Storage, LXC and QEMU that makes sever setup and administration simple and reliable.
In short, you don't need to worry about data security and speed instead you can focus on the other innovative ideas that grow your business.
Reliable and data security
Data security means a lot to any company whether you're a small organization or an individual.
SkySilk understands what your data means to you. That's why they have enabled their back-end with unbreakable security layers built-in DDoS protection and anti-virus.
To see if everything is OKAY they ran 21- month BETA testing process. Where they did everything to find potential bugs, fitter out the malicious activity, as well as measured other security parameters.
In short, the developer team of SkySilk has done everything they could do to provide you with maximum security while making available their services at any time you need.
Offers, rewards, and discounts
The thing that I like most about SkySilk is SkyPoints. SkyPoints actually is a reward program that SkySilk provides to its consumers. It is the only kind of cloud platform that rewards its users to use its services.
You can use rewards to buy products from selected gift cards (Pre-Paid Best Buy, Amazon, and Visa Gift Cards) or can add to your SkySilk account credit. The math of SkyPoints is simple 100 SkyPoints = $1 Earned!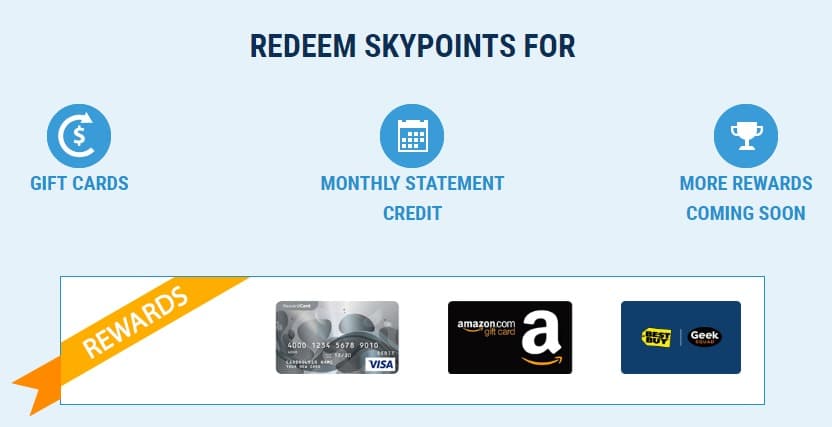 Users earn SkyPoints on every transaction they do on SkySilk. Furthermore, you can earn SkyPoints by following SkySilk on social media networks. SkySilk also provides 500 SkyPoints to new users for every signup.
Affordable and cost-effective
SkySilk offers several pricing plans that are specially designed to provide could resources that fit any types of business. They use some of the high-quality open-source technologies on the back-end that make them able to provide such a powerful cloud solution at competitive prices.
Apart from affordable pricing plan, they are one of kind cloud hosting provider that offers rewards to its users.
Ultimate customer support
When it comes to technical and customer support, SkySilk is always ready for you with the best support team in the market.
They have the team of professionals who have years of experience in networking, information technology, and support to provide you with a most appropriate solution.
Their knowledge base is another way by which they offer support to their clients. There are numbers of support articles available that you can find by searching – all of them have covered a specific topic that users might face.
Plans and pricing
The basic plan of SkySilk starts with as low as $1/m followed by Standard plan $2/m, and Premium $5/m.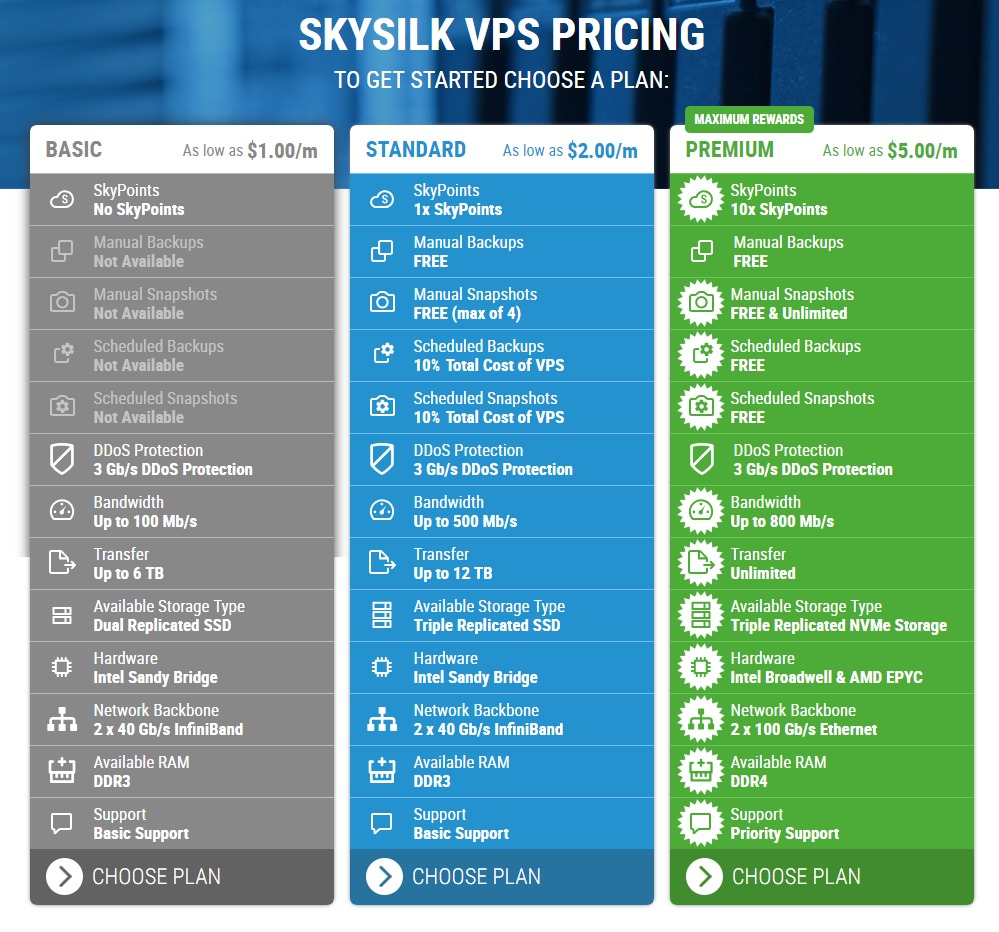 Final Thoughts!
If we compare SkySilk cloud computing services with other cloud hosting providers we see SkySilk is much ahead of them at this price range. Most of all you get 40+Linux OS distros and one click open source apps that are hard to find.
Additionally, you earn rewards using SkySilk even while pricing is already as low as $1/m. After testing myself SkySilk I came to one conclusion this is the best cloud hosting solution available in the market at this price range and one should definitely go for it.
I would strongly recommend SkySilk cloud hosting for those who are looking for an affordable but reliable cloud hosting. Sign up TODAY to get 500 free SkyPoints.