Data security and speed matters when you are into foreign exchange trading – especially, where a second delay can make a huge difference.
Those who are using shared hosting always concern about data security and speed.
Fortunately, there's a simple solution…
Dedicated server or VPS.
But…as there are many VPS and dedicated server providers – finding the right servers isn't easy, especially when you have no idea about dedicated servers.
Lucky you, TradingFXVPS is here to help.
What is TradingFXVPS?
TradingFXVPS is a leading provider of premium and cheap Forex VPS hosting and dedicated servers. They offer customized VPS solutions for traders to make complex automated trading easy and fast.
Why should you use TradingFXVPS?
TradingFXVPS have the best Forex trading solution for traders. To make it possible they have a team of networking professionals who are expert in computer security, networking, and system administration.
Furthermore, they are enabled with super-class technology of Microsoft Hyper-V and VMware virtualization techniques.
Additionally, they have their own data centers in FOUR major locations that are connected with speed channels to provide you best in class performance.
In short, your trading business will perform 87% BETTER than others when hosted on TradingFXVPS.
Premium Features of TradingFXVPS
Quick setup and activation
Enabled with best in class hardware from HP, Dell, Intel, and IBM
Support almost all major trader platforms
Can easily handle unlimited traffic
Latency speed up to 1MS
Server secured against DDoS (24×7 on-site monitoring)
Money back guarantee (no question asked)
7 Days trail for just $3.99
24×7 Technical supports
How TradingFXVPS makes your Forex trading easy?
Ultra-fast speed
Speed matters in Forex trading and the TradingFXVPS team understand it well. Their host servers are connected with high-speed channels to provide its users maximum speed possible.
To be honest I've never found any other VPS hosting provider that has such a kind of speed while maintaining the performance.
Their four data centers play huge roles in it as they came from brands like Equinix, LeaseWeb and Internap. These data centers are teamed up with cross-connection to major brokers and liquidity providers.
24×7 customer support
The first rule of a successful business is available for your customers whenever they need you. TradingFXVPS takes it seriously and that's why they have the best team of professionals who have deep knowledge of computer security, networking, and administration.
When you are using TradingFXVPS you'd never face any sort of problem as the customer support team will be available for you 24×7. No matter where you are and what the time is, if you need help from TradingFXVPS support team you will get that without any delay.
The support team is super active in response so you don't have to wait longer for an answer after asking for help.
Competitive price
As we believe that quality products will cost lots of money.  However, that's true in most areas of life where you have to pay lots of money to buy high-quality products – but that's not the case with TradingFXVPS.
Even though TradingFXVPS provides best Forex VPS hosting for traders but prices it offer are affordable and cheap compared to the rivals.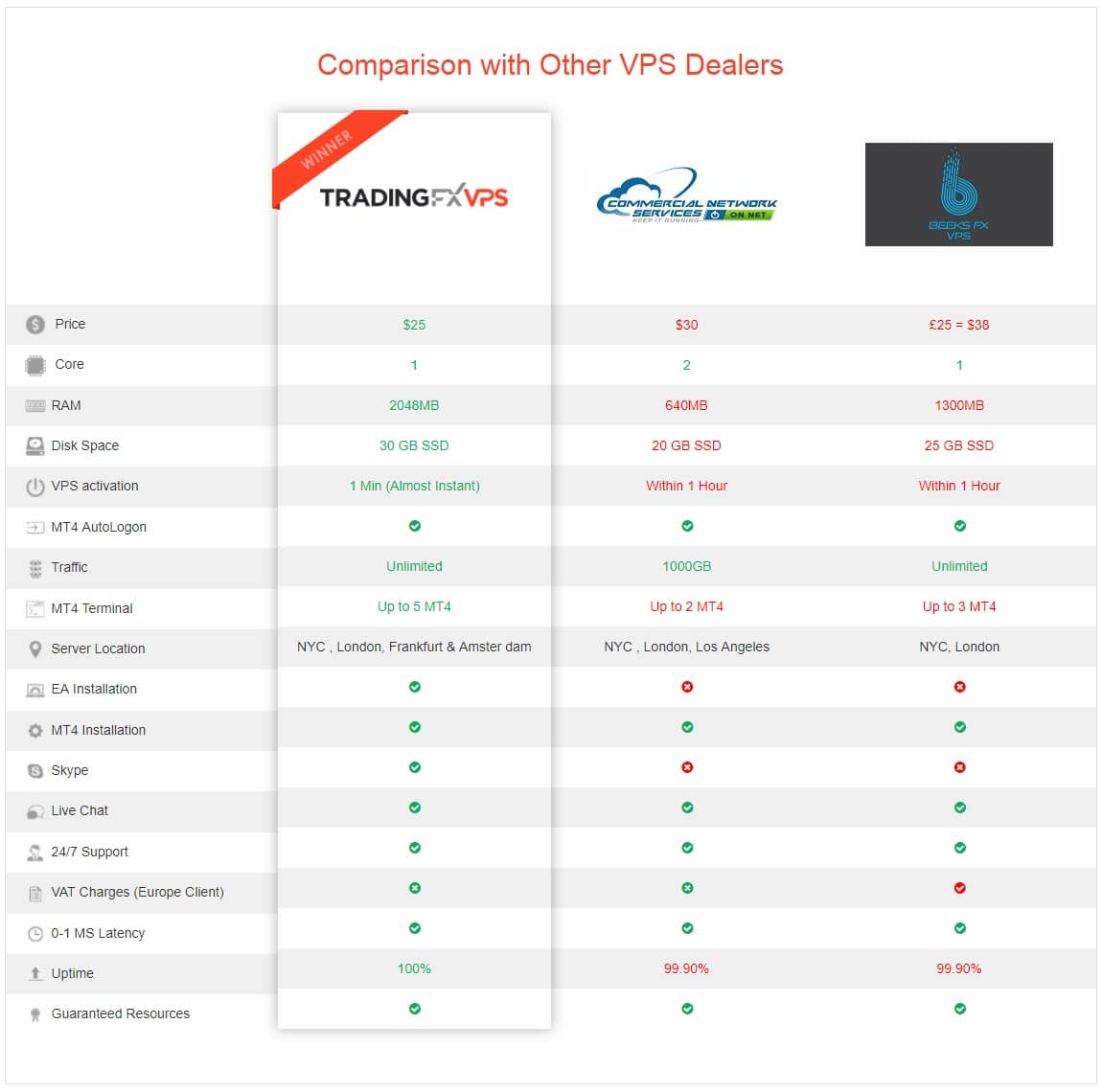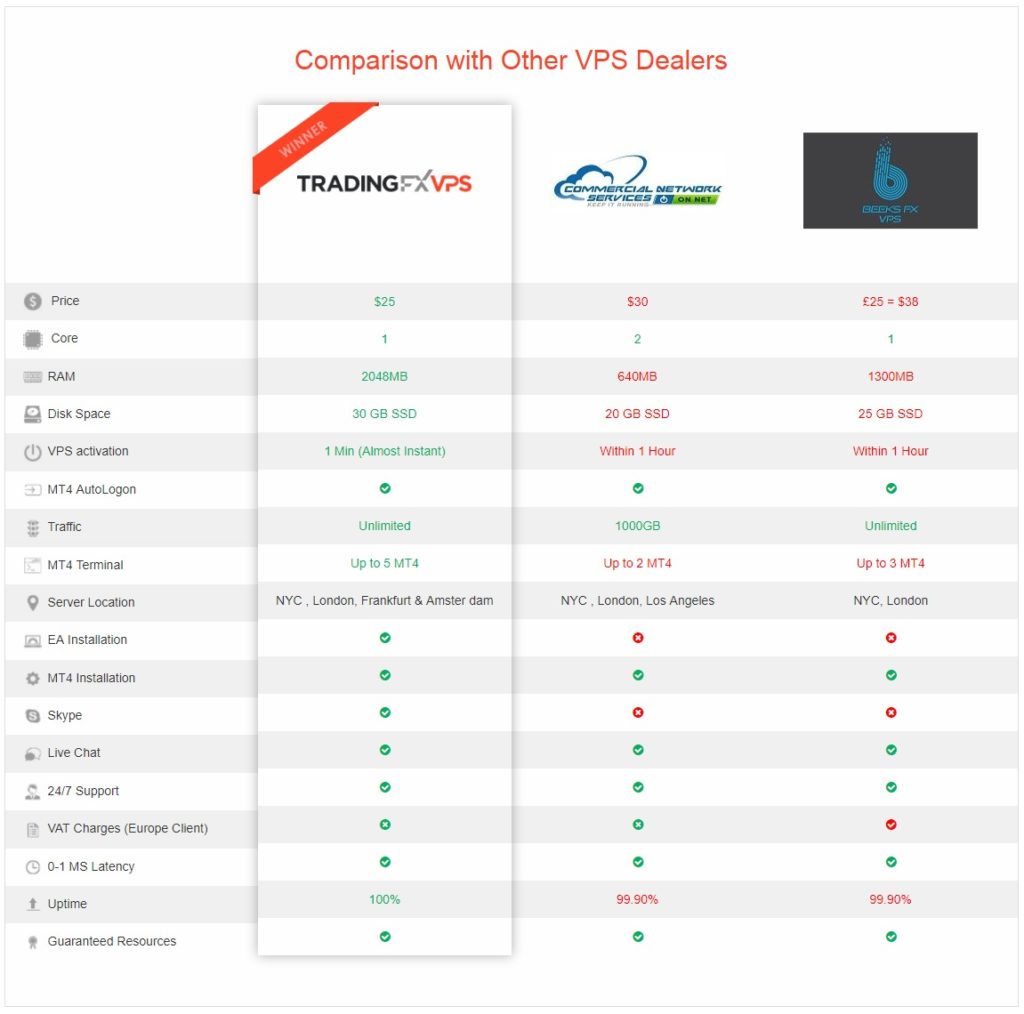 Best in class virtualization
TradingFXVPS also provides virtual servers just like other VPS providers. But…the features that differentiate it from its rivals are outstanding Windows VPS performance and reliability as they have Mircosoft Hyper-V and VMware virtualization technology.
Their all VPS, RAM, SSD, and processor specifically designed to provide maximum speed and performance to Forex traders.
VMware flexibility framework makes sure that you get guaranteed 100% uptime from their all servers so you Forex business never goes offline.
Hardware
TradingFXVPS use world-class hardware equipment from Hewlett Packard, Dell, Intel, and IBM that decreases the chances of hardware failure. Moreover, your mind will be in peace that your VPS is hosted on a strong and trusted high-end server.
TradingFXVPS servers are enabled with SSD RAID10 disk array that allows you access information 10-20 times faster than most hosting providers using SATA drives.
Your virtual server data is safe with TradingFXVPS even if any worst happen like hard drive failure.
Pricing of TradingFXVPS
TradingFXVPS offers three types of hosting plans name Standard, Advanced, and Expert. You can pick any of them that fit your need. Most of all you get 2 months FREE when you opt for annual subscriptions.
TradingFXVPS VPS hosting is specially designed for traders where speed matters most. The hosting comes with 100% uptime, SSD RAID 10, and quick activation. The pricing plans of TradingFXVPS VPS hosting are: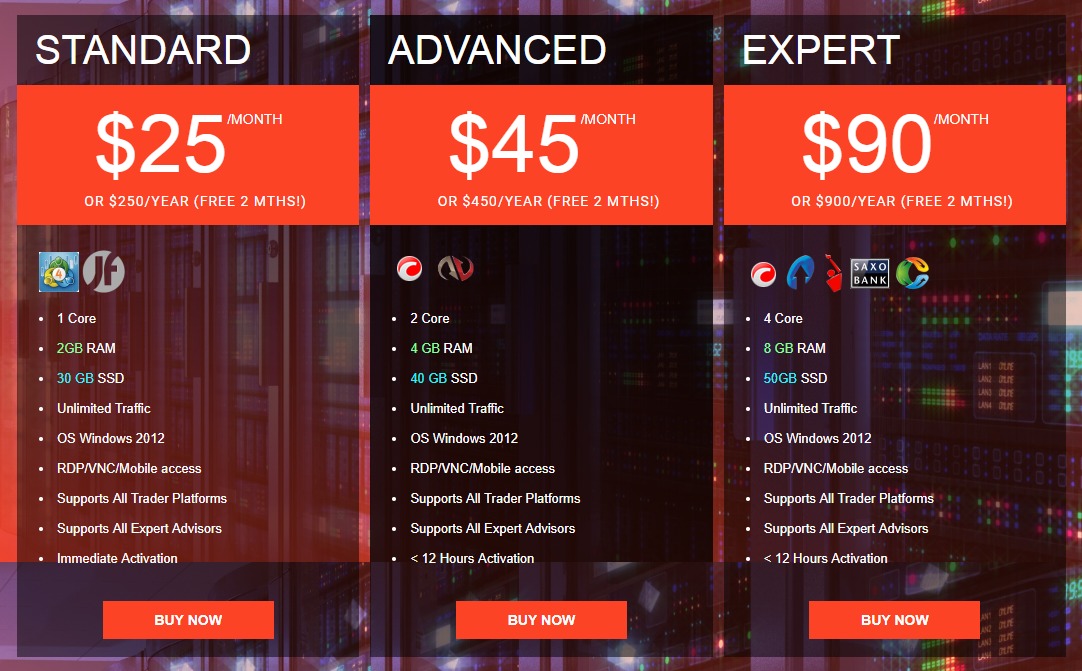 As you know that TradingFXVPS have four data centers from where they provide dedicated servers to its clients. Here are the dedicated server plans: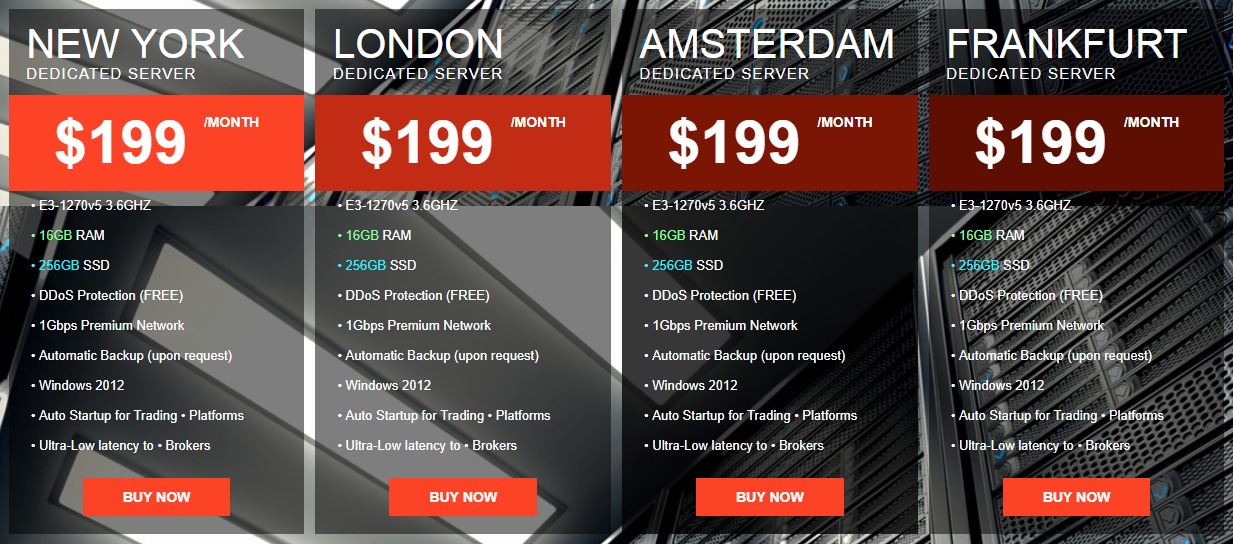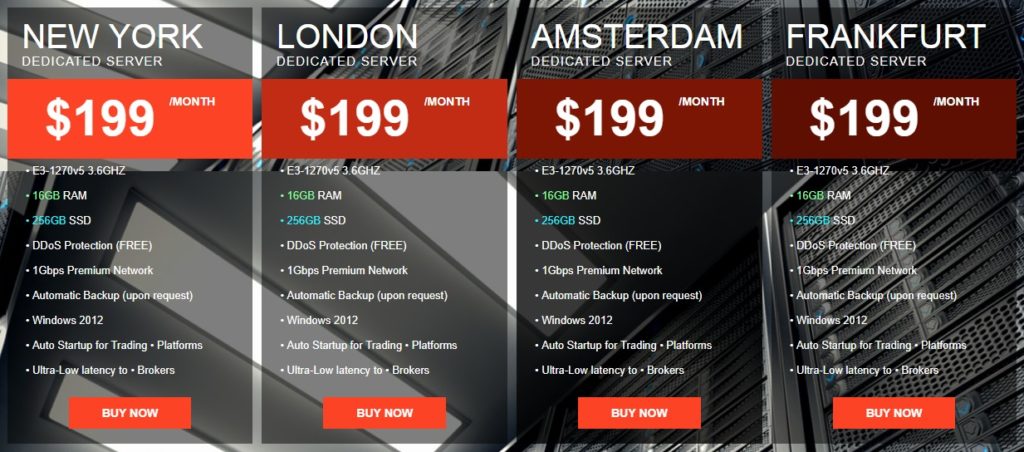 Over to you!
TradingFXVPS is constantly building high-quality hosting solutions for Forex traders who run their businesses online while expecting maximum speed with high performance.
However, I have explained everything you need to know about TradingFXVPS but if you have still any doubt, I'd strongly recommend that try their 7 Days TRAIL for just $3.99.
It will help you find its unique features yourself; moreover, you will be able to take the right decision if you should use TradingFXVPS or not.
If you would ask for my advice I would suggest you go for TradingFXVPS. It isn't only easy to set up and installation but also provides high-speed and 100% uptime that is hard to find in such pricing.
You are just one step ahead from experiencing the best VPS hosting solutions for traders – don't wait and go for TradingFXVPS NOW!