I have already shared the ultimate guide to buy a perfect domain name with you here before.
…and today I'm going to tell where you can find the best and cheap domain names registrars.
When an awesome idea for a website to make money online strike in your mind, the first thing you need to do is – book a domain name around that business.
In order to do that you must know a place where you can buy a cheap domain.
What I see most people do is, they use the same domain host and registrars. However, there aren't pre-defined rules that you must have the same host and domain name registrar.
You are always free to go with the best domain and hosting service provider that fulfill your needs instead of looking what others are using.
The good thing about having a different domain name and hosting providers is if somehow your hosting account got hacked your domain name still be safe.
Getting a cheap domain registrar isn't easy. In fact, it's more complicated than it looks, you have to see the other factors ( pricing, services, and support, etc) before registering a domain name.)
The only purpose to write this article is let you know about the cheapest domain registrars available on the internet where you can get the cheap domain deal.
Where Can You Do Cheapest Domain Name Registration?
#1. Godaddy – Daddy of All Domain Registrars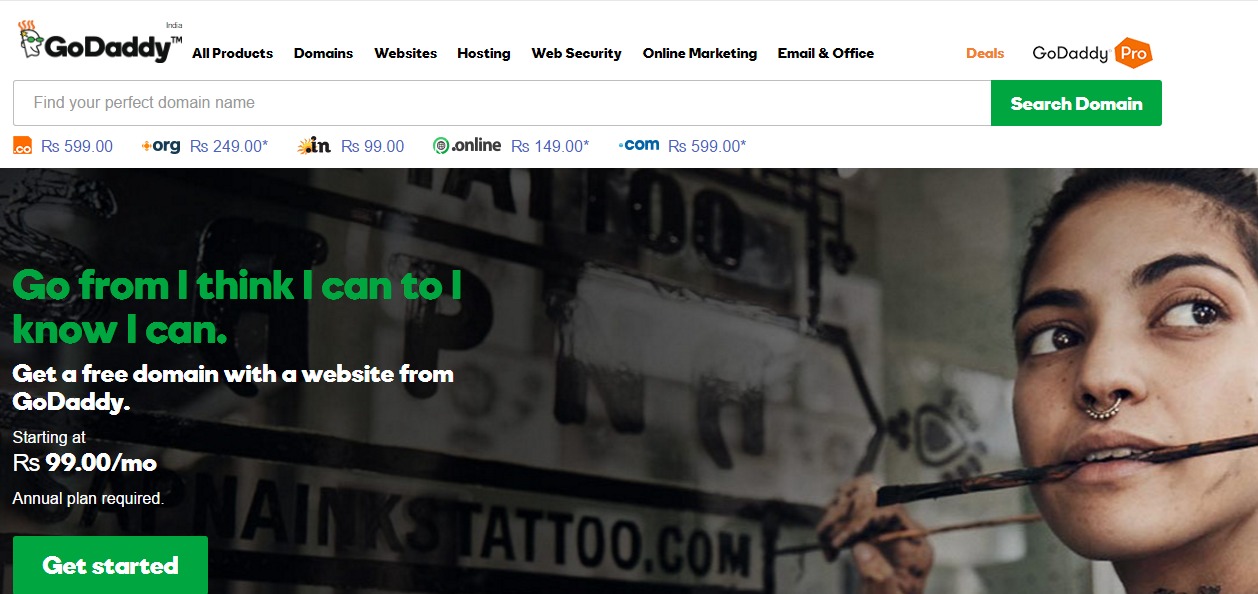 They like to call themselves the daddy of all domain registrars. Despite being one of the popular domain registrars they are the most controversial domain registrars on the earth.
Even they are the leading domain company controversies always finds the way to get them. Despite all odds, GoDaddy somehow managed to earn its reputation back up after a major failure back in 2012.
The domain name at Godaddy will cost you less than $1.51 for the first year. But renewal after the first year will be bit costly because of some additional hidden costs.
Why should you do with Godaddy?
Godaddy is an award-winning domain registrar that provides 24/7 sales and support.
They have a team of professionals who will help you get the best domain deal when you're confused in domain selections.
They're possibly the leaders of domain name registrars and worth to check out.
#2. Domain.com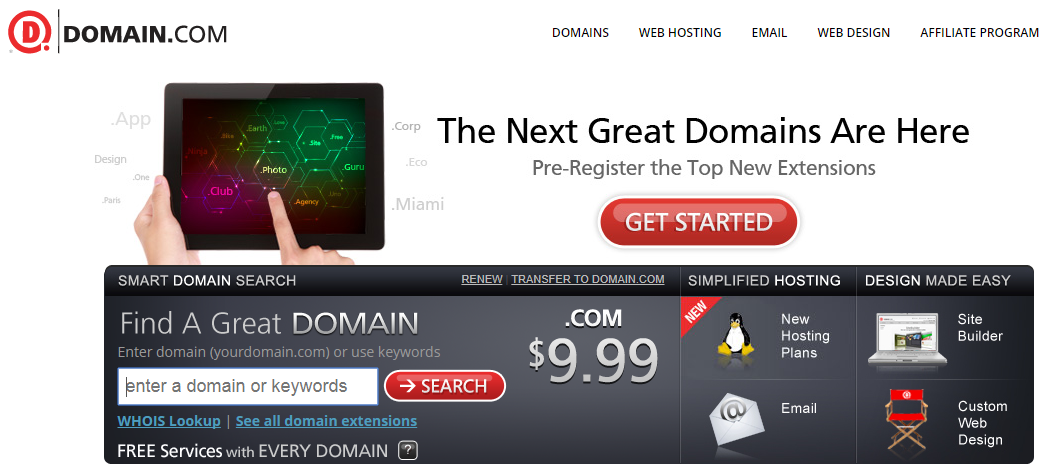 Domain.com starts selling their domain names for $9.99 per year. They offer all major Top Level Domains (TLDs) and more than 25 Country Code Top Level Domains (ccTLDs).
All the domain registration they offering will have the following domain tools:
URL Forwarding – Redirect traffic from one domain to another.
Email Forwarding – Automatically forward your all emails to other valid email addresses.
DNS Management – Get complete access to your DNS records.
Domain Transfer Lock – Secure your domain from unauthorized domain transfers
You can get more amazing from domain.com after spending few bucks.
Payment options domain.com supports are PayPal, Visa, MasterCard, Discover, and American Express.
#3. Namecheap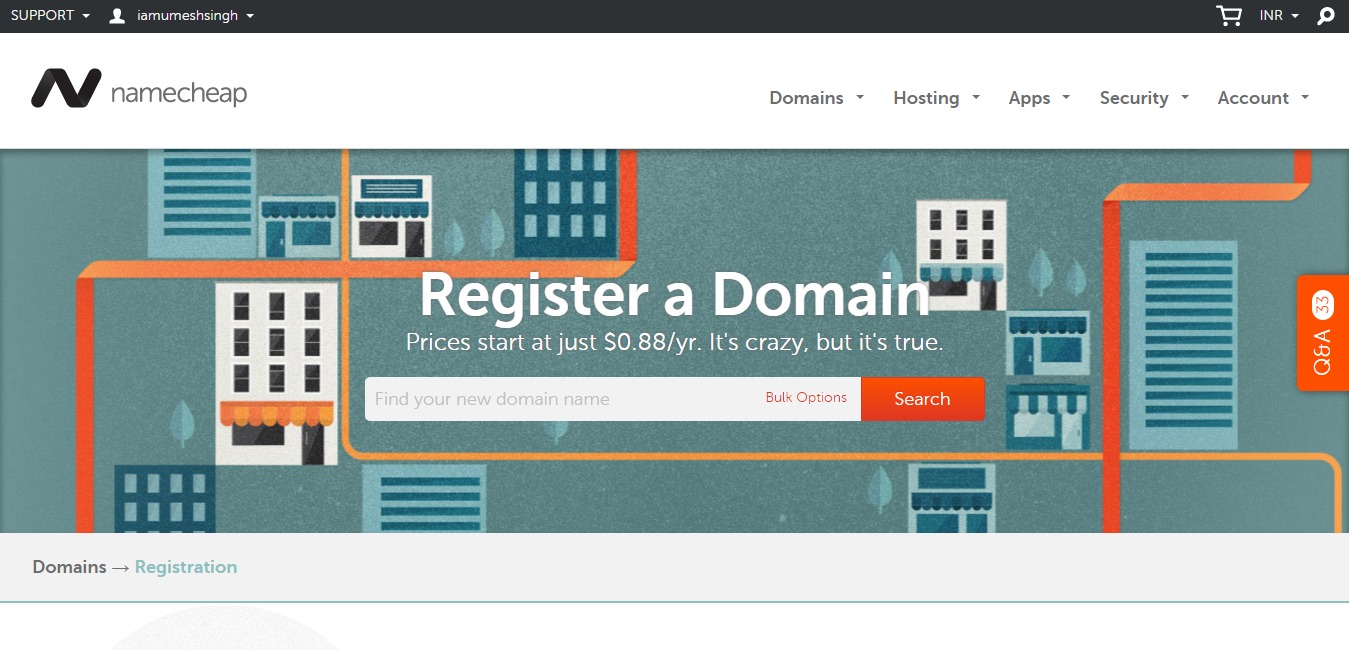 Namecheap is another popular cheapest domain registrar after Godaddy where you can buy domain name of your choice.
They offer .com domain extension at the price of $11.28 per year.
When it comes to service and support very few can compete with the Namecheap support system.
Namecheap offers WhoisGuard subscription for one year (a value of $2.88) absolutely free with every eligible new domain registration or transfer.
Moreover, they also provide special $1.99 Comodo PositiveSSL Certificate (valid for the first year only) with every new product purchase besides domain renewals, WhoisGuard renewals, purchase of other SSL certificates or renewals or any other SSL certificates.
The only additional fee they charge is ICANN fee of $0.18 for each domain registration, renewal or transfer.
In general, Namecheap is the best alternatives of Godaddy.
#4. Bigrock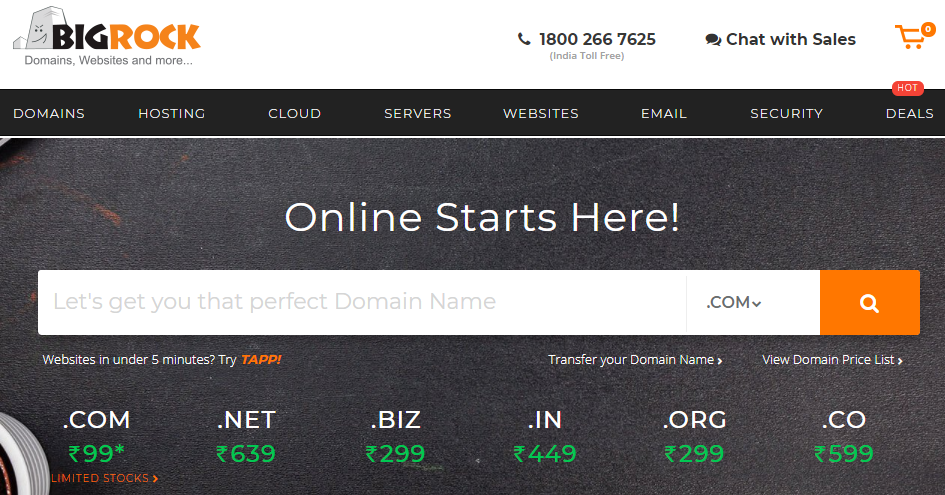 Bigrock is a leading cheap domain registration service provider. Bigrock offers .com domain name for $9.27 per year, renewal cost can vary.
You'll get two 100 MB personalized email accounts along with anti-spam and virus protection absolutely FREE!
Furthermore, you can activate domain theft protection features it will ensure that your domain does not transfer accidentally or without your permission.
The support team of Bigrock is very supportive when it comes to helping the consumer.
Renewal price of the domain might be high but at last, you might the best domain names for your business.
Tips to choose a good domain registrar
Compare domain pricing and offers wisely
Always prefer ICANN-registered domain registrar
Watch carefully if they have any hidden fees for transferring and releasing the domain name
See, if they are providing personalized domain.com email account/email forwarders
Also, checkout domain what add-on services like who.is guard and domain theft protection they are providing
Read the domain transfer policy carefully. For instance – Godaddy won't let you transfer the domain to other registrars except for Godaddy for 60 days. 
Now, we have come to the end of this article. I hope one of these domain registrars will end your journey to your buy cheap domain names ever.
Let us know if you know any other best place to buy cheap domain names.