In today's post, you are going to learn how to choose a professional email address that doesn't suck.
The best part?
You can set up a free business email address (in 5 Minutes.)
Let's get started.
An email id is a unique identifier for an email account. It is used to both send and receive email messages over the Internet.
Every email address has two main parts: a username and domain name. The username comes first, followed by (@) symbol, followed by the domain name.
Why Do You Need A Professional Email Account?
Who doesn't want the best email id names ever?
After entering the professional world, I realized the importance of a good personal email address.
Email selection is more than just typing any random fancy words.
As a matter of fact, a mail address is an important part of your online journey, and it would stick with you for years.
Therefore, you shouldn't be in a hurry when choosing an email name – especially when you run a company.
According to Godaddy, 75% of customers stated that a professional email address is a key to building trust with small businesses.
In fact, using generic email address like @gmail and other generic email affects your business credibility and create suspect among buyers towards your business.
I see people have unique email id names with the prefix "Cool", "Awesome", "Rockstar", etc.
However, it looks great when you are a teenager, but it won't be accepted in the professional world.
A blogger can always have a custom email name such as [email protected], but for those who are still using other free email service providers such as Gmail, Outlook, or Yahoo mail, choosing a good email address is essential.
If you have just started your professional career or going to start it soon, it is right time you should leave your old fancy email id and create a professional one.
Avoid running behind clever email addresses ideas; instead, look for something that makes your email name id easy to remember and spell.
How to Create Business Email Address using Bluehost
To create a professional email id, you must have a website name.
Why?
Because having a website is essential to promote your business brand online.
To start a website, you need two things:
A domain name.
And, a web hosting account
Here is a quick definition if you don't know what the domain name means:
"A domain name is your website name. A domain name is an address where Internet users can access your website."
Now let's move to the web hosting service.
A website hosting is a place where all files of your website get stored. And the good thing is – most web hosting companies offer free business email name services to its clients.
Generally, a domain name costs around $14.99 per year, whereas a hosting service starts from $7.99/mo.
I know it can be a lot for guys who are starting a blog or a startup.
This is why I recommend you to use Bluehost for starting a website. It a reliable and trusted hosting provider recommended by WordPress.
You can buy Bluehost hosting starting from $2.75 per month along with a free domain name for the first year.
Additionally, they offer you free professional email address with all their plan, that's a great deal. Isn't it?
Here is the step-by-step process to get business email id: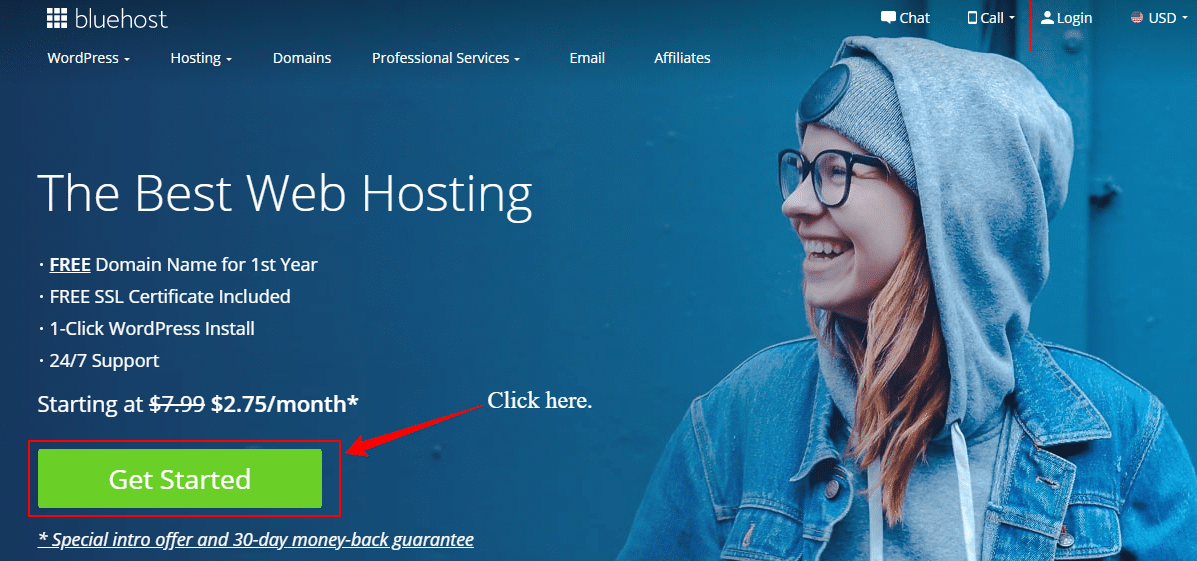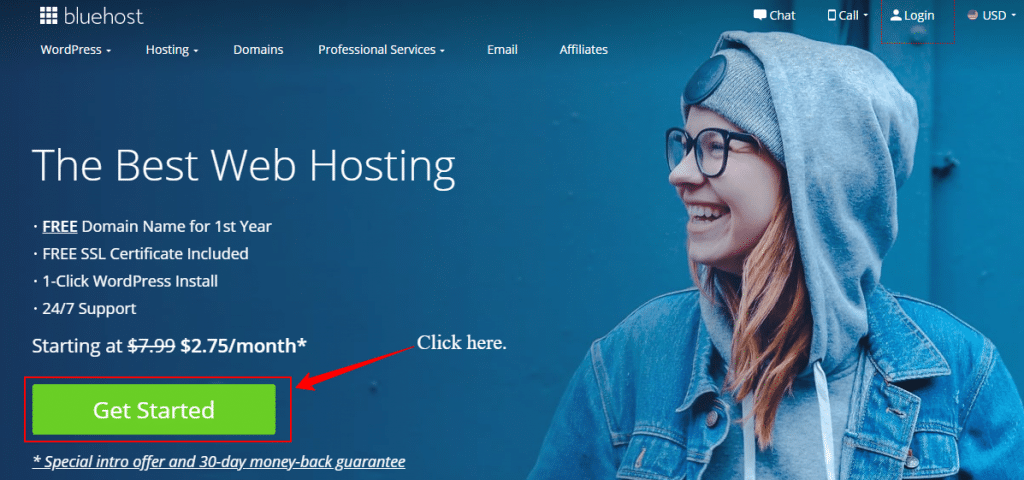 On the next screen, choose the plan that you want (basic and plus are the popular one.)
Next, you need to enter the domain name for your site.
After that, the Account Information page will open, where you'll have to fill your personal information.
Then, you'll have to select the package that you want. I recommend you to go with the 36-month plan because it's a money saver.
After filling the information, click on the submit button.
Congratulations! You have successfully created your hosting account. You will soon get an email with details on how to login to your cPanel.
Step 2- Create Your Business Email Account
To get your professional business id, head over to your Bluehost account and click on Email & Office, present in the left sidebar.
You will see the page where your registered domain name is listed.  Now, click on the manage button.
Next, click on the Create button to open the "Create an Email Account" page.
Here, you will see a form asking for a new username and password.
Your user name should be your names like johndoe or john. You can also create custom email accounts for your team members.
Make sure; you use a strong password that contains a combination of letters, number, and special characters.
After filling the information, go to the bottom of the page to click Create.
Congrats! You have just created your new professional email address.
Step 3 – Access Your Email Account
Now, it's time to access your inbox, where you can send and receive emails.
Head over to your Bluehost dashboard, and then click on Email & Office. Next, find your domain name and click Manage.
Here you'll see your newly created email address.
Now, click on to the Check Email, and you will land on a new page where you will have to choose a webmail application.
Select any one of them to access your email inbox. Where you can compose, send, read, and delete the emails.
Professional Email Address Ideas and Examples
Here are some email id suggestions that you can use to while making professional email account.
Combine your name with your profession, city, or degree
Honestly, speaking creating a professional email account is challenging, but you can come up with some creative names if you spice it up as you do with the personal one.
As you can see, there are lots of email id suggestions that you can use to make a branded email id for your business.
How to Create A Beautiful Personal Email Address
If you are just trying to get your first email address and hoping something like [email protected], chances are low.
Because most of the great email address ideas like that would have been already taken.
Before you create an email account and think about creative email addresses with name, the first thing you need to do is – define which email service you're going to use.
I would suggest you choose free email services like Gmail or Outlook. Gmail is more user-friendly and unbeatable when it comes to functionality than Outlook.
After that, the next step is to find unique email id names.
First thing first. Start with your own name.
For instance:
But there is only one problem…
…if you have a common name, and the chances are high that creative email names are already taken. In that scenario, you can play with name orders.
Like this:
Most email service providers allow using special characters such as underscore (_), period (.), and hyphen (-) that can help you get good email address ideas.
For example:
Umesh_Singh
Umesh-Singh
U.Singh
Easy to spell and remember
Best email names are always easy to pronounce and remember.
As we are talking about the personal email address, it should be easy to pronounce, so people can remember your email address when you speak.
Better avoid hard to spell and complicated words when looking for clever email address ideas.
Things not to do when choosing a personal email address
Avoid using any prefix or a suffix like (angel, rockstar, innocent, cute, etc.) while creating a new email address.
Your email address tells your online personality better make it unique using your name instead of using your boyfriend or girlfriend name.
Avoid using Surnames if you're living in a culture where surname gets change after marriage. In that case, choose your email name wisely that looks more like a professional and won't bother you after your wedding.
Remember your email address is your online identity, and it should be remarkable even after 10-15 years. Imagine how it would be sound as a professional and personal after 15 years.
However, there are lots of online email address generators available you can use – but still, they can't beat your creativity when you want to find unique email id names.
I hope you enjoyed this guide to find a professional business email id.
Now, I'd like to hear what you have to say:
Do you have already an email address that doesn't sound professional?
Or, maybe you want have one for your business.
Let me know your favorite tips to get the best email names ever.
Frequently Asked Questions
What is a unique email address?
A unique email address is simply a form of identification for you or your brand - a name that only you have access to.
The most standard and recommended form of a professional email address is of course the [email protected] format.
What is a professional email name?
A professional email address is the one that has your business name in it. For example, [email protected] is a professional email address.
How much does Gmail business email cost?
A Gmail business account is an affordable option at only $5 per month, per user.