Looking for a Jasper AI free trial 2022?
Well, you've got it.
Ai writing software tools have a huge demand.
Everyone wants to create high-quality content faster.
…but copywriting isn't the cup of everyone.
Luckily, AI writing assistant like Jasper is here to solve this problem.
With Jasper, you can create well-researched content in every niche within a few minutes.
In this post, you will love more about Jasper AI's features, cost, and the pricing plans which will suit you.
Let's get started.
How to Activate Jasper AI Free Trial (Step-by-Step)
To activate Jasper AI free trial you'll need to follow the step below:
Step 1 – First you will need to access Jasper. Click on this special link to get Jasper AI free trial page. Next click on the "Claim 10,000 Words Free" button and it will take to the sign up page.
Step 2 – Here to create a free account you will have to enter basic details along with your Google account or any other email address.
Step 3 – Next, provide your Company name (If have one) and domain name, and hit the "Continue" button to the next step.
Step 4 – After that, you will have to select the type of content you want to create such as (Blog posts, Social posts, Email, Website content, Ads, etc.) and click on Next->.
Step 5 – Now, you're on the Jasper AI free trial pricing page. Jasper has two pricing plans Starter and Boss Mode, select one as per you need.
Choose the Boos Mode to unlock the full power of Jasper Ai writing assistant.
Step 6 – This is the final step, where you will need to enter your payment details to start using the most advanced AI writing software on the planet.
Congratulations! You have successfully activated the Jasper AI Free Trial with 10,000 words credit.
Quick Overview: Jasper AI Free Trial
Jasper (Formerly Jarvis) is the best AI writing software to create content automatically.
To generate comprehensive and effective content in a click, Jasper AI uses the most advanced GPT-3 technology from OpenAI, which uses NLP (Natural Language Processing) with some other powerful algorithms.  
Jasper has over 50,000+ users worldwide including biggest brands like IBM, Autodesk, Airbnb, Logitech, and Google.
Check out this detailed Jasper AI review to learn more about this amazing AI writing tool.
Top benefits of using Jasper AI
Jasper AI can write full length blog posts within a few minutes. You can even integrate it with Surfer SEO (most advanced on-page optimization tool) to create SEO optimized content that ranks well in search engines.
Here is how to write and ranking blog posts fast with Surfer SEO and Jasper AI tool.
Let's face it – even pro bloggers struggle sometimes to find the topic ideas for blog posts, social media, etc.
Luckily, Jasper can solve this problem.
Jasper can help you create content ideas for blog posts, social media posts, ads, and more.
Copywriting framework templates
Copywriting is still one of challenging task that writers face when they don't have any prior knowledge about it.
Using Jasper AI copywriting templates you can create copy that converts well. It doesn't only write that connects with audience but also rank in SERP.
Here are the templates it use to write copy:
AIDA (Attention Interest Desire Action)
PAS (Problem Agitate Solution)
Feature to Benefit
Before-After-Bridge
Jasper AI offer several blogging tools that will help you to write SEO optimized article faster some of them are:
Long-form Assistant
Blog Post Topic Ideas
Blog Post Outline
Perfect Headline
Blog Post Intro Paragraph
And more.
If you want to take full benefit of social media, Jasper is the tool you'll need. Jasper has plenty of social media tools to help you to manage your social media campaign. These are:
Facebook Ad Headline
LinkedIn Personal Bio
Google Ads Headline
Google Ads Description
Quora Answers
Instagram Photo Post Captions, etc.
You can use Jasper AI to improve your existing content more engaging and creative. You can rephrase few paragraphs or a complete blog post.
With Jasper you can write introduction that hooks readers. You can publish your introduction on website, emails, and social media channels.
Struggling to find words to write more words? Jasper's Sentence Expander can expand short sentence into a creative and engaging longer sentence.
Want to response to public customer reviews that don't offend them and convey your message? Review Responder template from Jasper can come handy to write a professional review.
Jasper AI support more than 25 languages. You can use this amazing AI writing software to create content in other popular languages.
Creating original content requires a lot of time and money. Luckily, you can quickly write original and creative content using Jasper that don't need editing.
However, I still believe that it can't beat a human writer but can write better copy than cheap writers.
Training & Tutorial Materials
Jasper AI has official Bootcamp where you can learn how to use Jasper AI like a PRO. Additionally, they have a dedicated Facebook Group where you can ask your doubts and tips to use Jasper from real users.
Who Should Use Jasper AI?
Jasper AI can create variety of content in every almost every niche. Whether you're are a blogger, copywriter, author, or a freelance writer – Jasper AI can help you in creating content faster.
Marketers – Those who wants to increase their conversion through Ads, social media, blog and emails can use Jasper AI tool to write content.
Entrepreneurs – Those who want save time on content create can use the AI writing assistant.
Agencies – If have deadline to deliver urgent content delivery then Jasper can be saviour.
Anyone who is fighting with writer's block can use Jasper AI software to create the best content.
Also Read:
Jasper.ai Pricing Plans – Which plan is best for you?
Jasper offers two plans one is best for those who want to write short copy and other one is for long copy. Let's check them out: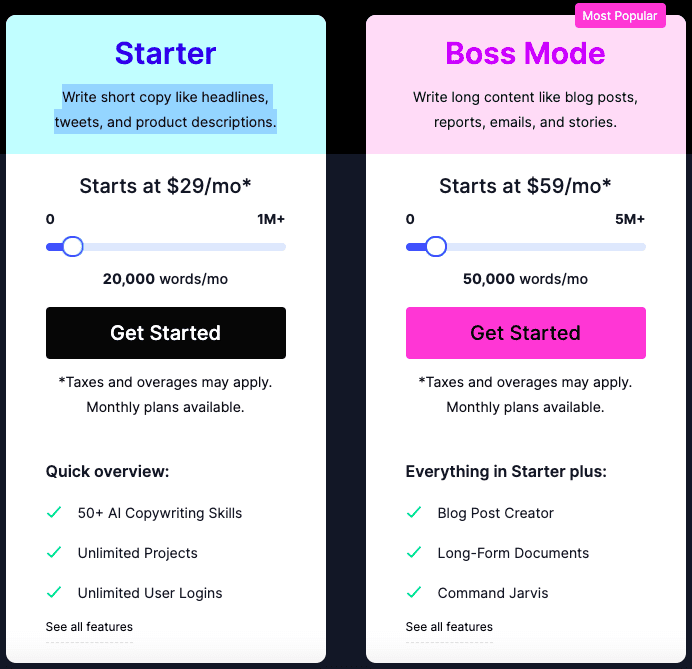 Starter – This plan starts with $29/month which let you write 20,000 words for a month. This plan is perfect for writing short copies like heading, product descriptions, social media posts, etc. You can always customize it as per your needs.
Boss Mode – This plan starts with $59/month. In this plan you can write 50,000 words every month. It comes with other cool features:
Jasper Commands
Revision History
SEO Mode
Recipes
3X Faster Response Time
Plagiarism Checker
25+ Supported Languages
50+ Short-Form Copywriting Templates
Chat Support & Live Training
Looking for discount on Jasper Ai? Well you've got it.
Simply switch to yearly billing and you will get 16% off on your order. The plan will be $24/mo for Starter plan and $49/mo for the Jasper Boss Mode.
How to Cancel Jasper AI Free Trial?
You get to try Jasper AI free trial for 5 days. If you don't want to get charged for the plan you choose then you should cancel the free trial from the account setting or just drop them a mail at [email protected].
FAQs – Jasper AI Free Trial
Jasper (formerly Jarvis) is virtual writing assistant that uses GPT3 artificial intelligence technology to write content faster and error-free.
How do I get Jasper AI for free?
Go to the official website of Jasper using this link, and it will activate the free trial offer for you. Click the button that says "Claim 10,000 Words Free". On the same page, you can also click the "Try For Free" button.
Short answer, YES. Jasper AI pricing isn't costly as – it starts at just $29/month. And if you billed annually the same plan will reduce at $24/mo instead of $29.
Does Jasper writes plagiarism-free content?
Yes, Jasper has in-built Copyscape plagiarism checker. Therefore, you don't need to worry about duplicate content before publishing.
Every marketer, blogger, and agency owners who want to create creative content fast without burning tons of money should use Jasper writing tool.
How to activate the Jasper free trial?
Visit this special sign up link and claim your 10,000 words free credits of Jasper for 5 days.
Do credit card details require to get Jasper AI free trial?
Yes, you'll need to provide credit card details to access free Jasper Ai credits. Once the trial period finished, you'll the charged as per your plan selection.
How to cancel Jasper.ai free trial?
To cancel your Jasper free trial, you can email the support team at [email protected] or can go to "Account Setting" of you Jasper account click the "Cancel My Account" button.
Does Jasper offers money-back guarantee?
Yes, they offer 5 days no-risk money back guarantee. You can cancel your subscription within 5 days and will get 100% refund of your money.
Is there any lifetime deal available on Jasper.ai?
No, Jasper doesn't provide any lifetime deal as of now. So, stop looking for Jasper Appsumo deals, Jasper deals, etc.
Final words on Jasper AI free trial 2022
So, that is for my Jasper AI free trial tutorial.
Given, Jasper AI features and pricing, it is undoubtedly the best AI writing software in the industry.
Try the 5 days free trial of Jasper before you make the actual purchase.
Short summary: Jasper is by far one of the best AI writing tools available and is a solid choice if you want to write creative writing without wasting time and money.
I've love to know what do you think about this Jasper AI free trial guide.