Want to learn how to write catchy blog description that makes users to click on it?
Well, you have come to the right place.
Though, meta description isn't as effective as it once was, but it can't be ignored.
In fact, the first thing a user notice after your title is the blog post description that appears in SERP.
An interesting description encourage them to click to learn more about your page.
Today, I'll show best practices to write a perfect blog description that your audience love to click.
But first…
What is blog descriptions?
Blog or Meta description is a piece of text that appears below the title in SERPs and social sites.
It is the first thing a user notice before they click on your page.
Here is a sample blog description.
What are the types of blog descriptions?
There are two types of descriptions for a blog:
Blog description – this is the description of your website homepage.
Blog post description – this type of blog description is different for each posts.
How to write blog descriptions?
To get the benefit of on page SEO, you need to create both types of website descriptions: one description for blog and other one for the homepage.
If your blog on WordPress, you may use SEO plugins like Yoast SEO or RankMath to add homepage blog description easily.
Here is how you can add meta description for your blog homepage.
To write an effective blog description you must include the following:
Key points of your product/service or brand
For SEO advantages add keywords
Include your CTA like phone number or text
Your mission or vision statement
Blog description examples
Now, it's time to see some of the best website description examples from various niches like technology, health, fitness, affiliate marketing, etc.
Hope you will get the blog description ideas for your blog.

Why it works? As you see the website meta description clearly shows that it is a trusted source to learn about health and medical news.

Why it works? Men's health describes that it has every information about men including health, fitness, nutrition, styling, and more.

Why it works? PC World claims you will get every tips and advice regarding PC and tech.

Why it works? It shows you can find the unbiased review on tech, appliances, gear and more. Because they have experts who review products.
Example #5: Travel Diaries

Why it works? They start the description with the solution for users who wants to create their own travel diary to keep their travel memories.
How to write blog post descriptions?
To write a blog post description in WordPress you will need a SEO plugin which I mentioned earlier.
Let's see how to write a blog description in Yoast SEO plugin.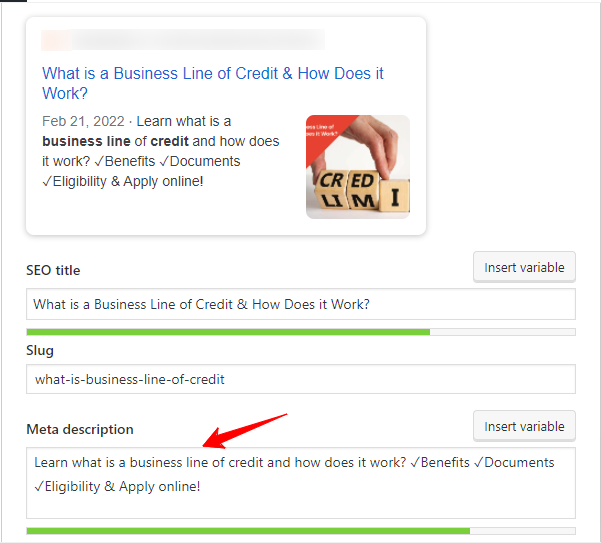 Now you know where to add blog post description in WordPress, if you are using Yoast plugin.
A good description for a personal blog will let the readers know what they will receive in the post – this will help them decide whether to read the post or not.
To give your readers a sneak peek into your blog post ideas, you should summarize them in meta descriptions.
You may use AI description generators like Jasper or Frase if you are still unsure of what to write. These tools will write unique blog descriptions for you quickly.
Give your readers a reason to click on your blog post.
You can start your description with sentence like:
Learn how to use…
See what we found after…
Here are some quick tips and tricks…
You should always end your descriptions with a CTA (Call to Actions) like:
Apply now!
Want to know more?
Let's find out here!
You need to create a sense of curiosity in the readers' minds that makes them want to find out more. It will increase the CTR on your blog posts.
How to optimize blog post description for a keyword?
Your Meta description is still a ranking factor that Google considers when ranking a page.
To make it SEO-friendly you need to add your target keyword in Meta description.
Having presence of your target keyword in website description give a signal to search engine that the page is about that particular term.
Furthermore, you should include other secondary and long tail keywords in the description to provide relevance to both users and search engines.
Tips for great blog post description
Here are some tips to write a perfect blog description:
Meta descriptions can technically be any length, but Google generally truncates snippets to ~155-160 characters. 
Put conversational words in your sentences, such as you and I. Your readers will appreciate it.
Use the power words. It excites your audiences to take an action.
Write straight to the point, and avoid filler words.
Include your target keywords along with semantic keywords. It will help Google to understand your page context.
Avoid using keyword repetition.
To craft an engaging blog descriptions, you will have to express complex things in less words possible.
In short, your blog description should answer to the users' search query, so they click to know further.
In terms of SEO, it does not provide as much weight as it used to, but you can still get more clicks and targeted traffic to your website.
Let me if you have questions regards blog post description?