In this post, I am going to review Ahrefs, the most complete SEO checker and competitor research tool, I have ever used.
Personally, I call it the Swiss Army Knife of link building tools.
But before we step ahead…
I have some questions for you, do the following questions ever pop up in your mind when you don't see any traffic on your site?
How to make my content rank higher in Google (without building links)
How to find untapped link building opportunities (100% white hat)
How to collect more email subscribers from my content marketing
How to make MORE money by my email list without looking salesy
If the answers to above questions are yes, you are about to get the best solution of all your problems. Just read the complete Ahrefs Review.
Let's see what Site Explorer has got for you?
Ahrefs Dashboard
It allows you view the measurable data about a site in a single glimpse.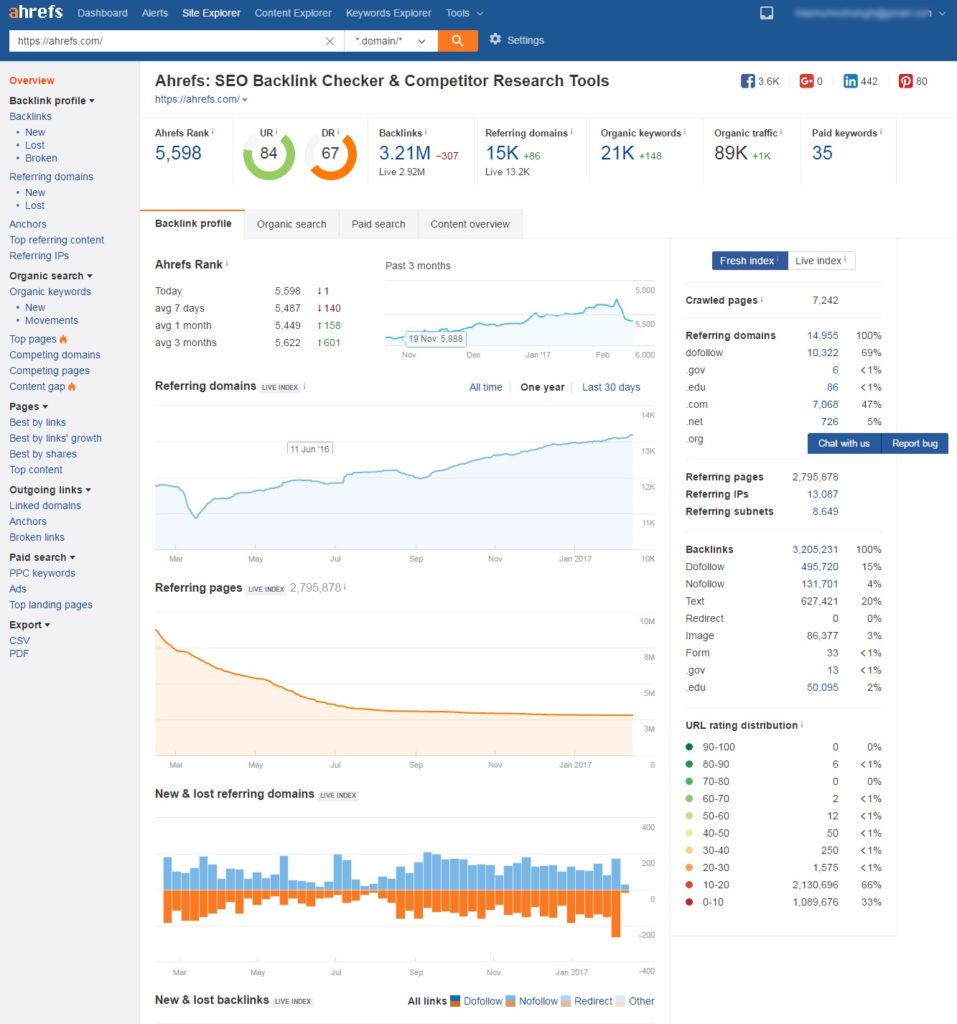 You'll see site's domain rank (which is Ahrefs version of DA), backlinks count, organic keywords, referring domains, etc.
Alerts
It is similar like Google Alerts but works way different than that. It sends you a notification whenever finds new backlinks related to your niche or URL.
Set the alerts that you want to get notified, and it will do the rest. You can choose whether you want to get a notification about new links or lost links.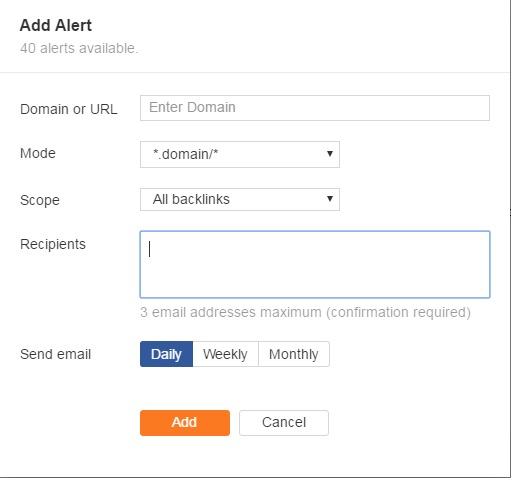 Site Explorer
Site Explorer provides in-depth details at the backlink profile and search traffic of any website or URL. Using this, you can know where your competitors are getting links at which search term.
Not only it allows to see your competitors backlinks, but also, you'll know their website's top content and much more.
Referring domains – this section of Ahrefs helps you understand how frequently your competitor's website earns links from other resources.

The graph explains that link building popularity of your competitor's website. It clearly shows he is doing good with link-building. In order to, beat him you have to work hard and get more links than him.
If you click on the referring domains, it will show the sites that are linking his site. Build a list of those sites and pitch them to link you.
New/Lost Links
In this section, you can see how many links your competitor has got and loosed recently.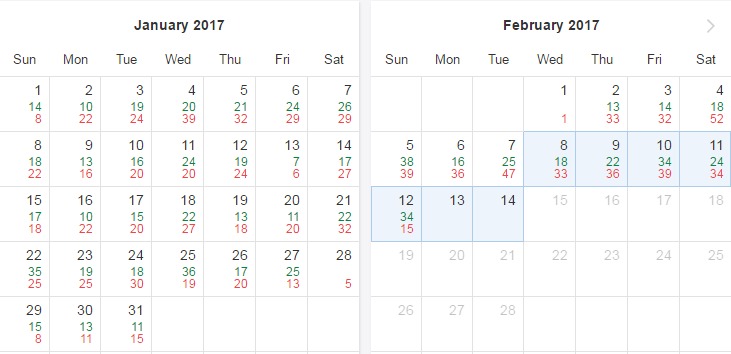 You can see data about a specific date by selecting a date from data chart.
The green number indicates new acquired links whereas the red number shows lost links.
The feature allows you build a relationship with other fellow marketers while creating new link opportunities.
How you can do this:
Whenever someone links your site send them a thank you email. Your mail will send a positive signal to their mind and they will be happy to link you in future as well.
Hey [Name]
I was just checking my analytics today and noticed you recently linked to my content ([link]) from your site.
I just wanted to say thanks a lot! That's truly appreciated and I'd love to repay you the favor someday. Just let me know how I can help :).
Sincerely, [Your Name]
And the same fashion, when you lost a link, send them a polite email and remind them earlier they had a link to your website. Ask him if there is any issue occurred or any other problem and request to link back you again.
Top Pages
It lets you view the top performing pages on a given site based on their backlinks and the keywords that they are ranking for.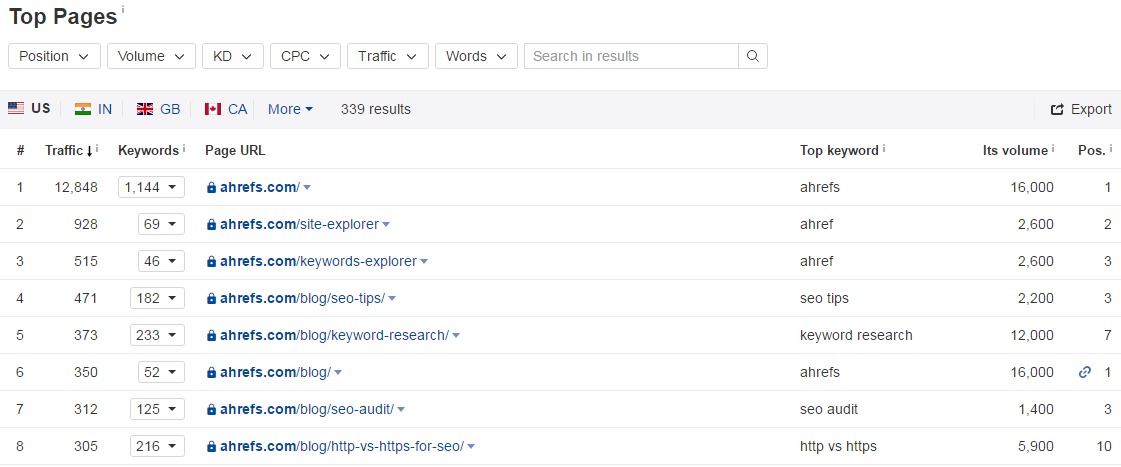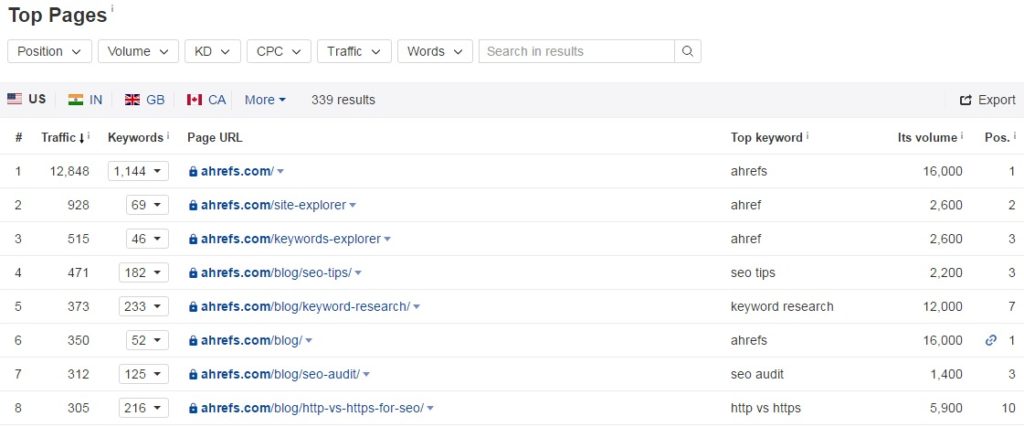 This section helps you understand, what are those keywords that are bringing more traffic to your competitors? Furthermore, how many backlinks you will need to outrank them for those particular keywords.
Top Referring Content – As you see the name says itself, it shows the top links that have given a link back to your competitor's site.


You see the link resources where our example site Ahrefs has been mentioned.
Open each link and see if there any chance you too can get the backlinks from that site.
Broken Links
Ahrefs does an excellent job of showing all broken inbound and outbound links on a site.
It is another great white hat link building technique you can use to get links from authority sites. Find the authority sites in your niche put them in Ahrefs Site Explorer it will bring you the list of broken links.
See that which sites have linked that broken link, email the editor letting them know you have found broken links on their site.
Hey [Name],
I was browsing your site today and found several broken links on a few pages, would you mind if I forward those to you? Sincerely,
[Your Name]
Once they reply you back, pitch them your links.
Hey [Name],
Sure, here are the broken links I found:
[link 1] on [page 1]
[link 2] on [page 2]
[link 3] on [page 3]
Moreover, when I was browsing I thought maybe this resource ([Your URL]) would fit on this page ([URL]).
What do you think?
[Your Name]
You may check your website as well if you found any broken links replace them with live links.
Broken links could harm your SEO.
Content Explorer
Ahrefs Content Explorer brings you result of the most shared content on a topic. It's similar to Buzzsumo and you can use it to come up with new content ideas.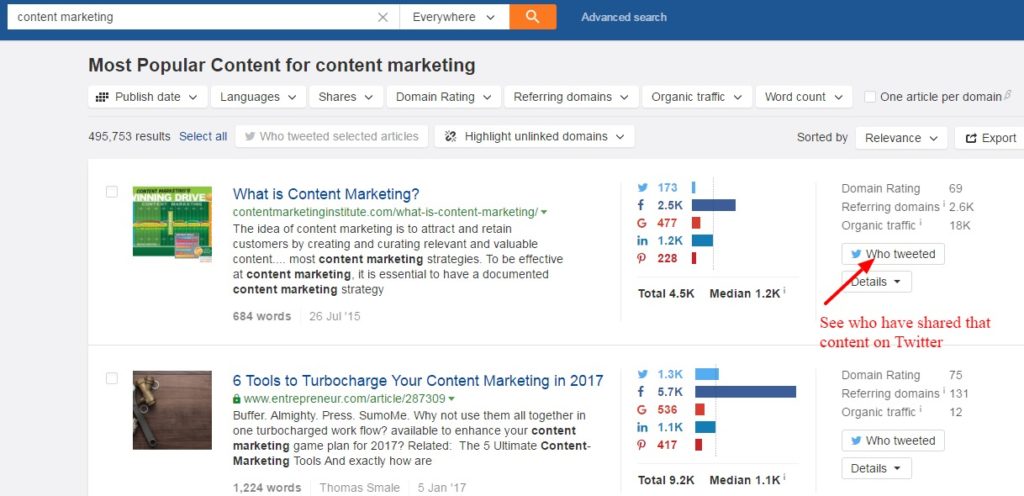 Here how you can use Ahrefs Content Explorer for your own good:
Getting new content ideas: Search for your target keyword to find most shared content on it. Use this data to brainstorm related content ideas.
Find sharers and influencers: Content Explorer will show you who have shared a piece of content on Twitter and other popular social media sites. Make a list of influencers and sharers whom you can pitch your copycat content and ask for re-shares.
Find content for content curation: Sharing a relevant, informative content on social media is one of the best ways to establish yourself as a thought leader. Using content explorer, you can find the best content to share on social media.
Keyword Explorer
It's another tool of Ahrefs. Keyword Explorer is a powerful keyword research tool that provides you tons of relevant keyword ideas with accurate search volume, keyword difficulty score and advanced metrics like Clicks, Return rate and Parent topic.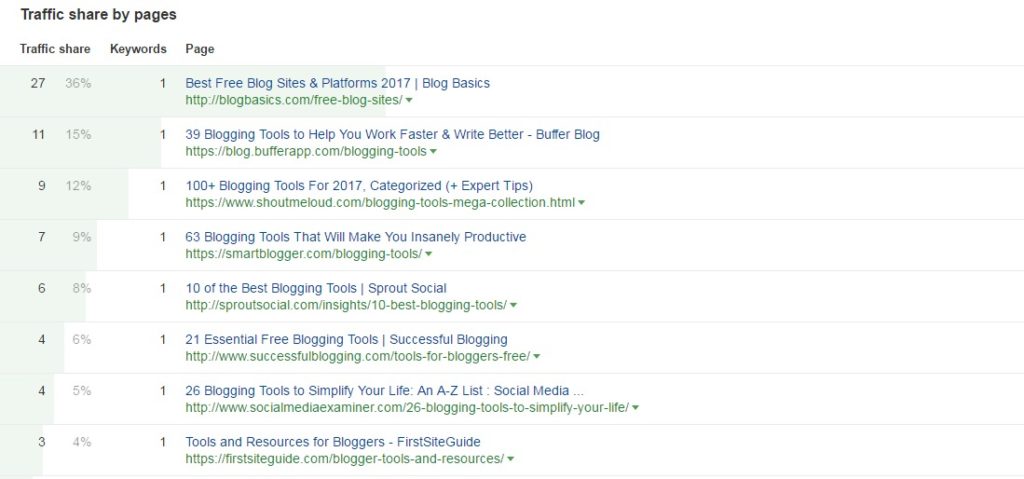 Put your target keyword in the Keyword Explorer, and it will bring you the complete details about that keyword including which pages are ranking for that keyword.
Conclusion!
Ahrefs is one of most used SEO tools used by several SEO companies. It has lots of features that will make you a marketing ninja.
My team and I use it to keep track of our site rankings, to brainstorm content ideas, and to get new backlinking opportunities.
I know $99/month, it's not cheap, and I wouldn't recommend you to buy Ahrefs if you are a casual blogger who doesn't need deep insights about content or a marketer who is struggling with money.
However, it provides 14 days free trial, but the features which I talked about earlier comes with a premium plan. But it is also true that Ahrefs alone can do much better job than multiple tools combine.
If you ask me why I love this tool?
My answer is simple. It is the best link building tool available in the market that provides me untapped link building opportunities.
If you are serious marketer like me, I would suggest you spend some money and get Ahrefs it will boost your marketing efforts and revenue.