This is my super in-depth review of WriterZen AI writing tool.
In this review, I'll break down every aspects, including:
WriterZen features
Plan and pricing
Pros and Cons
What the tool does
This WriterZen review will help you decide whether you should purchase WriterZen or not.
Let's start away:
WriterZen is an AI writing software that automatically generates content, keyword research, topic discovery and more.
Additionally, it offers plagiarism checker so you can be ensure the content you generate are original.
Despite being a new tool it is giving tough times to its alternatives like Jasper AI and Frase. The things that make it people's favorite content creation tool its easy-to-use interface.
How to Get Started with WriterZen Free Trial?
WriterZen offers a 7 days FREE trial without asking for your credit card details. You can access all the WriterZen features for seven days. Here is how to get WriteZen free trial:
Step 1 – Visit the WriteZen homepage using this link. On the homepage you'll see 'Get it now' button, click on that for registration process.
Step 2 – You'll need to create an account to use WriterZen. To create an account you'll need to provide basic details like name, phone number, email, etc. Once you're done, click on the 'Submit' button.
Step 3 – Click the verification mail which you get to activate your WriterZen account.
Step 4 – The next step is to answer a few questions for account setup. 
After completing all the above steps, you are eligible to explore all WriteZen features for 7 days for free.
Top Features of WriterZen
WriteZen offers many cool features that makes is an amazing AI writing assistant. Let's check them out in details.
Publishing content on regular basis is important when you're starting a blog.
The problem is…
Finding content topics for your next blog post is always challenging and time consuming. 
The Topic Discovery feature of WriterZen can you lots of time by offering tons of creative topic ideas for a specific keyword.

Simply enter a keyword in the search box and it will provide you plenty of topic ideas with search volume.
You can find the best content topic ideas using relevancy option. There are three relevancy options: Closely, Medium, and Widely.
The Keyword Explorer feature will help you find the easy to rank keywords that you can use into your content.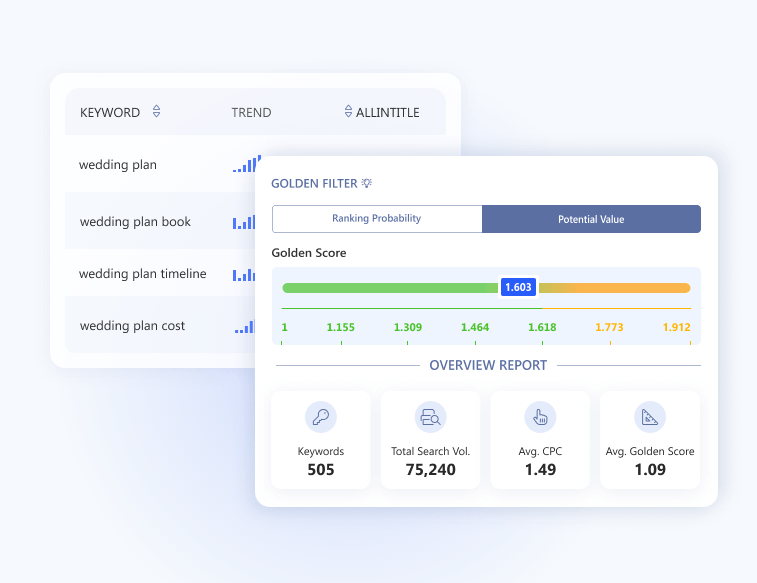 Enter the keyword in the search box and then select a country and language to get started. After hitting the 'Search' button it will show you the search volume of that keyword along with the top ranking pages.
It also shows you the CPC (Cost Per Click), keyword ideas, and search volume.
When doing a keyword research you need to consider important metrics such as cpc, keyword trend, search volume, word count and PPC competition.
WriterZen provides you with all the data for the given keywords such as keyword difficulty, volume and SERP overviews.
These data will help you decide whether you should work on that keywords or not. When selecting a keyword you should choose keyword with high search volume and low keyword difficulty.
You can use specific filters to deep dive into your keyword research. There are four classifications of keyword data: Total, Phrase Match, Having same terms, and Also search for.
With this Keyword Explorer tool feature you can see top ranking websites which are having the exact keyword in the title. It also have the keyword golden ratio (KGR) filter that let you find easy to rank keywords.
If the KGR of a keyword is low, then chance are you will rank for that keyword. The average KGR is 25, above than that would be difficult to rank.
However, there is no guarantee that you can always rank but it works often, therefore, you need to experiment with your other SEO strategies that works for you.
With the Keyword Insights feature, you can see the questions that appears when you search keywords.
These questions people ask on internet to find an answer. You can add those questions in your FAQs section of your blog posts.
You can get tons of content ideas for your blog or website using this feature.
In the Keyword Cluster section, you can see all related keywords that the searched keyword. Using these keywords will help you optimize your content for search engine.
You can use also use those keywords to create your blog post outline.
The Content Creator feature is easy to use but isn't nothing close to Jasper AI. Jasper AI content quality is far better than WriterZen Content Creator.
There are room to improvement in their AI algorithm as sometimes it suggest irrelevant keywords that has nothing to do with your main keywords.
This feature will help you create original content. You can check your content to find if there are any duplicity are available in your content. It will show you the words which are copied from other websites.
However, you can easily make it fool by making a few tweaks in words and will pass the plagiarism. So, it is an average plagiarism checker tool.
Money back guarantee with all WriterZen plans
7 days free trial (No credit card required)
Plagiarism checker tool
Keyword research tool
Topic discovery
Need improvement in algorithm
WriterZen offers simple and transparent pricing plans.
Basic Plan:The plan starts at $27/month. It is great for solo users handling single project work.
Standard Plan:The plan stats at $41/month. It is ideal for small teams working on multiple projects.
Advanced Plan:The plan starts at $69/month. It is best for agencies & big digital marketing firms.
The AI assistant add-on plan costs $99/mo or $84/mo annually. The add-on will let you use over 70 AI templates and generate unlimited words.
You can use this add-on with any one of the regular subscription plans. Or, you can buy this alone to create content for your website only.
You can purchase the extra keyword credits and Google NLP credits. You can get WriterZen AppSumo lifetime deals to save you money.
Also read:
WriterZen is an advanced AI copywriting software. SEO content agencies, marketers, and small businesses who wish to improve their search engine visibility should consider it.
Final Verdict on WriterZen Review
WriteZen is a pioneering tool that extracts keyword and topic suggestions from Google's keyword and suggestion databases to help you improve your ranking in the SERPs.
Should you buy WriterZen AI tool?
This is a great choice if you're looking for a cheap SEO tool that can help you with keyword research and content creation.
On the other hand, if you want to create high-quality content for your website, then I'd recommend Jasper AI. It has everything you need to create amazing content.
I hope this WriterZen review will have clear all your doubt this AI writing tool. I'd recommend you to try WriterZen AppSumo lifetime deals, in that you will get more value than regular subscription plans.