This my super in-depth review of Jasper AI writing assistant.
In this review, I'll break down every aspects, including:
Jasper AI features
Plan and pricing
Pros and Cons
What the tool does
What makes is different from other AI writing software tools like Frase and Rytr.
Whether I recommend it or not
Lots more
This Jasper AI review will help make a right decision if you considering signing up for Jasper.
Let's start away:
Jasper Review 2022: What is Jasper AI (Formerly Jarvis)?
Jasper is an artificial intelligence powered writing assistant that use natural processing language to write high-quality content fast.
With Jasper you can write blog posts, social media posts, paid ads, eBooks, landing page copies, novels and more.
In short, Jasper can do any type of content that a human writer can do but faster.
However, it still can't beat a human writer because it can't think a like we do.
Top Benefits of Using Jasper AI
Jasper AI is the most popular GPT-3 based AI content writing tool present on the internet.
It has several cool features and benefits that make it stand apart from its rivals like Shortly AI, Bramework, and Frase.
Let's checkout top benefits of Jasper Ai software:
Google hates duplicate content so does Jasper.
With Jasper, you can create 100% plagiarism-free content for your blog, articles, social media posts, emails, etc. faster.
All you need to provide some input text such as title, targeted keywords, etc. and within a few seconds it will present you ready to use content.
Use Jasper's Boss More plan if you want to create in-depth content as it scans 3000 characters every time before writing content for you. You'll know more about this plan in pricing section later in this review.
Using an Ai writing software like Jasper first time?
No problem – it has a simple and clean user interface that a newbie can use.
Here's how the Jasper interface looks like:
As you see on the left side, there are options name Templates, Recipes, Documents, etc. that you can use to write content as per your need.
On the right side, you can see the words count limit you have used while writing.
Jasper offers over 50 copywriting templates that you can use to create content as per your requirement.
Some of them are:
AIDA Framework
Problem-Agitate-Solution (PAS) Framework
Product description
Content improver
Blog post topic ideas
Blog post outline
Blog post intro paragraph
Facebook Ad headline
Amazon products description
Quora answers
Boost social media engagement
Social media is a powerful tool if use it right.
Whether you are a small business or a website owner you can use social media to boost your traffic and increase your revenue.
The only way to achieve success with social media is consistency.
You'll to post social media posts regularly to build an audience.
The problem most people face is – lack of social media posts ideas.
This is where Jasper comes to help.
Jasper creates engaging social media posts for your entire month within a few minutes.
You can use Jasper social media posts templates to boost your social media engagement.
Have a look at the social media templates Jasper offers:
Templates to make content creation process faster
Let's face it – even PRO bloggers face challenges to create engaging content regularly. It's not they don't know how to create an engaging content but the lack of time.
Writing high quality content takes a lot of time.
And it becomes even more challenging when you are a single soul who has to take care of other things.
In that case, Jasper can help you create content faster than a human writer.
Jasper do all the heavy lifting for you such as writing, editing and formatting before saving. You can create a complete content in a matter of time.
Here is how to use templates from Jasper to create content:
Boost your email marketing efforts
Email marketing is still one of the best marketing strategy with 40% ROI.
To make a successful email marketing campaign you'll need to increase your open rate and conversion.
Jasper can help you write creative subject lines to boost your email open rates.
Here is how Jasper's Email Subject Line template looks like:
How to Use Jasper AI Writing Tool to Write Blog Posts?
Here is a simple tutorial on how to use Jasper AI writing tool to write blog posts faster and better.
First… you need Jasper AI tool.
Click here to get Jasper today.
After access, open the Long-form assistant from the Jasper dashboard.
Jasper Long-form assistant will write long-from content from start to finish.
After clicking the Long-form assistant tool from the Template section you'll be asked to create a new document. You'll have two options;
Start from scratch
Blog post workflow

Click on the "Blog post workflow" and you'll be redirect to the "Blog post setup" page: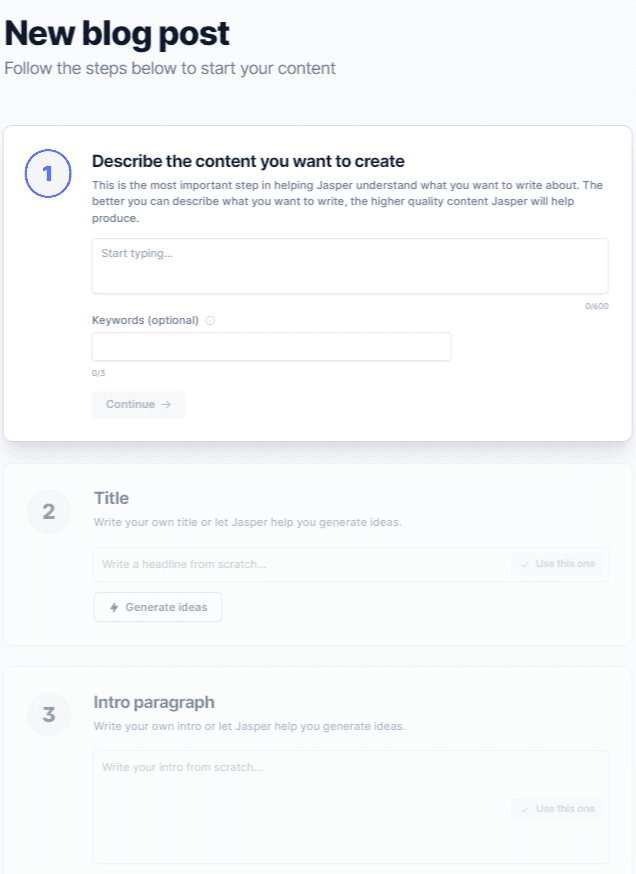 As you see, there are three steps that you need to follow to create long form content.
Step 1: Describe the content you want to create
Even though Jasper writes content automatically, it needs instructions from your side before it proceed.
To create a high-quality content using Jasper, you will need to tell it what EXACTLY you want.
The more input you will provide to Jasper the better content it will produce you. Let's say you want write about "Start a blog" then you can enter the input like "How to start a blog that makes money" and provide some related keywords that you want it insert in the content.
The next step is to enter the title.
You can write title yourself or can take a help of Jasper.
Jasper can generate eye-catching title ideas within a few seconds for you.
Now it's time to write an introduction.
Similar to the title Jasper can also write a blog introduction for you.
Simply click on "Generate more ideas" under the "Intro paragraph" section and it will create several catchy introduction for your content.

After all these three steps the setup is complete, click on the Open editor button.
At open the editor, switch to Power Mode to get access to 50+ copywriting templates.
You may also use the "Tone of voice", if you want to use a specific tone into content.
Here are some of the writing tones that you can use to create content:
Funny
Casual
Professional
Feminine
Masculine
Bold
Secretive
Witty
Sarcastic
Here's a catch…
To create high-quality content with Jasper, you should provide it a blog outline. You may to use Jasper "Blog Post Outline" template or can create yourself from scratch.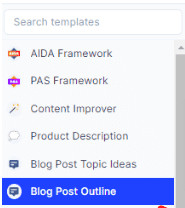 Jasper blog post outline template will create lists and outline for you fast.
Once you have the outline ready, next thing is to start filing relevant information under the outline section.
To generate relevant content, write at least one sentence and it will do the rest taking that as a reference.
After that, select the desired content length (short, medium, longer), and then click the "Compose" button. And, it will start creating content for you automatically.
You can always change the content output, if you don't like it. Simply hit the "Erase last output" button and it will erase the current content and will rewrite a newer version of the content.
Note – To learn how to use Jasper effectively you can check out FREE Jasper Bootcamp, where you can find many Jasper video tutorials.   
How to Use Content Improver from Jasper?
Writing great content requires dedication and time.
It becomes even more challenging when you aren't a professional copywriter.
Luckily, Jasper AI writing tool can help.
Jasper AI has an awesome template name "Content Improver" which rewrite the existing content to make it more appealing.
Whether you want to revamp few paragraphs or planning to revamp your existing blog posts, the Content Improver can do it all for you.
Here are some benefits of using Jasper Content Improver:
Can rewrite existing web copy, headlines, old blog posts, blog descriptions, etc.
Helps you write engaging product review
Can help you make your copy better
Here is a tutorial video from Jasper team to learn more about Content Improver template.
How to Create Compelling Amazon Product Descriptions?
When you're running a niche affiliate site promoting Amazon products, you'll need engaging content on your website.
Jasper AI can write a great Amazon product description automatically within a few minutes.
Jasper has an amazing template name "Amazon Product Description" that creates compelling product descriptions for Amazon listings.
Open, Amazon Product Description template and enter the product name and write product benefits and features. After that, click on the Generate AI content and Jasper will write engaging product descriptions for you.
To get the best product description from Jasper, you'll need to provide the clear instructions, key features and other relevant information.
Jasper offers two pricing plans these are:
Starter plan starts with $29/month. It is great for beginner who're using the AI writing tools first time.
This Jasper AI plan is great to write short from content such as headlines, product descriptions, small product reviews, Facebook ads, and more. The plan includes:
Word limit – 20000 words
50+ AI Templates
Supports 20+ Languages
Up to 10 Users
Chat Support
Google Docs Style Editor
Boss Mode plan starts with $99/mo. It is best for writing long-form content like blog posts, essays, etc. It comes with more control and flexibility.
The plan includes:
Everything in Starter plan
Google Docs Style Editor
Maximum Content Lookback
Increased limits on templates
Priority Chat Support
In a nutshell, Boss Mode is best when you want to create long form content, otherwise Starter plan is best for you.
Choose annual plans to save more money on Jasper, in fact, you will save 16% on with annual pricing.

So what are you waiting for?
Jasper offer 5 day free trial to all users on both of its plan. Visit this special link to avail the FREE trial of Jasper.
With the Jasper free trial, you get free access to Jasper along with 10000 credits to generate up to 10,000 words for free.
To create a free account with Jasper AI you will need either Google account or any other professional email address.
Jasper AI tool offer a 5-day money back guarantee.  You can ask for full refund if you are not happy with Jasper AI software.
Make sure cancel your Jasper account first and then send an email at [email protected] to initiate the refund process.
Jasper Software Tool Pros & Cons
We have seen some cool features of Jasper AI but this review won't be complete unless we talk the other side of Jasper AI.
#1 AI writing tool to create human like content
Can create complete long-form blog posts within a few minutes
Can create SEO optimized content in less time
Simple and easy to use interface
50+ templates can help you create any type of content such as blog posts, social media posts, website content, and more.
Jasper is compatible with PC, Mac and other popular browsers
Offers a plagiarism checker to make your content original and error-free
5 days free trial available, therefore no harm to try it
Jasper integrates with all of your favorite productivity tools, so you can use it to its fullest potential (Grammarly, Surfer SEO..)
Finally, Jasper can edit your writing for grammar, spelling, and style errors so that you can be sure that your final product is of the highest quality. 
Sometimes the tool provides irrelevant content
Jasper only available for desktop platforms
Many improvement on the way
Jasper AI Customer Support Options
Here are the support options to get help form Jasper AI writing tool.
Email – If you need any assistance you can send email at

[email protected]

.
Facebook Group – Jasper has an official Facebook group, where you can find ask questions and get help from Jasper users and staff team.
Training Bootcamp – You can also visit Training Bootcamp from Jasper to learn how to use the tool like a professional.
Also Read:
Jasper AI Customer Reviews & Ratings
We've talked enough about Jasper tool, let's see what other users say about it.

As you can see, Jasper has got 4.8 out of 5 from 2471 users that is amazing.

On G2 Jasper has got 5 ratings from 615 users.
As you can see above, on Capterra, Jasper has a 4.9 out of 5 star rating from over 857 users.
Who Should Use Jasper AI?
Jasper has over 50,000+ users worldwide that makes it one of the best AI writing assistant tool.
Anyone who want to save money and time on content writing should use Jasper AI tool.
Jasper can help you with everything, from coming up with ideas for your next piece of content to actually writing the thing for you. 
Jasper is the only AI writing assistant that offers a free trial, so you can try it before you commit to anything
Even though Jasper uses GPT-3 technology but it isn't the only AI writing software tools that automatically writes content.
Here are some the best Alternatives of Jasper AI software that you can consider.
FAQs - Jasper AI Review 2022
If you are looking to save your content team time and money, Jasper AI might be the right choice for you. Using this service will help you write high-quality content and avoid errors while writing.
Why did Jarvis rename to Jasper?
Jarvis AI recently rebranded as Jasper.
The reason to changing the name is – they got legal notice from Marvel team.
If you are a movie lover, you may already know that J.A.R.V.I.S was the name of Tony Stark's AI assistant. Therefore, the Jarvis AI writing software can't use the name Jarvis.
Click here to learn more about what made the Jarvis to change its name as Jasper.
Jasper has over 50000+ users worldwide who are using to Jasper to create website content, blog posts, social media posts, etc. Jasper can help you with any type of writing project, whether it's a school essay or a business report.
If you want to save your time on content writing then investing in Jasper can be a great choice.
Jasper AI uses artificial intelligence and machine learning to write persuasive copy for blog posts, ads, social media posts, marketing emails, and other kinds of content.
Final Verdict on Jasper AI Writing Tool
Jasper AI software is a great way to write error-free content faster.
But can it beat an experienced human writer?
Short answer is – No.
However, if you are a newbie and have a less budget for content creation then Jasper AI is definitely worth considering.
Jasper can help you come up with ideas for your writing by understanding what you're trying to say and suggesting related topics that you might want to write about. 
Jasper also helps you organize your thoughts and structure your writing so that it is clear, concise, and easy to read.