When it comes to capture the audience attentions visual content always win the game. A beautifully presented content convey your message faster than the text message. That's why they say "A picture is worth a thousand words."
Over 90% of marketers said they use visual content is more than 50% of the articles they published. Whereas, 30.4% said they use original graphics like infographics most.

But there is one problem…
How do you create visual content attracts audience to take action?
Hiring a professional designer would cost you around $500 – 1000 for a single infographic. On the other hand, if you'd try to make it by yourself you'll need to learn designing and that would cost you so much time. And, as a busy marketer I don't think it's a good idea.
So, what's the solution?
Well, you're lucky today; I've got a visual marketing tool name Visme that would solve your entire visual content problem.
What is Visme?
An easy-to-use online tool allowing anyone to communicate visually through amazing infographics and presentations and other forms of visual content for non-designers.
Publish online, make it private, embed to a site or download for offline use.
This is the only infographic maker you'll ever need to present your stories and translate boring data into stunning visual formats right in your browser.
Who is Visme for?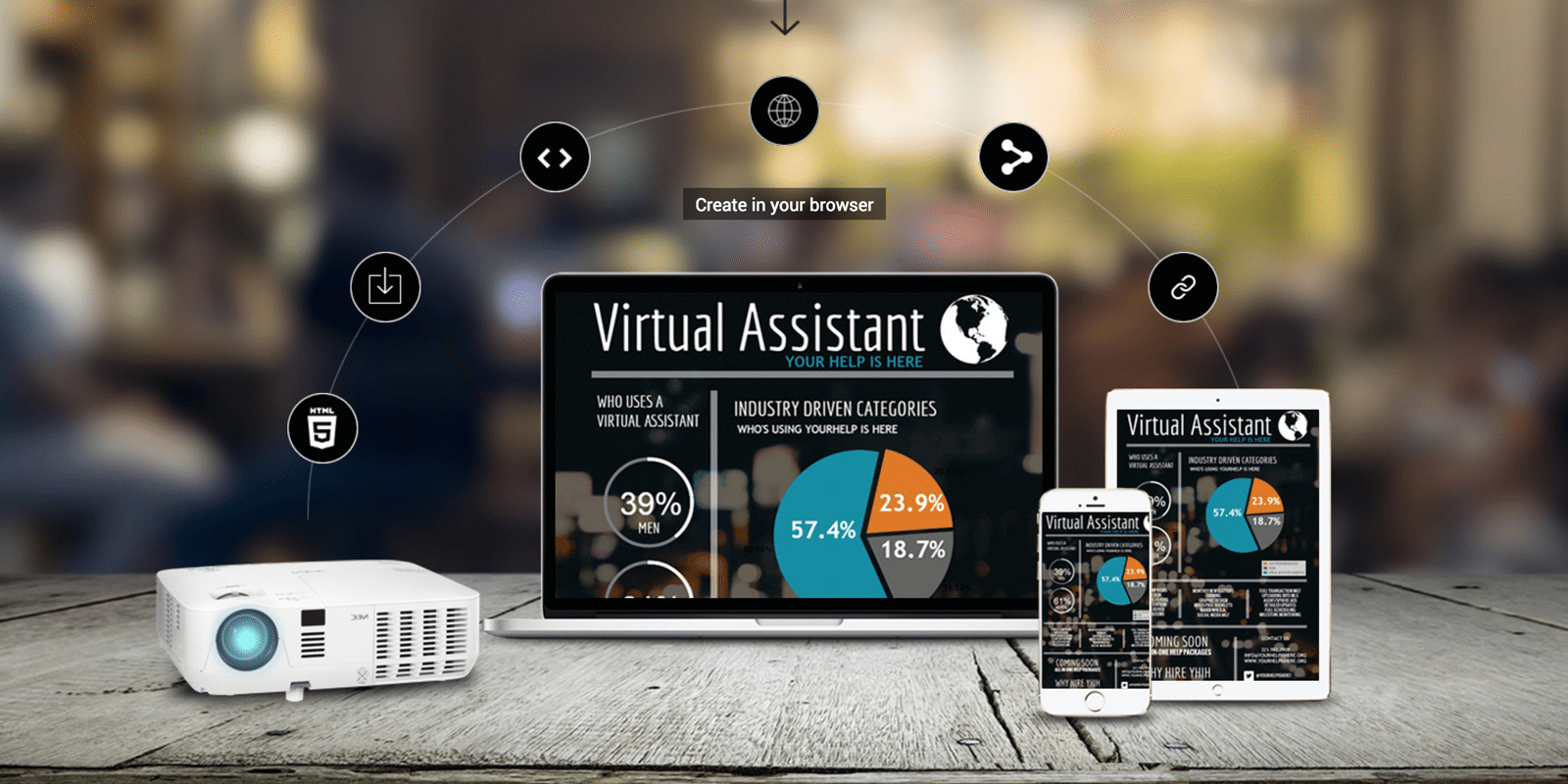 Bloggers, content marketers, or anyone who use static graphics or interactive presentations and inforgraphics to support their boring text content to increase engagement with their audience can use Visme.
Small businesses are using Visme to create interactive graphics for better engagement and market their products and services to their target audience.
How to use Visme?
You need to register free account with Visme to create graphics. Visme is free for all users and only takes few seconds register and creating your first project.
You can start with pre-built templates or can create your own graphics from scratch on a blank canvas. You can completely customize your content as per your taste and needs.
However, Visme is free to use but it has some limitations to use it advanced features like downloading projects for offline use, password protection, access to premium widgets and templates you'll have to upgrade your free account in premium that starts with $10/month (when paid yearly or $19/month paid monthly.)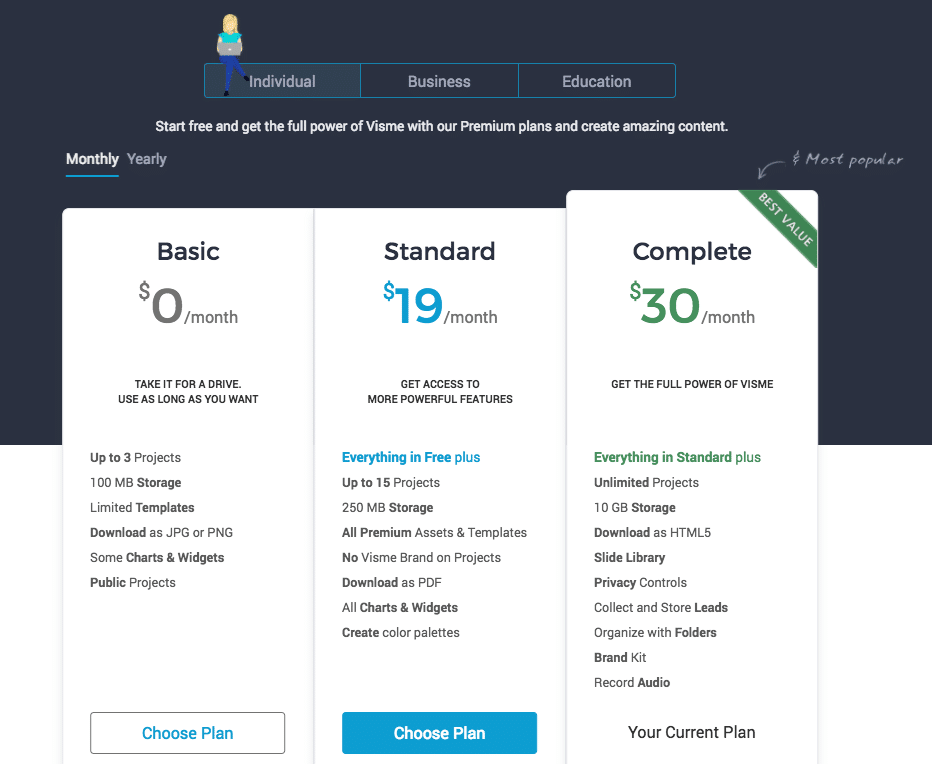 How Visme is Differnet from Other Visual Marketing Tools?
There are plenty of presentation and infographics tool online you can use but – most of them are either complex to use, have limited features or have various restrictions that bother users when creating content.
On the contrary, Visme provides your complete freedom to create powerful and meaningful presentations as well as infographics from one app without any problem. It even goes one step ahead and allows you add video, audio, and third party widgets to embed to your project to make that interactive.
It is loaded with some powerful features and quite user-friendly that makes it more advanced infographic tool.
Let's take quick look of other features of Visme:
It is multi type visual content creation tool (infographic and presentations)
No coding or design experience requires
Loaded with amazing features that is hard to find in other designing tools
User-friendly even a newbie can create stunning graphics
Hundreds of pre-built professional looking templates included
It's fully HTML5-based, therefore, content is both web and mobile friendly
Easy download content in all formats: Web URL, Image, PDF, and HTML5 formats
It allows users to add animation to any object
You can attach audio/video to your project and even record your own audio within Visme
Highlight of Some of the Features of Visme
Visme is jam packed with powerful features that one need to create a stunning inforgraphic or presentation. Here are some of them:
Multiple Assets
Visme allows users to access millions of assets right within the application.
From text widgets and animated text to millions of searchable images and thousands of high-quality vector icons in over 20 categories, there are tons of graphic assets for every type of project.
Blocks of Content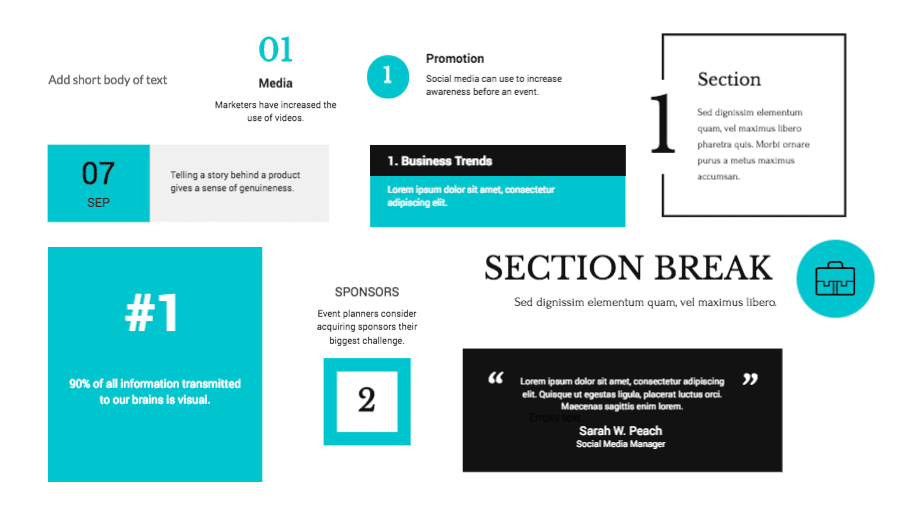 Although you can insert individual objects into Visme, you can tap into a library of suggested content (on the left panel under "Basics" tab in editor).  This allows you to quickly locate and drag-and-drop groups of complementary content to create your design.
New Templates & Themes
The new Visme offers users tons of new infographic templates that will make our previous selection look like child's play.
Presentations:
Most presentation tools provide you with a set of presentation templates; This is how Visme started (which we now call "Legacy templates".  But most people want to access more slides than the average presentation template provides.
So we launched a vast library of custom slides (over 900) in both modern and corporate styles so now you can create full presentation slide decks in matter of minutes.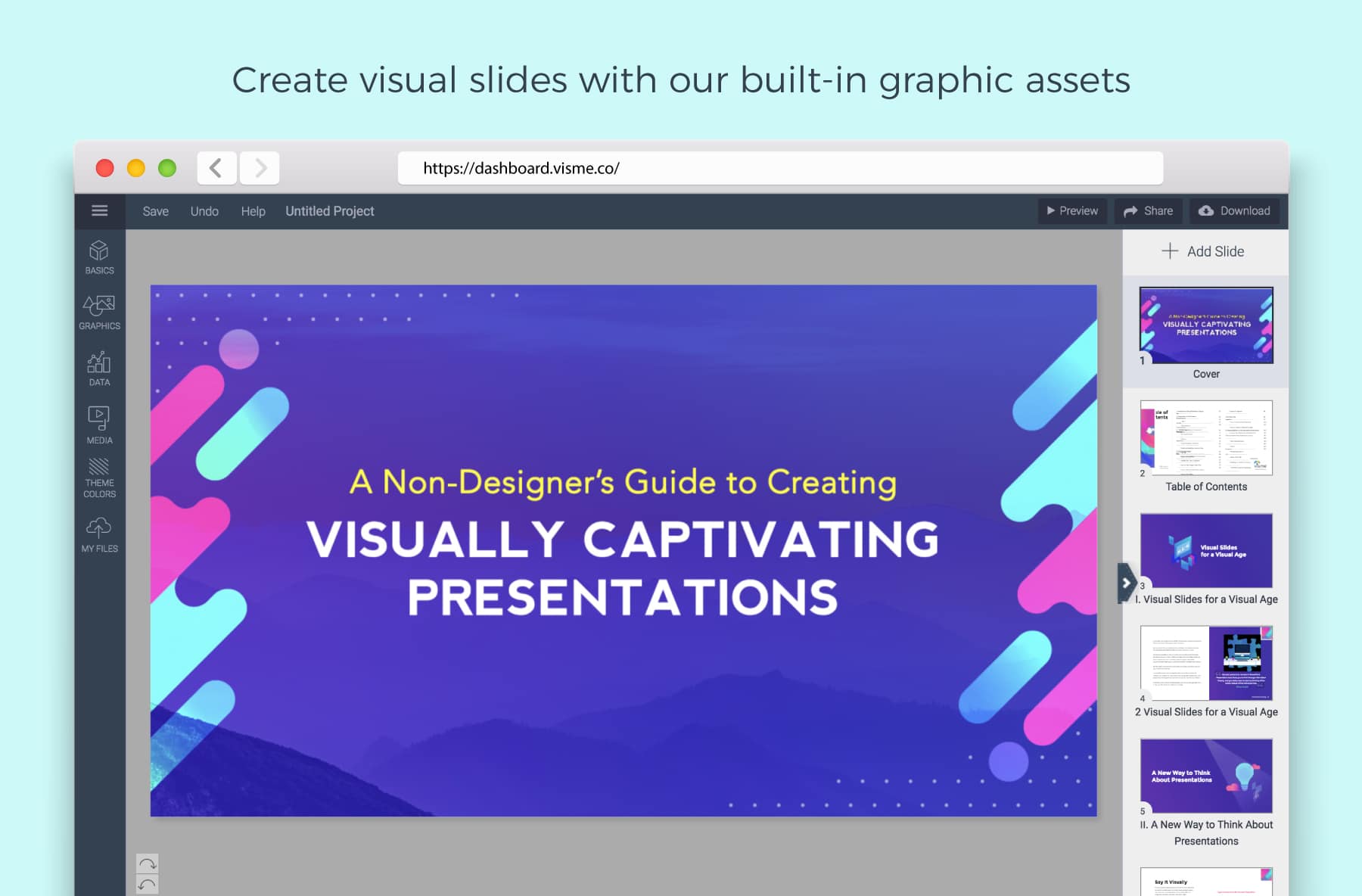 Infographics:
Not only can you access hundreds of beautiful custom built infographic templates; but also start from a blank canvas and access a large library of content blocks which you can stack on top of each other and easily customize to build your own custom infographic in minutes not hours.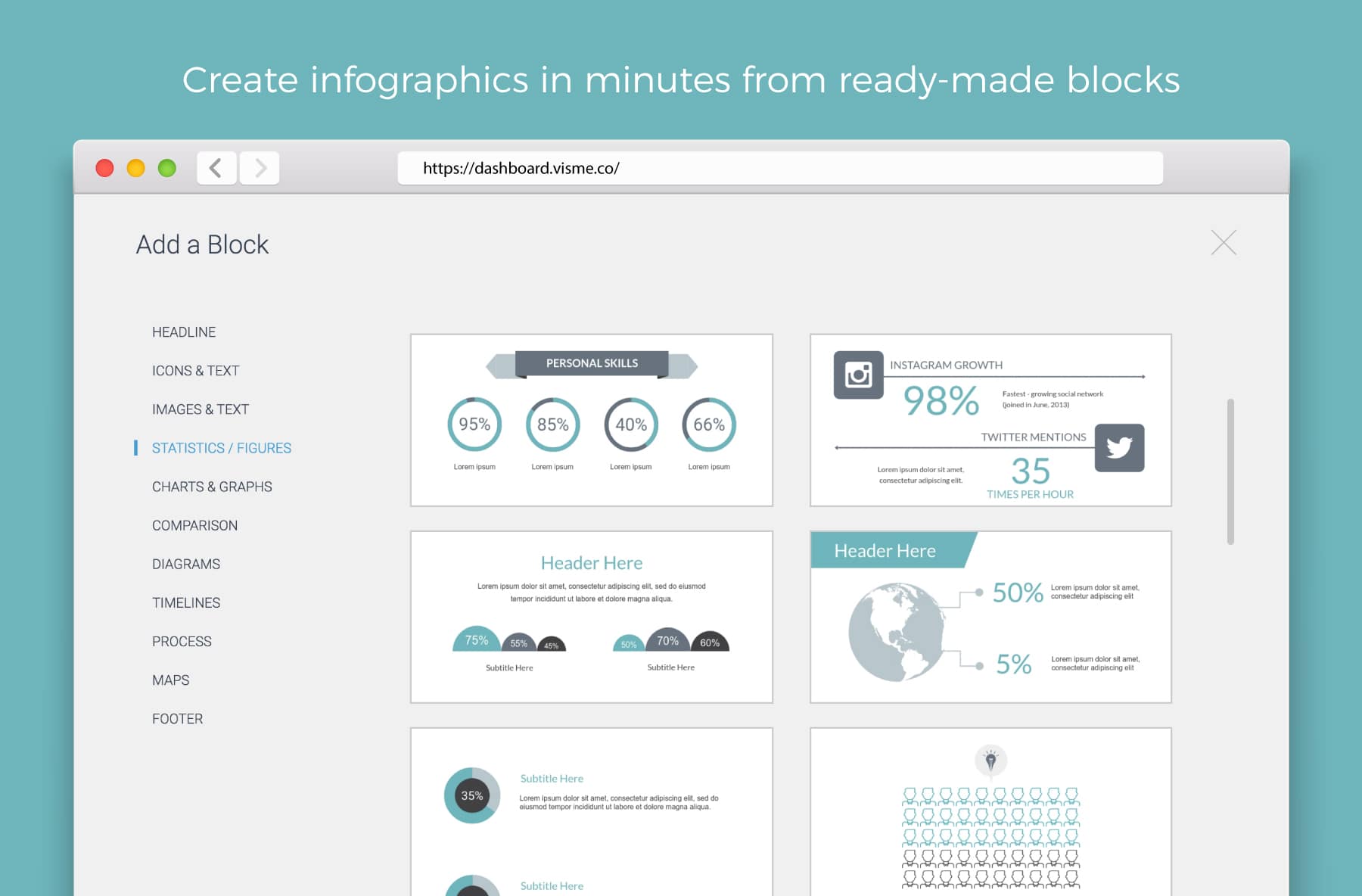 Create more than Infographics and Presentations
Visme isn't limited with infographics and presentations. In fact, it allows you to create visual reports, printable flyers, posters, business cards, to blog graphics, social graphics and banner ads.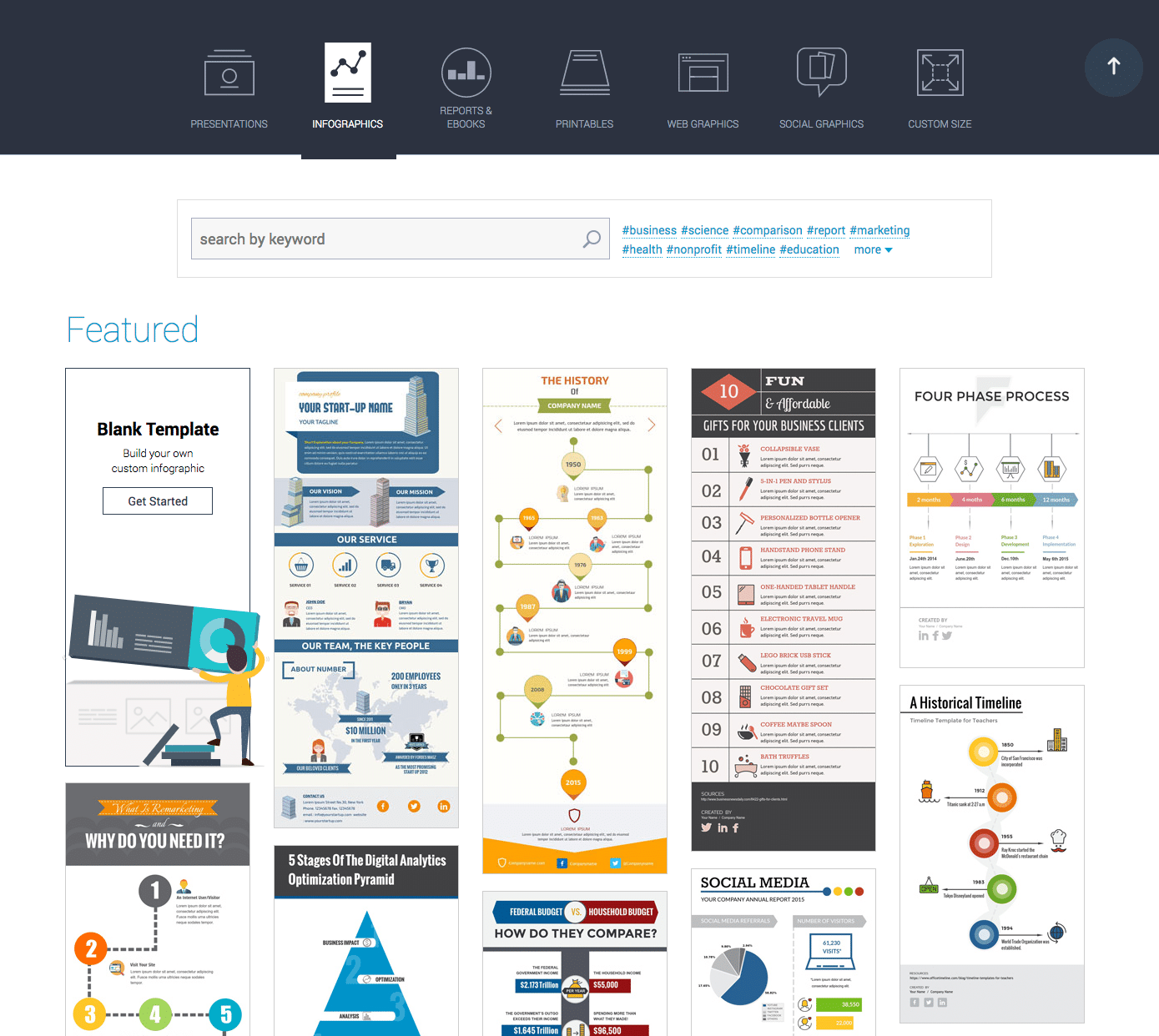 Manage your Branding
However, Visme has tons of fonts, icons, and graphic library but it also allows you manage and customize your own graphics.
You are free to upload own fonts, templates, add your logo for published content, and even set your own brand colors.
Full Animation Engine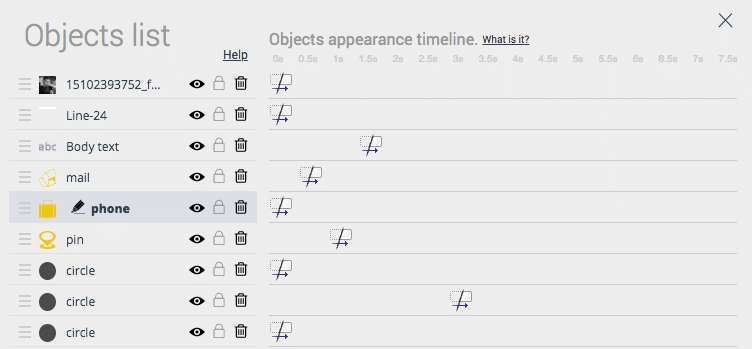 Visme utilizes a powerful yet easy-to-use animation engine. Virtually any object can be animated with a couple clicks. Simply click on an object, and you can apply an animation preset from the "Animate this Object' button.
You can also go to the Objects list and view the position of objects with respect to each other on an animation timeline and adjust to your liking.
In the new, upgraded version of Visme, everything runs off one timeline, including infograph widgets and audio, allowing for seamless control. This way, every animated object will appear on the same timeline.
Large Database of Fonts
Visme has over 120+ professional fonts that can be applied to virtually all text objects. Simply drag and drop a text onto the stage and click on the font drop-down menu to select from a variety of fonts in all popular styles.
From contemporary to handwritten, calligraphy or even typewriter, there are a variety of styles to satisfy any project need. Users can also change parts of a text; for example, they can apply a font/style to a single word and maintain a different font/style in the rest of the text block.
A New Text Editing
Add padding:
Visme allows you add vertical and horizontal text padding: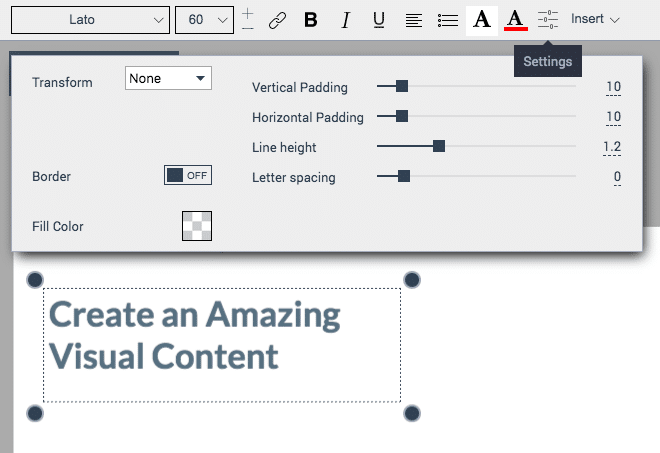 Add granular styling:
Highlight portions of text and apply custom styling specifically to that content. You can now highlight words or phrases within a text block and apply styling while maintaining the rest of the content's formatting intact.
In the earlier version of Visme text editor, it wasn't possible to have different fonts in the same text block. The new version provides further flexibility by allowing the use of multiple fonts and styles within the same block, reducing the number of layers needed to achieve the same effect.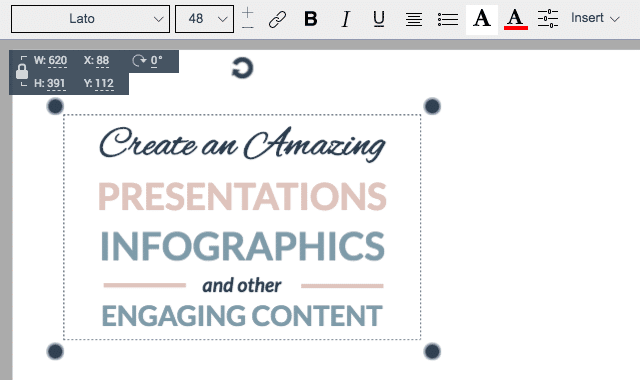 Select and Move Multiple Objects
In Visme you can easily select any number of objects, move and duplicate them.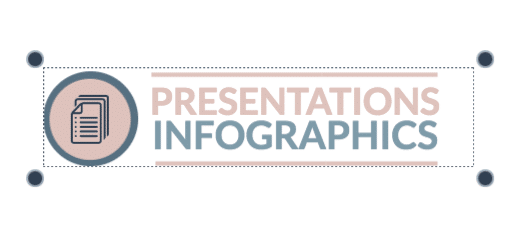 Lock/unlock objects
You can easily lock and unlock objects. Simply right click to launch the contextual menu and lock the object or apply other effects. It's helpful when you need to select the small object behind the large image/shape.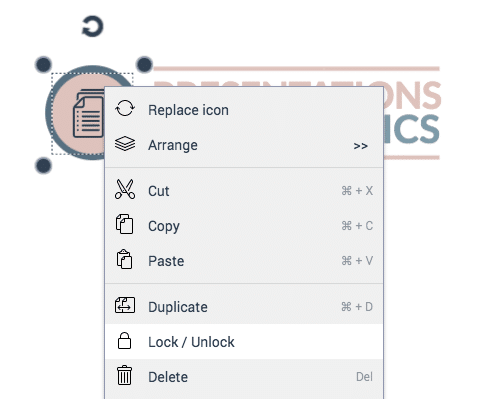 Global Color Palette
A color applied to an object or text will be saved into a global color library so it can easily be applied elsewhere. Every time you create a new color, it will be added to your global library so you can reuse it in the rest of your project.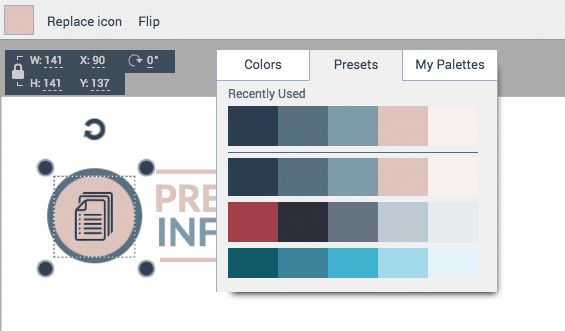 Audio Engine (Feature)
One of the most requested features is the ability to upload your own audio MP3 files. Visme provides a fantastic library of audio tracks that can be attached to one slide (for presentations) or used as background music for an entire project.
You can even record your own audio, attach it and manage the timing and fade controls from one panel.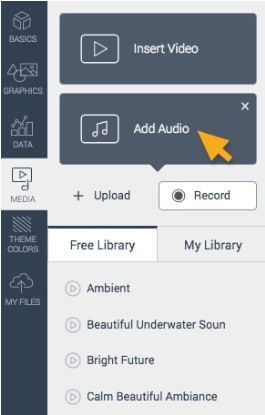 Shared Library
Sahre library allows you reuse images from other projects, which are stored in a shared library.
Charts
Visme also offers powerful data visualization capabilities through a series of Infographic and Chart Widget tools.
Data widgets allow one to quickly turn simple data and numbers into dynamic, easier to understand visuals. From a speedometer to counters, ribbons and radial dials, each widget allows users to fully customize the data to display specific values.
The Chart widget offers seven variations of data representation in the form of pie charts, bar and linear graphs. It simplifies the data visualization process to the point of enabling users to generate charts within seconds. Users can also import spreadsheet data and generate a chart on the fly from the imported data.
For Teams and Companies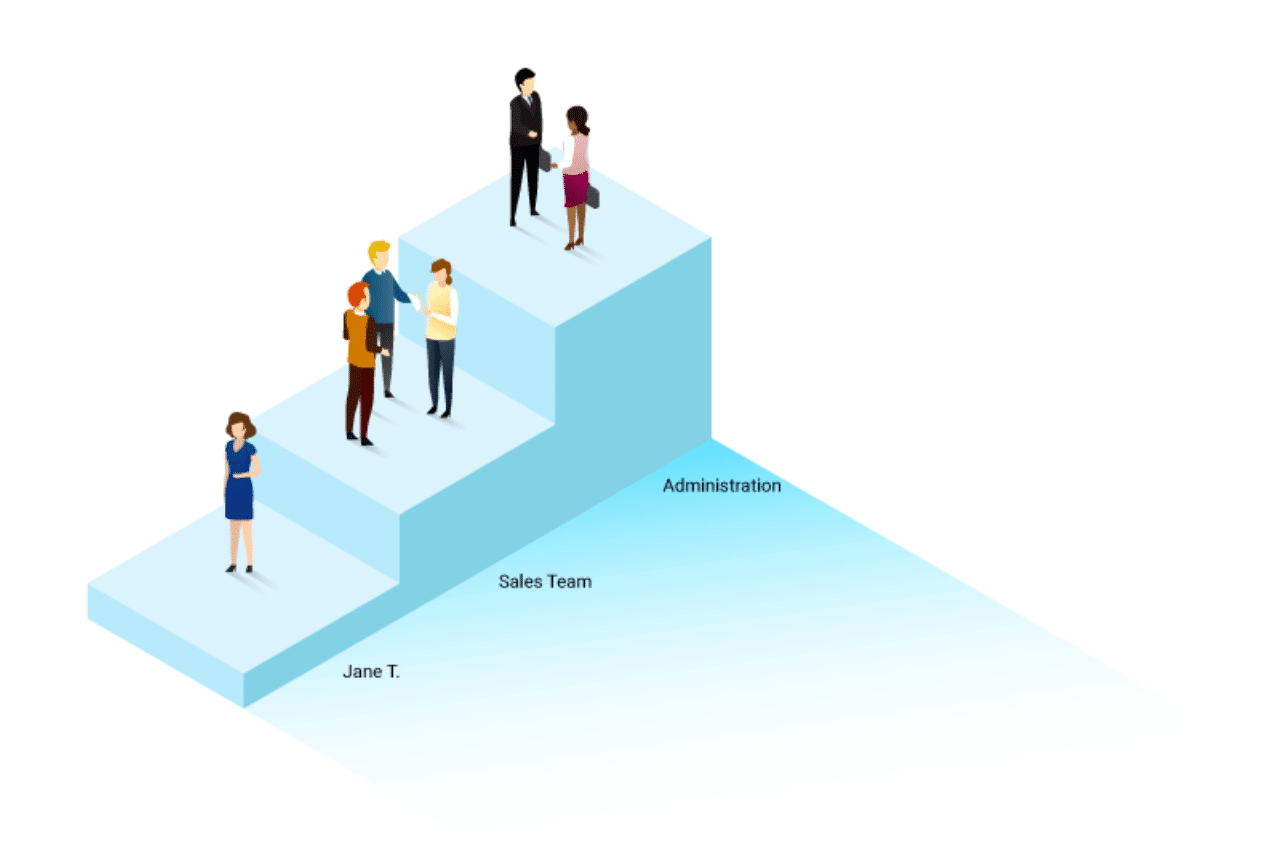 Visme also have full team plans allowing multiple people to access and share projects with each other and set permissions and roles. It is helpful when you have team who are working on a single project.
In short, Visme is a complete package of visual content creation tool that you can use today. Share with me your experience of using Visme.