Do you want to see who unfollowed you on Twitter? If yes then this article is for you.
In this post, I am going to show you how to see who unfollow you or unblocked you on Twitter.
Twitter has become a vital part of our lives nowadays. Many people follow celebrities, politicians, sports stars, etc. on Twitter.
It is important to note that even if you follow someone on Twitter, they might block you at any time. This way you'll never know if they blocked you or not.
You should always check out who followed you and who unfollowed you. There are some very useful Twitter unfollow tools available today that help you to track who follows and who unfollows you.
Check them out below.
How to see who follows you on Twitter
The following steps will help you to find out who followed you on Twitter.
Step 1: Open your Twitter account in the browser or mobile app.
Step 2: Click on the "Profile" tab from the bottom left corner.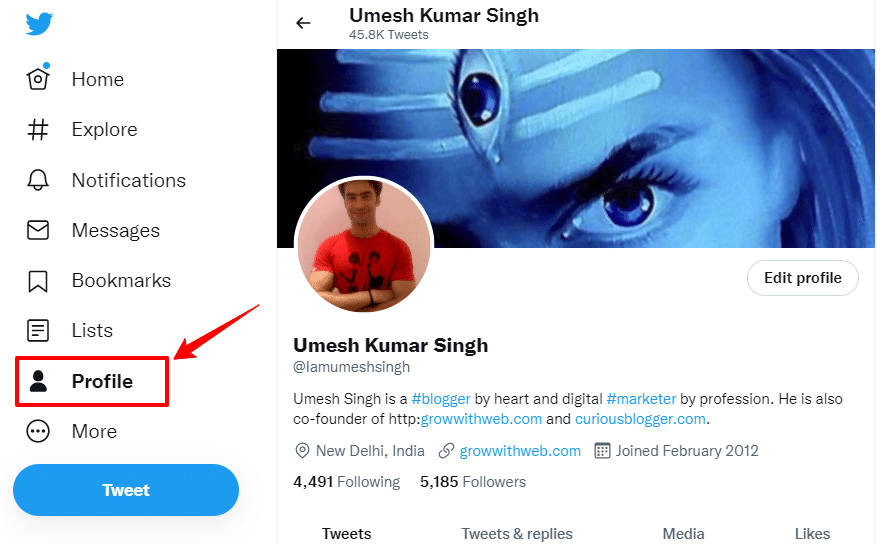 Step 3: Go to the 'Followers' option. From here you can see all those people who have followed you on Twitter. But be careful while checking this list as it may contain fake followers. So make sure you don't choose these accounts.
Note: While opening your Twitter profile you can also see a number of tweets sent by you. These are known as Tweet Count. Followers count shows the total number of users who have unfollowed or followed you on Twitter. 
How to see who unfollowed you on Twitter 
To take away the hassle of manually going through each user's profile and unfollowing them one by one, there are several automated ways to unfollow every single person who doesn't follow you back.
If you're looking for such automation features then try any of the below mentioned unfollow apps.
Here is how to use the Circleboom app to see who unfollowed you on Twitter.
Step 1. First, create an account on Circleboom.com
Step 2. After login head over to the Circles and click 'Not Following Back'.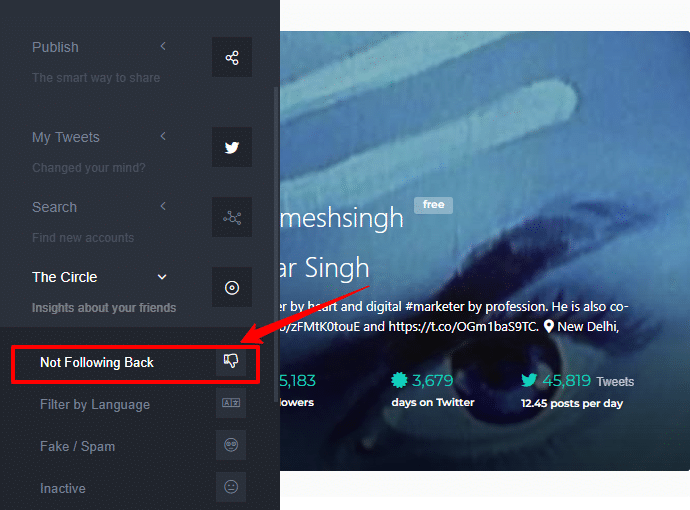 And, you will see all the people who are not following you back.
You can unfollow them one by one or in bulk. Circleboom also has other cool features that you'll need to manage your Twitter account smoothly.
Check out this in-depth Circleboom review to know more about it.
Step 1. Visit https://who.unfollowed.me, which, as the name suggests, allows you to figure out who has unfollowed you on Twitter. Click the orange "Start Tracking Unfollowers" button to turn it on.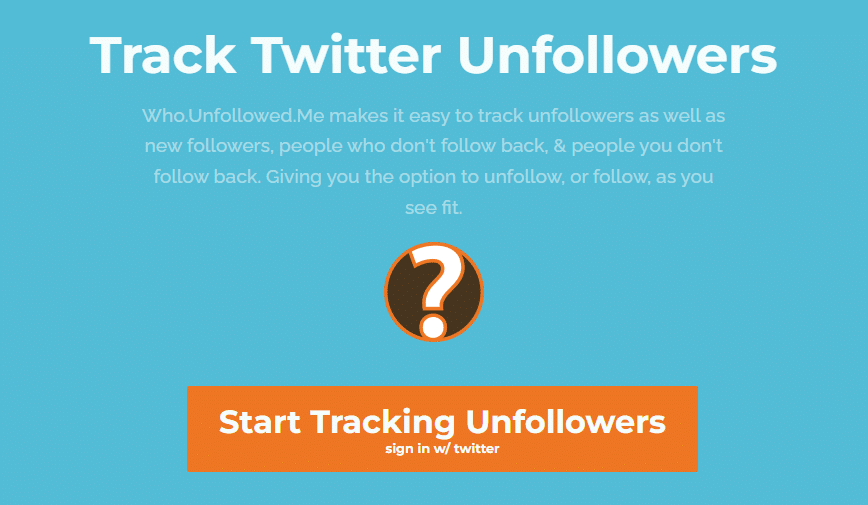 Step 2. The site needs access to your Twitter account to track follower statistics. Read through what permissions it needs and, if you agree, click on "authorize app."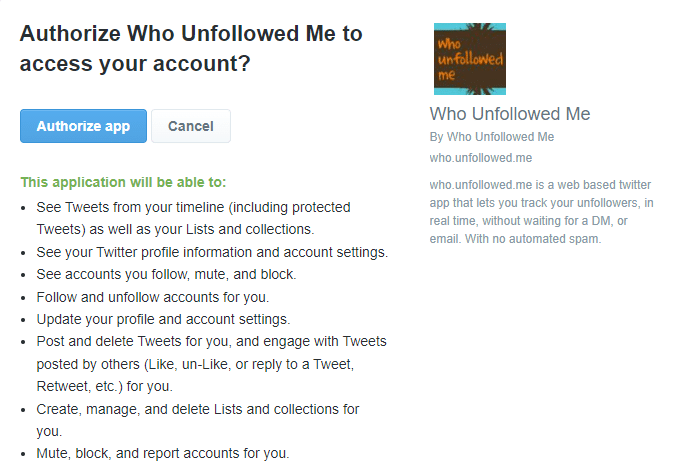 Step 3. The dashboard will allow you to see who has unfollowed you recently, your Twitter age, and when you last tweeted.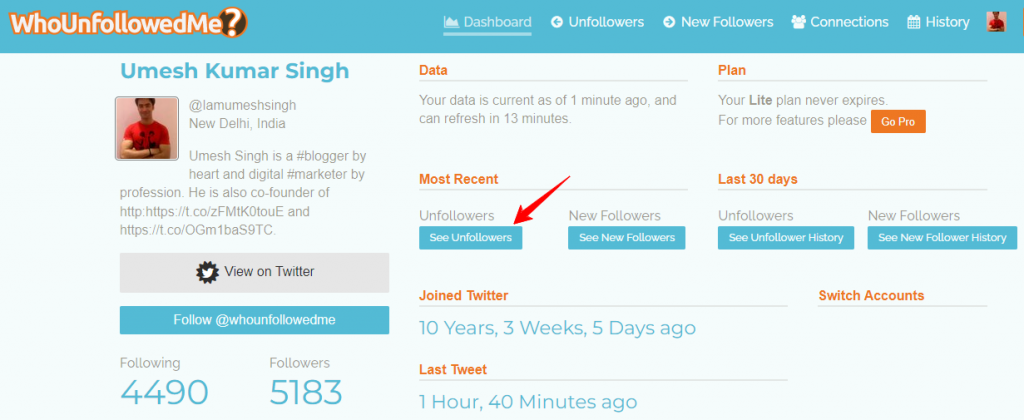 However, this tool isn't as effective as Circleboom. You might need to do some manual inspection before you unfollow non-followers.
Step 1. Open unfollowerstats.com in the browser and Sign in with your Twitter account.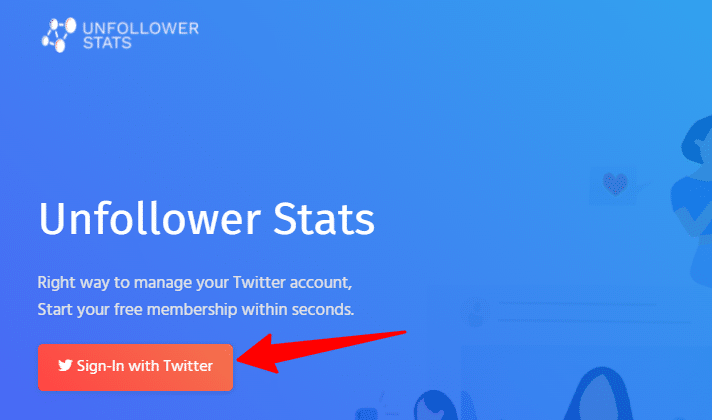 Step 2. On the Unfollower Stats dashboard, you will see people who don't follow you back. You can filter accounts by profile photos, followers numbers, etc. before you unfollow them. 
Can you mass unfollow on Twitter?
Yes!
You can mass unfollow a person on Twitter without having to go through each account individually. 
If you want to unfollow everyone at once, then use Circleboom. This bot will automatically unfollow anyone you follow.
Twitter has over 300 million monthly users worldwide, and almost everyone uses it daily. If you want to get rid of someone from your follower list, there are ways to unfollow them easily.
It's common to see people follow thousands or even millions of accounts on social media. This is because they are often interested in following people who share their interests. Unfortunately, it can also mean that these people won't ever see your messages.
So now you've got everything required to find out who unfollowed you or who blocked you on Twitter. Have fun 🙂