In today's post, I am going to provide you HostNamste review, a young but fastest-growing Indian web hosting company.
Where most Indian web hosting companies focus on getting clients by offering cheap web hosting than providing quality services there are some who have single goal to serve clients by best hosting solutions at affordable price.
HostNamaste is one of them – it is cheap and robust at same time.
What is HostNamaste?
HostNamaste is one of the best Indian web hosting companies that born in March 2018, since then it has over 100000+ hosted websites, and 10000+ deployed servers.
It has a global presence in five primary geographical locations worldwide, including (Los Angeles, Dallas, Jacksonville, Mumbai, and Roubaix) that is helpful for multilingual websites.
It offers lighting fast SSD shared and reseller hosting services at a competitive price that are perfect small as well as big websites.
In short, they are offering fast and reliable hosting solutions with amazing quality support, uptime, and security with competitive pricing.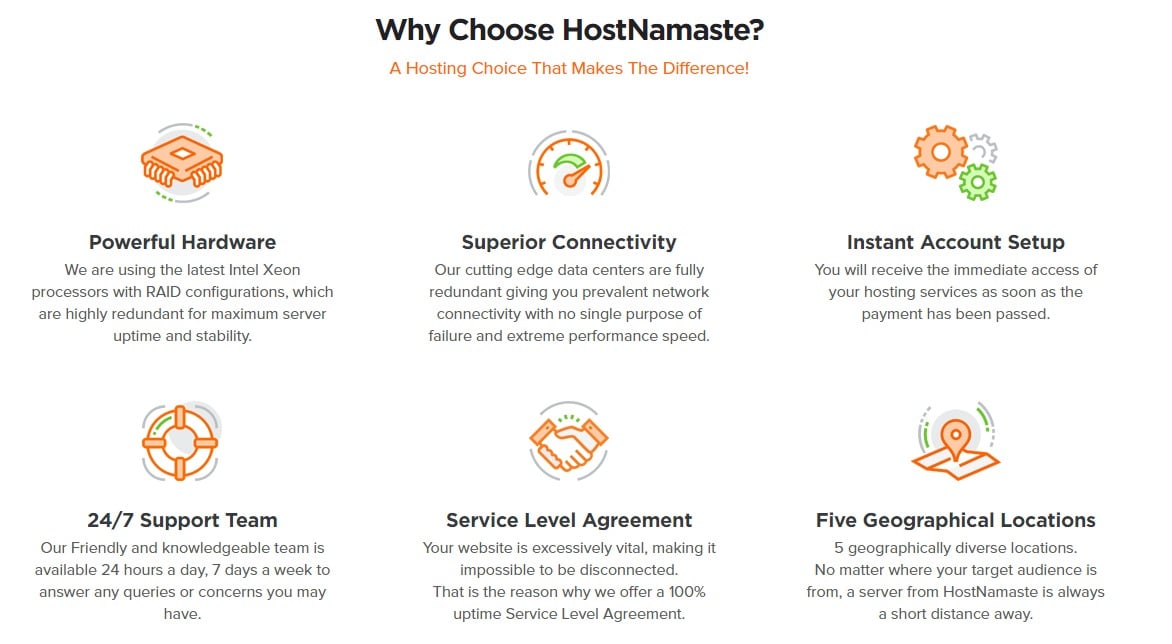 HostNamaste Review 2022 – Details, Pricing, Features
#1. Instant Activation
What scares most users when they buy VPS hosting is how they are going to set up because many people are not tech-savvy. 
To keep that in mind HostNamaste team have designed systems that provide instant server setup.
Therefore, if you are not a technical guy, you can still set up your server in a few clicks from HostNamaste's easy to use cPanel.
#2. 99.99% Uptime Guaranteed
No one likes downtime. People don't even hesitate to pay more money on hosting service if they are offer high uptime.
But when you are hosing you website with HostNamaste you don't need to pay the extra money; you can get up to 99.9% uptime at affordable price.
Very few hosting companies are capable of maintaining consistently that uptime and HostNamaste is one of them. You will never disappoint with uptime issue because they offer guaranteed 99.9% uptime for the server.
#3.

Free Migration
It hurts when you use a hosting solution for years, but as soon as you decide to migrate, they start asking you money for that. It is not fair, and hosting company should not do that if they are already charging big money for hosting.
If we talk about HostNamaste, they offer free migration even when they are cheaper to its competitors.
#4. FREE SSL Certification
HostNamaste has other amazing perks for its users along with free migration; they also offer free SSL unlimited certificates that are important for website securities.
While other hosting providers charge for SSL certificates, you can get it here completely free.
#5. 24/7 Support Team
They have a world-class technical support team, who are ready to help you 24 hours a day, and 7 days a week. Whatever, queries you have regarding HostNamaste hosting, they will provide you solution with hours.
#6. One-Click Software Installation
Need apps to run your website? You can have that in just one click from its softaculous. You can access over 425+ powerful apps in just one click.
#7. Pricing
HostNamate is cheaper than other hosting providers and has an affordable pricing plans. Let's check them out in details.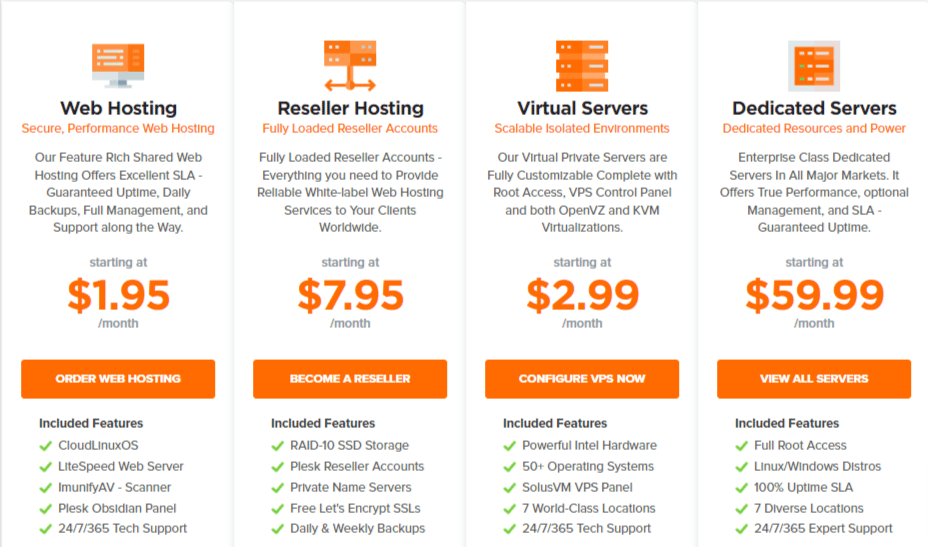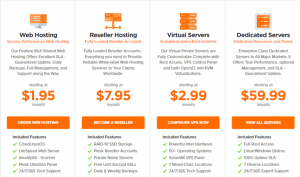 VPS (Virtual Private Server)
HostNamaste offers affordable and fast VPS hosting and VPS server for your website and web applications.
All the VPS hosting solutions provided by HostNamaste comes with an easy to use cPanel, instant activation, 24*7 support, along with over 50 operating systems. Followings are VPS solutions that HostNamaste offers:
OpenVZ VPS 
OpenVZ is powered by powerful Xeon hardware processors that allow instant server setup. Easy-to-use Solvs VPS cPanel will help you manage and control your server from a single dashboard.
Additionally, it offers 50+ operating systems that improve your website's performance and provide guaranteed 99.9% UPTIME.
Pricing plans of OpenVZ starts with $0.83/Month.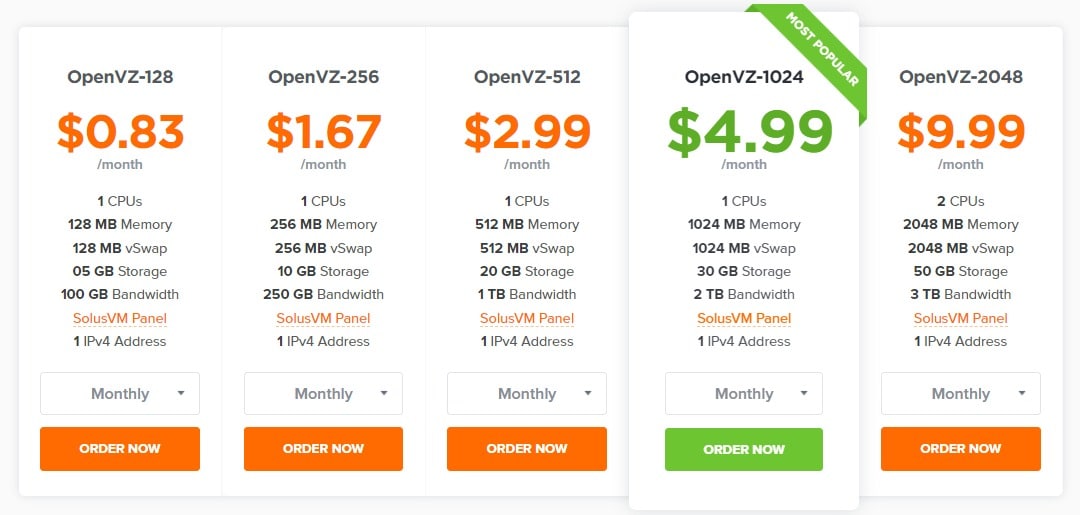 If you are looking for a bigger virtual server for your business, then OpenVZ VPS from HostNamaste is all you need. It has the most affordable VPS plans for big businesses.

KVM VPS Hosting (Kernel-based Virtual Machine)
HostNamaste offers one of the fastest KVM VPS across the Globe (France Europe, Jacksonville USA, Los Angeles USA, Dallas USA & Mumbi India) at affordable prices. KVM VPS of HostNamaste is powered by Intel Xeon hardware processors that provide you uninterrupted services.
Additionally, you get SolusVM Easy-to-Use VPS Control Panel that allows you manage your virtual server with the click of a button.
It is not only easy-to-use but also provides you the flexibility to choose the server location to get you, clients, wherever they are living in the world. Pricing plans of KVM VPS starts with $3.99/Month.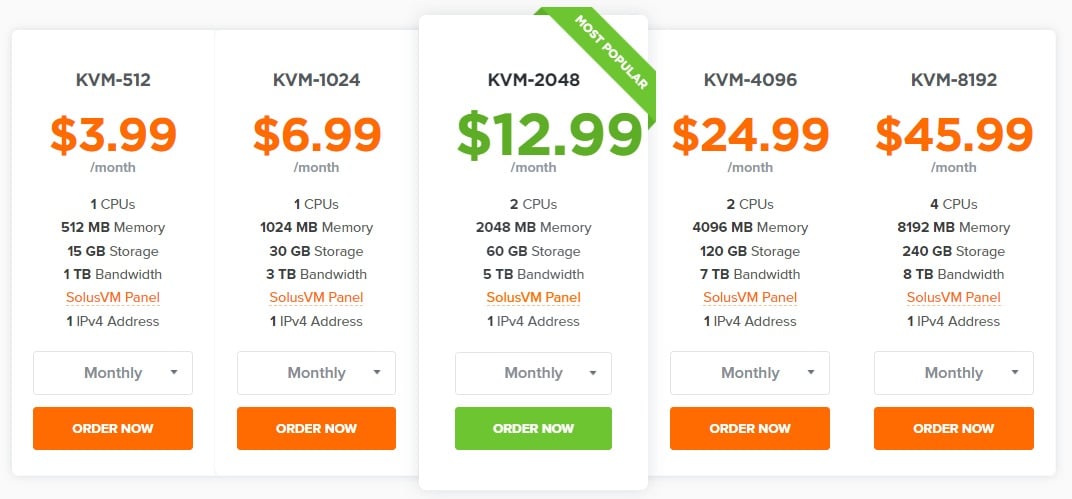 Windows VPS 
HostNamaste offers lightning-fast cheap windows VPS hosting and servers that are loaded with Intel Xeon hardware processors.
It allows easy server setup that maximizes your time with powerful and on-demand VPS resources for any workload. The windows server hostings available are OS 2008, 2012, 2016 & 2019 with operating Windows 7 and 10.
Moreover, you will get complete KVM virtualization with full Root/RDP access. Pricing plans of windows VPS starts with $6.95/Month.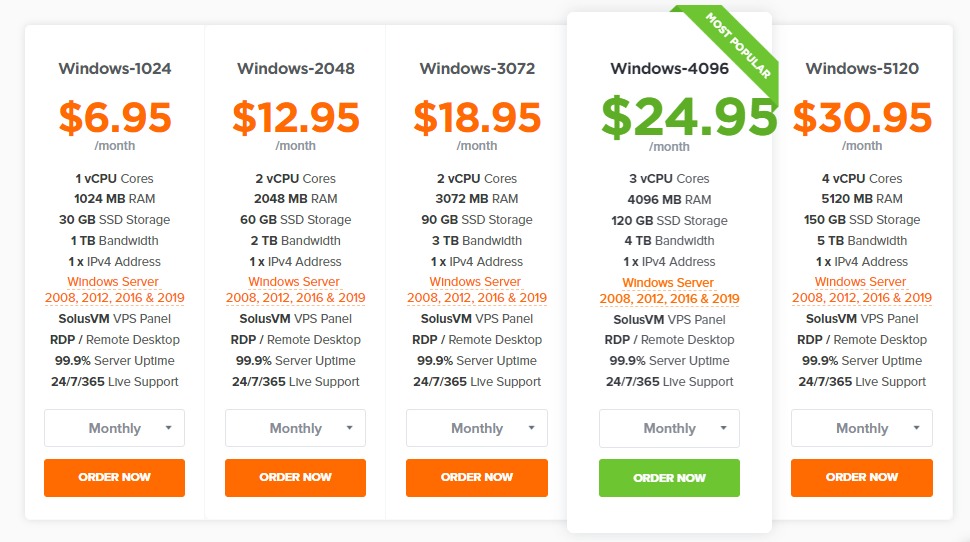 VPS Resource Pool
HostNamaste's VPS resource pools are different than traditional VPS. You can deploy multiple VPS from a single VPS reseller panel.
You can create and deploy multiple VPSes from a single VPS reseller panel on-demand in its five world-class locations. 
It is best for white-labeled VPS reselling. Pricing plans of VPS resource pool starts with $9.95/Month.
Fully Managed VPS
HostNamaste offers cPanel/WHM fully managed virtual server hosting across, US, UK, and India. You not only get lighting fast SSD hosting with cPanel and WHM access but unlimited FREE cPanel/WHM migrations.
You can even customized server names while accessing free unlimited comodo SSL certificates. 24X7 tech supports team always ready to help you if you need any assistance in managing VPS. Pricing plans for fully managed VPS starts with $9.95/Month.
Dedicated Servers
HostNamaste offers high quality dedicated servers that allow maximum customization, configuration, & overall flexibility. You can deploy servers from multiple locations that are designed to provide 99.9% uptime guaranteed.
HostNamaste's popular dedicated servers are Budget Dedicated Servers and Hybrid Smart Servers. Let's see them in details.
Budget Dedicated Servers
HostNamaste offers security-hardened low cost dedicated servers built with the latest hardware from industry leaders. Its dedicated servers provide the best performance, stability, and reliability to clients.
Moreover, they can choose several server locations to get their customers within time. Its dedicated servers provide 99.9% uptime guaranteed. Plans starting at $29.99/Month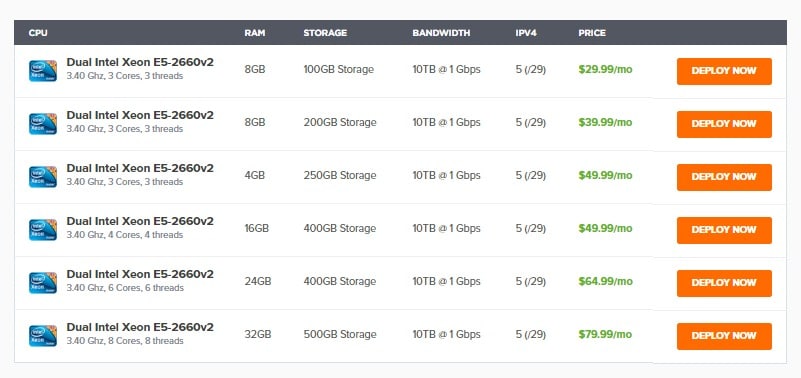 Hybrid Smart Servers
HostNamaste's hybrid smart servers are perfect for those who are looking for a dedicated server without paying for a dedicated server. The servers will be deployed with 24 hours as soon as the payment process is complete.
This is the best solution for eCommerce stores and web applications that have surpassed their existing hosting plan. Plans are starting at $29.99/Month.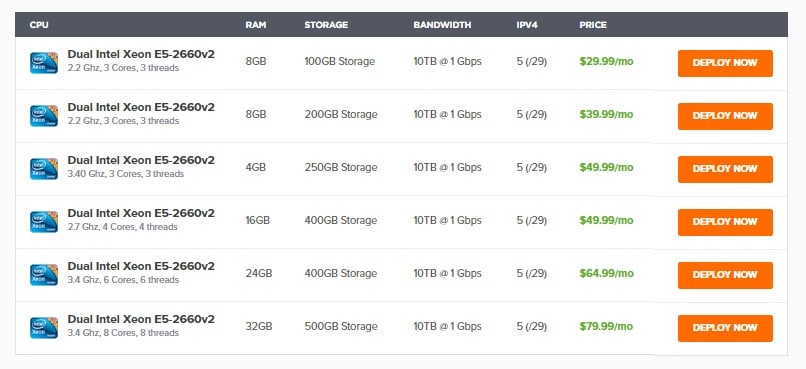 HostNamaste Review 2022 -Final Thoughts
It is hard to find the cheap but high-quality hosting solutions, but I would say, I was lucky to find HostNamaste. It stands toe-to-toe with other hosting solutions which offer costly hosting solutions with fewer features than HostNamaste.
Whether we talk about uptime, speed, fast integration, or support, HostNamaste is way ahead from its competitors. I would highly recommend HostNamaste to my Indian friends who are looking for cheap but high-quality hosting solutions. 
Let me know in the comment section how was this HostNamaste review?
Also Read: Best Web Hosting Services of 2023