Writing content itself is a pretty easy job. But, making it engaging and SEO-friendly is not that simple.
When it comes to making a piece of content SEO-friendly, there are a lot of different factors that you have to be careful about.
For one, you have to make sure that you use the right keywords in the content…and in the right quantity as well. Similarly, you have to make sure that you format your content properly by using heading styles.
In this post, that is basically what we are going to be helping you with. We're going to be mentioning seven SEO tips for content writing that, if implemented correctly, can help to boost the organic traffic to your website.
Let's get started.
7 SEO Tips for Content Writing to Boost Organic Traffic
Before starting off with mentioning the tips, we should clear up one thing first.
There is a difference between organic and paid traffic. The latter is the type of traffic that comes to your website as a result of some direct monetary effort.
For example, if a user comes to your website after clicking on an ad in the SERPs, this is not recorded as "organic traffic".
Organic traffic is the one that is driven to your website naturally. In other words, there is no paid effort directly involved in getting traffic to your website.
If, for example, a person searches for a term on Google and then clicks on your website from the SERPs, then this is recorded as an organic visitor.
According to an online source, 90.63% of pages don't get any organic search traffic from Google. While that sounds a little depressing, don't worry.
Getting organic traffic to your blog is not very hard and if you follow the tips we're going to give right now, you should be able to do it easily.
Research and Use Keywords Properly
Keywords are one of the most essential elements in SEO. Without keywords, there actually doesn't remain a lot of SEO behind.
By using the right keywords, you can optimize your website for popular terms and phrases that your potential customers and clients use for searching for brands related to your niche.
If your blog is optimized for the right keywords, it will show up easily when someone will look up a phrase or word related to it.
When it comes to using keywords in your content, you have to make sure that you use the right keywords. And you also have to make sure that you use them in the right number.
For choosing the right keywords, you can simply use some keyword research tools. There are a lot of them available online nowadays. Some popular ones include Ahrefs, SEMrush, Ubersuggest etc.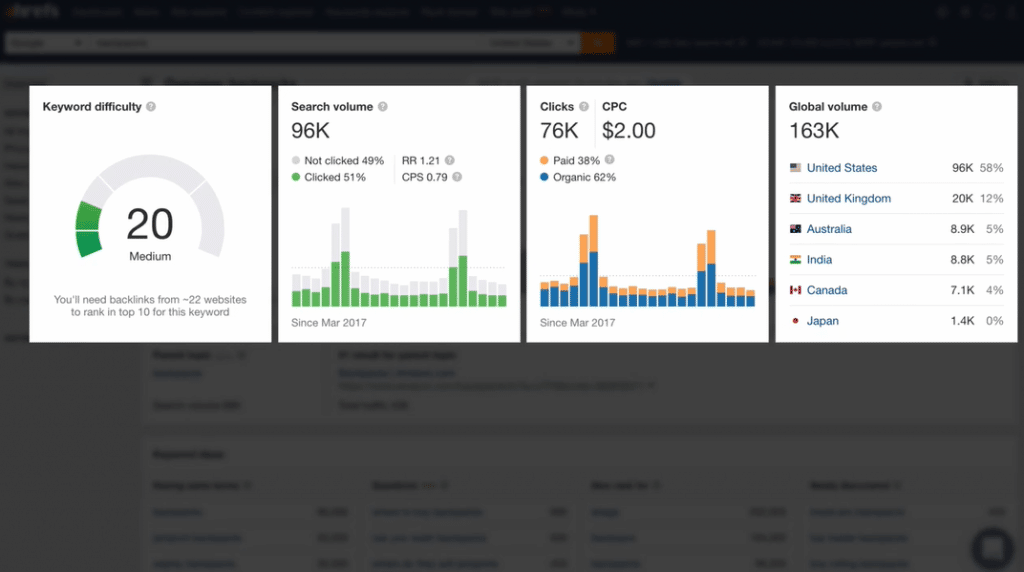 Using keyword research tools basically helps you find useful suggestions about which long-tail and short-tail keywords you can incorporate into your strategy.
Similarly, you can get useful information about them such as their search volume, keyword ranking difficulty and click-through rate.
That's as far as choosing the right keywords goes. When it comes to using them in the right quantity, you just have to be careful not to overstuff them.
The ideal density for keyword usage is 1 – 2%. It should not be more than 3%, in any case.
By the way, the above applies to the main focus keywords. As far as LSI keywords go, you can use them richly in the content.
Format Your Content Properly
Moving on, another important aspect that you have to be careful about when writing content is formatting.
When creating the title of your content, you should always make it an H1 heading. Then, when you want to move on to creating the headings and sub-headings in the content itself, you should use H2s and H3s respectively.
Using these heading styles is important for two reasons.
First, they can make your content easier for your readers to go through.
And second, they help Google in determining the relevancy of your content, which further helps it in properly ranking it.
Find and Remove Grammatical Errors Using a Grammar Checker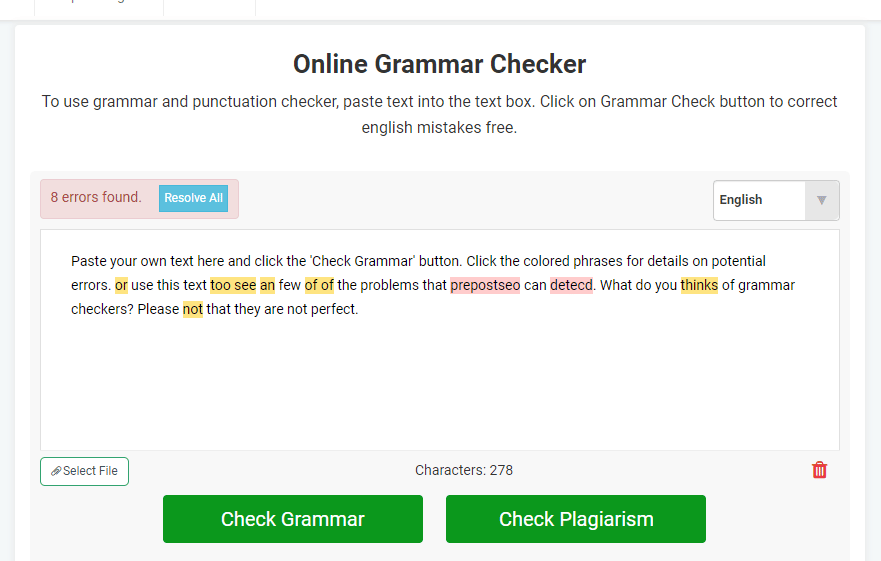 Relevant to writing SEO content, there is one thing that you should keep in your mind at all times.
Whatever you write, you have to make sure that it is easy for your readers to go through. You don't want to make any sort of problems or hindrances for your readers.
Keeping the above principle in mind, one of the most important elements that you have to fix in your writing – in order to make it readable to your audience – is grammar. Grammatical errors can be highly detrimental to the quality of your work.
While periodic spelling errors are somewhat overlookable (since everyone makes typos), it's not the same case with grammar errors.
If your content has consistent grammar issues in it, it will portray your lack of skill and expertise in the language. This can, in turn, damage your reputation in the eyes of your readers.
To avoid these sorts of outcomes, you can simply use a grammar checker to find and remove grammatical errors in your content. There are a lot of grammar checkers available nowadays, and a lot of them work fairly well.
Keep Your Writing Easy to Understand
This is something that rookie writers can especially have trouble with.
Writers, especially inexperienced and rookie ones, can sometimes get the impression that in order to make their content look nice, they have to make it complex.
This could, from their perspective, entail the inclusion of recherché and archaic words and convoluted sentences in their compositions.
…get my point?
So, this is something that you have to avoid. You have to make sure that your content is simple enough to be read by a spotty 12-year-old. Don't make it look like something out of a 15th-century history book.
While this is something that you can take care of on your own, you can also take the help of online tools if you want. Tools like Hemingway can help you regulate the readability of your work and keep it simple for your audience.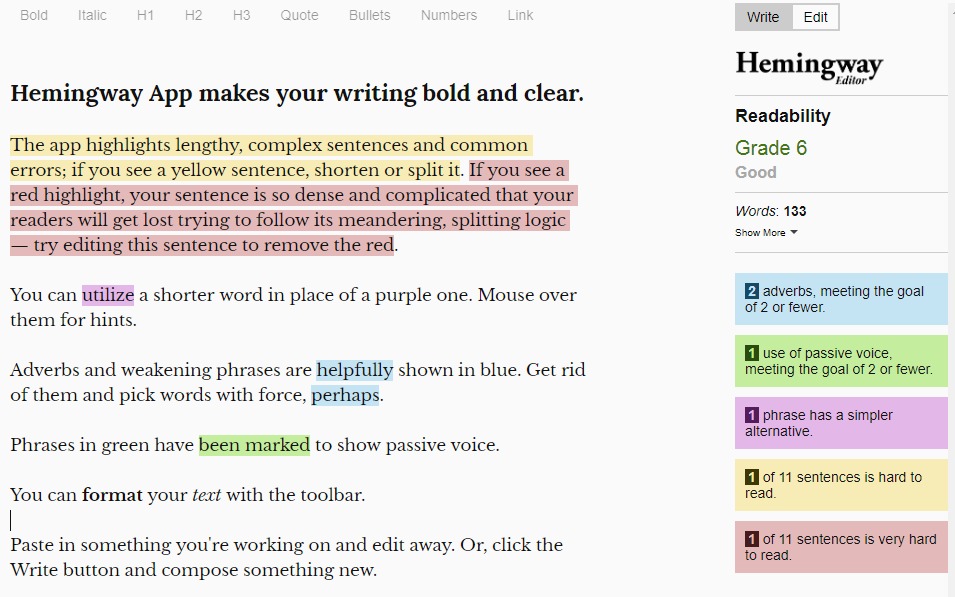 Now, while this tip is valid and helpful, you could be thinking: how is this related to SEO? Here's how.
If your content is readable, your visitors will not leave your website immediately after visiting it. They will hang around, open other pages and spend some time on them.
This will increase the dwell time and decrease the bounce rate. In the eyes of Google, websites with a high dwell time and a low bounce rate are more worthy of being ranked closer to the top.
That is basically how this tip relates to SEO.
Add Links to Your Content
Adding links to your content can also improve its SEO-friendliness. There are basically two types of links that you can add to your content:
External links
Internal links
Adding external links can be useful for adding credibility to your content, and also for clarifying the relevancy of your website's content to the search engine.
If, for example, you quote some stats and then you also provide the link to the original source, then it will add to your content's credibility.
On the other hand, adding internal links can also be very useful for your blog's SEO-friendliness. They can help your readers explore and navigate through your website and they can also help the search engine bots to efficiently crawl it.
Find and Remove Plagiarism
Plagiarism is a very detrimental and dangerous element that can come in your writing. If there is a considerable amount of plagiarism in the content that you upload to your website, you can get hit by a penalty from the search engine. This penalty can vary from a simple rank reduction to complete website delisting.
In order to avoid getting hit by these penalties, you should take care to check your content for plagiarism using a plagiarism detector. There are many such tools available online, and quite a few of them are fairly accurate as well.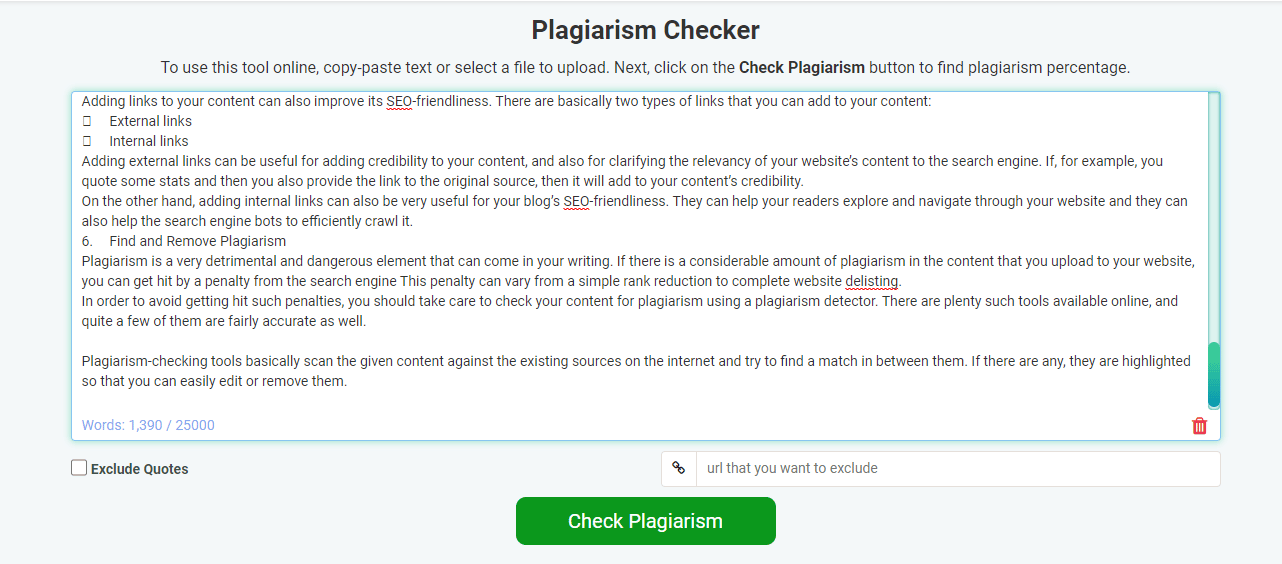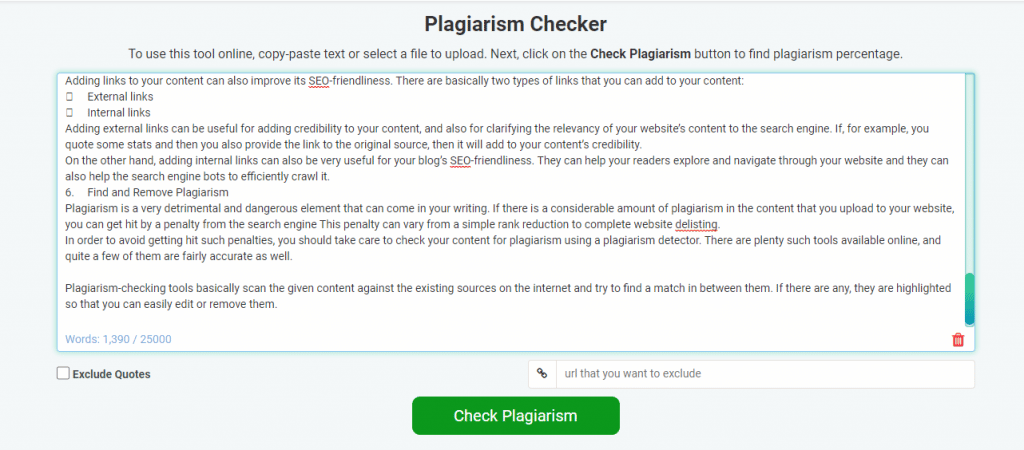 Plagiarism-checking tools basically scan the given content against the existing sources on the internet and try to find a match between them. If there are any, they are highlighted so that you can easily edit or remove them.
So, for finding plagiarism, you can simply use plagiarism checkers…as we just mentioned above. However, when it comes to removing it, there are a couple of different methods that you can try.
You can paraphrase the plagiarized parts to make them unique
You can cite the original source
You can put the plagiarized parts in quotes to indicate that the words are not yours
Or you can remove the plagiarized parts altogether
Adding images to your content can also help in improving its reader-friendliness as well as its SEO-friendliness.
Basically, images add color to your content. Without images, your content can just look like just a big mass of black…or whatever font color you're using for your website.
Images help to make things lively. By "images", we don't refer to random pictures. We mean graphics that are relevant to your content and that can help your readers in some capacity.
For example, you can add charts, tables and graphs to explain certain concepts in your content.
Other than this aspect, adding images can also be good for your blog's or website's SEO. However, in order for this to happen, you have to make sure that you optimize them (the images) properly.
Among the different steps that you can take for image optimization, you have to be careful about adding the alt text. The alt text is basically what the search engine crawler looks at in order to understand the relevancy of the image.
And that pretty much wraps it up.
By keeping the above tips in mind, you will be able to create good content for boosting organic traffic to your blog or website.
In a nutshell, you basically have to make sure that your content is free from plagiarism and grammatical errors. You also have to make sure that it is easily readable, and not difficult for your audience to digest.