No doubt Gmail is still the number one free email clients available worldwide having 1 billion users.
It is fast, beautiful and easy to use – moreover, 90.7 million users access Gmail every month.
Growing popularity of Gmail put it on the radar of hackers…
…and hackers today are smart enough in the phishing scam they even fooling experienced technical users.
According to a report, hackers hacked over 10 million Gmail accounts and put it for the sale on the Dark Web.
You might be one of those victims who doesn't even know that his Gmail account has been hacked.
Getting Google account hacked is a big deal you can't ignore it, especially when it has your personal information such as private photos, emails, bank details, etc.
Now the question is…
…how hackers hack a Gmail account?
Well, there isn't a single action that hackers use to hack and read your email without logging into your Gmail account.
The hacking activities include using Gmail for mobile, the IMAP feature, email forwarding, and so on.
However, Gmail's "last account activity" feature is helpful but you need to know other ways to protect your Gmail account from hackers.
Today, I'll show you some of the easiest ways to find out if your Gmail account has been hacked or compromised.
The tips are useful for all Gmail users including those who hasn't even faced this hacking issue.
It's a good idea to keep an eye on your email accounts to monitor suspicious activities.
Security is a thing you need to put on priority when working online.
As you see hackers easily hacked 10 million Gmail accounts that mean you need to be aware of the tricks to find out if your Gmail account has been hacked in order to protect that from hackers.
I have seen people asking questions on social media and communities. Like this:
Someone hacked my gmail account and changed the password.
Someone changed my gmail password and phone number.
I can't access my gmail account.
I can't sign in to my google account.
Five Ways to Check If Your Gmail Account Has Been Hacked
The tricks I am going to share with you to find out hacked Gmail account will never let you fall in the above situation.
Without further ado, let's jump right in:
#1. Gmail last account activity feature
Gmail has a very helpful last account activity feature that you can see at the right side bottom of your Gmail account page.
"Last account activity" shows you the location, IP, method, and time when your Gmail was last accessed. You can see the last 10 login details including the current one.
This is the first and easy way to check if your Gmail account is hacked or not.
Using this method you can easily find out if your account is being used by someone else whom you don't know.
The best part of this feature is – you can log out the users whom you think shouldn't access your Gmail account.
#2. Email forwarding
This is another useful feature of the Gmail that allows you to forward any email coming into your Gmail account to any other email address.
Also, it is one of the safest ways for hackers to read your all email.
As they hack your google account first thing they do forward all emails to their own accounts and since most people don't know about this feature, as a result, they hardly even know that someone else is reading their email.
To check forwarding first click at the setting it will open a tab like:

Click on Forwarding and POP/IMAP and see if forwarding is enabled on any email id that you don't know, if yes disable it and save.
#3. POP and IMAP settings for Gmail
POP and IMAP is a useful feature of Gmail for users who like to access their email on any other 3rd party client by using any of these two protocols.
But the problem with it is – anyone who has access to your Gmail password can configure their email client to receive your email, HACKERS also.

It would be better for you to keep it disabled if you aren't using the IMAP or POP feature.
But most of all follow the first step we talked earlier, to check the unexpected login IP and location, a hacker might be using to read your emails.
#4. Check your account at Check Point
According to a report of the Security firm Check Point, Gooligan a malware created by Trojan horse is striking 13,000 new Google accounts every day.
Especially the devices that run on Android 4 (Jelly Bean, KitKat) and Android 5 (Lollipop).
The virus comes from third-party app stores and malicious links in phishing attack messages.
Gooligan uses a rootkit to steal authentication tokens to access data from Google Play, Gmail, Google Photos, Google Docs, G Suite, Google Drive and other programs.
Furthermore, it installs apps that get your account information to publish fake ratings and reviews to raise the profile of such apps.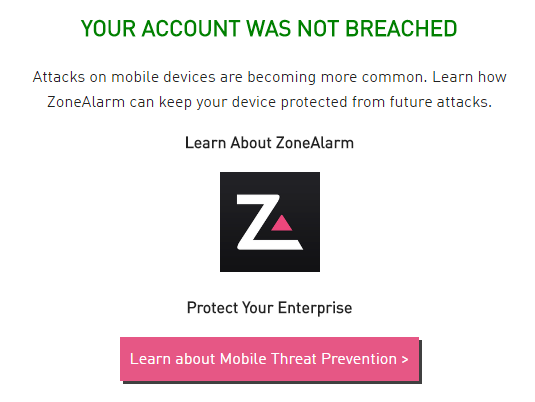 Thanks to Check Point by using it you can easily find out if your account has been account compromised.
Go to the Check Point put your email there and click the check button and it will show you if your account was breached.
#5. Check your account at Have I been pwned
Have I been pwned? is a FREE way to check your google account if it has been compromised or "pwned" in a data breach.
However, it works same as Check Point but it goes a step ahead and shows you the sites where your mail was pwned.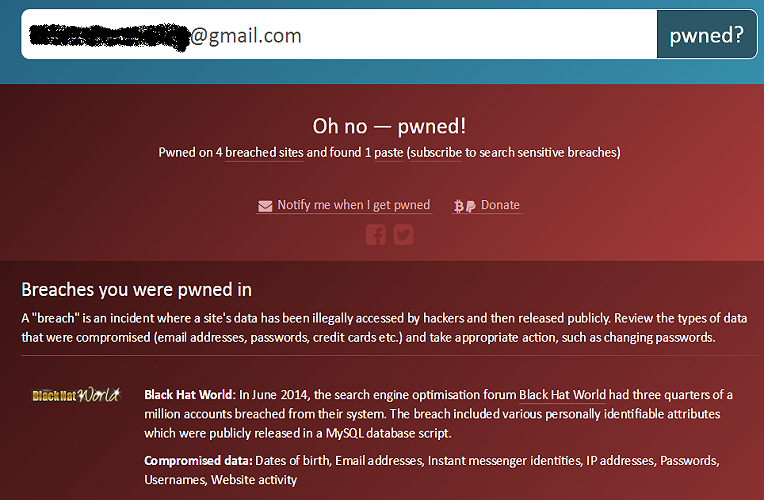 If you ever feel that your Gmail account has been hacked, or get an email from google about suspicious login activity.
The first thing you do is change your password immediately, as well as your security question, password recovery email, and registered phone number also.
You never know when you can be in this situation where you can't access your google account, therefore, it is better to be ready and keeps an on your accounts for any unusual activities.
Now I have a question for you!
Have you ever experienced anything that looks like your Gmail account may have been hacked?
Let us know your thoughts in the comment section.