This is the guest post by Ant Musker.
In recent years, with the growing popularity of social media becoming more prominent within marketing, having a direct impact on the usage of alternative outreach methods including cold calling and email communication.
But social media is a very indirect and a non-personal approach with a lot of inconclusive traction and sometimes it is needed within business, marketing and sales to be a lot more direct.
Especially with regards to direct messaging and upfront contact. Because not everybody consistently check their Facebook inbox or Twitter Direct Messages on a regular basis and it is not an appropriate platform and arguably too informal for use in many working environments.
But on a professional level, people will check their email regularly, so it is an excellent awareness opportunity as has been proven for many years.
Email is the most professional way to contact someone and also accessibly as you can literally reach almost anybody, within reason.This can give you a major advantage over your business competition.
But the question is how will you find that someone's email address? You can use social media to help you find some email addresses i.e – LinkedIn, Facebook and occasion ally on Twitter. Or alternatively, it can be openly available via a company's website and 'contact us' page.
But it's not guaranteed that you are going to get everybody's email address you want because people generally keep their email addresses private due to many personal reasons.
So here we will introduce you to some tools that are really helpful in providing you the accuracy and the volume of email addresses you require.
1. Hunter – Email Finder
It's the most powerful tool for finding somebody's email address. It will let you find the people behind a website and their email addresses. With just a click, you can get a list of people with-names, professional email addresses, social networks, job titles and the public sources where this data has been collected.
All the email addresses are returned with a quality score that evaluates the confidence they are accurate.
Features:
You can get an email addresses from any website.
Will let you find the email address of someone by searching a name in the search input.
Can save the lead to a list by clicking the "

+

" next to person.
Let you synchronize your leads to your favorite CRM or applications like Salesforce, Hubspot, Pipedrive or Zoho and hundred other applications can be connected.
It is trusted by big companies like Google, IBM, Adobe and Microsoft. You too can give it a try. It gives you free 100 searches per month before you have to enter their paid plan.
2. Voila Nobert
A very easy to use and tool that helps you find any corporate email addresses, manage your leads and gain a lot of time while it works.
Features:
You can find your lead's email address and contact information on any websites simply by clicking on the search function.
All your leads can then be exported, added into custom-made lists and/or contacted directly from Norbert with advanced tracking tools to know if they opened or even clicked on your email.
There's the added bonus that it works for free providers like Gmail too.
It consists of powerful Massive Search option that you can use by uploading a CSV file of names and website domains to get an estimate of how much it would cost to search each one.
It is trusted by well-respected companies such as Intel, Twitter, Oracle, SAP, Airbnb and many more! It provides the first 50 searches for free and then you can continue with plans starting from $0.10 per lead to $499 for 50,000 leads/month.
3. Anymail Finder
As the name suggests – you can use Anymail Finder to find the email address of anyone. It searches billions of web pages and performs direct server validation. It's somewhat similar to Voila Nobert except for a few differences. They only charge for verified mails.
Features:
You can process a huge list of names and domains (or company names) in hours, with its easy to use bulk search functionality.
Upload any .csv file containing domains or company names and, optionally, names and get it back with emails added.
If you are building a new application, get in touch to get 500 free email credits so you can play with it.
You will only pay for emails which are sure won't bounce, you can cancel at any time, and your unused credits will roll over month after month.
4. Clearbit
A powerful tool that provides powerful products and data APIs to help your business grow. Clearbit Connect puts the information of millions of companies and people at your fingertips, surfacing data on the people who email you in Gmail's sidebar, and allowing you to find anyone's business email with just a few clicks.
Features:
Discover your ideal accounts and leads with complete contact info.
Turn any email or domain into a full person or company profile.
Turn anonymous web traffic into full company profiles.
Detect bad actors and prevent spam signups.
You can choose the plan depending on your necessity. Visit here- https://clearbit.com/pricing.
5. Toofr
Toofr is a tool that help you find and test email addresses while you're reading news articles and browsing LinkedIn. You can access the power of Toofr.com directly from your Chrome browser. This tool allows you to find email addresses with first and last name and domain name.
Features:
It uses millions of business email patterns and mail server results to give you industry-leading sending rates.
Even if you don't have any domain then also it will look up to that. 
Plan starts from $19/month to $249/month.
About Author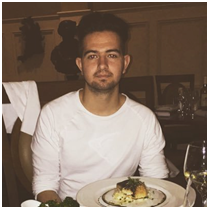 I am a content writer at
Whoisvisiting.com
, whilst also involved in marketing activities including email, social and SEO – I have various experience in sales and marketing environments, working for start-up companies and in the PR industry.