I know, finding the right dropshipping software can seem like chasing after a dream. You like some features of one tool and then, are wooed by another. So, the answer to what is the best dropshipping software is not so simple.
You may need to try out multiple tools before you can finally find the one that works best for you.
The question I asked myself during my search was, 'how useful is it going to be for my needs' and 'what are the features that make it differ from the rest'?
For instance, your choice can differ based on whether you are looking to just sell on Amazon or looking for software that can help you sell on multiple platforms.
I suggest you go ahead and experiment with different tools by taking advantage of free trials and introductory offers.
If you don't like a tool you can just shift to another. One of the dropshipping solutions that I would like to recommend is WalletMonitor.
It may be useful for you with its ability to help sort out the different needs you might have as a dropshipper.
If you still not heard about our company, I think it is one of the perfect tools for beginners and works well for advanced dropshippers who want to keep things simple without compromising on functionality.
One of the reasons you'd like (or might want ?) to try out www.walletMonitor.com is you have nothing to lose if you don't like it. Well, that's entirely not true- you have $1 at stake.
That's what it costs to sign up for the trial period which gives you unlimited access to all the features for a week.
What makes me recommend WalletMonitor?
Now I want to talk about a few things and some of the reasons that make me recommend WalletMonitor.
#1. First, it's very easy to use. The software has a very simple interface that even beginners are able to understand. You can easily find the main functions and never need to search around.
On top of that, there's a helpful video for every feature that explains how to use it.
It takes very little time to set up the software. There's a quick registration after which you can install the browser extension.
Then you can set up your account and provide details of your stores. After that you can directly begin to search and add products to your store.
#2. You can track products from Amazon, Walmart, AliExpress, eBay and sell on eBay or Shopify – Most dropshipping software provides the item tracking feature though WalletMonitor seems to be compatible with more platforms.
Also, you can handle an unlimited number of eBay and Shopify stores without any restrictions.
#3. WalletMonitor is fully compatible with eBay – All users are protected against unauthorized use. Very few programs out there are actually certified by eBay, so this is one of the safest tools around.
As WalletMonitor has received a license from eBay, it means that the tool meets all eBay requirements. eBay compatibility means that all your products are listed with all variations directly from the supplier according to eBay requirements.
That means you fully comply with eBay rules and your shop will never be shut down for violating eBay guidelines.
eBay will automatically increase traffic to your products when you meet the rules, so that you can have more views, and ultimately, more sales!
I have stores on both eBay and Shopify and have never faced any problems. But I have to admit that I don't have that many stores to face any scaling issues. But as the company suggests, you may be able to handle countless stores seamlessly.
#4. Listing items is also easy with WalletMonitor –  You can directly add items from the supplier site with all the variations with a single click. This is another feature I seem to like a lot.
Any items with variations are also added directly with that single click complete with all images and details. So if a product has different colors and sizes, all of them will get listed automatically to your store.
That's a huge plus! All other tools have to take help of Excel to do this. There is a very simple interface for the edit products.
#5. WalletMonitor automates fulfillment without you needing to move your finger – The software buys products automatically and sells them automatically leaving you free to enjoy the profits.
The system also updates tracking numbers of all orders and sends automatic email notifications to customers.
#6. WalletMonitor also automatically purchases Amazon Gift Cards at 2% discount – The offer holds true for payments made by PayPal.
#7. The tool lets you set pricing rules – That way you don't have to set prices each time you add items to your store. I have found that it saves quite a bit of your valuable time.
#8. The plans from WalletMonitor are also affordable – They have competitive pricing when you compare to other vendors. The price includes automatic orders, which is a good deal!
#9. WalletMonitor adjusts your inventory and pricing based on the changes on the supplier site – If the stock of an item reaches below 14, the software won't allow it to sell.
The item will be reopened again when the stock rises above 14. You can keep an automatic tab on your stock and never face the embarrassment of going out of stock.
That's a big help, as a customer will give really bad ratings or reviews if he buys a product and finds it out of stock.
#10. WalletMonitor allows you to transfer to their account from other monitors –. I was using a different tool before trying WalletMonitor and didn't want to lose all my information. I was able to migrate from my former software to WalletMonitor without any problems.
#11. WalletMonitor also protects you from unqualified Amazon sellers who may ruin your reputation – The program will simply not allow you to list the products of unqualified sellers, helping you provide a great service.
#12. WalletMonitor searches the highest profit items on different platforms automatically – This feature is still in development and will be available soon!
WalletMonitor Plans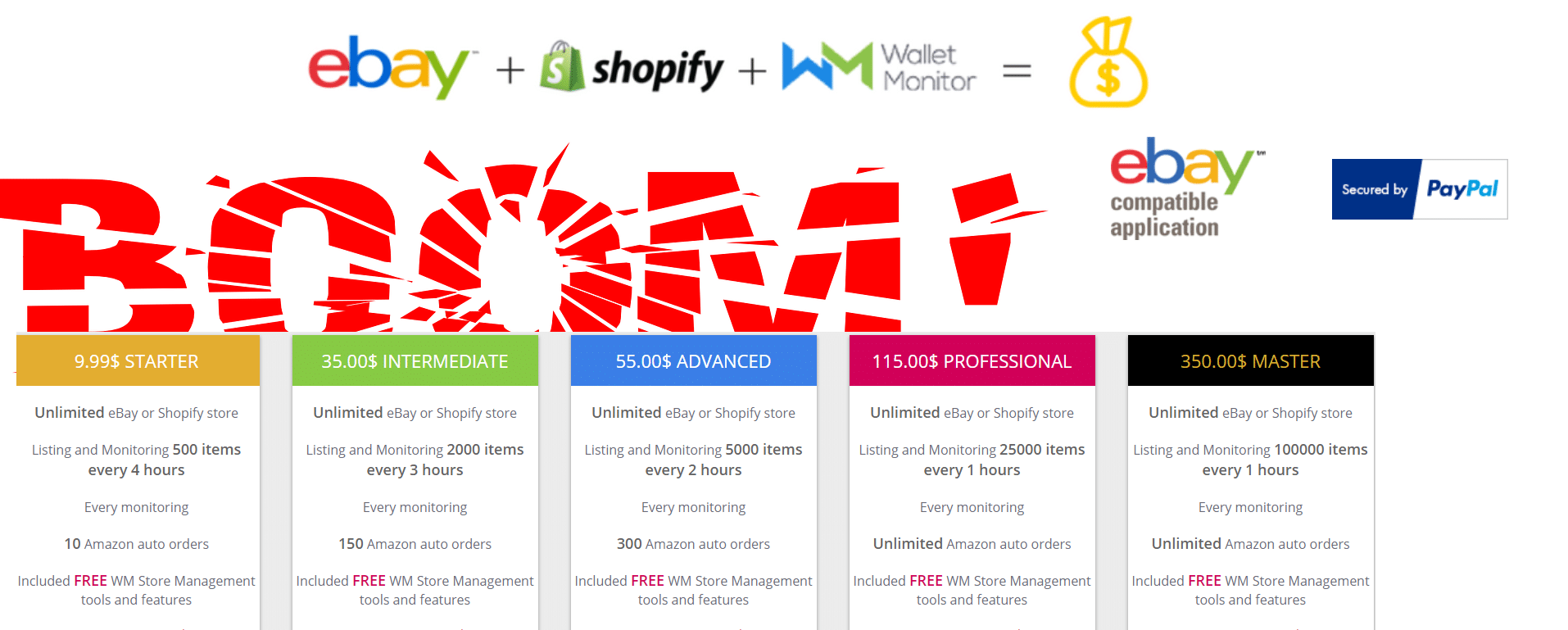 After the 1$ trial period, your plan will renew at 9.99. If you are satisfied with WalletMonitor (WM), you can also choose from other plans that give you more items, orders, and monitoring.
Starting this June, WM Is also launching five new pricing plans. With the Starter plan, you can list up to 500 items on your store, which is updated every four hours.
The Advanced plan is for medium enterprises, helping you list as many as 5000 items simultaneously, which are updated every couple of hours.
Big businesses can go in for the Master plan, which helps you list as many as 100,000 items at one go, all of which are updated every hour. No matter which plan you choose, you get ten free Amazon auto orders, and WM store management tools and features.
WalletMonitor also offers full transparency on its pricing. You always know what you are paying for so that there is never any confusion.
I guess you can give WalletMonitor a try and see how it turns out for you.