Email marketing is still one of the best and cost-effective marketing tools people use to reach their targeted clients.
In fact, for every $1 you spend on email marketing, you can expect an average return of $38.
There are lots of email service providers you can use to send emails most of them are good.
…but when it comes to email open rates – very few email service platform can stand against SendPulse.
And… in today's post, we are going to review SendPulse – a new email service provider that has changed the email marketing.
Before we get into the detail – I would like to tell you that SendPulse is not only an email marketing platform but also offers free unlimited web push notifications and SMS messaging.
What is the SendPulse?
SendPulse is an integrated messaging platform that allows marketers send bulk email, bulk SMS messages and web push notifications.
Using this email marketing tool you can communicate to your subscribers in two ways:
First, you can contact your subscribers through email.
Second, you can reach those through web push or SMS who did not respond to the previous email.
SendPulse maximize your audience reach and engagement with its unique Resend to unopened feature that increases the original open rate by 30-80% depending on the industry.
Furthermore, its email and web push follow-up messaging features increase open rate by over 30%. SendPulse uses Artificial Intelligence technology that will increase these numbers even more.
Why use the SendPulse?
SendPulse is an ideal email marketing tool for small businesses because of its cost-effective prices and functionality.
SendPulse is the only email marketing tool available on the market that uses unique AI functionality. Using this feature it knows when to send the (email, web push, mobile push, SMS). Moreover, to conversion improvement, it optimizes subject and the content of the email.
SendPulse was among the 3 finalists of The Next Web SCALE program of 2016 and was recognized as one of the best startups of 2016 by The Next Web.
To know more about it checks out this SendPulse review below.
#1. Pricing and Plans
SendPulse offers four types of payment plan – based on how frequently and many newsletters you send.
FREE Plan –

If you have less than 2,500 subscribers you can send up to 15,000 emails per month for free.

Monthly subscription (List-based Plan) –

In this plan, you can choose your plan type according to your email lists.
2500 subscribers – $9.85/month

3000 subscribers – $29/month

4000 subscribers – $32/month

5000 subscribers – $35/month

10000 subscribers – $53/month

25000 subscribers – $108/month
Compared to MailChimp SendPulse is a lot cheaper. MailChimp will cost you $30/month for 2500 subscribers and $150/month for 25,000 subscribers.
3 – Pay as you go – If you don't usually send many emails, then this plan would be best for you. Its prepaid email packages give you the option to pay only for the emails you need.
10000 emails – $32

25000 emails – $70

50000 emails – $125

100000 emails – $212

250000 emails – $440

500000 emails – $812
4 – VIP Plan – You'll need this plan only if you have over one million subscribers. In order to activate this plan, you need to contact the sales team.
#2. Getting Started with SendPulse
The registration process of the SendPulse is pretty simple; all they ask your basic contact information (Name, Email ID, and contact number.) As you completed the sign-up process, you'll be presented with this dashboard:
If you have an email list, you can import that list directly to SendPulse.
On the other hand, if you don't have an email list and you want to start building an email list from scratch, you can create a subscription form and add it to your website.
With SendPulse FORM GENERATOR, you can design stunning responsive subscription forms. It's Drag and drop form builder makes the process easy and convenient.
Once you are done the designing subscription form embeds that into your website and it will start collecting the personal information of your subscribers.
SendPulse Features:
SendPulse is a complete email marketing tool and offers lots of useful features that a digital marketer need to run his email marketing campaign.
Following are some amazing features of SendPulse that left me speechless:
Autoresponders –

An automated email that are important to growing your email lists. Every major email marketing service providers offer this feature in their paid plans except SendPulse.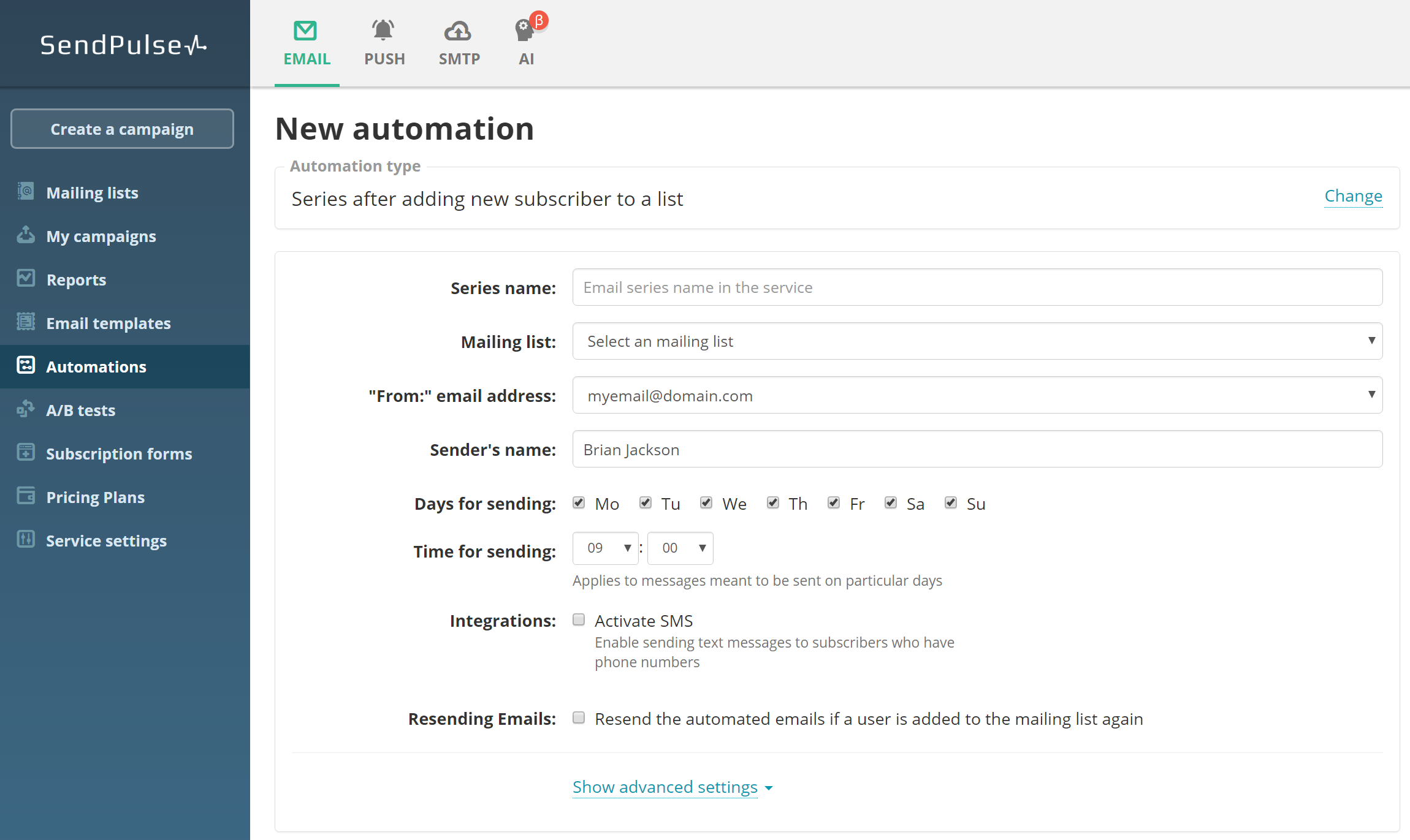 SendPulse is the only ESP that offers autoresponders under its FREE basic plans. So, if you are a blogger who just started blogging and wants to send the automated emails to your subscribers, SendPulse is the best email marketing tool for you.
Subscription Forms –

SendPulse has drag and drop form generator that allows you create professional looking subscription forms within few minutes. Moreover, you can integrate those forms in your website to collect the emails of visitors.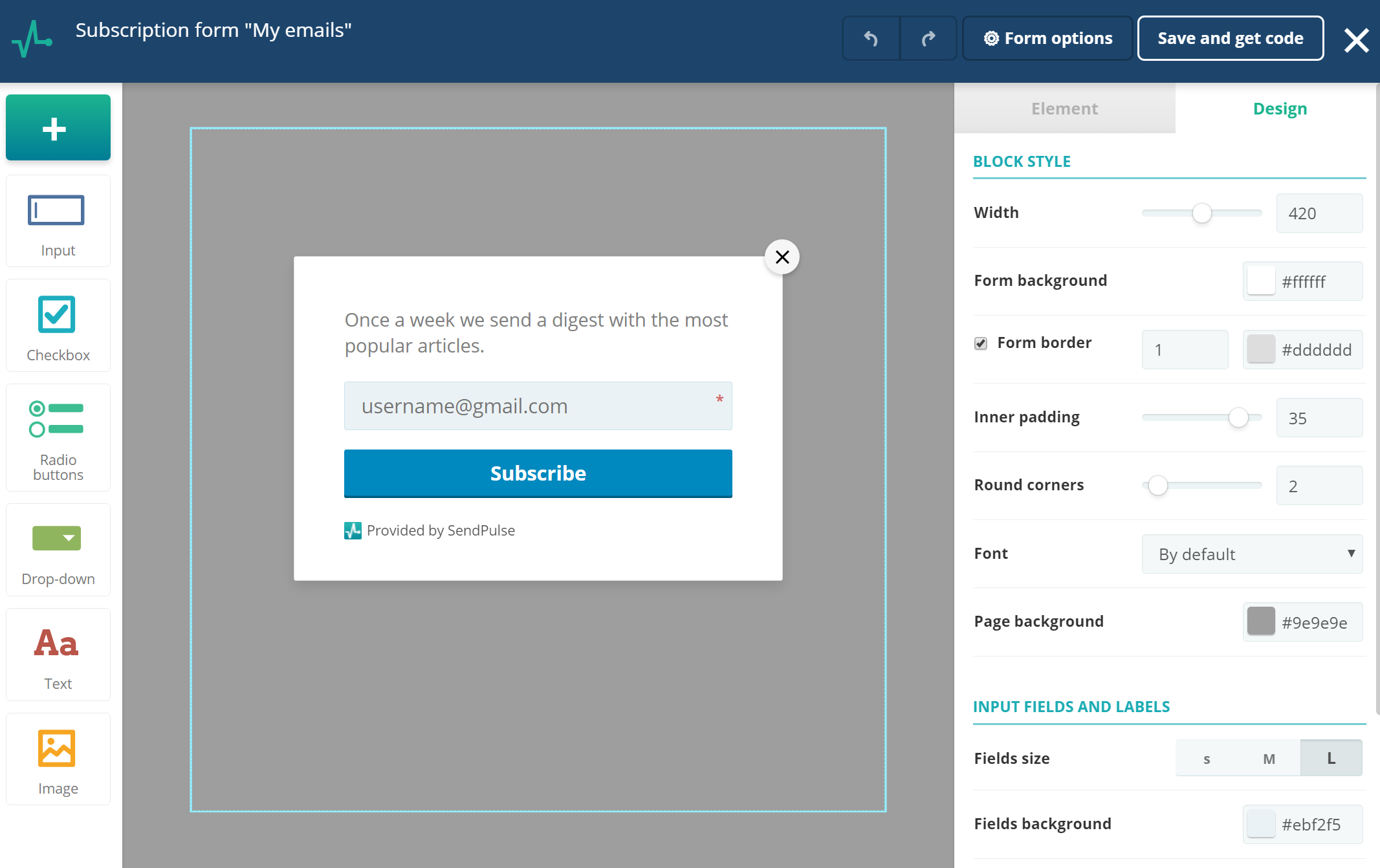 A/B Testing –

It is one of the important parts of email marketing to improve conversion rate. However, most ESPs allow this feature in their paid plan, but SendPulse provides this feature even with the free plan.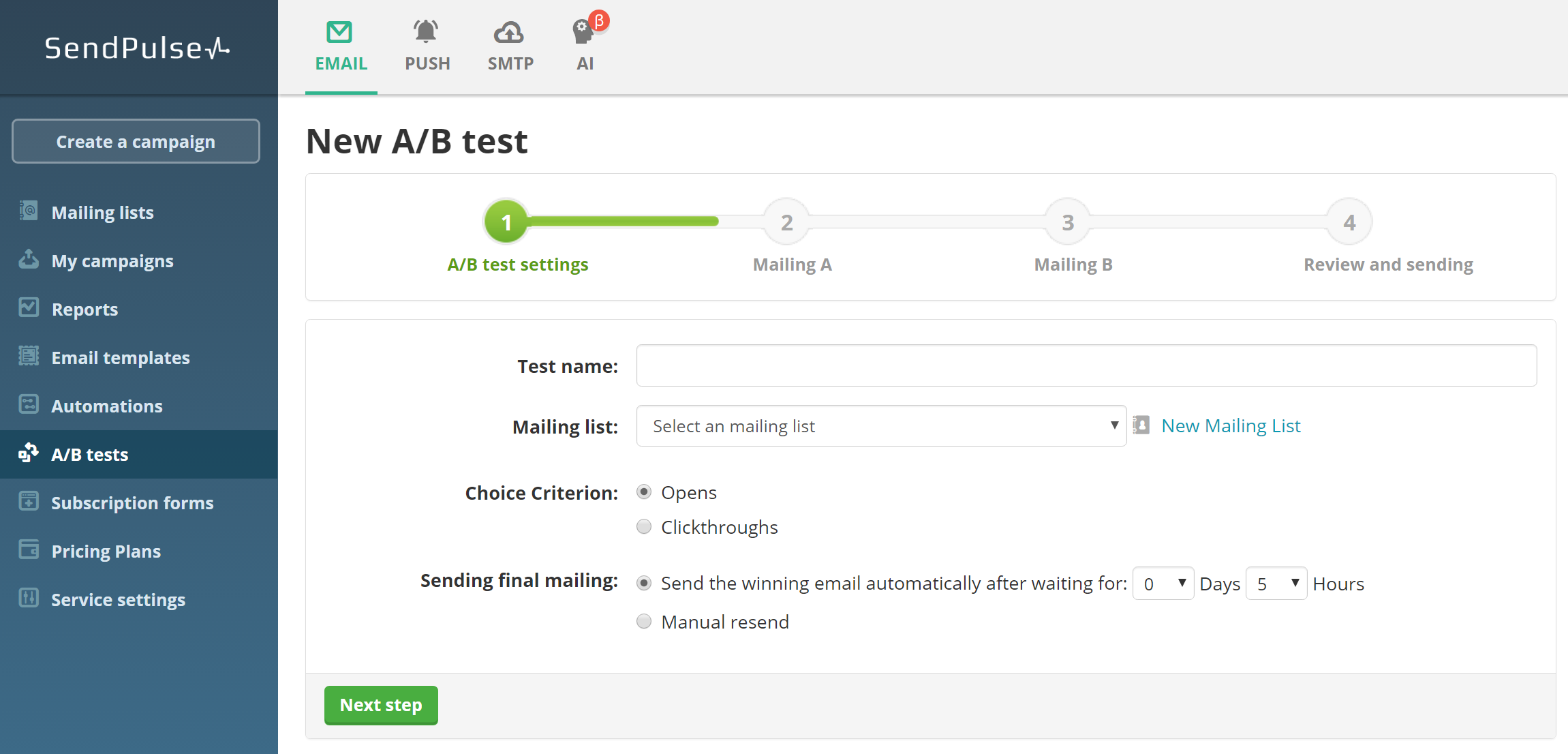 Web-push Notifications –

As we have already mentioned that SendPulse doesn't only provide email marketing but also SMS and push notifications.
Push notification is an awesome feature offered by SendPulse totally free. Using this feature you can create and send customized messages directs to your subscribers even if they aren't right now on your website.
The good thing is – SendPulse won't charge you a penny for push notification feature besides showing a "Powered by SendPulse" label.  
If you don't want the "Powered by SendPulse" label show with your push notification, you'll have to upgrade your account from FREE to paid.
It's an amazing feature that professional bloggers using to grow their audience.
Integrations –

No matter what CMS you are using you can use SendPulse. It is integrated with over 500 services including Zapier, WordPress, WooCommerce, Typeform, etc.

Analytics and Reporting

– In order to make an email campaign successful you must track your email marketing performance and do what is right. By evaluating metrics such as open rate, CTR (click through rate), unsubscribe rate, etc. you can know how your email marketing is performing and where need improvement.
SendPulse provides you the following stats to examine your analytics report.
Open Rate and Click Rate

Click chart

Geographic stats

Statistics by device

Error statistics
Furthermore, you can see these stats on the SendPulse mobile app.
Customer Support
A company's future depends on what types of customer support company is providing to its clients.
And, if we talk about SendPulse customer support – it provides e-mail and telephone support 24 hours a day. In case, if you don't want to wait you can call to their customer support their technical support phone number is +1 (415) 800-2960.
The support team of SendPulse welcomes those who have any suggestions to improve their product.
Along with phone and chat support, SendPulse users have lots of other solutions to solve their queries:
Final Thoughts!
SendPulse is perfect email marketing tool for small and mid-size business owners. It is fast, effective, affordable and most important reliable email marketing platform that offers more than email marketing services (SMS and Web Push.)
SendPulse would be a great fit for bloggers who just started blogging and can't afford premium email service providers.
Go and try yourself SendPulse now it is FREE to try. Let us know what you thought about this SendPulse review as well as your experience with SendPulse.