This is a guest post by Nikolay Stoyanov.
There are basically two main approaches when it comes to search engine marketing: SEO and PPC.
In a perfect situation, company would invest in both of them: you would have a solid boost through paid campaign while waiting for your rankings to kick in.
This is why people usually refer to PPC as a short term solution while SEO is perceived as a long term solution.
Although we usually see SEO as something that brings us longevity, most websites start their optimization by employing an outsourced company.
Having your own team is oftentimes expensive, it takes a lot of time to educate people and you need to micromanage the process.
Nevertheless, even though outsourced SEO work seems ideal there are certain obstacles and risks that need to be considered.
This is why I wrote this article in order to help you out determine whether outsourced SEO is the thing for you.
Let's begin with the advantages.
Pros of outsourcing SEO
#1. Outsourcing is cheap
The main reason why anyone would outsource anything is because of the price.
Ability to save money on wage almost forces you to move a factory, to outsource production or service.
So, why is this even possible in the first place? Will there be any difference in product or service?
While different countries have different practices when it comes to business, globalization and internet allow foreign companies to adapt their processes in order to work with other organizations.
Everyone speaks English and is able to get same type of knowledge.
This is especially noticeable within SEO field. In fact, most of the top SEO experts taught themselves on the Internet without having to go through any standard education process.
In theory, this means that you can get the same or at least similar service from anywhere.
#2. In-house SEO takes your time
Even though I don't have anything against in-house SEO, it can pose quite a burden for a new company.
As a website owner, you need to control this process and make sure everything goes smoothly.
It becomes even worse if you have to educate people yourself.
Have in mind that in-house team will usually be more expensive.
If you're hiring people from your country, it is necessary to pay them country average.
If you hire an outside team to work with you on a permanent basis, you will again have to pay a bit extra as nobody wishes to be tied up.
Ideally, you should pay an outsourced agency that will work on a part-time basis.
This allows outsourced company to have additional projects besides yours and allows you to save some money.
For better or worse, you won't have that much control of outsourced company in comparison to your own team.
Even if you wanted, you won't be able to spend that much time checking their data and backtracking their actions.
#3. Instant solution
Sooner than later, it is best to have a dedicated company working for you or to have your own team.
Unfortunately, SEO cannot wait.
Whether you invest in SEO or PPC, you need to start making impact immediately.
This is especially important if you only have one source of revenue and you require profit to make living
If you start outsourcing SEO immediately, this means (whether outsourced company is good or bad) you will at least get some organic traffic and your website will start moving forward.
 #4. Outsourced teams are usually experienced
When you form a team from scratch, there are a lot of hurdles along the way.
It becomes even more difficult if your SEO team needs to cooperate with content creators and SMM team.
In time they will definitely grow together but the question is; can you wait for it?
Outsourced teams are usually experienced and their team members have worked on various projects.
All you have to do is give them an assignment and they will be able to do perform a task very efficiently.
Also Read: SEO Content Writing Tips
Cons of outsourcing SEO
#1. Quality of a company
Unless you've tracked a company making sure they're efficient, there is no way of telling how good they are. Yes, you might save some money but this will be irrelevant if delivered service is worthless.
In most cases, website owners make a mistake and are too hasty when hiring an SEO company. This can come back to bite them.
It is necessary to determine whether a company is worth the money. This is one of the main problems with outsourcing: you cannot be certain whether low price is a result of bad work or ability to provide cheap labor.
#2. Lack of control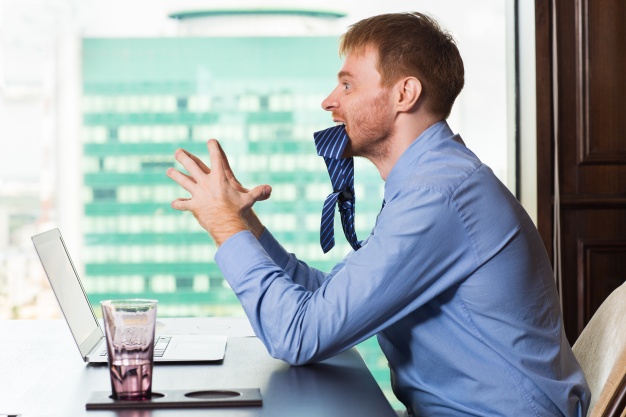 Ok, there are obviously pros and cons to having no control over the process.
First, you can obviously save some time and focus on other things that will help your website. This can reduce the stress and allow you to reduce multitasking.
Unfortunately there is a negative side to relinquishing control.
Although you will probably get the service you required (exact number of links or exact number of articles) there is no way of determining how good they are until put into practice.
In fact, SEO can be rather tricky as you give important company data to a person you've seen once in your life. Lack of control can lead you to a bad path and can even get you in trouble with Google.
I've seen a lot of cases where company gets penalized due to bad SEO practices.
#3. Low conversion
Here is another common issues with outsourced SEO.
Most SEO experts focus on task they've been given. They are not interested in your profit and sales.
Instead, they focus on providing links or whatever service they've been tasked with.
If you have your own in-house team, this can easily be prevented.
Your SMM team and SEO team will work together and will be able to provide results that will maximize your sales.
This is very important nowadays as SEO is no longer about links or on-page optimization.
The profession has become very complex and in order to do it properly, you need to consider everything.
#4. Restrictions
Unlike your own in-house team, outsourced SEOs are prepared to take shortcuts.
For example, your employees probably won't do things that will harm the company as this is the company where they work. In comparison, outsourced agency will have more liberty.
In the end, even though you pay for their services, you are nothing more than one of the clients.
This means they might use some black hat SEO or something else that can have a negative long-term impact on your website.
Conclusion
As I said, having an in-house team is ideal. You will have people who are 100 % dedicated to the company and will work in order to improve organization's profitability.
Compared to that, outsourced SEO is great for the initial phases.
However, you should definitely consider outsourced SEOs as a future in-house team.
If you're satisfied with their results, you can give them a more permanent contract and make them a part of your organization.
This is also a very good solution as it saves you a lot of time for educating your team.
Author Bio
Nikolay Stoyanov is the founder of NikSto.com and a well-known Bulgarian SEO expert with over 8 years of SEO experience. He's a huge fan of Brian Dean and a proud graduate of his SEO That Works online course. He practices 100% white hat SEO techniques and has a vast experience in keyword research, on-page optimization, SEO auditing and link building. Nikolay enjoys learning new things, making new friendships and improving his skills all the time.