How to Make Money Online for Free Without Investment (From Home)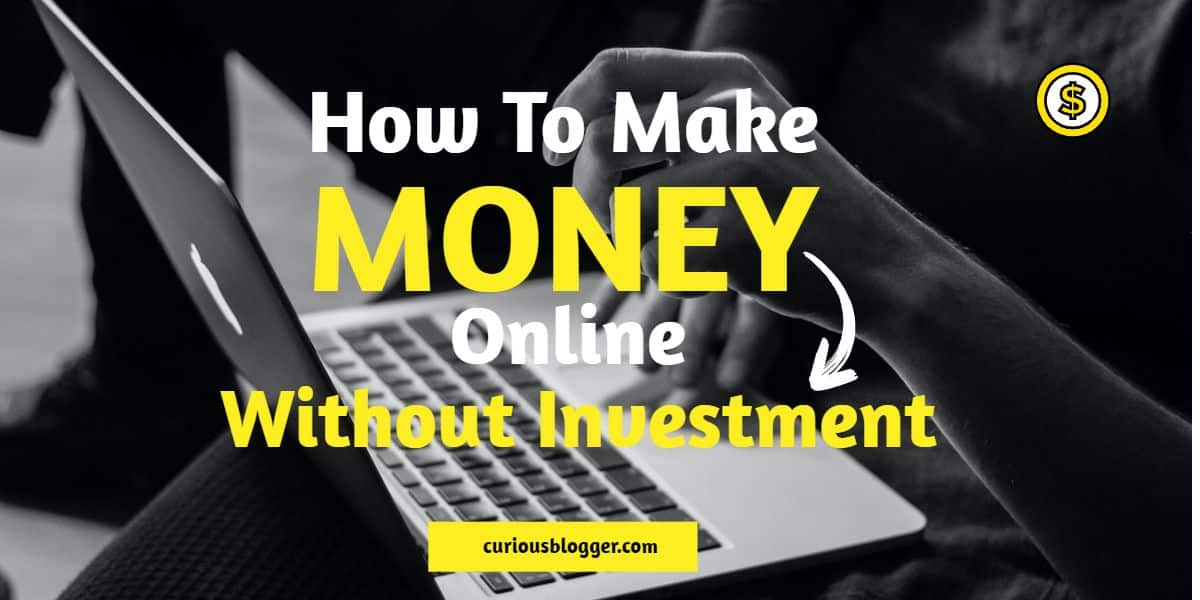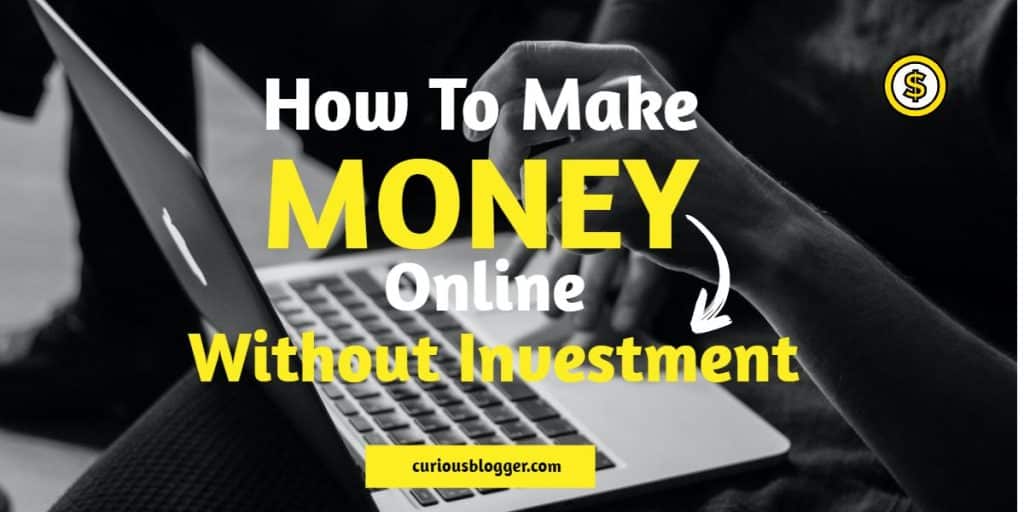 Want to learn how to make money online for free without investment? You've come to the right place.
Today, I'm going to share some real ways to make money from home for free.
These methods will help you make money online in 2023, whether you're a student or want to skip your 9-5 job and live life on your own terms.
Let's get started
How to Make Money Online Without Investment (Sitting at Home)
There are hundreds of online money-making sites that claim to help you earn money online.
But… are they legit?
Actually, not.
I've seen people losing money from such fake online money-making programs and earning nothing.
You should stay away from such online money-making schemes.
But… how?
Don't worry I've got your back. Here I'm sharing how to earn money online in legit ways without wasting time.
Sell your skills on Fiverr
Fiverr is a micro freelance website and one of the best ways to make money online for free.
If you are good at something you can sell it here. For example – if you are a writer you can offer writing services, and if you design you can sell designing, logo making services, etc.
Put it another way:
Fiverr is the best marketplace to sell your skills and earn money from home.
Getting started with Fiverr is easy, simply sign up and create your gig for the service you want to offer, and done.
I'd suggest you browse the marketplace and see how people are describing their services to get an idea. You may find many other ideas to make money online without investment.
The good thing is:
Fiverr is a completely free and legit online money making platform, where people are making thousands of dollars selling micro-jobs.
CoinTiply is a micro job marketplace where you earn money by doing small activities like:
Play games
View Ads
Filling surveys
Install Ads
Watch videos and make money
You can earn Bitcoin, DOGE, LTC, and DASH by doing things that you love to do online.
They pay you in Bitcoin, which you can encash through Bitcoin exchange.
You'll get 1000 FREE coins as soon as you sign up.
Become a Transcription Freelancer
Becoming a transcription freelancer is another legit way to make money online without investment.
The growing popularity of video content and podcasts have increased the demand for transcripts.
Transcription is the process of converting audio or video recordings into written text. Companies are always looking for transcriptionists to transcribe their recordings, and they're willing to pay for them.
There are freelancing sites like Upwork, Fiverr, and rev that let you earn money from home with transcription gigs.
All you need to do is sign up with a freelance transcription site and complete the transcribed recordings assigned to you, and get paid for your time.
It's an easy way to make some extra cash without having to invest anything upfront. Plus, you can work from the comfort of your own home and set your own hours.
Become a Virtual Assistant
Becoming a virtual assistant is another legit way to make money from home. People around the globe hire virtual assistants to help them to perform specific tasks for them. These tasks could be:
Sending emails
Doing research online
Blog commenting
Data entry job
A virtual assistant can earn somewhere between $2-$10 per hour doing some easy online tasks.
For anyone who is looking for quick ways to make money online sitting at home, VA is a good option to consider. You can use freelance websites like Fiverr, Upwork, and Freelancer to find virtual assistant gigs.
Content is king when it is of high quality and provides value to the readers. Bloggers and webmasters need original articles to fuel their blogs.
If you're good at writing you can sell them your article writing service. A good writer charges somewhere $1-$5 per word – and it can go beyond that if you are an expert.
Article writing is the best way to make money online without paying anything.
Here is the list of website that pays for writing:
Freelancer
Fiverr
Upwork
Problogger Job-board
PayPerContent
Crowd Content
You will get an article outline and keywords to write content.
Freelancing is one of the legit ways to make money from home. Whether you are good at logo designing or a social media geek, you can make money online by freelancing.
You just need to figure out what you are good at, and you can offer that service to others and make some easy money without investment.
A freelancer can work from anywhere, anytime, according to his schedule. Just sign up with any freelancing jobs sites like Upwork, Guru, Fiverr, etc. Complete your profile and apply for a relevant category, and you're good to go.
Each freelancing website has its payment schedules and terms of conditions that you need to check when registering an account on them.
Suggestion – Fill in every information they ask in your profile and also mention your previous work as proof. Ask for a positive rating after task completion. It will increase your profile's credibility and trustworthiness.
If you're a beginner to freelancing, you can check out others' freelancers' profiles to learn how they positioned their services.
Blogging is still profitable and one of the best ways to make money on the internet legally.
If you are passionate about something and want to share your thoughts with the world, you should start a blog. Bloggers are making thousands of dollars with their blogs.
For example:
Adam Enfroy, a former affiliate manager who started blogging in 2019 made $281776 in June 2021 according to his blogging income report.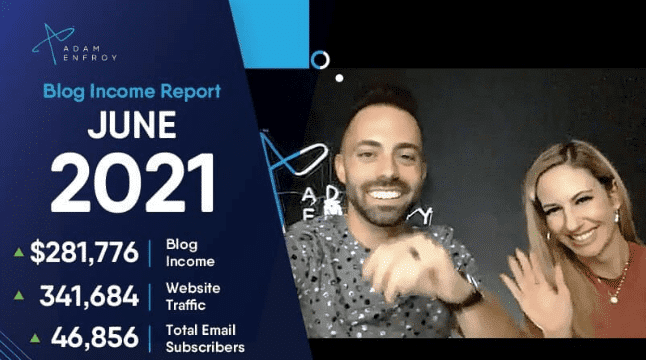 However, it took him around 2 years to reach this level of success – but it doesn't mean that you can't do it.
Getting started with blogging is easy, all you need is a domain name, and hosting to make your blog live.
If you pick a good blog niche, you can start earning within 2-3 months. The success of your blog depends on how much time and work are ready to do.
Here is a step-by-step guide on:
People are making money online for free by uploading videos on YouTube. Anyone can earn money online with YouTube. You don't need a fancy video camera and gadgets to be a YouTuber.
You can simply record anything you're good at and upload that video on YouTube and monetize it with Adsense.
Here is a helpful article that will help you get started.
Your smartphone video recorder can do wonders. Simply record some good moments and use free online video editors to edit them before uploading.
Travelers can record their journey moments. If you're good at the cooking, record and upload cooking videos to your cooking YouTube channel and enable ads on them.
Guest posting is still one of the effective link-building activities that help in search engine ranking. You can make easy money online from home by publishing guest posts on high-quality websites.
You can offer guest posting services to others if you have some high-quality websites.
You can charge somewhere between $25 – $500 per guest post, depending on the website's quality.
The only skills you'll need are writing and having connections to submit guest posts on popular websites. 
Affiliate marketing is the best way to make money online from home without investment. You can do affiliate marketing with blogs, social media platforms, and even your YouTube channel.
To start affiliate marketing you need to find a product and promote it on the medium that you think your audience would hang out. You can find high-commission products here:
Commission Junction
Impact
If you do affiliate marketing the right way, you can earn thousands of dollars from home without investing something.
Bitcoin and Cryptocurrencies
Cryptocurrencies are not going anywhere soon – and going to stay here.
In the past decade, bitcoin and cryptocurrencies have seen huge growth and they will grow similarly to other online businesses.
I've met people in my contact who have made a good amount of money through bitcoin and cryptocurrencies.
You can find detailed information online about bitcoins. I'd suggest you learn about cryptocurrencies before investing in bitcoin and cryptocurrencies.
If you do it the right way you can make a lot of growth within a short period.
Remember, investing in cryptocurrencies can be risky and you might lose money, but if you do some research you can make good money with it.
This is the most popular and crazy way to make money online for beginners without investing anything. Here's how these online surveys work:
Most online survey companies pay internet users to ask their opinions about products and services which they want to survey. They offer free products and services to users to try and share their experiences.
If you're thinking of making money with online survey jobs, try to register with only trustworthy survey companies.
Here are a few survey websites you can start with:
Make sure you read the terms and conditions before registering because most companies only want participants from specific countries like the U.S. or Canada, etc.
I'd suggest you consider online survey jobs as the last way to make money online free, as finding good survey websites is hard – and there are many fake online survey sites that don't pay.
People pay websites for placing their ads on them. If you have a website you can rent ad spaces on it and make money online for free.
There are forums and social media groups where you can contact such users who are looking for advertisements.
However, it is a time-consuming task and you won't make more money, but use this strategy to survive until your blog's organic traffic is increasing.
You may also sell your website or domain – if it is making some money.
Teaching or Tutoring Online
There are several types of online teaching or tutoring jobs available, depending on the platform or company you choose to work with.
Here are a few examples:
One-on-one tutoring: As an online tutor, you work one-on-one with a student, providing individual instruction and support.
Work with groups of students: Some online tutoring jobs involve working with groups of students simultaneously.
Subject-specific tutoring: Online tutoring jobs in some subjects, such as math, science, or foreign languages, are subject-specific.
Skills-based tutoring: In addition to traditional academic subjects, there are also online tutoring jobs that focus on teaching specific skills, such as coding, music, or test prep.
Developing and delivering a course: Some online teaching jobs require the development and delivery of an entire course.
You can find a variety of online teaching and tutoring jobs. These are just a few examples. Some platforms or companies offer a combination of these options or offer unique services.
Both VIPKid and Preply are online platforms for connecting teachers and tutors with students who need personal attention.
Selling Physical Products Through Dropshipping
Dropshipping is another legit way to make money online from home.
As a dropshipper, you sell products, but rather than handling inventory or fulfillment, you partner with a manufacturer or supplier who ships the products directly to customers.
Here's how dropshipping typically works:
The seller selects a product or products to sell and creates a listing for them on their online store or platform (such as eBay or their own website).
When a customer orders the product, the seller processes the order and payment through their online store or platform.
The seller then contacts the supplier or manufacturer and provides them with the customer's shipping information. The supplier or manufacturer then ships the product directly to the customer.
The seller receives a profit from the sale, which is typically the difference between the wholesale price of the product and the retail price at which it was sold.
Here are some steps you can take to find dropshipping suppliers and set up a dropshipping store:
Research your options: Many manufacturers and suppliers offer dropshipping services. To find dropshipping suppliers, you can search online or contact manufacturers or wholesalers directly. If you are considering working with a supplier, make sure to research their reputation and reliability.
Choose a niche: When starting a dropshipping business, it can be helpful to focus on a specific niche. In this way, you can focus on a specific market and narrow down your product offering. Choose a niche based on your interests, expertise, and market demand.
Set up your online store: To sell your products, you will need to create an online store or platform. Several options are available, including Shopify and WooCommerce. Pick the platform that meets your budget and needs based on its features and costs.
Create product listings: Once you have chosen your products and set up your online store, you will need to create listings for each product. Be sure to include high-quality photos, detailed descriptions, and accurate pricing information.
Develop a marketing strategy: Develop a marketing strategy to get customers to your store. You can use social media advertising, email marketing, SEO, or content marketing.
Offer excellent customer service: Providing excellent customer service is important in any business, but it is especially important in dropshipping where you have less control over the product fulfillment process. Make sure to communicate clearly and promptly with customers, and be prepared to handle any issues that may arise.
By following these steps and focusing on finding a unique niche, creating a strong marketing strategy, and offering excellent customer service, you can set yourself up for success in the dropshipping business.
In conclusion, there are many different ways for beginners to make money online for free or with little investment.
From freelancing and selling products or services to affiliate marketing and blogging, there are options for a wide range of interests and skills.
For example:
Platforms like VIPKid and Preply offer opportunities to teach or tutor online, while dropshipping allows you to sell physical products without having to invest in inventory upfront.
By doing your research and choosing the right method for you, you can start making money online with little or no upfront investment.
Don't be afraid to try out a few different methods to see what works best for you – the key is to stay motivated and be willing to put in the effort to succeed.
So, don't wait any longer – start exploring these opportunities and take the first step towards making money online today!
Additional read: