7 Best AI Story Generator Tools in 2023
These are the best AI story generator tools in 2023 to write creative stories, navel, and fictions.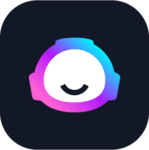 Jasper is our top recommendation for artificial intelligence story generators online to write engaging stories. Ai generated stories from Jasper will leave you speechless.
AI Writer with Unlimited Words
Shortly AI is the best AI generator online that doesn't bound you in word limits. It lets you create compelling and original stories fast.
Best Jasper AI Alternative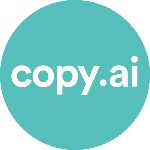 CopyAI is a great AI story writing assistant and can write 90 types of content easily. You can write creative stories, ad copies, blog posts, and more with it.
We are reader-supported. When you buy through links on our site, we may earn an affiliate commission.
If you're a fiction writer you already know the challenge to find interesting ideas for your next stories and novel.
Storytelling we do naturally. We tell stories about our lives, our families, our loves, our work, our failures and even about our pets.
But what happens when you want to write a story?
There are many ways to write stories. Some involve writing down random words and seeing where it takes you. Otherwise you can take the help of an AI story writing assistant to do the research and create content for you.
There are many AI story writing generators online which can write stories for you or come up with cool novel topics.
In this article, I have ranked and reviewed five best AI story generator tools online that you can use to write compelling stories.
Let's dive in:
Best Ai Story Generator Tools
What Are the Best AI Story Generator Tools?
After extensive research, here are my top five best AI story writing tools online, I'd recommend.
Jasper AI is the most powerful AI story generator for authors. The GPT-3 powered AI writer uses artificial intelligence and NLP to generate human-like text including short stories, novels, and even books.
The best part? You don't need to know anything about writing or storytelling to use it. Just tell it what you want it to do, and let it take care of the rest.
Quick note: Jasper team has recently launched Creative Story – a FREE template designed to help you write captivating stories really fast.
So make sure to check out this amazing tool from here.
Create long-form content
Jasper commands
Create 100% original content
25+ supported languages
50+ copywriting templates
Chat support and live training
Surfer SEO integration
Starter – Get fresh ideas 5X faster with over 50 proven templates.
Boss Mode – Create long-form content, such as blogs, reports, emails, and stories.
Recipes – Create a SOP or framework that Jasper can follow.
25+ Languages – Jasper can read and produce intelligent content in any language.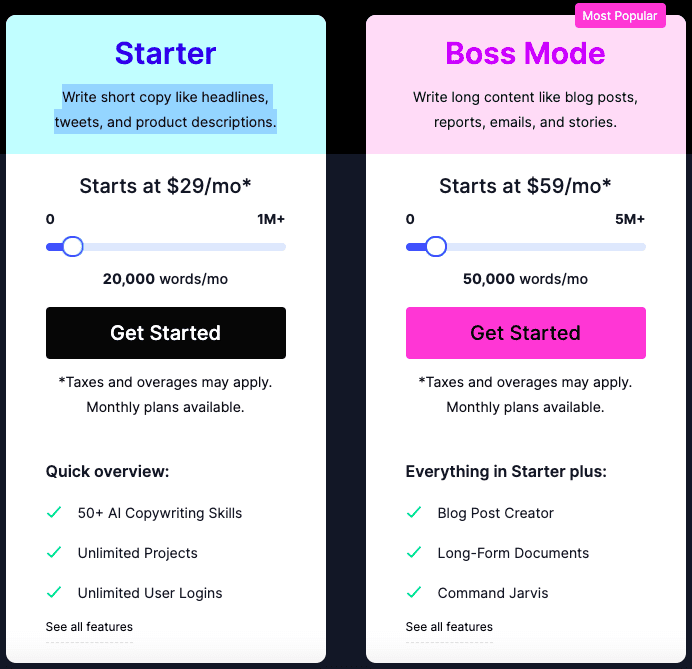 Jasper AI offers two pricing plans. You can check out the detailed Jasper Ai pricing plans to know more.
Starter Plan: The plan starts at $29/month. With this plan you get 50+ AI copywriting skills, unlimited projects and unlimited user logins.
Boss Mode: This is the most recommended plan that starts only at $59/month. With this plan you can generate up to 50,000 words.
Looking for a free trial of Jasper? Try the link below to use Jasper tool FREE for 5 days with 10,000 word credits.
If you're not satisfied with Jasper AI's performance, you can get a full refund within 5 days. Check out this Jasper AI review to learn more about Jasper AI.
Shortly AI is the best AI story generator tool with no word limits.
This online novel AI software allows you to choose from different templates and gives you unlimited usage of words.
With ShortlyAI you can write creative stories, novels, horror tales, and other types of content without worrying about the credit limits.
Shortly AI will automatically generate a creative story based on the text you provide.
You'll also receive feedback on whether your story is good enough or needs improvement. So, you can keep tweaking it until you get a perfect story.
ShortlyAI works on both desktop computers and mobile devices. It supports Windows, Mac, Android, iOS, and Blackberry operating systems.
So, why wait anymore? Sign up today and start creating amazing stories!
Here are some amazing features of Shortly AI writing assistant:
Automatically generates content
Unlimited word limits
Create original content
Can write blog posts, novel, and stories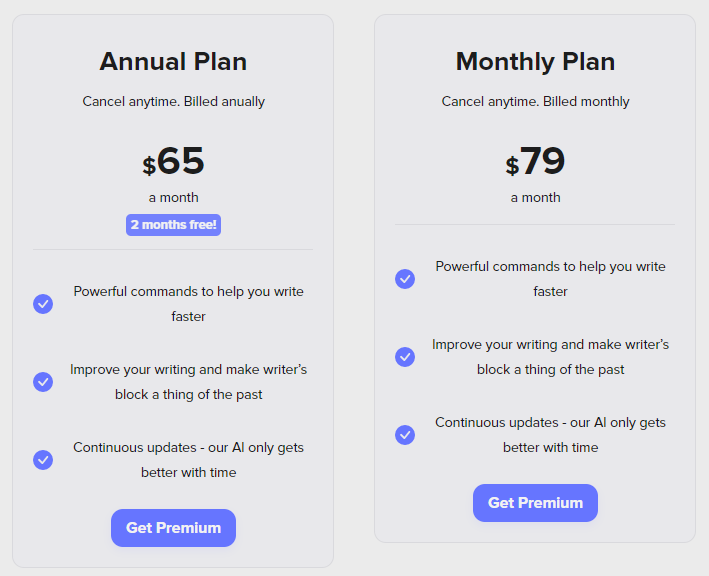 Shortly AI offer two pricing plans:
Monthly plan: The plan starts at $79/month. In this plan you'll get to ShortlyAI commands to write content automatically.
Annual plan: The plan starts at $65/month (billed annually). In this plan you'll get ShortlyAI commands and continuous updates from ShortlyAI.
What else are you waiting for? Use the following link to try ShortlyAI today!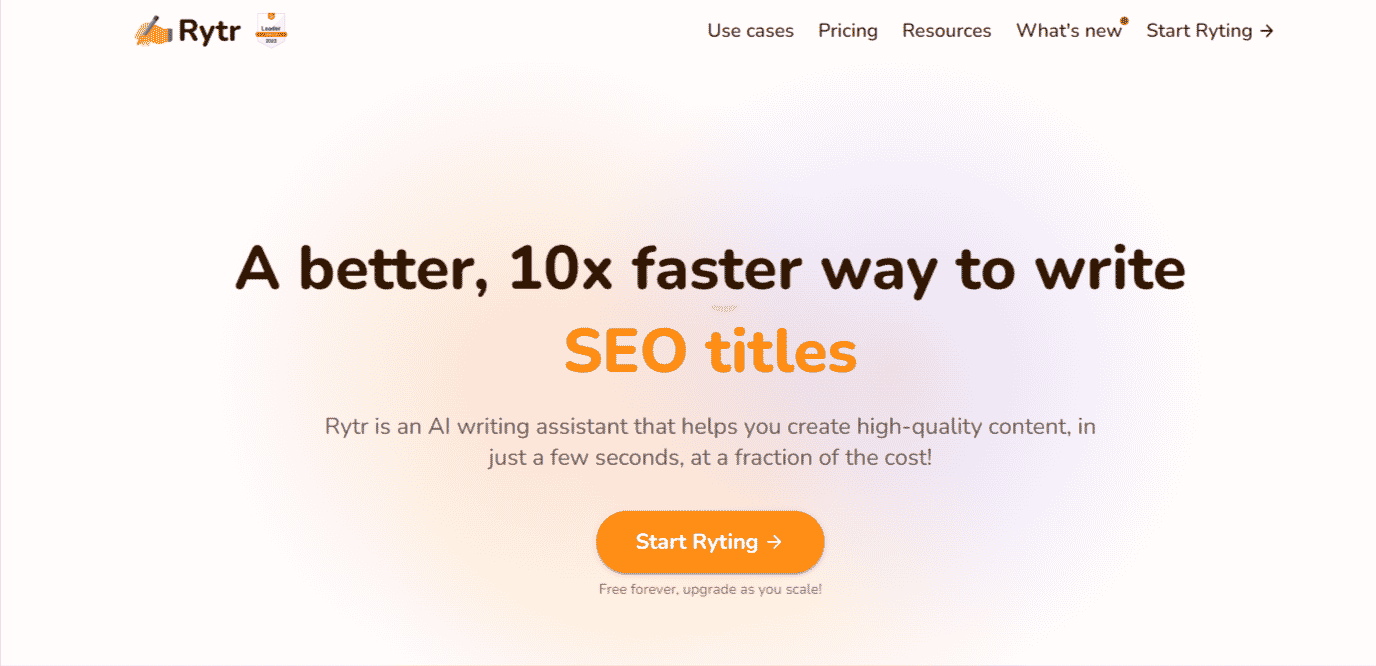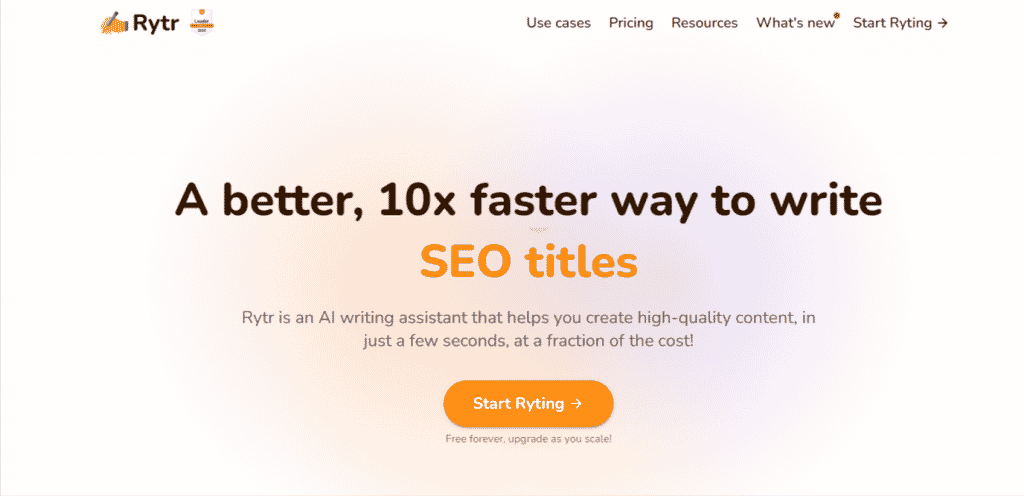 Rytr is another popular AI writing app that lets you easily generate great content. With Rytr automatic short story generator you can create some great content without investing a lot of time.
Rytr offers 38 use cases that allows you to create a variety of content including long-form blog posts, social media posts, emails, social media posts, etc.
The feature that makes it different from other AI story generator software is – it is the only AI story writer that lets you create content in Hindi.
You can check out this Rytr review to learn more about this tool.
38 helpful use cases
Supports up to 29 languages
Advanced texting options
Quick chat and support
Offer in-built plagiarism checker
Access 20+ writing tones
Rytr offer three pricing plans:
Free Plan: This is a perfect plan if you're just starting out with AI writing tools and looking for a free option.
Saver Plan: The plan starts at $9/month. With this plan you can generate 50K characters.
Unlimited Plan: The plan starts at $29/month. This plan is great when you want to generate unlimited characters per month.
Copy AI is one of the best short story generators with specific words that helps writers generate interesting stories and copy automatically.
Additionally, you can easily create compelling headlines, descriptions, blogs, articles, press releases, and even sales letters.
You no longer need to worry about coming up with great headlines, descriptions, or ads because Copy.ai does everything for you.
Once you're done creating the content, you can preview it and edit it as needed. If you don't like something, just change it and preview again.
This way, you can make sure that everything looks good. After you're satisfied with the final version, you can save it for use.
You can also upload your content to social media sites directly from Copy AI. Let your audience know what you wrote today by sharing the link to your content.
Use cases for bloggers, email marketers, and content marketers
Content templates
Can end writers' block
Can write anything from headlines, blog intros to descriptions, etc.
Get 100 free credits after sign up
Can access 90+ content templates
CopyAi offer three pricing plans:
Free Plan: With free plan you get 10 credits/month and 100 bonus credits as a sign up gift.
Pro: The plan costs $35/month. In this plan you'll get unlimited credits that will let you create unlimited content in 25+ languages. You'll get access to the premium community.
Team: This plan offers custom pricing plans where your team can write stories in 25+ languages. You also get all features of Pro plan.
Novel Ai is a GPT-powered AI storyteller that writes human-like thrilling tales, unique stories, and interesting plots fast.
The AI story writer is trained with an AI model that quickly adopts your inputs, moods, and style to produce creative content that your audience likes. Moreover, by using the AI modules, you can create your own theme or replicate famous story writers' writing style.
Whether you're a hobby writer or a professional one, NovelAI will fuel up your mind with creativity with its real literature trained AI models. The UI of the NovelAi is eye pleasing and will let you play with your words.
GPT-3 powered AI story generator
Advanced AI TTS voices
AI image generation
Custom AI module training and image generation
NoveiAI offers four plans:
Paper – Its free trial (with limited features)
Tablet – Starts at $10/mo
Scroll – Starts at $15/mo
Opus – Starts at $25/mo
Overall, NovelAI is the best AI novel writing software that can bring out your real fanfiction writer inside out. Since it offers a free trial, then there is no harm checking it out.
AI-writer is another best story writing AI tool that lets you create content from just headlines. This AI writing software allows you to create any type of content including blog posts, SEO-friendly text, and unique original content.
Using AI-Writer you can create a full content draft in minutes.
You'll never have to worry about creating quality content again because it takes care of everything for you.
Here are some of the features of AI-writer:
Create any type of content ranging form blog posts to SEO-friendly text
Easily add images, videos, quotes, and webpages into your content
Add custom formatting such as bold, italics, bullet points, and much more
Write automatically blog descriptions based on what you've added
AI-Writer offers three pricing plans:
Basic plan – The plan starts at $29/mo. With this plan can generate up to 40 articles including SEO editor, text reworking and API access.
Standard plan – The plan starts at $59/mo – where you get all features of Basic plan and can generate up to 150 articles.
Power plan – The plan starts at $375/mo – where you get all features of Standard plan and can generate 1000 articles.
ClosersCopy is another amazing Ai story writing tool that kills writer's block and lets you write amazing content in a few minutes.
With ClosersCopy you can write long-form stories, novels, headlines, songs, eBooks, and more with ease. Its powerful framework lets you choose the type of content you want to generate with it.
Moreover, if you want to write SEO optimized content for your blog or website, then ClosersCopy is worth checking out.
Powerful AI writer
SEO Audit
SEO Planner
Framework
Email Support
CloserCopy offers three pricing plans:
Power – Starts at $49.99/mo
Superpower – Starts at $79.99/mo
Superpower Squad – Starts at $99.99/mo
Overall, CloserCopy is an easy to use AI short story maker that can reduce your writing efforts.
What is an AI Story Generator?
An AI story generator is an Artificial Intelligence-powered tool that helps writers/storytellers to come up with ideas for new stories or novels, and creates those stories automatically.
These tools are trained with artificial intelligence, machine learning, and other algorithms that take inputs from users and generate new story ideas.
The natural language processing analyzes data from previous story prompts and generates new story concepts according to that.
How Do AI Story Generators Work?
A recent study found that people who read stories generated by AI were just as engaged as those who read traditional stories. This is likely because the plot of a story is not as important as we think it is.
The characters, setting, and other elements are what really matter to readers. As long as these elements are well-developed, readers will be satisfied with the story, regardless of how it was created.
AI story generators use machine language and artificial intelligence to translate written input into longer texts like stories, novels, etc., and then output those texts.
Usually, you'll provide some sort of prompt (text) relevant to the story idea you're trying to write about. Then, the AI story generator will generate the relevant text for you.
You can choose what type of story you want to write, such as a short story, novel, screenplay, song, poem, etc.
Here's how it works:
A writer provides a few keywords or phrases corresponding to the story he wants to write about.
For example, let's say we want to write a short story about a person named "Jhonson ." We might ask the AI story generator software questions like:
What does Jhonson do?
What is his occupation?
Who is his best friend?
Where did he go to school?
We could ask similar questions about our main character, and the AI story generators will start writing content for you.
Should You Use AI Story Writing Software?
AI software is getting better and better at writing stories, but there are still some things that it can't do. For example, AI-written stories lack originality and tend to be formulaic. They also often contain errors that a human writer would catch.
So, if you're looking for something truly unique or error-free, you're better off sticking with a human writer. But if you want a large volume of content quickly, AI story writing software can be a helpful tool.
Additionally, there are also potential drawbacks that you should be aware of before making the decision to use this type of software. These include a loss of control over your story, possible errors in the generated text, and a lack of creativity.
Ultimately, whether or not you decide to use AI story writing software is up to you and what you feel comfortable with.
FAQs | AI Story Generator Tools
If you're still doubtful about using AI story generator tools, I totally get it.
You might be thinking, "How can a machine know what kind of stories I want to write?" or "Won't the results just sound like gibberish?".
But I can assure you, these machines are getting smarter every day and they can save you a lot of time and increase your productivity.
Out of all the AI writing tools out there, Jasper is my favorite because it offers the most helpful features for fiction writers.
So if you're ready to try out an AI writer, give Jasper a go.
And, then let me know which AI story generator tool you used first and how it went in the comments below!