This is my super in-depth review of Rytr App.
In this review, I'll break down every aspects of Rytr, including:
Rytr features
Plan and pricing
Pros and Cons
What the tool does?
This Rytr review will help you decide whether you should purchase Rytr or not.
Let's start away:
Like so many other AI writing software, Rytr is powered by artificial intelligence (AI), allowing it to automatically create content for you.
However, unlike others, Rytr also offers additional functionality such as plagiarism detection and copy/paste formatting automation.
Over 750,000 people including bloggers, marketers & entrepreneurs around the globe use Rytr for content creation.
Rytr is a web application that allows you to write anything online. You just input the keyword that you want to write about, and it does the rest.
Instead of spending hours manually writing unique content for each site, why not let Rytr do the work for you?
If you run a blog, review site, or even a personal portfolio, there is probably something about your content that needs improvement. This is where Rytr comes into play.
How to Get Started with Rytr?
Creating content with Rytr is SUPER easy. Let's see how to get started with Rytr.
Step 1: Choose a language from the drop-down menu.
Step 2: Set your content tone.
Step 3: Choose the type of content you want to create.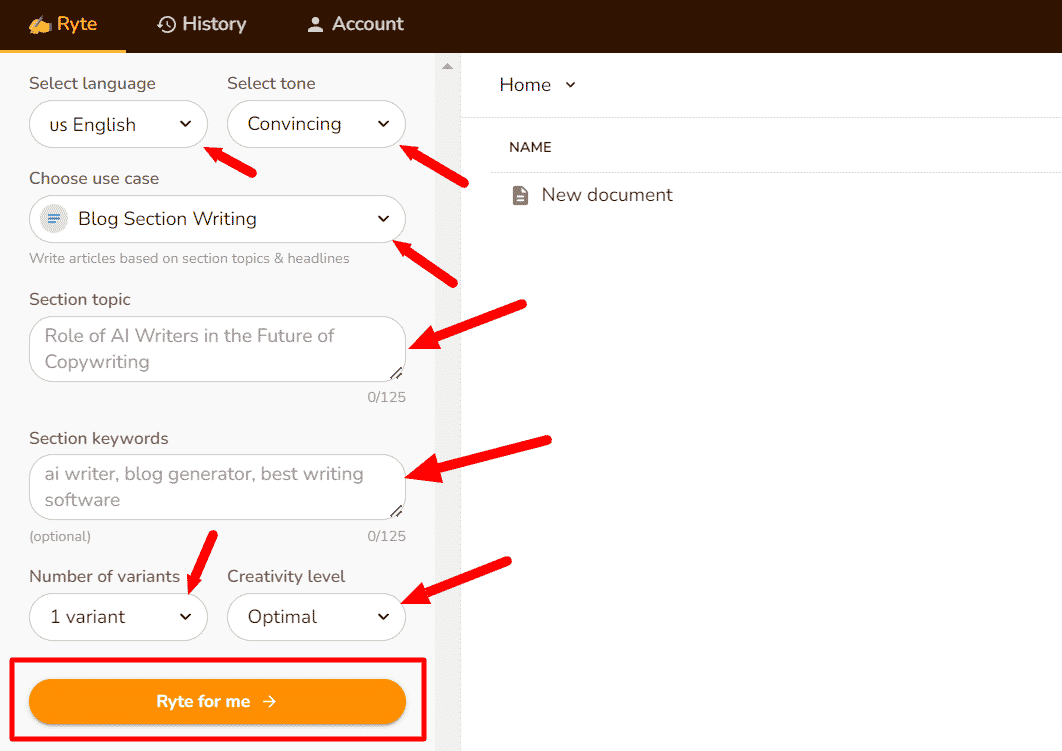 Step 4: Enter your topic of content.
Step 5: Specify the keyword you wish to add in your content
Step 6: Enter the number of variants (maximum 3) you want to generate.
Step 7: Choose the creativity level of your content.
Step 8: Click the "Ryte for me" and it will generate the content for you.
You can always edit your content in the editor if you are not satisfied with the content. You can also see the word count of the content.
Rytr Features And Use Cases
Rytr offers 38 use cases that allow you to create a variety of content as per your need. Some of these are:
Blog Idea & Outline – The AI writing assistant can help you come up with catchy blog ideas and topics. Additionally, it can help you structure your content.
Blog Section Writing – Rytr can write engaging blog introduction and paragraphs for your blog.
Copywriting Framework: AIDA – Create creative, catchy, and AIDA-format copy with Rytr's AI copywriting software.
Email – With a few clicks, you can create catchy emails that will help you increase sales, engagement, and more.
Ad Copies – Write creative and original Ad copies for advertisements.
Landing Pages – Create persuasive landing page copy that is creative and persuasive.
Product Description – Increase conversions on your website and e-commerce store by creating compelling product descriptions.
Question & Answer – Use Rytr's AI question generator to create questions & answers for Quora, company knowledge bases, and more.
Tagline & Headline – Create catchy taglines and headlines for your LinkedIn bio, product, website, blog post, or news article.
Video Description – Use AI to create a description that hooks your subscribers and audiences.
Magic Command – Let AI handle your request for you by passing it as a command. In just minutes, you'll have emails, ads, posts, blogs, and more!
You can check out more use cases here.
Rytr offers many cool features that make it an amazing AI writing assistant. Let's check them out:
The thing that makes it different from other AI writing tools is the number of language supports. Rytr supports up to 29 languages including Hindi language which its rivals Jasper and Copy AI ignore.
Rytr is the best AI writing assistant, if you want to create high-quality content in Hindi.
Moreover, you can create content in other languages such as Spanish and Romanian.
Advanced Text Editing Options
You can edit the content output on the right side of the screen.
Following are the actions you can do with your text in Rytr:
Improve – This will correct basic grammar errors.
Rephrase – A snippet can be rephrased if you like its content but not the format.
Write a paragraph – A content generator will generate content based on the text you selected.
Expand – If you like a snippet of content, this will elaborate on it.
Shorten – An intuitive alternative to Expand. Great for summarizing blog ideas, or any generated content.
Append – It is useful for academic writing.
Check for plagiarism – Whenever you feel Rytr's output isn't trustworthy, you can check for plagiarism.
This allows you to quickly convert Rytr's output into something more publish-ready from a basic first draft.
The options available on the document editor will help you edit generated content fast.
Don't be surprised if you do a lot of editing – that's how AI writing tools work.
Let's see – how much does Rytr cost?
Rytr offer three pricing plans:
Free Plan: This is a perfect plan if you're just starting out with AI writing tools and looking for a free option.
Saver Plan: The plan starts at $9/month. With this plan you can generate 50K characters.
Unlimited Plan: The plan starts at $29/month. This plan is great when you want to generate unlimited characters per month.
So what are you waiting for?
Here are some of the pros and cons of Rytr AI writing assistant.
Automatically creates content for you
20+ writing tones
Can create content in more than 30 languages
Built-in plagiarism checker ensure the content copy is original
Offers free plan which let users generate up to 5000 characters per month
SEO analyzer helps you find keyword for your content
Rytr plugin is compatible with Shopify, WordPress, etc. Access to premium support
Saver plan has fewer credits which lets you generate up to 50,000 characters.
Rytr Alternatives for 2022
Are there any alternatives to the Rytr AI writing tool?
Yes, there is one… Jasper AI (Formerly Jarvis).
Jasper AI is one of the best AI writer tools in the market that create interesting and informative SEO optimized content.
Jasper AI is an excellent Rytr.me alternative when you want to create a human-like long-form content.
Jasper uses natural processing algorithms to analyze the topic of your article and creates engaging content for your audience.
Moreover, you can use Jasper to write attractive Amazon product descriptions which Rytr can't do.
In short, Jasper can create anything you want including blog posts, video scripts, social media posts, Amazon product reviews, much more.
How much does Jasper AI cost?
Jasper AI offers two pricing plans. You can check out the detailed Jasper Ai pricing plans to know more.
Starter Plan: The plan starts at $29/month. With this plan you get 50+ AI copywriting skills, unlimited projects and unlimited user logins.
Boss Mode: This is the most recommended plan that starts only at $59/month. With this plan you can generate up to 50,000 words.
Looking for a free trial of Jasper? Try the link below to use Jasper tool FREE for 5 days with 10,000 word credits.
If you're not satisfied with Jasper AI's performance, you can get a full refund within 5 days.
Which one should you choose in Rytr vs Jasper AI for content creation?
Here are some key differences between Rytr and Jasper AI writing assistants that will help you pick the right AI Writer.
Pricing – Rytr plan starts at only $9/month compared to Jasper $29/month. Moreover, Rytr offers a free plan but Jasper doesn't.
Ease of use – Both Rytr and Jasper have user-friendly interfaces and features that make content creation easy.
Content output quality – I'd be honest here Jasper AI is a way better than Rytr when it comes to content output quality.
Jasper AI can generate in-depth articles, product reviews, stories, novels, essays, etc whereas Rytr is helpful for short content like titles, descriptions, etc.
Final verdict about Rytr vs Jasper AI – Go for Rytr if you want a budget-friendly AI writing assistant. For better output without a budget issue, Jasper is an excellent AI writing tool.
Final Verdict on Rytr Review
We have almost come to the end of our Rytr review.
The question is…
Should you invest in Rytr.me?
Of course, You can generate quality content with Rytr AI, an AI-based writing assistant. Furthermore, it provides you with suggestions for improving your writing.
Moreover, it is the only AI copywriting assistant that can create content in Hindi.
Several AI writing tools exist, but they are usually expensive. Rytr is a great choice if you need cost-effective writing software.

Are you satisfied with the Rytr review? What are your questions? Feel free to leave a comment below.