You have probably heard the future of marketing is content marketing.
Do you know why?
Earlier, Online marketing was all about paid advertisements. However, it is an effective way to reach directly to your targeted clients, but it is also annoying. That's the reason approximately 200 million people worldwide had installed ad-blocking software in August 2015.
Although this may be good news for clients, but it's terrible news for marketers who only depends on paid advertisements to spread their brand's message.
Luckily, you have the content that you can use to reach the people without being blocked.
In a research Content Marketing Institute found, compared to 2015, 77% of B2C marketers say they will produce more content in 2016. And followed by 77% B2C marketers, 76% B2B marketers said they would do the same.
If you are one of them (B2B marketers or B2C marketers) you will need more content.
But, how would you create such a huge amount of content to keep your content marketing alive and pace with those marketers, if you are working alone or having only a few people on your content team?
How great would it be if you can outsource some writing work to a quality place?
Today, I am going to tell about the place where you can the high-quality and professional writers in the budget.
The name of the place is ContentMart.
What is ContentMart?
ContentMart is founded by Anton a Ukraine-based entrepreneur. It is a marketplace where you can hire qualified writers from India and worldwide for your any sort writing related jobs such as blogging, sales page, service page, or anything related to writing.
Whereas other job portals focus on various jobs various jobs such as web designing, web development, etc. ContentMart only focuses on content related tasks. A person who will come here will find 100% original and unique content.
No Registration Fees for Content Buyers
Anyone who is seeking for content can register themselves at ContentMart as a consumer. Registration on ContentMart is free.
Getting started with ContentMart is pretty easy. See how this works: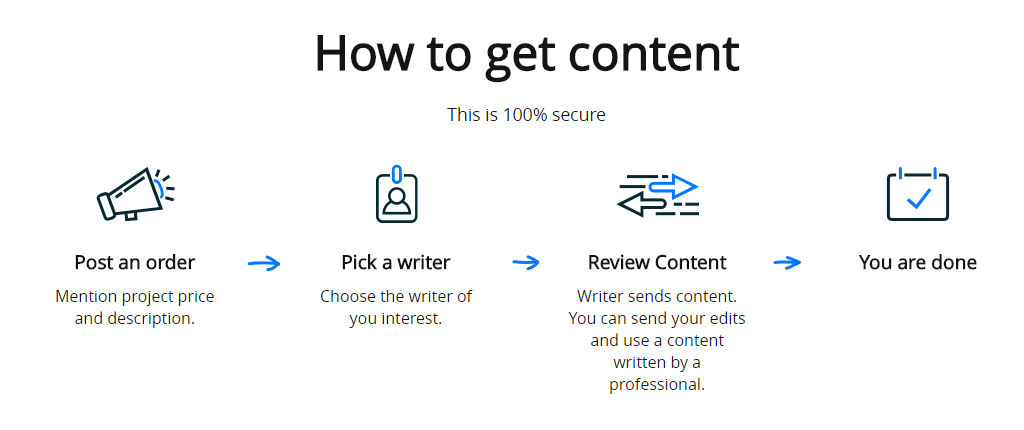 Content Available in Multiple Languages
Every writer has to pass the mandatory English test that means you will only get error-proof content.
You can place your bid at ContentMart for more than 15 languages.
That's the good thing about it, I like so much.
Why Should Content Buyers Love ContentMart?
When you will click on the register button you will see two options there.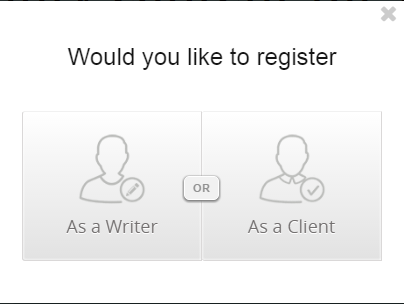 You have to choose the register as a client and you will be redirected to this page.
Registering on ContentMart is pretty simple. They don't ask you to provide any credit card details while registering.
Once you are done with registration, you will be presented with this page.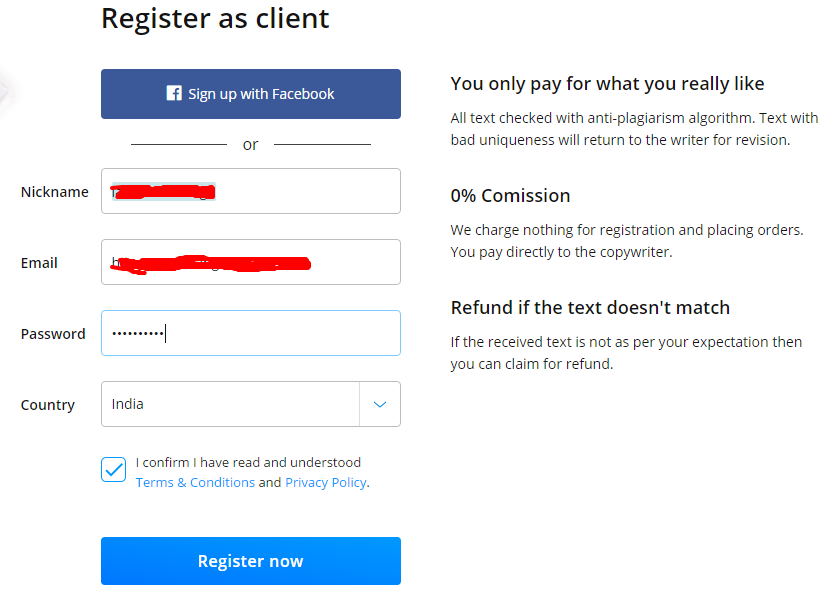 You have to click on 'Post as Order' button for a new order, but before that, you'll have to recharge your wallet with the order value you are offering.
This is also very simple, you can use PayPal or Net Banking if you are in India.
You'll only have to pay when you are satisfied with the client's work.
ContentMart has 100% refund policy, if you are not satisfied with the quality of content you got, you can claim and you will get 100% money back guarantee without any deduction.
Why Should Freelance Writers Love ContentMart?
ContentMart is easy for writers to use as well. To get work from this platform you have to register yourself as a writer. As soon as you clicked the register button you will get an activation mail in your registered email ID.
You have to go to your mailbox and click on that activation mail.
Once activated go to your profile and fill up the necessary information about your age, education, work preference, etc. If you have previously completed any project you can upload that as a sample for your potential clients.
After providing all the necessary information you are eligible to bid on the existing orders. Now, get over to the all order tab and bid for the order which you think you can work on. Once a client accepts your bid, you'll have to write and submit that article.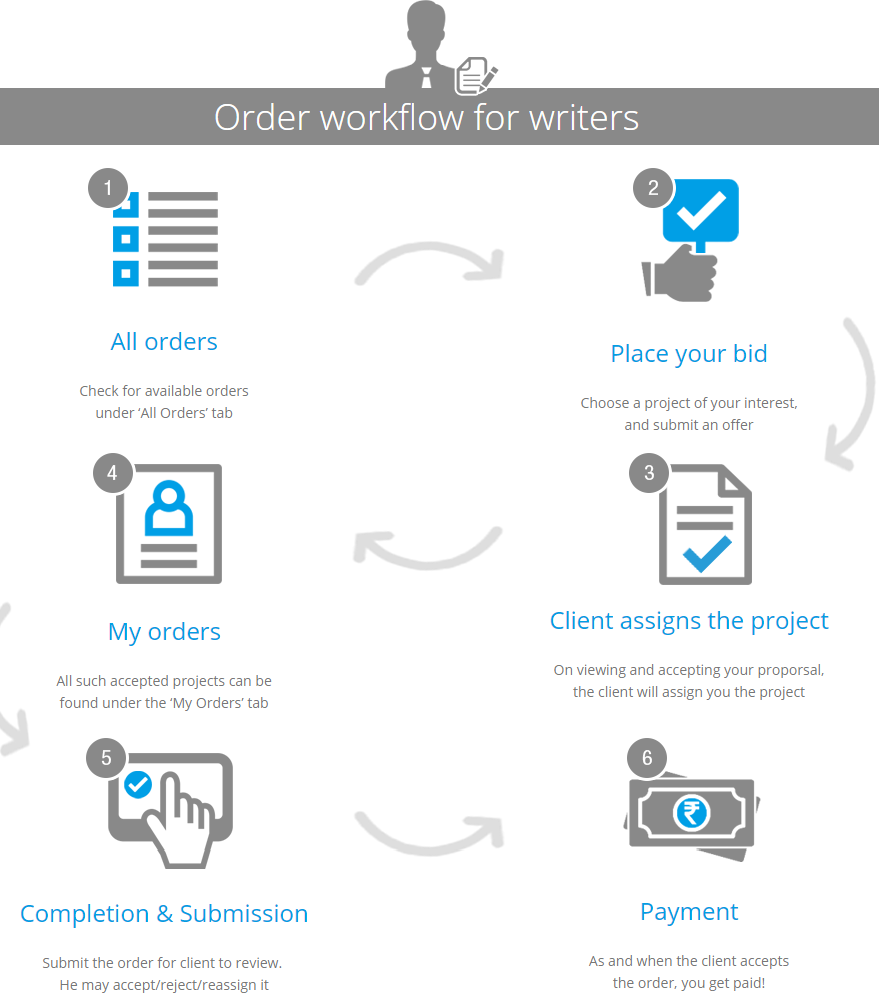 You will only get paid only when clients accept your work. The client has 5 days to approve, reassign or disapprove your work. In case if the client doesn't respond you after submitting your article, it will be automatically approved by the ContentMart, you will get the full fee of your work.
You will have to pay 10% commission when you will withdraw your amount from ContentMart.
ContentMart is good for Indian writers, as they can charge the client in INR and get the money directly to their Indian Bank account. No third party gateway is needed.
Final Words!
After looking all the points for both Clients and Writers I have come to the point that ContentMart is great for the best platform for both writers and clients.
If you are an Indian writer and searching for a way to make extra income online this is the great place to start. Everything is transparent you can get what you will do, your money will be secure with ContentMart.
It's a great platform to use, whether you are one man marketer or a company who produce a huge amount of content.
Don't let your content marketing down just because of the lack of content. Stay ahead of your competitors with high-quality content.