Pat Flynn is a name that every affiliate marketers are aware of. He has been making passive income since 2008.
He says his secrets of making passive income is his website's design, content, and his blogging strategy.
The Smart Passive Income Pro theme has all these essential elements. Its amazing features and easy navigation will amaze your readers and will provide them an unforgettable user experience.
StudioPress has built this theme with the help of Pat Flynn. He has guidance them at every single step while they were developing this theme.
Now you might have understand what sort of theme will be Smart Passive Income Pro.
Take a look at this amazing theme:
Why Smart Passive Income Pro StudioPress
Very few people understand the users' psychology behind web design trend. They are the people who able to get massive traffic to their websites.
Don't worry if you are not one of them. When you use The Smart Passive Income Pro theme, you don't need to be a professional designer.
It has everything that would provide an appealing presentation, readability, and better user experience.
It offers the same experience on mobile like it provides on desktop. It has been tested on various smartphones and all types of browsers.
Your audience will feel the same feeling on mobile like they feel on PC. SEO optimized theme will never let your ranking down.
The StudioPress genesis framework provides setting panels to manage your basic settings, layout, and change logos, etc.
Features : Smart Passive Income Pro Genesis Child Theme
The Smart Passive Income Pro Theme includes the following functionality:
Accessibility: It means it easily accessible for a different group of users including mobile users, people who use advanced technology to navigate the web, and even search engine robots.
Theme Options: Easy to manage theme options enables you to customize the theme in few clicks.
Custom Page Templates: Choose from a selection of already made templates to build your site: Default, Archives, Blog and Landing Page.
Theme Customizer: The theme customizer offers you to easy settings, background pictures, colors, and content and see a live preview of those changes in real time before making it permanent.
Widget Areas: You will have 8 different widget areas that you can use according to your brand requirement.
Customizable Header: Upload your own logo in a just a single click. It provides full support for text-based logos.
Mobile Responsive: The theme is tested on various mobile devices and it is fully responsive. It means that your website will be easily accessible on different mobile devices, screen sizes, and browsers.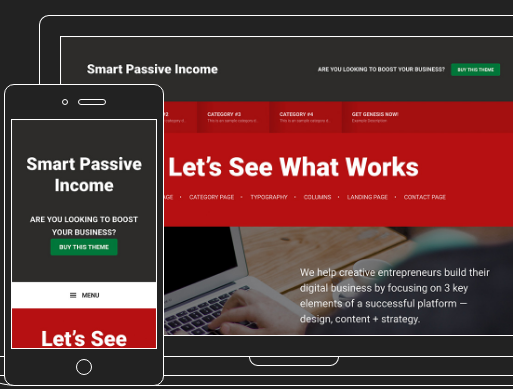 P.S. If you do decide to buy the Smart Passive Income Pro theme. Please consider using my affiliate link. It really would be much appreciated 🙂