This is guest post by Georgi Thodrov.
So, you are a proud blog owner. You write about your passions and the things you love most.
You want to help other people.
This means you are completely aware of what blog traffic means and how important it is if you want your blog to be successful.
The more traffic you have, the more popular your blog becomes, and your audience grows bigger.
But things don't just happen overnight. You need more than passion to boost your blog's traffic.
You need to know a few things about blog management and apply it on your personal web space every day.
Here are 5 effective ways to boost your blog traffic
#1. Find the right ghost writer for your guest posts
One of the easiest and effective ways to build links, reach new audiences and position yourself as an expert in your niche is through guest posting. The problem is that writing a high-quality blog post is very time-consuming.
Outsourcing guest writing got a bad reputation because back in the years many of the people outsourced content writing to non-native speaking writers who write cheap and garbage articles for $5 per piece.
What I am talking about is that you have to find the right partner writer to write your guest posts.
It won't be easy and price per article would be around $100-250 per piece but it's okay because you're posting blog post by your own name.
Of course, the best is if you can write your posts yourself but if you're working full time and using your free time to write a post for your own blog – you may not have the ability to write guest posts, right?
However, you can still do the outline and let the writer handle the rest, you can do the outreach to potential blogs to publish your posts and you can twist the blog post to make it fit your style after it's done.
Pros:
The main benefit of hiring a ghostwriter to write your guest posts is that you save time. A lot of time. A good blog post is usually around 1000 – 1400 words long. Depending on your experience, it will take you between 1 and 3 hours to write it.
Now If you plan to publish a guest post on 10 blogs, that's between 10 and 30 hours of work. If you plan to do that then need to stop and think how much your time is really worth.
If in that time you could do something else and earn let's say 500 USD, then it's okay to pay a ghostwriter 400 USD to write the posts for you.
Additionally, you need to keep in mind that ghostwriters are professionals. Just like you are good at your job, they are good at theirs. Therefore you are very likely to get a blog post of a much higher quality than the one you would ever be able to write. This is a huge advantage that you need to keep in mind.

Cons:
On the other hand, hiring a ghostwriter also brings some disadvantages. The main con is the fact that you are allowing a stranger to "represent" you in front of a large audience.
Although the general content of the article is going to be the one you told him to write about, there is one factor that you can't control at all:
The style of the writing.
The way the text is written will influence what the readers think about you. You can understand this factor as your "written personality".
And just like in our day to day life, it is the combination of our personality and our actions that affect how other people perceive us. And if the ghost writer writes in a style that does not match your personality, your personal brand may suffer.
Cost:
It's not cheap to hire a ghostwriter and there are definitely more cost-effective alternatives. But if you have a tight schedule and you are not exactly the born writer then you should consider outsourcing the guest posts to a ghost writer. Depending on the experience of the writer, this might end up costing you between 20 USD and 200 USD per 1000 word blog post.
#2. Hire a VA (Virtual Assistant)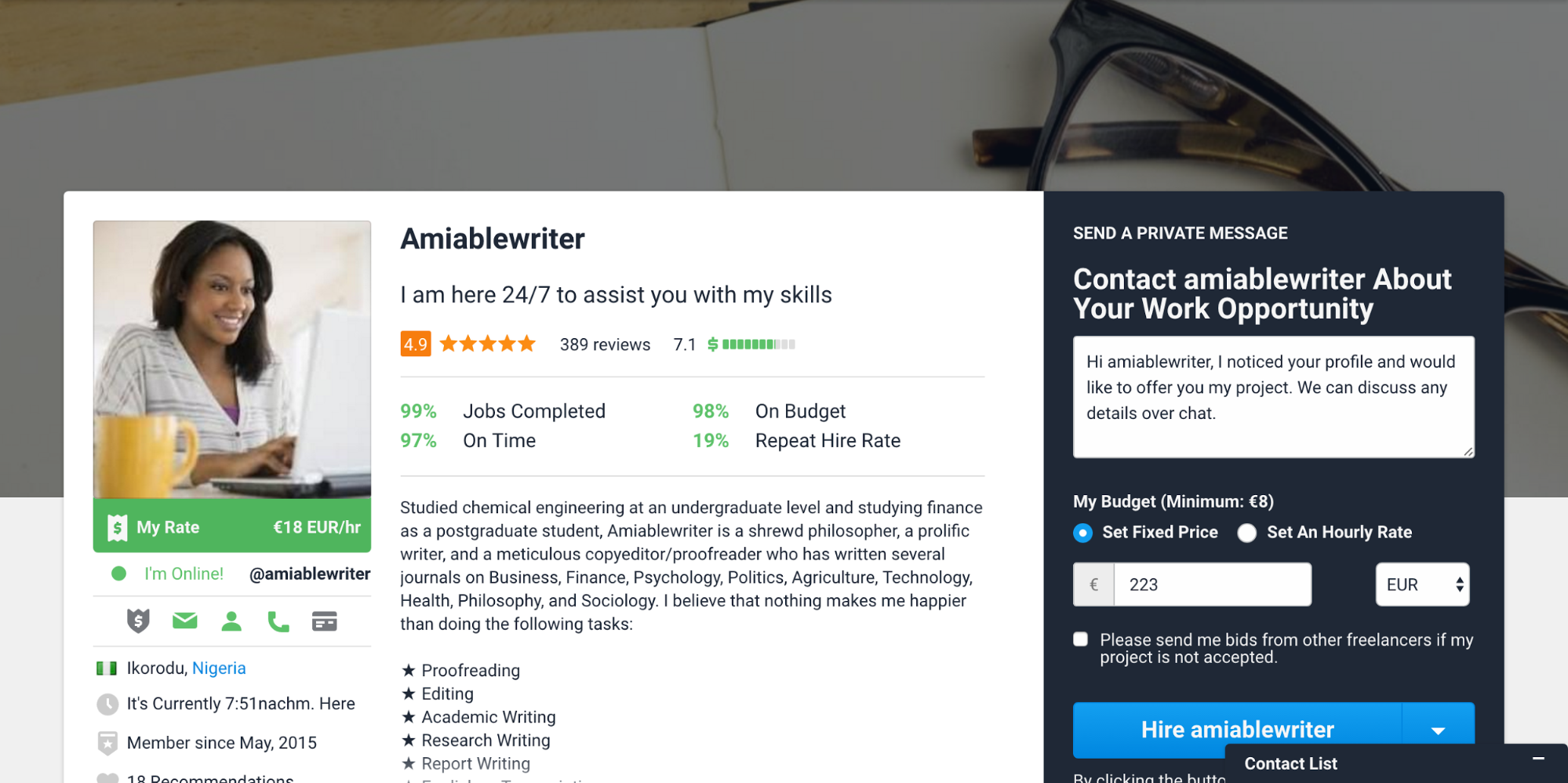 You can hire a VA to do some link opportunity research. In freelance websites like Upwork, you can find freelancers who can find relevant resource pages and then they can send an email (you can do the template) to the webmaster asking for a backlink.
The broken link building method also can be done by a freelancer. Here are a few tips when hiring and working with a freelancer:
First and foremost, you should check their profile: they must have 90 or more success rate. Secondly, you should check the feedback they've received by their former clients.
In addition to that, you should be assured that this particular freelancer has experience in link building through outreach. Always avoid link builders who want to submit your website to directories or to bookmarking sites.
Furthermore, you should track the time they spent working. If you're paying per hour you should track the hours that the freelancer actually works for you.
Upwork has a very good desktop app that takes screenshots randomly from the freelancer's desktop. If you are hiring your freelancer outside of Upwork, you can still use another time tracking tool.
Pros:
Aside from the bragging rights you get by being able to say to your friends "Yo, I have a virtual assistant", a VA will save you a lot of time. VA's are especially useful for performing simple, but time-consuming jobs, like for example doing research on a particular topic, contacting clients or doing data entry.

Cons:
On the other hand, there are also some disadvantages linked to hiring a VA. The first one is the hiring process. Although there are thousands of people around the world that offer VA services, it can be very hard and time-consuming to find the right one.

Secondly, especially at the beginning, you might feel like you are spending more time explaining your VR what to do than what it would have taken you to actually complete the task.

And finally, keep in mind that it doesn't matter how well you explain your VA the task that needs to be done, we are all human and commit errors from time to time. This is not a problem if the job is a minor research project, but it can be devastating if there is a flaw in an email to a client.
Cost:
Many people think of a virtual assistant as being an expensive whim only the richest among us can afford. Well, this might be true for a personal assistant, but not for a virtual assistant.
By hiring a virtual assistant you don't need to offer employment benefits like insurance or pensions, you don't need to provide the VR with workspace (office or cubicle) and you also don't need to do any training before the VR can get started.
When you take a piece of paper and a pen and do the math, you might even end up saving (or making more!) money by hiring a virtual assistant because you will have more time to focus on the core of your business or job.
#3. Answer a couple questions on Quora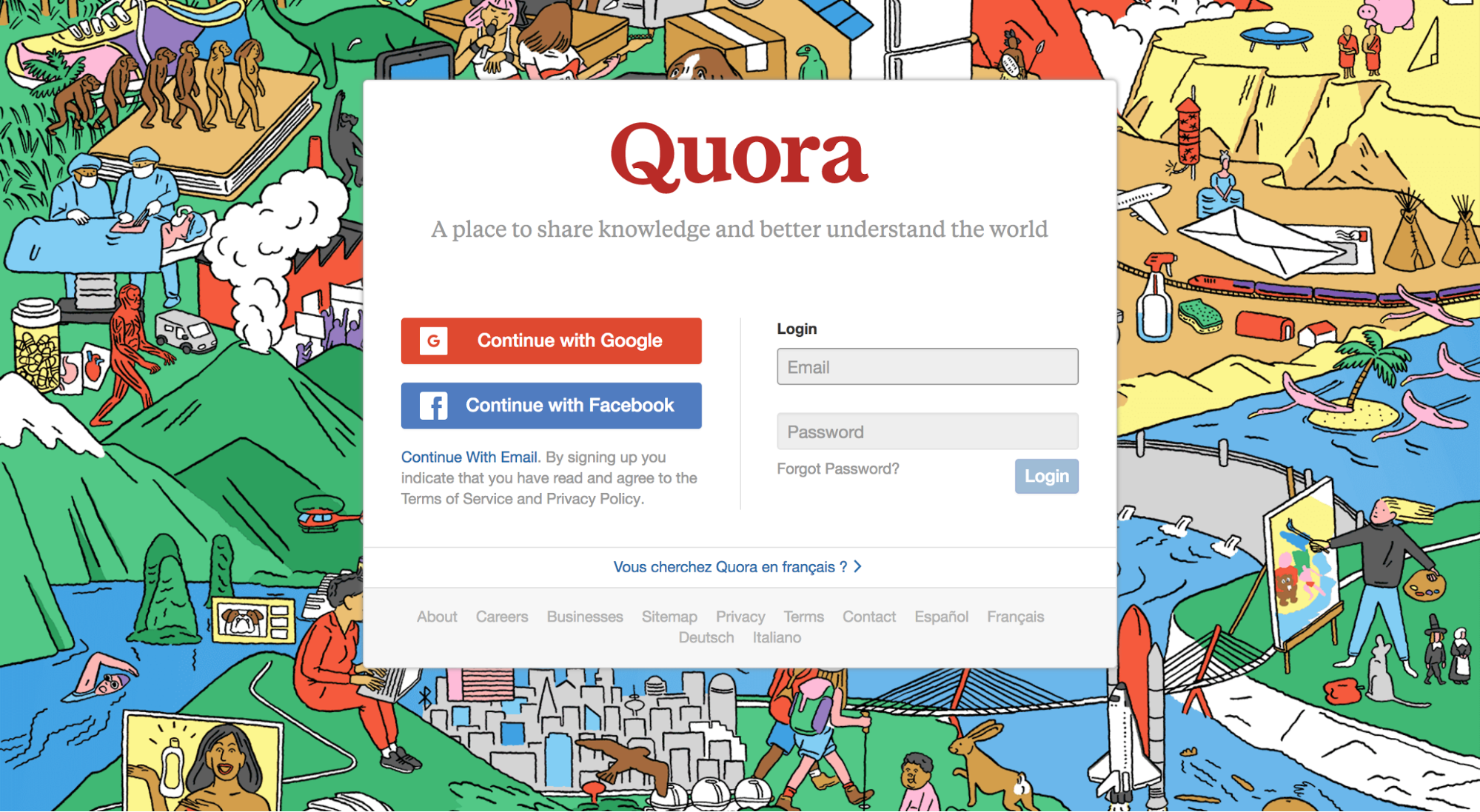 Being active on Quora can bring a decent amount of extremely targeted traffic to your website. Quora backlinks are no-follow but answering questions and putting a link back to your website within the answers can get you traffic.
Also, this approach helps you to position yourself as an expert in your field. Moreover, Quora can get you some pretty hot leads who are ready to buy your product or service. It is also important to remember to set up a Google
Alert for phrases related to your business in order to be the first who will give an answer to the question.
An example of an individual that has used Quora to increase the traffic to his website is Rand Fishkin. For the ones that don't know who this guy is, he is the founder of the famous SEO tool "Moz".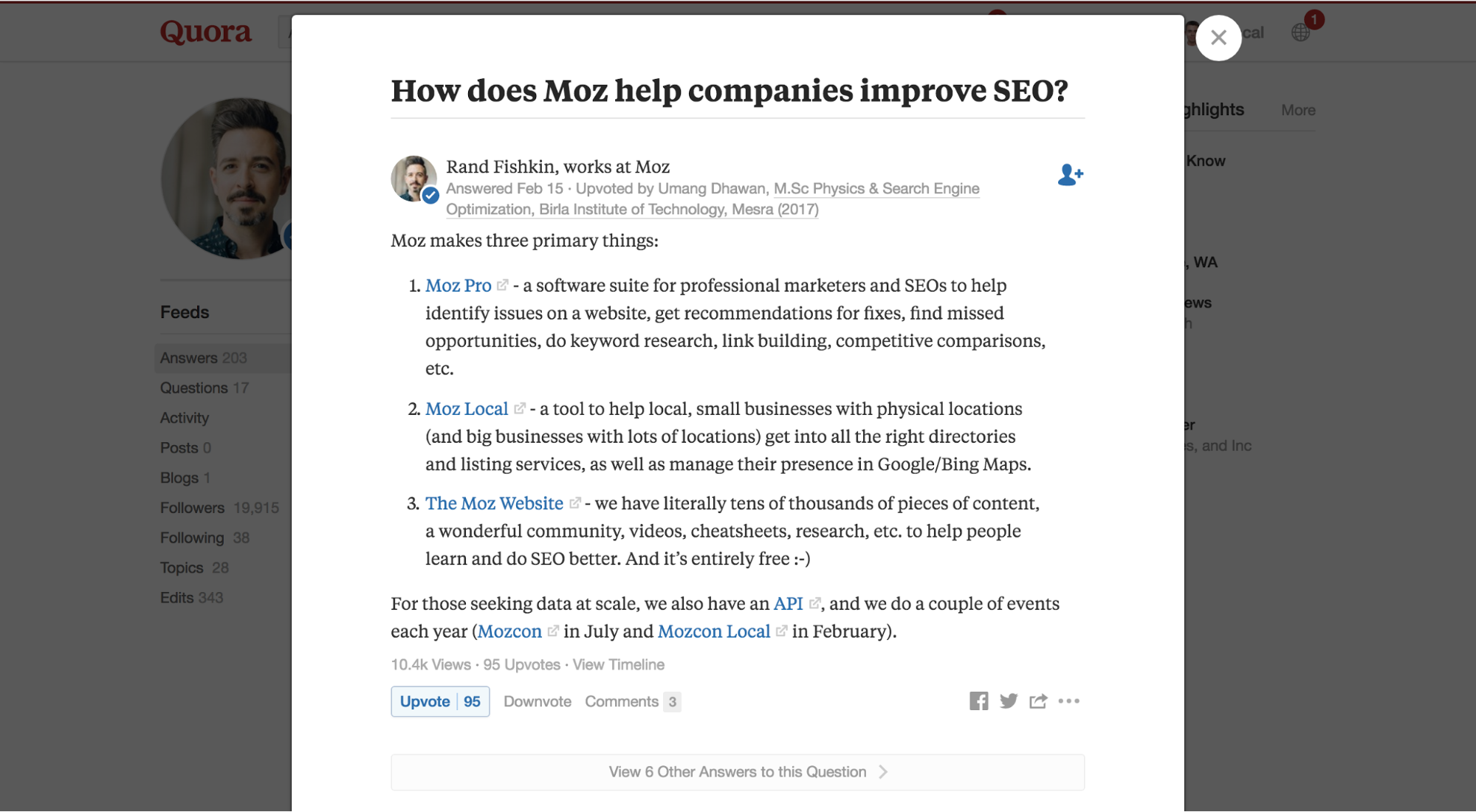 As we can see in the screenshot above, he is clearly using Quora to promote his tools at Moz. And with great results. This answer alone has 10.4 K views and nearly 100 upvotes (likes). Rand's answers on Quora have over 1.4 million views in total. That's a nice chunk of potential traffic right?
Pros:
At the time this article was written, Alexa ranked Quora as the 111th most important site on the internet with around 100 million unique monthly visitors. The huge traffic this site gets makes it a good website to place a link and to attract some of the Quora's visitors to your own blog.
The main benefit of answering questions on Quora to get traffic is that it is extremely easy. Just make an account, select what topics you know about and start answering questions in your area of expertise. Don't forget to place a link to your site at the end of every answer!
Cons:
The only disadvantage of using Quora to increase your blog traffic is the fact that if you post too many links to your site, your account can get banned because users might report you as being a "spammer". Don't let that happen and be gentle with how many links you place. My personal recommendation is one per answer.
Cost:
Quora is free to use and your reach can be huge. An answer that took you 10 minutes to write might get 5.000 views in a single day.  It is definitely one of my preferred ways of increasing traffic to a website.
#4. Use Browser extensions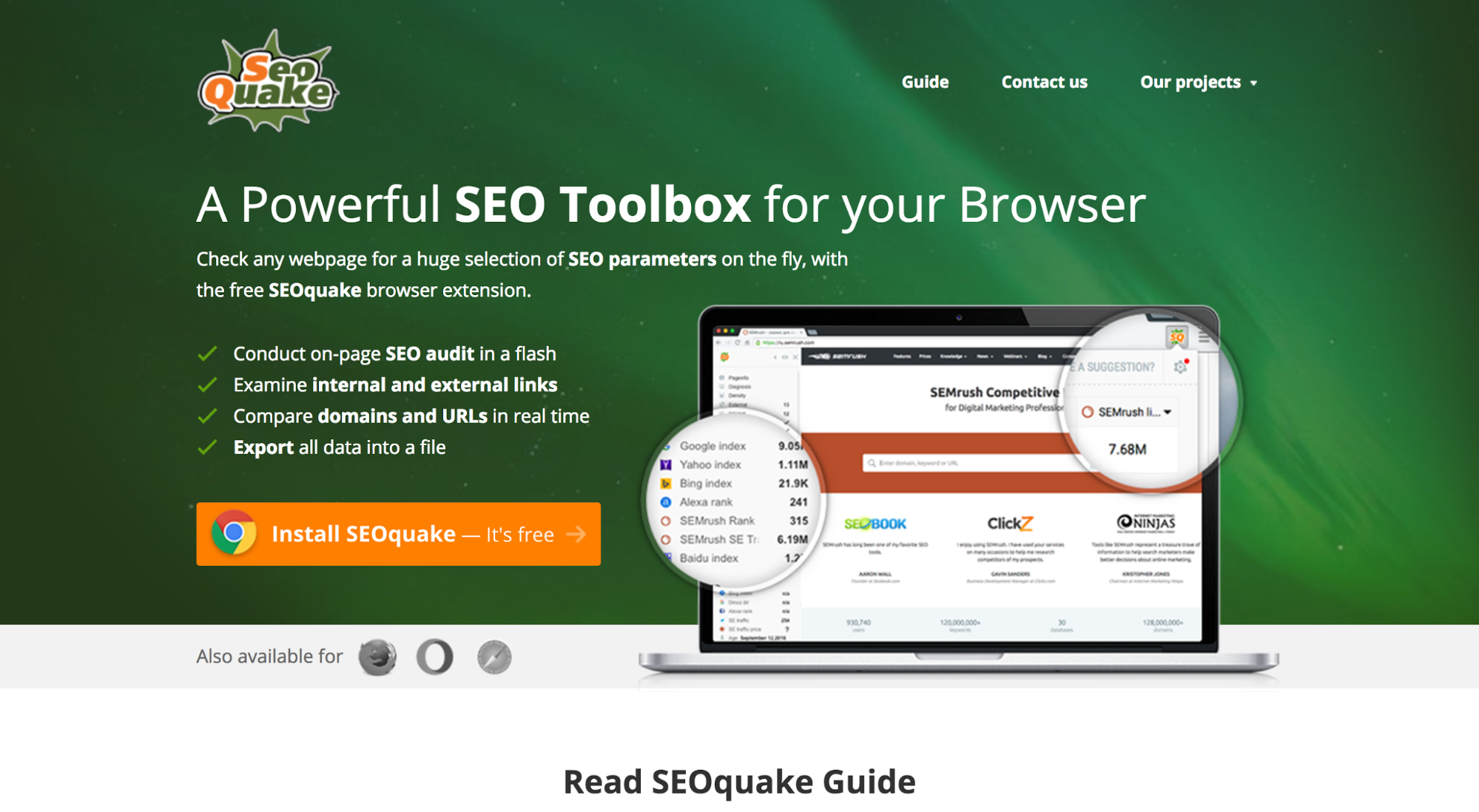 Extensions or add-ons are great productivity tools for bloggers. Firefox has been serving add-ons for a long time. Google Chrome also offers extensions. These extensions are very helpful for getting work done quickly (and easily!).
You can use SEO tools to check website's stats, YouTube extension to watch videos and also take notes without leaving your browser. For example, extensions like SimillarWeb and SEOquake could easily show you if the website you are browsing gets any traffic.
Pros:
The main advantage of using browser extensions to increase traffic is that your blog will benefit from it in the long term. Add-ons like SEO Quake can be used to track down profitable keywords and check how your competitors are doing.
Both are fundamental information if you want to attract more visitors to your site and make it more successful in the long run.

Cons:
Although using browser extensions is a good long-term strategy to increase traffic, you should consider using Quora or guest posting if your objective is to give your blog a short-term boost.
Additionally, increasing traffic through the use of add-ons is a lot of work. You need to research keywords, check the backlink sources of your competitors and analyze your blog.
Keep in mind that it might be a good idea to outsource this task to a qualified VA.
Cost:
The cost of this way of increasing traffic really depends on what add-on you choose. For example, the SEO Quake extension for Chrome is completely free. On the other hand, it can be very time consuming to significantly increase your traffic.
#5. Invite famous bloggers/influencers for a round up post
The bonus is that the influencers in your roundup post will be happy to share the post with their followers, so you'll get an increase in traffic to your site.
Here's how I published a roundup post and it is getting tons of shares every day. These influencers that I invited for the roundup, have a huge following and the fact that they've been sharing the post brought me a ton of traffic.
Also, bloggers are more willing to link to content which is created by famous names. This means that you'll get a bunch of backlinks! And more backlinks equals to higher Google ranking, which equals to higher traffic.
Pros:
By inviting famous bloggers to do a roundup post you are getting an awesome chance to improve the brand image of your blog and attract new visitors to it.
You are very likely to get a short-term traffic boost because the influencers that wrote on your blog will probably share the article on their social media accounts.
Additionally, if you are lucky, the influencers you invited to the round-up post might link back to your site from their blog one day. This is a key factor in the long-term success of your blog because backlinks are still one of the most important ranking criteria for the Google algorithm.
Last but probably the most important – you're building relationships with them!
Cons:
The only disadvantage I see here is that you do not show your own expertise on the topic.
Cost:
This way of increasing blog traffic does not really have a fixed cost. It can either be free if you managed to build a good relationship with an influencer, or it can be extremely costly if the famous blogger expects you to pay him.
Usually, this method is only cost-effective if your blog is already well established in your niche.
Final words
All in all, there are five main ways to increase your blog's traffic:
The first one is to hire ghostwriters to write your guest posts.

The second one is to hire a virtual assistant.

The third is to start answering questions on Quora.

The fourth is to start using browser extensions more often.

And the last one is to invite influencers to a round up post.
If you apply them on your blog, you will see the results almost immediately. You can choose which one to use, you can make combinations, and tests. It's all in your hand.
All you have to do is decide. Give your blog a fast traffic boost with these tips, and become the newest top blogger on the web.
Please share your thoughts in the comment section below!